posted on August 30, 2016
Support NRA American Rifleman
DONATE
The ability to place rounds on distant targets with precision has always been appealing to me. Apparently I am not alone, as PRS and other long-range competitions are growing at rapid rates. The hardware developed for this sport is an amazing evolution of shooting technology. Mossberg is among several companies now offering a production bolt gun suitable for long-range shooting and competitions.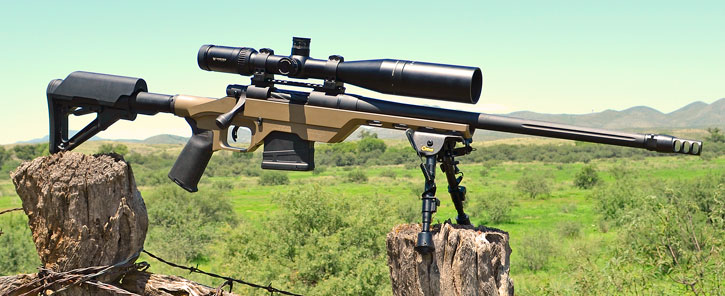 Built on its proven MVP bolt action, the new Mossberg MVP LC features an aluminum chassis, adjustable trigger and an 18.5" barrel chambered for the 7.62 NATO round (.308 Win.). This particular model utilizes a detachable box magazine and comes with a 10-round Magpul PMAG. Mossberg offers the MVP LC without optics or with the Vortex Viper HS-T 4-16X 44 scope.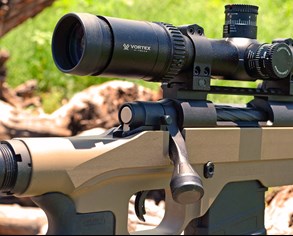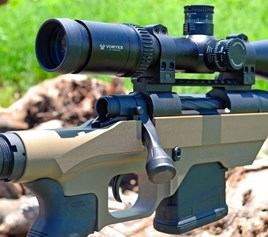 The silver colored striker is visible and flush with the rear of the bolt sleeve when cocked. Once fired the striker moves forward about 3/16" inside the bolt sleeve.
The MVP action has been the heart of Mossberg's sporting bolt gun offerings for many years. It has a reputation for being a work horse, and that made it a perfect candidate for its upgrade into a long-range precision rifle. It cocks on opening, is push-feed style and features a large and weighty bolt knob for rapid manipulation. There are two projections on the bottom of the bolt to strip rounds from either side of the magazine. It also has a spring-loaded ejector on the bolt face and twin locking lugs. When the bolt is cocked, the end of the striker acts as a cocking indicator and the silver part will be flush with the end of the bolt. Once the rifle is fired the indicator will move forward about 3/16" in the bolt sleeve.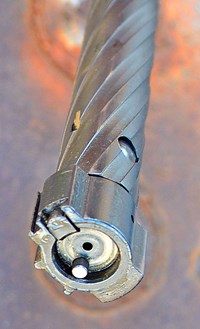 There are two projections at the bottom of the bolt to strip rounds from either side of the magazine (right).
What sets this MVP aside from the other Mossberg hunting MVPs is the aluminum chassis. Manufactured for Mossberg by Modular Driven Technologies (MDT) from billet 6061-T6 aluminum, it is threaded at its rear to accept an AR-style rifle receiver extension (buffer tube). It holds the MVP action securely in the "V" shaped chassis with two action screws. Our test sample possesses a Magpul CTR six-position collapsing stock with a riser for shooters to get a good cheek weld when using the scope. MDT calls this chassis the LSS for Light Sniper System and it accepts detachable magazines. DPMS LR308 and Knights SR25 20-round magazines will work fine with this rifle. Mossberg ships the MVP LC with one 10-round Magpul PMAG magazine. The rifle's magazine release is an AR-style button on the right side of the receiver. The MDT chassis also utilizes an AR-style pistol grip. There is a sling swivel stud at the forward portion of the chassis' flat bottom and Mossberg includes an adjustable Caldwell bipod.



The Mossberg MVP LC has a two-piece trigger not unlike that of the Glock. Unless the center blade of the trigger is depressed the gun will not fire. Mossberg's Lightning Bolt Action (LBA) trigger is adjustable for 2 to 7 lbs. It's a simple process and within the ability of even the most mechanically challenged shooters. To adjust the trigger, remove the front and rear action screws and lift the barreled receiver from the chassis. Mossberg ships the gun with the trigger pull set at its lowest weight. To increase the pull turn the screw, located at the front of the trigger housing, clockwise. I set my trigger just a hair under 3 lbs.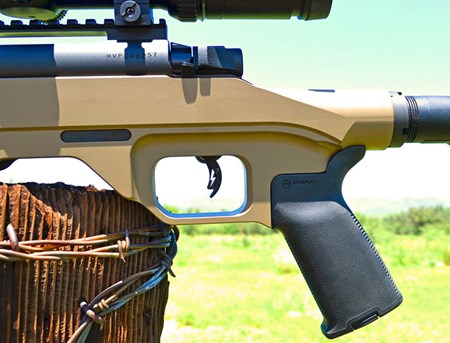 A medium-weight barrel is used on the MVP LC. It is 18.5" in length, and Mossberg cuts its chamber to 7.62 NATO specs. The barrel is completely free-floating its entire length and does not contact the forward portion of the chassis at any point. It is fluted its last 6" of length toward the muzzle. A SilencerCo Saker Trifecta muzzle brake is outfitted on the MVP LC, with Mossberg understanding that many shooters will use it to attach a Saker suppressor to its rifles.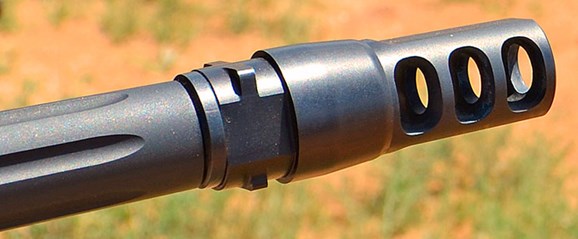 As mentioned earlier, my test sample arrived complete with the excellent Vortex Viper HS-T 4-16X 44 scope mounted in Vortex rings. Prior to my first range outing I checked the scope-mount screws for tightness and made sure I had retightened the action screws properly after adjusting the trigger. From the bench I was immediately impressed with the brightness and clarity of the Vortex scope. I fired three rounds at 50 yards and discovered the gun had been bore sighted at the factory. I was impressed with their thoughtfulness and moved my target back to 100 yards, and that's when I began to have problems.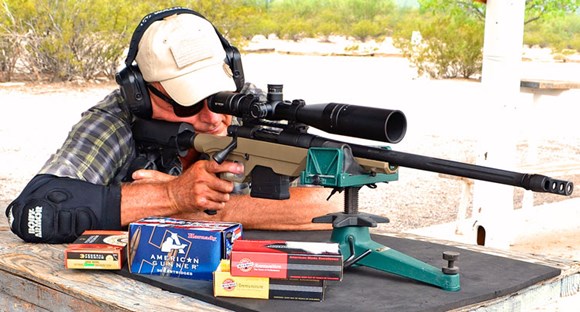 The gun really wanted to shoot. I'd place two rounds right on top of each other and my third shot would land 2", 3" or even 5" away. After burning through 70 some rounds of premium ammunition it became obvious I was doing nothing other than wasting ammo. I took the gun home for a good looking over.
First I put the gun on safe and removed the magazine. Then I pulled the bolt to its rear most position, depressed the bolt-lock button on the rear left side of the receiver, and pulled the bolt out of the gun. I scrubbed the bore thoroughly, thinking maybe a glob of packing grease or something had been causing my problems. It didn't take long for the patches to come out clean. I re-checked the two action screws and found they were fine. It was while I was checking the scope-mount screws again that I saw the scope shift a little. The Picatinny rail attached to the receiver top was loose. I removed the scope and added a little bit of thread lock to the screws before tightening them and cursed myself for not discovering this before wasting so much premium ammunition.
My next trip to the range was a different story. I took nine different .308 loads with me and four of those averaged sub MOA groups. I did all of my shooting seated at a bench and using a Caldwell rifle rest. All groups were fired from a warm, sometimes hot, barrel with no effort given to allow for cooling. I fired three shots to each group with targets at 100 yards.
AMMO


VELOCITY       

  ENERGY

 LARGEST

 SMALLEST

   AVERAGE

Black Hills 155-gr.
Hornady A-Max

2784

2668

1.27"

.81"

1.04"

Black Hills 168-gr. BTHP

2620

2561

1.11"

.84"

.97"

Black Hills 175-gr. BTHP

2596

2619

1.22"

.93"

1.07"

Federal 175-gr. Sierra MatchKing BTHP

2325

2101

1.26"

.71"

.98"

Federal 168-gr. Sierra MatchKing BTHP

2574

2472

1.07"

.97"

1.02"

Hornady American Gunner 155-gr. BTHP

2707

2522

.84"

.64"

.74"

Hornady Steel Match 155-gr. BTHP

2609

2343

1.15"

.92"

1.03"

Hornady 168-gr. BTHP

2318

2005

1.05"

.90"

.97"

Hornady Precision Hunter 178-gr. ELD-X

2598

2668

1.21"

1.12"

1.16"
A PACT chronograph was used to measure velocity which is listed in Feet Per Second. Energies are expressed in Foot Pounds of energy. Temperature was 97 degrees and humidity was 27%.
My smallest group was fired with Hornady's American Gunner 155-gr. BTHP bullets. I was able to place three shots into a group which measured just .64". It's interesting to note that my largest group with this same load was only .84". I was also pleased to see the MVP CL's 1:10" barrel produced sub MOA groups with 155, 168 and 175 gr. bullets. It showed a slight preference toward the lighter projectiles, and I'm sure some judicious experimentation with loads would produce even tighter groups.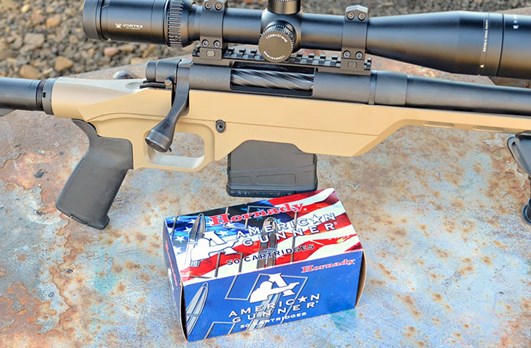 I became a fan of the Vortex Viper HS-T scope after this range session. Even at 100 yards I could easily see my bullet strikes and make whatever adjustments necessary. Because I tested the gun with so many different bullet weights I could easily dial in whatever correction was needed. The windage and elevation turrets provide positive and repeatable adjustments. The scope's ample eye relief and the MVP LC's adjustable stock made obtaining a comfortable sight picture easy. It's a quality piece of glass that helped me maximize the MVP LC's accuracy potential.



Field shooting with the Mossberg MVP LC was a thrill. I dragged an MGM steel target, about 12" x 18" in size, out into the desert and engaged it from 200 to 700 yards. Every time I had a couple hits in a row I'd get in the car and drive a little bit farther away. It was the rainy season here in the Sonoran desert and the grass was so high that I couldn't see my target even with the bipod legs extended all the way. But I did manage to get three consecutive hits on the steel, with relative ease, at a laser-confirmed 720 yards. 

My only criticism of the MVP LC is the placement of the manual safety, which is located at its usual position on the right side of the receiver's rear. Pushing it forward readies the gun to fire. In a traditional stock this location is perfect for quick manipulation, but with the modular chassis and its pistol grip it is impossible to disengage the safety while maintaining a firing grip. On the plus side, the rifle can be unloaded with the safety on as it does not lock the bolt.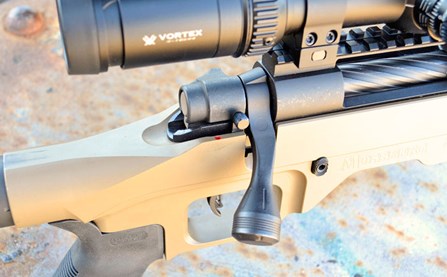 I had a lot of fun shooting this .308 bolt gun. It's accurate and 100-percent reliable and might be the perfect starter gun for those interested in long-range precision-shooting competitions. It also should be considered by law enforcement agencies for tactical use as its price is not a budget buster. Mossberg also offers the MVP CL chambered for the 5.56 NATO with a 16.25" barrel which uses AR15/M16 detachable magazines. Additionally, there are the MVP Long Range, Scout, Patrol and Flex models to satisfy just about every shooter's needs. Visit mossberg.com to see the entire line up.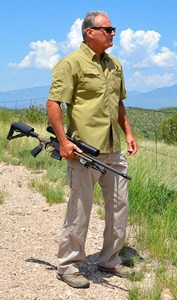 NRA Specifications 
Manufacturer: Mossberg
Model: MVP-LC
Type: Bolt Action, Magazine Fed, 10-round Magpul Magazine
Caliber: 7.62 NATO, .308 Winchester
Barrel: 18.5", 1:10" Twist, Medium Weight Bull Barrel, Fluted with a SilencerCo Saker Trifecta Muzzle Brake, Matte Blue Finish
Scope: Vortex Viper HS-T, MRAD Reticle, 4-16X 44MM, 30MM Tube, Vortex Mount
Stock: Magpul CTR Stock with Adjustable Length of Pull from 11"-14.5"
Trigger: Mossberg's Patented LBA Trigger System Adjustable from 2 to 7 lbs.
Weight: 10 lbs. or 8.5 lbs. Without Scope
Chassis: Modular Driven Technologies Light Sniper System (MDT-LSS) Machined from 6061-T6 Aluminum, Tan Color
Overall Length: 38.5"-41.62"
Warranty: Limited 2-year Warranty
MSRP: $1995 as Tested or $1365 Without Scope