Support NRA American Rifleman
DONATE
For the past few months I've had one of Beretta's updated 92 conversion units riding in my range bag, and it has been getting a serious work out. On just about every range trip, it has come out at the end for an extended "cool down" to reinforce good habits, and on some days it has been the main event. Here are five quick takeaways: 
1. Controls: The Beretta conversion unit perfectly mimics the size, layout, and operating controls of the 92FS/M9 family. The shooter's center-fire frame is joined to the slide, barrel and magazine of the conversion unit to form a fully functional rimfire surrogate. The safety works just as on the military-issue M9, dropping the hammer and disconnecting the trigger until the pistol is taken off safe. The slide stop on the shooter's frame works with the rimfire magazine to lock the slide to the rear as the last shot is ejected and releases the slide to chamber a round. The conversion was a perfect fit in my Beretta holsters, and the magazines likewise in my 92 series pouches. 
2. Accuracy: The barrel on the conversion is fixed, lending to excellent accuracy. Paired with my 92G Elite LTT (the unit produced X-ring level precision from inexpensive workaday loadings such as CCI standard velocity. The best five-shot groups were down to just over an inch, cutting little holes that reached out to overlap with one another. This combo holds it own in an accuracy comparison with some of the very best classic rimfire handguns.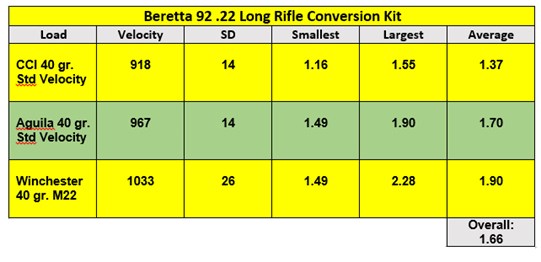 Accuracy results of five, five-shot groups from a rest at 25 yards. Velocity measured at 10 ft. with a Caldwell chronograph. 

Wanting to make sure that the accuracy wasn't exclusive to the deluxe level LTT, I mounted the conversion onto a commercial M9 and fired a few representative groups. The M9 punched five Aguila high velocity into just over an inch and a quarter while knotting up CCI standards into about an inch and a half. Safe to say it just plain shoots.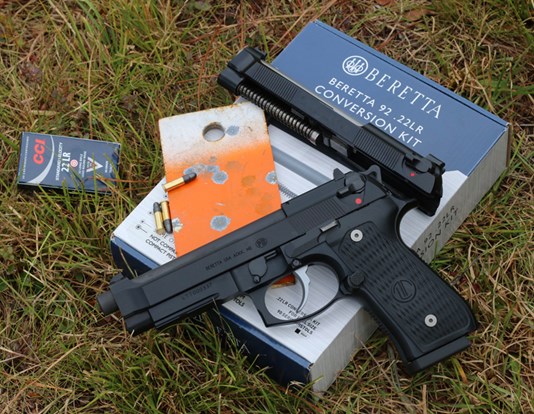 3. Cycling: A rimfire pistol is an exceptional training tool for practical and serious defensive minded shooters. However, some competitive types and high performance shooters complain that many .22 pistols and conversions cycle differently than their center-fire big brothers. In the case of conversions, many cycle somewhat slowly, causing a high-skill shooter to have to wait ever so slightly for the pistol. This is counterproductive; the shooter wants to leverage the rimfire to go faster and then transfer that skill and mental picture back to the "real pistol." The little Long Rifle round is adapted to a platform designed for a different cartridge and the cycle of operations may be slowed by any number of accommodations to making the rimfire function in a service pistol platform. In the case of dedicated rimfire designs, the pistols tend to have distinct differences that lead to the cycling either feeling or appearing from the shooter's perspective in recoil to be different than the center-fire pistol. 

The Beretta conversion cycles nearly identically to the center-fire 92 series. I find it to feel and "look" in recoil extremely close to my soft-shooting Elite, only with even less recoil. The front sight may not rise as high, but in tracking it through recoil it appears very similar to a low recoil 9 mm "match" load.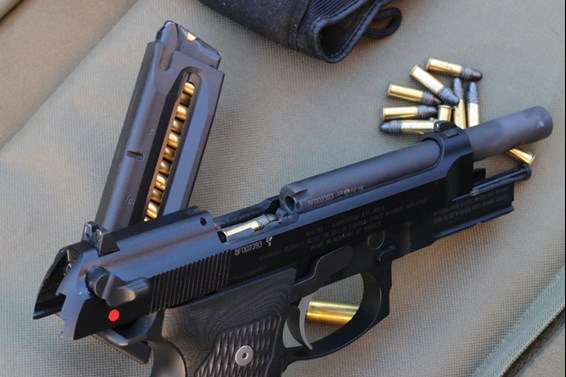 4. Magazine: I'll come right out and say it—this is the best rimfire pistol magazine I have used, period. The Beretta unit houses a full 15 rounds in a semi-staggered format, allowing perfect replication of drills and training sequences for the center-fire pistols. As useful, the metal mag is housed in a polymer "wrap" that brings the size to the full 92 series shape and allows a built-in and substantial thumb piece to facilitate filling the magazine full of .22s. Anyone with much time on any of the classic rimfire pistols can attest to how awkward and/or uncomfortable filling them can be without a loading device in extended range sessions. The Beretta fills more easily and quickly than any other mag I've used, further lending to its utility as a trainer. That the magazine reliably locks the slide to the rear is a bonus.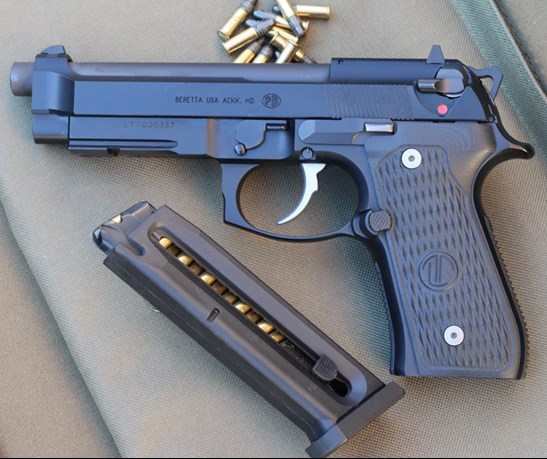 5. Reliability: I have fired a box or three over 4,000 rounds through my conversion unit. I haven't had a single misfeed, failure to eject or other feed related issue in all of that shooting. It has mostly been uncleaned and occasionally oiled lightly in stride. I think at one point around 2,000 rounds I did a casual wipedown of major crud, but not what would pass muster as "clean." I have had the typical rimfire misfires where priming compound didn't get to the portion of the rim that the firing pin hit. This comes with the territory when shooting a rimfire and bulk ammo. I have had a few true light strikes that fired on the second attempt, but in fairness to the conversion my Elite has an aftermarket reduced power hammer spring that is undoubtedly light for rimfire. I think even a "D" spring (Beretta's double-action-only spring that is lighter than the stock 92 unit) would launch 100 percent of correctly primed rounds.
The Beretta conversion handles standard- and high-velocity loadings equally well, something that is unusual in some rimfire semi automatics, even popular dedicated .22s. This feature is nicer than one might initially suspect. With standard velocity loadings coming down to the lowest comparative prices in my memory being able to train with even less noise makes a session that much more enjoyable. 
I'm a fan. However, I'm on record as having a soft spot for the 92 series anyway. I've had a couple of coworkers try the conversion and they have been equally happy. The best vote yet has come from my 9th grade daughter, who has a pretty wide selection of great rimfires in the house from which to choose. The Beretta conversion with a 92 wearing LTT thin grips is her hands-down favorite handgun. 

Additional Reading:
Tested: Beretta 92G Elite LTT Pistol 
Upgrades for the Beretta 92: A Different Gun 
Archives: The M1911A1 and The M9