Support NRA American Rifleman
DONATE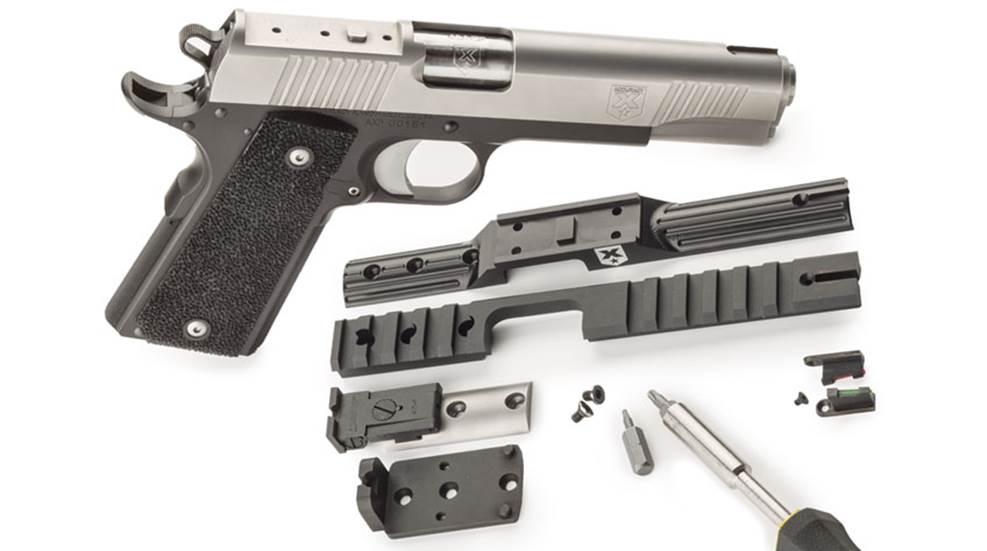 The M1911 pistol has a long and well-deserved reputation for power, speed and accuracy, which has made it a fixture in combat, civilian personal-protection, competition and even hunting applications. In each of those roles, however, Old Slabsides typically required extensive custom work to wring out its best performance—particularly when it came to sights. Six-time Distinguished competitive shooter Steve Huff, whose Accuracy X company produces competition-grade M1911 pistols and bolt-action rifles, has addressed that shortcoming with his patented Multi-Sight Module System reviewed here. The concept consists of a proprietary slide machined from forged stainless steel to accept mating sight inserts. Available in 4.25", 5" and 6" lengths, the G.I. Spec or Gunsmith Fit slides can be retrofitted to standard M1911 frames and barrels by the end user or by professionals, respectively.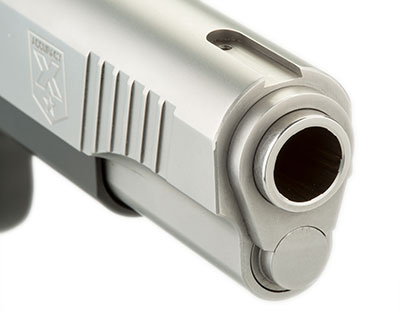 Key to the design are machined pockets in the slide's top—the rear measuring 0.800" wide by 2" long and incorporating three threaded holes and a 0.025" square recoil/index lug, and, at the front, a tapered dovetail measuring 0.022" wide by 0.735" long with one threaded hole. Together, they interface with several available iron-sight sets, full-length or short Picatinny rails, and optic mounts for the Aimpoint Micro or rear plates for Trijicon-pattern, Leupold DeltaPoint Pro and Vortex Venom red-dot sights. Iron sight options include Fixed Tactical, Fixed Suppressor and Bo-Mar-style Kensight Adjustable Target rear options that correspond with various widths and heights of front blades in serrated target, tritium or fiber-optic styles.
We received a complete 5"-barreled .45 ACP Accuracy X Pro Series Defender pistol and a full complement of sights, rails and mounts, along with examples of all three sizes of slide, for comparison and evaluation. Fit and finish of the pistol was top-shelf, with vault-like lockup of its slide and barrel occurring at the critical final few fractions of an inch as they locked into battery. All other components displayed equally excellent quality control and interchanged properly within their respective modules. No play was apparent between the components and their machined recesses in the slides, and tool marks were all but absent even on interior surfaces of the pistol, slides and components. We shot the Accuracy X pistol using several sight configurations and achieved five-shot groups that averaged 2" at 25 yds. with 230-gr. SIG V-Crown match ammunition. Changing between modules typically required only a few minutes and the use of No. 6 and 15 Torx bits and a suitable driver.
Accuracy X has obviously taken great care to produce a top-quality pistol and modular, interchangeable sighting system whose straightforward design lends itself to easy assembly and disassembly and consistent accuracy. Although it is unlikely that any single user would need all of the various modules the system encompasses, some may find that owning enough pieces to assemble two or three may provide greater versatility and value than could be realized by owning more than one high-end pistol. Given that, and the system's overall excellent quality of manufacture, we see the Accuracy X Multi-Sight Module System as a unique and worthwhile contribution to the M1911's storied legacy. Price: $80-$150 (sights and mounts); $395-$470 (slides). Contact: Accuracy X, Inc. (Dept. AR), 733 Middle Valley Road, Hardy, VA 24101; (877) 762-1911; accuracyx.com.