Support NRA American Rifleman
DONATE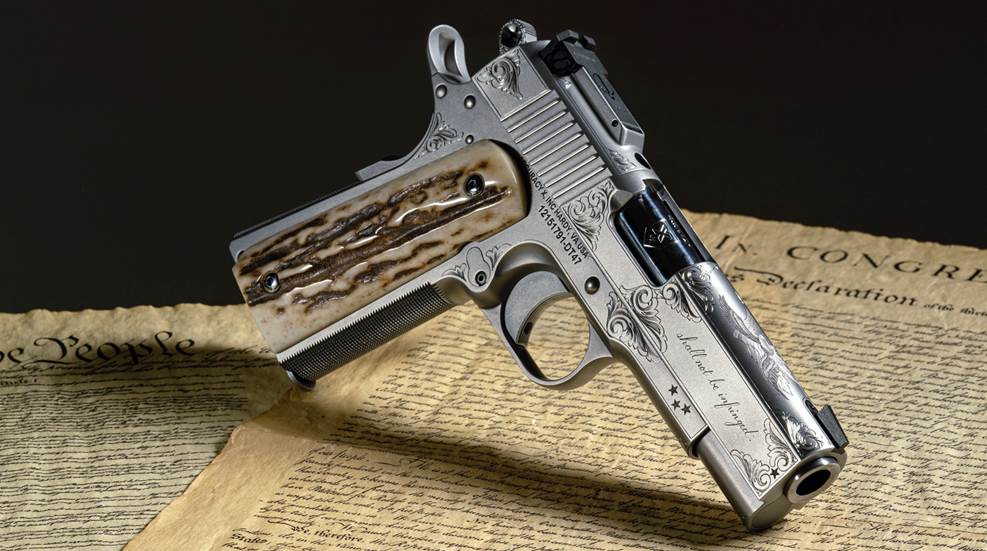 September 17, 2022, marked the 235th anniversary of the signing of the U.S. Constitution, one of the most important and influential documents in world history and the bedrock of the American system of government. To pay homage to the nation's founding articles, Accuracy-X, a boutique maker of precision M1911s, crafted a bespoke M1911 enriched with symbolism drawn from our country's past.
Part of the company's new Signature Series, which allows customers to craft exquisite, one-off firearms, the Constitution M1911 features 13 stars representing the original 13 states. All the engraving was performed by hand with a hammer and chisel, and the gun features an exact replica of the handwriting of Jacob Shallus, who penned the original Constitution. The pistol is emblazoned with an eagle clutching the American flag, as well as a laurel wreath representing triumph and victory.
The gun is outfitted with stag stocks to represent the frontiersmen and pioneers who explored our nation, and a custom serial number includes the Constitution's ratification date, as well as the initials and birth date of the client who commissioned this particular pistol. For more information, please visit accuracyx.com.