by
posted on February 7, 2022
Support NRA American Rifleman
DONATE
Shooting industry trends often play out like a gold rush. A manufacturer picks up a firearm concept that has usually been floating around for some time and gives it a few well-thought-out adjustments. The gun strikes that magical, just-right balance of desirable features, a reasonable price point and a brand name that the shooting sports community trusts. When it hits the marketplace, it becomes the breakthrough product of the year. Having struck it rich, other manufacturers charge in to turn a profit with similarly configured models. We saw this with the Ruger LCP-inspired .380 ACP pocket-pistol bonanza of the late 2000s. Several gunmakers then jockeyed for position in the single-stack 9 mm pocket-pistol push that took place soon after. In 2017, Mossberg paved the way for 14"-barreled, non-NFA pump-action firearms to move from obscurity into common use with the release of the popular 590 Shockwave. And the list goes on.
Today, we are enjoying the fruits of the micro-compact 9 mm defensive-pistol boom that was kick-started by the success of SIG Sauer's P365 (2018), followed by the Springfield Hellcat (2019). As a result of the COVID-19 pandemic in 2020, many gun companies chose to postpone their new gun releases, but several new micro-compacts were finally unleashed in 2021—including SCCY Industries' striker-fired DVG-1.
What some folks may not know is that SCCY Industries was manufacturing micro-compacts for years earlier. The company was founded in South Daytona, Fla., by Joe Roebuck in 2003. Taking advantage of his four decades of experience in manufacturing, he launched the CPX series of affordably priced, recessed-hammer-fired, American-made 9 mm pistols.
By 2010, the company was ready to move its operations to its current location in Daytona Beach, Fla., where all of its guns are manufactured today. That year also marked the arrival of the second generation of the CPX-1 pistol design with the addition of the CPX-2 model that omits the external thumb-safety lever. SCCY started shipping the CPX-3 in 2019, which is a .380 ACP version of the platform. As of 2020, in keeping up with the growing customer demand for optics-ready defensive pistols, all SCCY models are available with a choice of iron sights only or a factory-installed micro red-dot optic in place of the rear sight.
The majority of the current crop of micro-compacts sport suggested retail prices ranging from around $395 to $599 for basic, no-frills models. SCCY's offerings start at $250 for an iron-sight-only CPX-2 with its price list topping out at $399 for a DVG-1RD that ships with an optic installed. Considering these prices, it's not uncommon for inquiring minds to wonder how the company can keep its costs so low.
Some aspects of the production process can be quite expensive, like hiring an engineer to carry out the lengthy R&D process or training technicians to assemble the tooling for the production line. Companies that outsource these services recoup these costs by using less-expensive material; it's not uncommon to outsource parts from other companies or to employ an overseas labor force.
The key to SCCY's low-cost business model is managing production processes in house. The company founder is a mechanical design engineer and a tool-and-die maker by trade. By focusing production on 9 mm pistols, instead of diversifying into other platforms, components that might have to be outsourced can be made on-site. This also helps to avoid costly production slowdowns, because any component-related issues that crop up can be resolved in real time rather than waiting for a vendor to solve the problem at its end.
A simplified product catalog and on-site managed production means that SCCY's American-made and -assembled pistols can have budget-friendly price tags without sacrificing features that include heat-treated components milled from bar stock and billet materials. The company has performed 5,000-round endurance tests of its pistols without any breakages. In fact, the company is confident enough in the quality of its workmanship to offer a limited lifetime warranty that follows the pistol, not the owner. I've been shooting various versions of the SCCY CPX series for some time now, so I was curious to see how the freshly minted DVG-1 differed from its decade-old counterpart. Here is a closer look at the red-dot-equipped versions of the DVG-1 and CPX-2, side by side.
Common Features
SCCY's 9 mm locked-breech, short-recoil-operated semi-automatic pistols fit neatly into the micro-compact size and ammunition-capacity profile. They are 6" long, 4.5" tall (without an optic) and have a 1" wide slide. They accept blued-steel double-stack magazines that hold 10 rounds of ammunition that can be fitted with either a flush-fit or an extended-finger-rest baseplate. Thankfully, the DVG-1 and CPX models use the same magazine.
It's not uncommon with some defensive-pistol lines to have a choice of either a blued, carbon-steel slide or a slightly more expensive stainless-steel slide. All SCCY pistol slides are made of heat-treated stainless. Customers can choose from a natural silver-satin finish or a matte-black nitride treatment for the same price. The slides are de-horned with rounded muzzles for easier re-holstering, and have generous sets of deeply cut, curved cocking serrations.
Standard models ship with a three-dot sight system with a pinned polymer front sight and a metallic, square-notch rear dovetailed into the slide and featuring a locking screw allowing for windage adjustments. On the RD models, the rear sight groove is milled away to make room on top of the slide for a micro red-dot optic. The RD pistols discussed here arrived outfitted with Riton 3 Tactix MPRD 2 optics sized for Shield-pattern slide cuts. This shock- and water-resistant optic features a 3-m.o.a. dot, a tough anodized 6061-T6 aluminum housing and a fully multi-coated, HD glass lens. One CR2032 battery provides up to 50,000 hours with shake-awake, auto-brightness and auto-off features to help extend battery life. A square notch cut into the housing replaces the rear sight.
SCCY pistols are well-made inside and out. They exhibit a proper fit and finish that is free of the dings, rough spots and mold marks that plague some budget-priced models. The 3.1" stainless-steel barrels are machined from bar stock. Bores are cut with seven-land-and-groove rifling with a 1:16" RH twist rate. This type of rifling can safely fire unjacketed lead bullets.
Removing the slide from the pistol reveals a one-piece receiver that houses the fire-control group and supports the slide assembly. The heat-treated receiver is milled from a billet of 7075-T6 aluminum and treated with a black-anodized finish. It's secured to the polymer frame using two solid steel pins. The integral slide rails are an uninterrupted 3.5" long to provide consistent support for the slide. The receiver is the serial-numbered component, much like the lower receiver of an AR-15 carbine. The number is engraved at the rear and is visible just below the rear sight.
The pistol frames are made from a durable, lightweight Zytel polymer. One of SCCY's signature features is its variety of pistol frame colors. Muted tones, such as black, gray and flat dark earth are available, alongside more eye-catching options such as orange, purple, robin's egg blue, pink and lime green. The company also offers a selection of Kryptek camouflage patterns including Highlander, Inferno and Typhon (some models have limited color options).
The dustcovers are smoothed off and unencumbered by accessory rails. To either side of the dustcover are long indentations that provide touch points for the trigger finger. The traditional rounded trigger guards are roomy and relieved where they meet the grip frame for improved comfort.
The external controls, found on the left side of the frame for right-handed use, include a removable steel takedown pin, a steel slide stop with an extended, overmolded polymer lever and a smooth-faced, square-button magazine release. The DVG-1 and CPX-2 do not have external thumb safeties (if you prefer having a safety, take a look at the CPX-1). SCCY pistols also omit magazine safeties, which means these guns will fire if the trigger is pressed with the magazine removed from the grip.
The top of the grip frame has left- and right-side thumb grooves. The frontstrap is finger-grooved with light texturing molded into the remaining three sides for improved purchase. The grips have a fixed profile with no interchangeable plates or backstraps. The pistols reviewed here ship in a simple pasteboard box with two magazines fitted with extended baseplates, a pair of flush-fit baseplates, a polymer trigger lock and an owner's manual.
DVG-1 Features
The DVG-1 is a striker-fired pistol that, like many of its competitors, is strongly influenced by the popular Glock Safe Action design. SCCY developed the DVG-1 in answer to customer requests for a lighter, striker-type trigger pull. The slide has a squared-off profile, a rounded cut-out extension of the ejection port and curved cocking serrations at the front as well as the rear. The aluminum slideplate's serrations are curved to match the cocking serrations.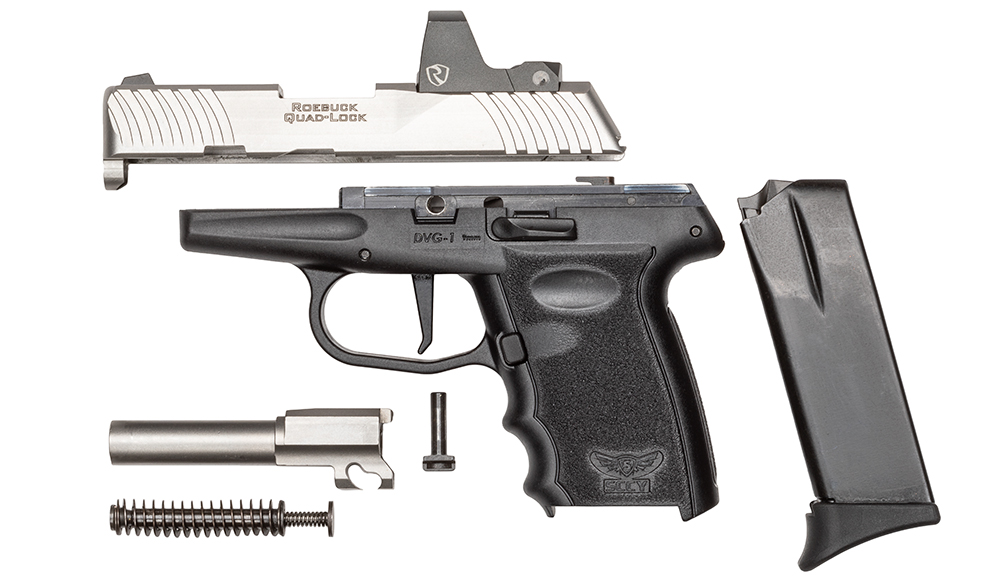 This model features the tilt-barrel Roebuck Quad-Lock action, which is another innovation developed by the company's founder. The system is intended to reduce felt recoil and provide for more consistent group sizes. In addition to the barrel's locked breech, a second locking point has been added at the muzzle end of the gun. The tip of the barrel is pressed down firmly into an ovoid slide opening instead of the typical round port. This added resistance works to stabilize the barrel and delay the rearward movement of the slide, which is a benefit for a lightweight pistol like this one.

The dual-recoil assembly omits any polymer parts in favor of steel components. A flat wire spring is wrapped around a sleeve that slides over a guide rod wound with a single round-wire spring. The absence of a hammer spring allows the DVG-1 to have a smaller grip circumference, making it a better fit for those with smaller hands. The molded-in grip texturing is a little more aggressive than the CPX series for improved purchase.
The curved trigger of the CPX line has been replaced with a straight, flat-faced trigger that does not have an integral blade safety. The straight trigger is intended to make it easier for the shooter to feel if the pad of the trigger finger is properly placed. The trigger doesn't feel quite like those found on other striker pistols, which tend to have a longer take-up with a somewhat indistinct break followed by a short, distinctive reset. The DVG-1 trigger is somewhat like a single-stage rifle trigger; there's just a touch of take-up with firm resistance before breaking. Its arc of travel is relatively short. Even though the trigger has to be let out almost completely to reset, the distance traveled is about the same as other striker-fired triggers. It's a comfortable trigger to work with, but it does not replicate the feel of other striker-fired pistol triggers, so it takes some time to get used to it. The trigger pull is listed at 5 lbs., 8 ozs., but the test gun's trigger was 2 ozs. lighter. The DVG-1RD, with an empty magazine inserted and with the Riton red-dot, tipped the scales at 17.5 ozs.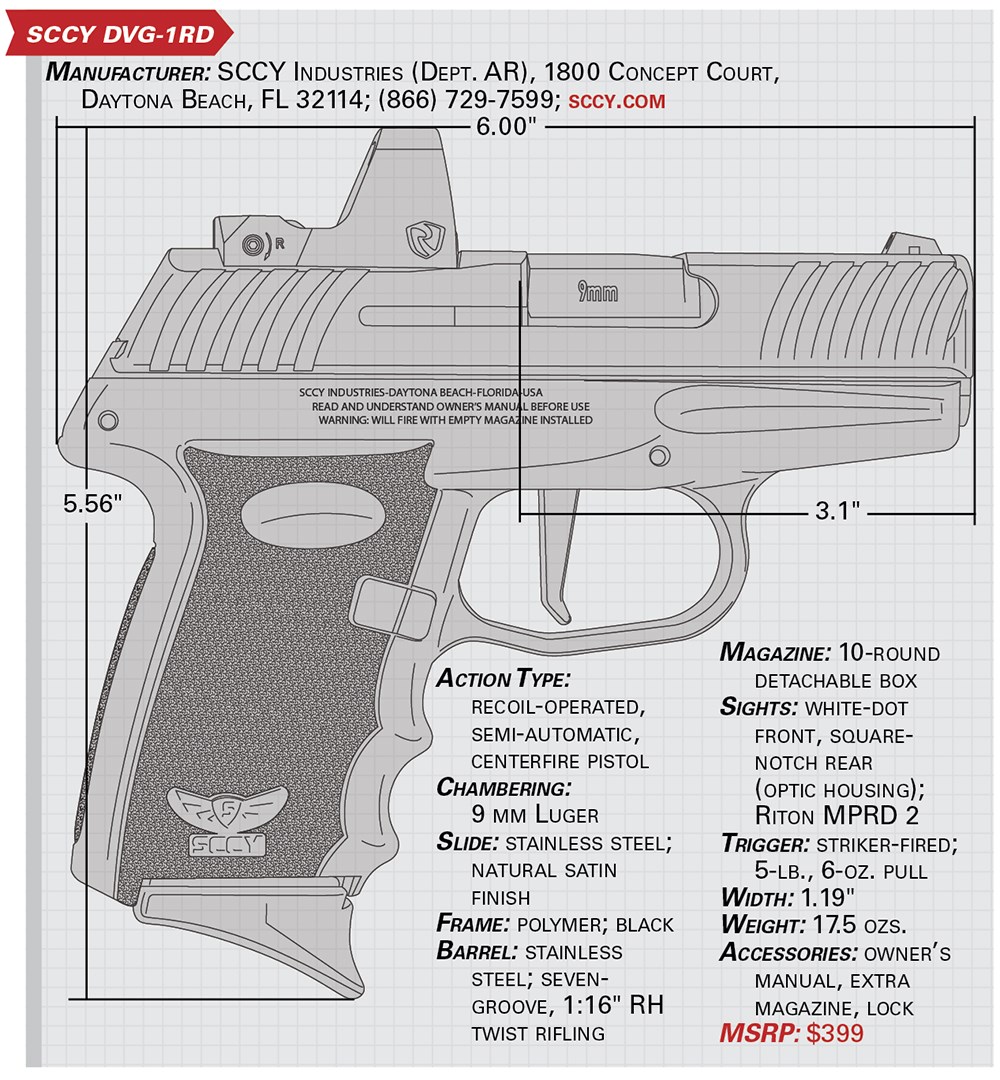 ---
CPX-2 Features
The CPX series of hammer-fired, double-action-only pistols were inspired by George Kellgren's Kel-Tec P-11 design. Although the CPX is not a clone of that platform, the similarities are easy to see. This pistol's slide has a beveled top edge, a squared-off ejection port and rear cocking serrations. The recessed hammer is visible through a slot at the rear of the slide.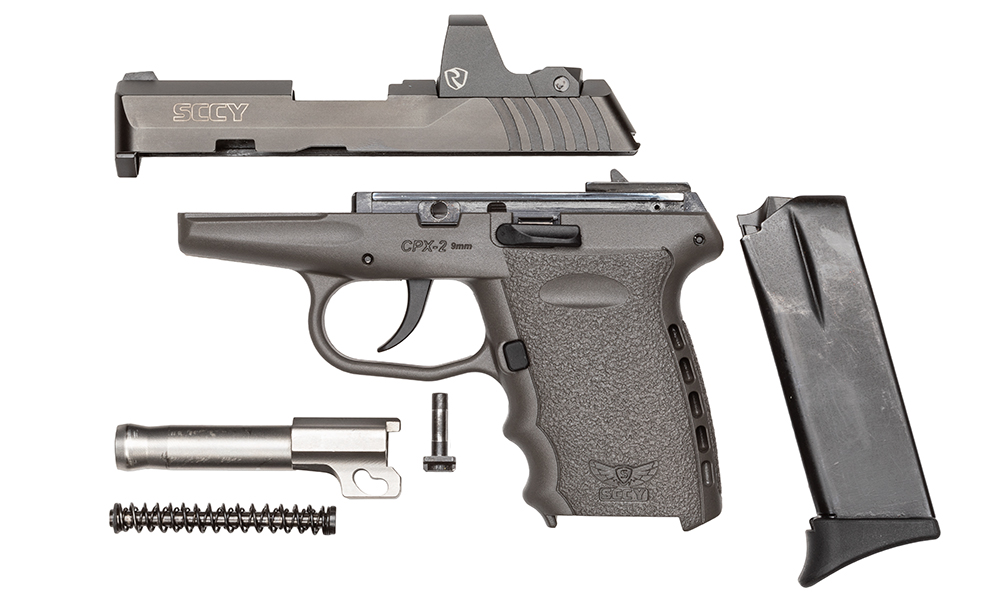 The all-steel recoil assembly consists of a slim single guide rod wrapped with two captured round-wire recoil springs. The grip frame is a bit larger front to back in order to accommodate the hammer-spring assembly. The vented backstrap forms what the company calls its integral "Re-Coil Cushion," although the amount of shock absorption it provides is negligible at best.


CPX pistols have curved polymer triggers that exhibit a long and relatively heavy trigger pull comparable to that of a double-action revolver. It has just a hint of take-up before the smooth, consistent arc of travel ends with the trigger resting against the frame. There are no hang-ups or stacking along the way, and the mechanism does allow second-strike capability. The listed trigger pull is 9 lbs., but the test pistol's trigger proved to be 8 ozs. lighter, according to a Lyman digital trigger pull gauge. This model does not require the trigger to be pressed when disassembling the gun for maintenance. The CPX-2RD weighs in at 17.2 ozs. with the optic installed and an empty magazine in the grip.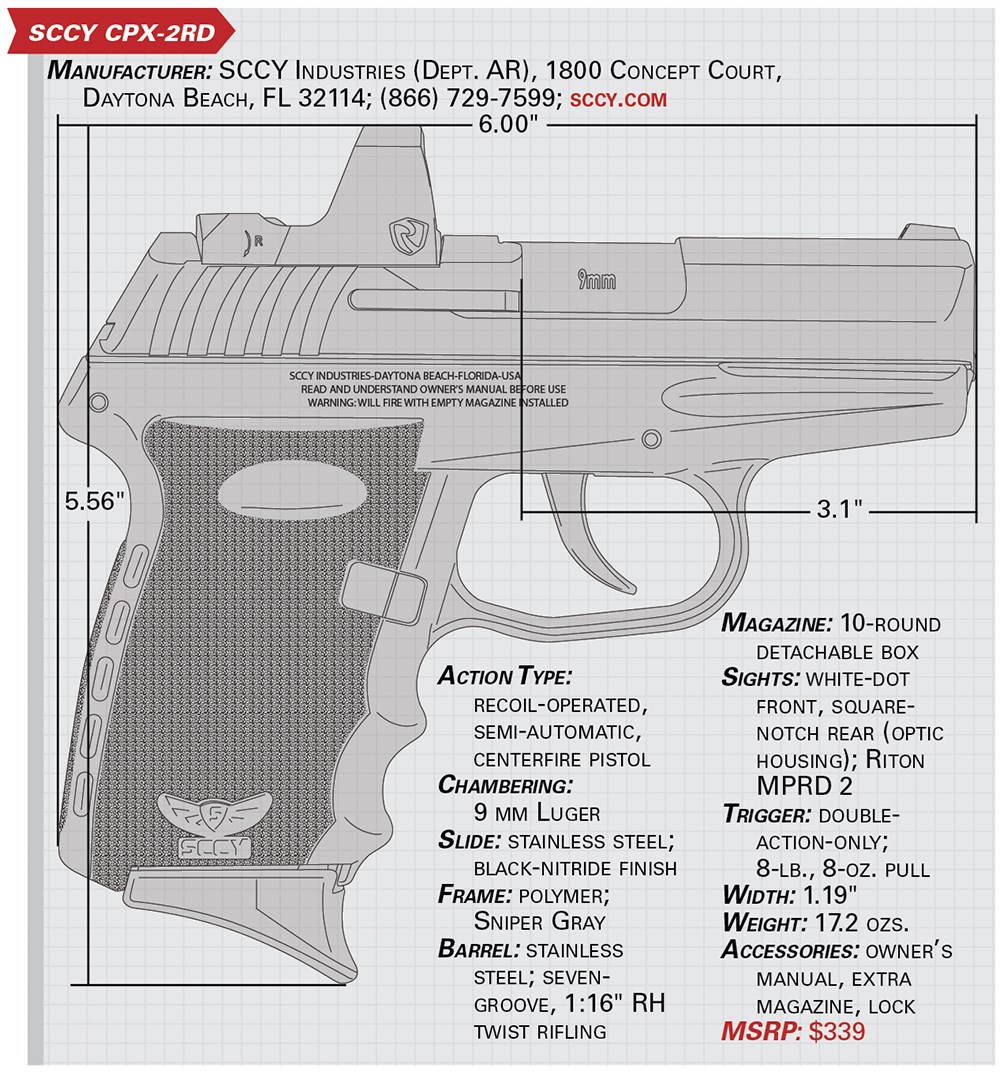 Trigger Time
Like other members of the micro-compact family, the SCCY pistols' compact size and low weight make them comfortable to carry. But the trade-off is increased levels of felt recoil. Although these guns are shootable and manageable, they are not recreational firearms. The company recommends the use of factory-manufactured, brass-case cartridges topped with standard bullet weights ranging from 115 grains to 147 grains. The use of +P or +P+ ammunition should be avoided.
Customers should be aware that the front sight is partially blocked by the Riton optic. The top of the sight is still visible and can be lined up with the square notch to form a sight picture, but about two-thirds of the white dot is obstructed. Because of the abbreviated sight picture, the optic can't be co-witnessed with the iron sights. The red-dot aiming point was bright, clear and easy to see, but the irons required a bit more concentration to use.
Due to these pistols' physical similarities, it's not much of a surprise that they yielded similar downrange results. Both guns were tested with the same ammunition sets with nominal variations in accuracy and bullet velocity. In the course of firing hundreds of rounds from a total of eight factory magazines, the CPX-2RD exhibited a single failure to feed in the first 50 rounds fired. The DVG-1RD's only hiccup was a single instance of the slide failing to lock back with the last shot fired, which happened near the end of the testing process. Otherwise, it was smooth sailing.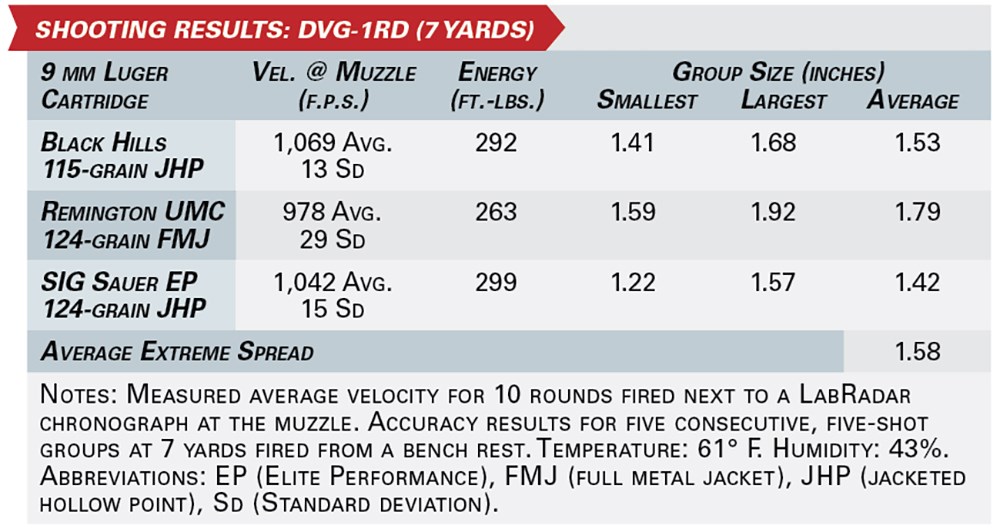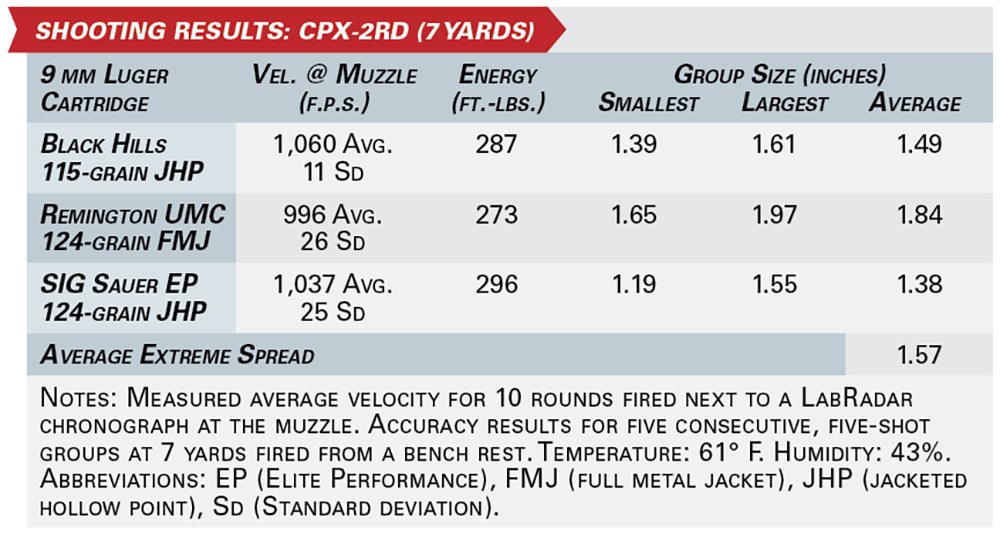 Parting Shot
So, which of these SCCY pistol is the better option? Based on their very similar performance results, it all boils down to personal preference. The DVG-1 has a smaller grip and a considerably lighter trigger, while the CPX series offers a more hand-filling grip with a trigger pull that double-action-revolver fans will appreciate. Either way, you're not going to have to open a gold mine to be able to afford these lightweight, comfortable-to-carry, defensive 9 mm Luger pistols—even if you choose to spring for the added functionality provided by a micro red-dot optic.