by
posted on March 14, 2022
Support NRA American Rifleman
DONATE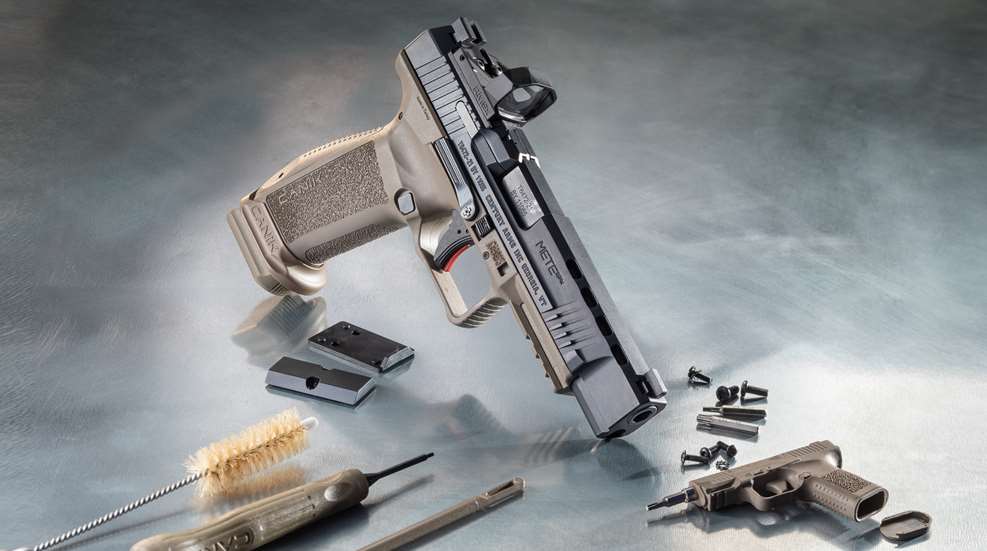 A few years ago, when I was first introduced to the Canik brand of semi-automatic pistols, my initial response was more ho-hum than yee-haw. Lacking previous experience with the company's products, I thought they were just another set of less-expensive imports. I mentioned this to Mark Keefe, NRA Publications' editorial director, and he was quick to say, in so many words, "Gil, don't knock them until you try them!" With this in mind, I requested a C-100 9 mm pistol for an evaluation. It was a compact, all-steel CZ 75 clone made by Canik and imported by TriStar, which proved to be a better gun than the price tag would suggest. Delving into the company's background shed light on why this is the case.
Canik pistols are manufactured by Samsun Domestic Defense and Industry Corp. of Turkey. Established in 1997, the ISO 9001-certified production facility where these guns are manufactured is located in Samsun, Turkey. The Canik brand is well-known for its intelligent engineering, which is driven by the company's expertise in aerospace manufacturing. It also produces military-grade arms, such as sniper rifles and rocket launchers, in addition to aviation components that can be found in aircraft made by Airbus, Boeing and Lockheed Martin.
Thanks to the company's expeditious access to raw materials, extensive up-to-date manufacturing facilities and a well-developed global distribution network, Canik pistols meet or exceed many military and law-enforcement standards while maintaining a competitive price point. Canik is the primary provider of pistols to the Turkish police force and a major supplier for European military and law-enforcement agencies.
In the late 2000s, Canik began manufacturing its TP series of polymer-frame pistols, and, by 2012, it had teamed up with Vermont-based Century Arms to import, market and service the guns in the United States. Although the original TP9, chambered in 9 mm Luger, blended features from various proven handgun designs, its most prominent inspiration was the Walther P99. It employed the same Browning Hi-Power-inspired short-recoil, tilting-barrel-lock action found in other popular models made by companies such as FN, Glock and SIG Sauer, to name a few.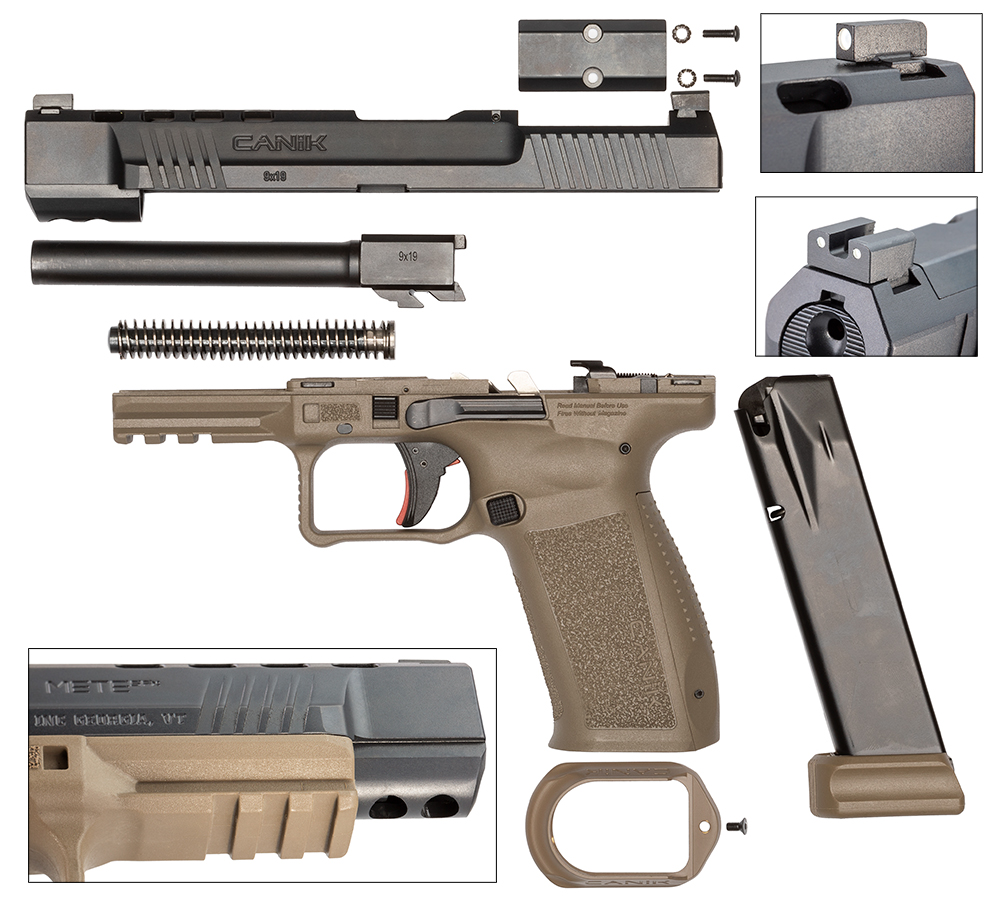 Initially, the striker-fired TP9 was outfitted with a slide-mounted de-cocker button that worked in conjunction with a double-action/single-action trigger. Much like hammer-fired DA/SA pistols, the striker could be pre-loaded for a lighter trigger pull or de-cocked for a longer, heavier first-shot trigger. Other features included a cold-hammer-forged barrel rated for +P ammunition, capacious 18-round double-stack magazines, interchangeable backstraps, a lockable case, cleaning equipment and a suggested retail price that was close to half the price of comparable models from other well-known manufacturers.
Although the TP9 was a solid combat handgun right out of the gate, it still had room for improvement. The next iteration of the platform, called the TP9SA, incorporated a slightly elongated frame with a longer slide and barrel. It enjoyed a more refined slide profile, the grip frame's geometry was improved and the gripping surfaces were treated with more aggressive stippling for improved purchase. A top-mounted mechanical loaded-chamber indicator was added to the slide.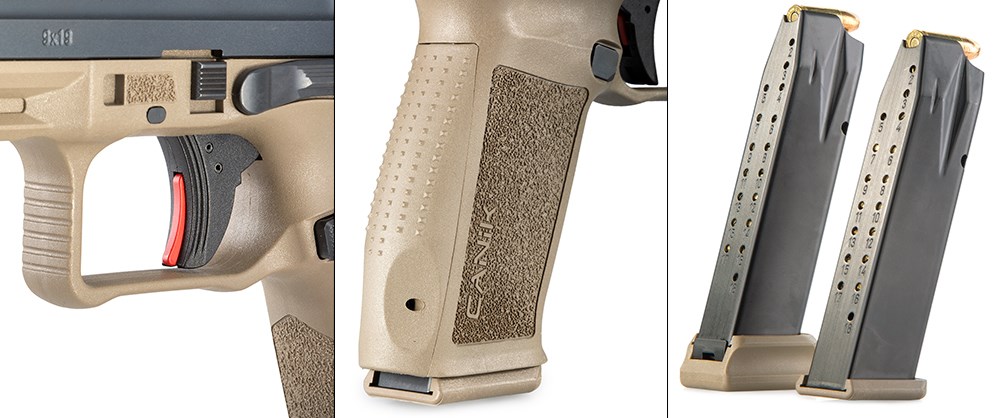 The subsequent model, called the TP9SF, retained the upgrades of the SA but underwent a significant internal modification. The DA/SA trigger and slide-mounted de-cocker were dropped in favor of a Glock-pattern trigger with the typical set of internal safety mechanisms, a consistent trigger pull from shot to shot and an integral trigger-blade safety. This series includes the duty-size TP9SF, the more compact SF Elite and the extended slide, competition-style SFx, the latter two of which ship with optics-ready slides.
This brings us to Canik's latest evolution of its polymer pistols, dubbed the METE (pronounced met-ay). Based on the TP9SF, the company incorporated updates and upgrades inspired by customer feedback. At the time of this writing, Century Arms was shipping two versions of the METE with a standard-size frame and a slide configuration with either a 4.46" barrel (METE SFT) or a long-slide competition model (METE SFx). This evaluation takes a closer look at the extended-slide METE SFx.
The METE SFx blends features found on various TP9 models with some new touches thrown in to make things even more interesting. The extended slide has been lifted from the TP9 SFx with a notable change to the optics-mounting system and iron sights. The TP9 SFx's rear sight is dovetailed into the removable optics slot coverplate. This allows for a longer slide cutout that accommodates a greater variety of red-dot optic sizes. That pistol ships with four mounting plates. The METE SFx uses an optics slot and sight configuration more like that of the TP9 Elite SC; the white-dot rear sight is dovetailed directly into the slide. This allows the iron sights to be co-witnessed with a red-dot optic so as to serve as a back-up sight system if the electronic optic winks out at an inopportune moment. The tradeoff for the fixed rear sight is a shorter optics slot. The METE SFx arrives with two polymer mounting plates to support smaller micro red-dot optics, including the Shield RMS/RMSc and Trijicon RMRcc.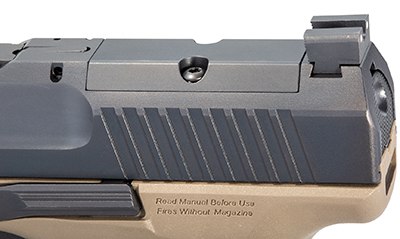 The 8.3"-long carbon-steel slide is treated with a durable matte-black nitride finish. In addition to being beveled at various locations, this model features eight weight-reduction cutouts located along the top of the slide between the front sight and the ejection port. The metallic white-dot front sight is dovetailed into the slide. The drift-adjustable metallic rear sight features a square notch and a screw that allows drift adjustments for windage. The front face of the rear sight is flattened with a slight forward cant that allows for one-handed slide operations.
Canted cocking serrations are located at both ends of the slide. The ejection port is beveled for improved function and fitted with an oversize extractor claw. The loaded-chamber indicator, placed just behind the chamber of the barrel, pops up to provide both visual and tactile confirmation when a cartridge is in place. The serrated slideplate, positioned below the rear sight, is made of metal instead of polymer. A red cocked-striker indicator protrudes through a rounded port in the slideplate, making it easy to verify that the striker is fully cocked while forming a sight picture.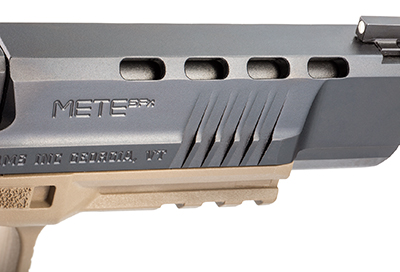 Removing the slide assembly from the frame reveals a weighty, all-steel guide rod wrapped in a single, captured flat-wire spring. The 5.25" barrel has a matte-black nitride finish that matches the slide. The bore is cut with traditional land-and-groove rifling with six grooves and a 1:10" right-hand twist. A side-by-side comparison of the METE slide's internal configuration to that of previous TP9 pistols shows variations in the machining and components. Although some changes are subtle, they indicate that this is an updated model instead of the same gun with a different set of slide markings.
The interior of the fiber-reinforced flat dark earth polymer frame is a good place to see Canik's attention to detail. It's simply well built with the judicious inclusion of more polymer at key points for added support and rigidity. The short slide rails are fully encased in polymer, and the dustcover has molded-in raised slide guides for improved slide stability. The locking block is nickel-coated with a U-shaped extension that is seated into a raised polymer ridge absent in other pistol designs. This model features a pair of easy-out, easy-in frame pins that allow for complete pistol disassembly using just the provided punch tool.
The exterior features of the METE's frame include some of the most noteworthy modifications found on this model. The dustcover sports a 1.75", three-slot M1913 Picatinny accessory rail for light and laser modules. The flat face of the generously sized trigger guard is textured to act as a support-hand finger rest. The guard is recessed and radiused where it meets the grip frame for a more comfortable hold. In addition to this, the bottom edge of the guard has been thinned out just enough to allow the support hand to rest a bit higher on the shooting hand for a more intuitive two-handed grip.
The external controls, including the takedown lever, magazine-release button and the bilateral slide-lock levers, are made of metal instead of polymer. The serrated, square gripping surfaces of the takedown lever and the extended slide-stop levers are Walther-like in their appearance and movement. The METE's slide-stop extensions have been slimmed down but remain easy to operate with either hand. The square-button magazine release is checkered and can be reversed for left-handed operation.
With so many polymer-framed, striker-fired pistols to choose from these days, it's natural to hone in on those features that set a particular model apart from the crowd. If I had to pick just one of the METE's many positive qualities to highlight, it would be the trigger. It's particularly noteworthy because it's just as good (or better) than those found on more expensive models.
Most off-the-rack striker-gun triggers are based on the Glock Safe-Action design, which exhibit similar qualities when cycled. A mushy (sometimes gritty) takeup is followed by some increase in resistance before a less distinctive break. They usually have a desirable short trigger reset with a tangible and audible click. Typical trigger pull weights, yet another standard set by duty-type Glock pistols, tend to be right around 5 lbs., 8 ozs. Recent Canik TP9 triggers show a marked improvement with nickel-plated trigger group components contributing to a cleaner feel. The TP9 Elite SC I worked with in 2020 cycled more smoothly with a lighter take-up and a distinctive wall before firing. The trigger pull was 4 lbs., 3 ozs., with a likable reset.
The METE SFx trigger has been further refined for competition. Although it still meets the company's definition of a "single-action" trigger, it could be more accurately described as having a two-stage feel. The trigger travels 0.5" from start to finish with a feathery light take-up. About halfway through the arc of travel, it exhibits an increased level of resistance. The trigger comes to a firm stop just before breaking cleanly with 3 lbs., 13 ozs., of pressure. The trigger reset is shorter than most with that desirable click folks prefer.
The well-thought-out grip frame has deep thumbrest dimples at the top on both sides with wide, rounded channels for the trigger finger. A new feature is the re-designed beavertail. It has a rounded profile that better fits the web of the shooting hand's thumb. The beavertail also houses the serial-number plate. This pistol ships with two interchangeable backstraps with raised pyramidal texturing.
The frontstrap and the sides of the grip feature panels of molded-in random stippling. It's an effective, aggressive texture type that stops just short of the sandpaper-like treatments applied to some tactical pistol models. The result is plenty of purchase without being overly abrasive to bare hands.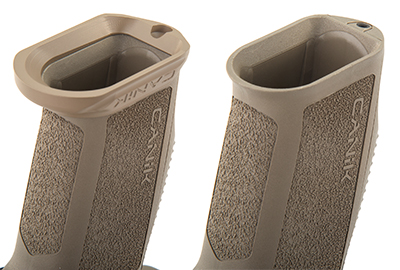 Another new feature is an integrated flared magazine well for easier high-speed reloads. The interior of the flare is well rounded, while the exterior edge remains fairly unobtrusive. Competitors often complain that steel magazines chew up the magazine wells of polymer-frame pistols. To extend the well and to help reduce wear, the METE ships with an aluminum magazine well extension finished to match the coloring of the frame. This extension is grooved to slip over the polymer flare and is secured in place with a provided retention screw.
The gun ships with two, blued-steel, double-stack magazines with black polymer followers. The 18-round magazine has a flat, flush-fit polymer baseplate that matches the frame. The second magazine holds 20 rounds, thanks to an extended baseplate. With some race guns, the installation of a magazine-well extension precludes the use of the flush-fit magazine baseplates; that is not the case with the METE. The provided extension is shaped to be compatible with both standard and extended magazines. It's a nice touch that shows the company is paying attention to details that other manufacturers sometimes overlook.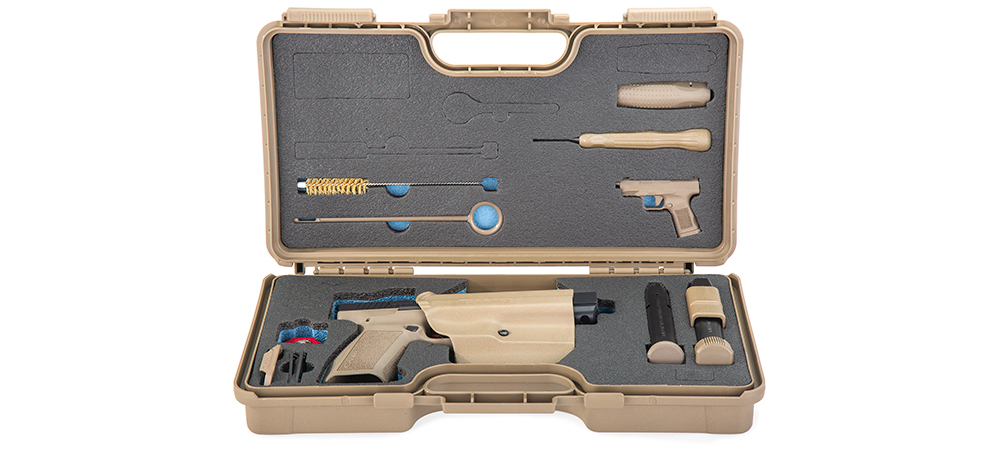 As with previous TP9 models, Canik ships the METE with a generous accessory package that will save customers time and the added expense of purchasing them separately. The items in the hard-side storage case include an IWB/OWB polymer HFL retention holster, a pin punch, cleaning patch handle and bore brush. The optics and magazine-well extension hardware, along with a set of screwdriver bits, is cleverly tucked into the hollow grip of a bit driver that's shaped like a miniature pistol.
For performance testing at the shooting range, I topped off the METE SFx with a Shield RMS, a model that has become something of an industry standard for smaller reflex sights. The slide cutout proved to be deep enough to allow the 4-m.o.a. red dot to be quickly co-witnessed with the iron sights, even though the sights are of a standard height. The pistol was tested with a mix of practice and premium defensive hollow points in a variety of bullet weights. The METE reliably fed, fired and ejected them all without any malfunctions or mechanical issues.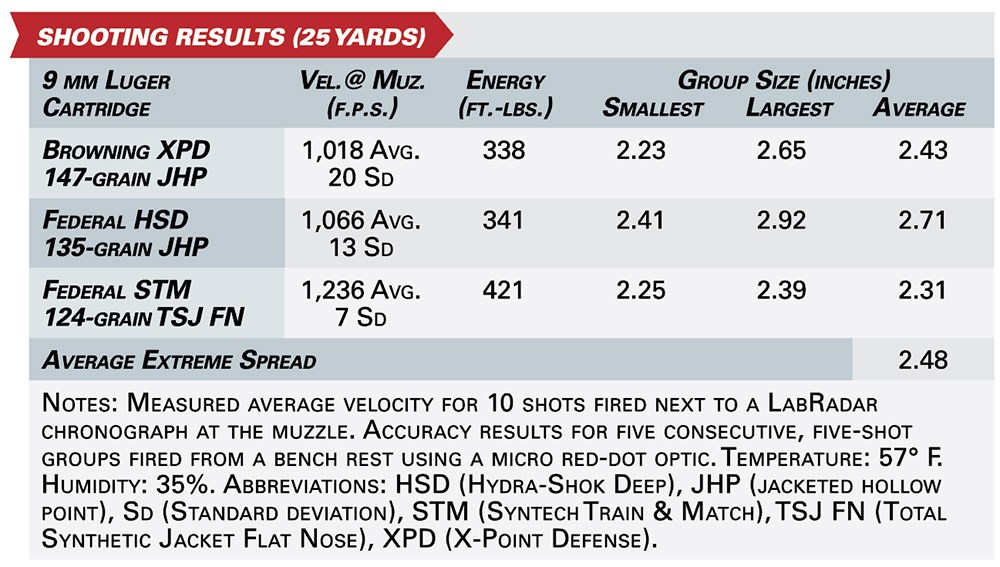 There are several factors that can play a role in a pistol's accuracy. But, in the end, the proof is in the range results. For factory-configured, striker-fired 9 mm Luger pistols, bench-rested five-shot groups hovering between 3" to 3.5" at 25 yards are adequate for self-defense or competition use. Groups in that size range usually indicate that the pistol, the ammunition and the gun writer are operating properly. For me, using a red-dot sight with a semi-automatic pistol can shave up to half an inch off the group sizes compared to groups fired with iron sights. But even without the red-dot, the METE SFx outshot its price point. Formal accuracy testing yielded five-shot groups between 2.23" and 2.92", with an average extreme spread of 2.48".
Although Canik has yet to gain the same level of name recognition as some other imported pistol brands, many of those shooting sports enthusiasts who have discovered what this company has to offer have become loyal customers. The TP9 series has offered well-made pistols for some time. But the arrival of the METE SFx marks the pistol's race gun features fully catching up to the Canik's quality and reliability. This fully tricked-out competition gun package can comfortably go toe-to-toe with offerings from companies like Walther, Ruger and Glock and do so with a plain-Jane duty pistol's suggested retail price of $575.