by
posted on October 4, 2021
Support NRA American Rifleman
DONATE
Stepping into a new segment of the shooting industry is often challenging, even for well-established gun manufacturers. Starting with a blank slate to develop an all-new product no one has ever seen before requires a good deal of costly research and development, along with the risk that it may be a flop with consumers. A much safer and less expensive choice is to simply clone an existing platform. However, with a straight copy, the possibility exists that it won't stand out from the crowd.
Armscor, a firearm manufacturer based in the City of Marikina, Philippines, recently decided it was time to launch its first ever striker-fired pistol. The company is known for producing well-made and affordably priced M1911 pistols and double-action revolvers, and I was curious to see what approach it would take in designing its own version of the popular striker 9 as part of its Rock Island Armory line.
The new STK100 splits the difference between launching an all-new 9 mm pistol and cloning a popular model. Mechanically speaking, it is based on the Glock Gen 3 G17 semi-automatic. Along with accepting G17 magazines, it can be outfitted with a variety of aftermarket upgrades, including Gen 3-compatible sights, barrels, trigger groups and controls.


While other striker-fired pistols in this category are built around injection-molded polymer frames, Armscor took advantage of its team's extensive metal-milling experience and used a steel chassis clamped inside a two-piece aluminum frame. This is more of an old-school approach, but don't think that the STK100 is some kind of throwback or retro gun. It incorporates a variety of features that are currently popular in tactical and competition pistol designs, including an optics-ready slide.
The STK100's slide is milled from a billet of 4140 high-carbon steel, then treated with a matte-black Parkerized finish. It has been thoughtfully rounded, beveled and indented to give it a stylish and up-to-date profile, including a set of chevron cuts along the top edge just behind the front sight. The front half of the slide features a total of seven weight-reduction cutouts along with generously sized sets of front and rear cocking serrations.
The metallic white-dot front sight is secured by a retention screw that allows it to be removed and replaced with a fiber-optic or night sight. The vertically serrated, square-notch rear sight is a milled extension of the slide's cover plate, which was removed when installing a Vortex Venom red-dot optic as part of this evaluation. This means the iron sights cannot be co-witnessed with an optic installed.
The slide's extractor claw has an extension to serve as a visual and tactile loaded-chamber indicator. Although Glock installs polymer slide cover plates in its pistols, the STK100's plate is made from anodized aluminum. Removing the slide from the frame reveals a set of inner workings that are unabashedly Glock-compatible, including the G17-style barrel, firing pin and firing pin safety plunger—but there are two notable changes. The 4.5" barrel's rifling is a traditional land-and-groove configuration to accommodate the use of unjacketed lead bullets. And the guide rod is made of steel, instead of polymer, with a single captured, flat-wire spring.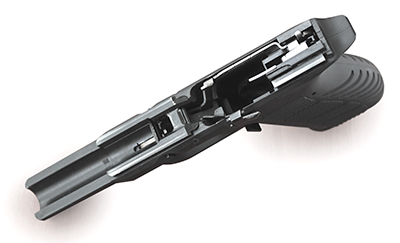 The configuration of the grip frame is where the STK100 takes its most noteworthy detours from Glock-inspired design. At the heart of this gun is a milled, high-carbon-steel chassis that is the serial-numbered component and, therefore, the receiver proper. The number is visible via a port located on the right side of the frame just in front of the slide lock lever.
The chassis integrates the locking block and front set of slide rails into a single unit. Glock pistols have four 0.35"- to 0.40"-long stamped sheet-metal rails molded into the polymer frame. The STK100's chassis rails are 1.95" long. The rear rails, on either side of the trigger mechanism housing, are also milled steel, with a left rail that's 1.15" long and a rail on the right that's 0.75".
The grip frame is a clamshell milled from billets of 7075 aluminum. This is one of the toughest types of aluminum available and is well-suited for use in gun components. In fact, it's a popular alloy to use when manufacturing AR-15 rifle receivers. The frame has been treated with a matte-black anodized finish that matches the slide.
A two-piece frame design is simpler to manufacture, which translates to a reduced cost for the customer. The chassis is sandwiched into the two halves of the frame that are then secured to each other using six screws located in and around the right sides of the dustcover, trigger guard and grip. The locking block, trigger and trigger housing pins have been replaced with smaller screws that are driven in from the left side of the frame.


Using aluminum for the frame has its advantages. It's a durable material that was used to make reduced-weight handgun frames (compared to steel) for decades before black polymer frames took over the marketplace. It also increases the weight of the pistol without making it overly heavy. The unloaded STK100 pistol tested for this review weighed in at 33 ozs. with an empty Glock G17 magazine inserted in the grip. That makes it about 8 ozs. heavier than a polymer-frame G17. The added weight of the aluminum frame works to stabilize the pistol and manage felt recoil without making it too heavy for use as a duty pistol or full-size concealed-carry option.
The frame's dustcover has an integral three-slot Picatinny accessory rail for laser or light modules. The generously sized trigger guard is rounded along the front edge and recessed where it meets the grip frame. It houses a smooth-faced, milled-aluminum trigger with a wide integral safety lever.
The trigger was well-tuned with a clean feel that is wholly free of any stacking or grittiness. The trigger stroke is typical of this type of striker-fired pistol, with a light take-up and a somewhat mushy feel at the break. Despite the fact that the company played it safe by listing a trigger pull weight range of between 3 and 7 lbs., the gun exhibited a just-right trigger pull of 5 lbs., 4 ozs. Unless a much lighter trigger is required, the factory trigger on this pistol arrives ready to use on the shooting range or in the field.
The left-side external controls consist of a slide stop lever and a magazine release configured and operated in typical Gen 3 fashion, and a polymer magazine release button has been replaced with a serrated aluminum release that has a canted face that is easy to reach and operate.
The grip profile has been influenced by Armscor's fondness for M1911 pistols. At the top of the grip frame is a curved beavertail extension that comfortably couches the web of the shooting hand thumb. Although the grip's width is similar to that of the G17, the angle of the backstrap is much closer to that of an M1911.
The grip frame features milled-in texturing on all four sides. This includes straight-line channels along the frontstrap, four panels of diamond-pattern checkering on the left and right sides, and deeply cut canted channels along the backstrap. This model does not have an interchangeable backstrap system.
The STK100 was a pleasure to take to the shooting range. Due to the weight-reduction cuts at the front end of the slide, most of the pistol's heft rests in or above the grip. In addition to reducing the mass of the slide for more manageable recoil, this gives the pistol a good balance and quick handling. It feels more like a competition model than a defensive option.
The gun arrived with one steel-lined, polymer, 17-round KCI USA magazine, which is a near copy of those that come out of Austria. For the range test, a factory Glock magazine along with aftermarket options, including Magpul's PMAG 17 GL9 and an Elite Tactical Systems (ETS) 22-round translucent polymer magazine, were included. All of the magazines inserted into the gun easily, locked into place properly and fed reliably. The steel-lined KCI USA and Glock factory magazines dropped free from the grip when the magazine release was pressed. However, the polymer PMAG and ETS magazines had to be extracted manually. It's not clear as to why these particular magazines are staying in place with this model when they have a history of dropping properly from other pistols and pistol-caliber carbines.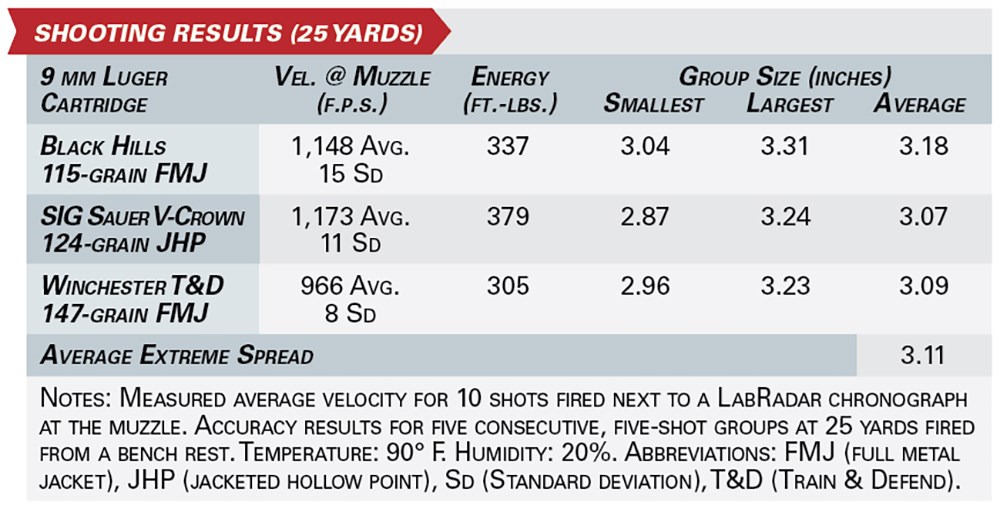 Formal benchrest accuracy testing was conducted at 25 yards with the factory-installed iron sights using practice- and defense-grade ammunition manufactured by Black Hills, SIG Sauer and Winchester. It is reasonable to expect 3" to 3.5" group sizes from duty-size pistols in this price range at this distance. Most of the groups produced by the STK100 hovered around the 3" mark, resulting in an average extreme spread of 3.11".
Armscor's Rock Island Armory handgun lineup has a reputation for quality and reliability that often exceeds customer expectations for the products' price point. The new STK100 continues this tradition. It's well-made and properly fitted throughout; with its clean lines and comfortable aluminum grip frame, it looks and feels like a gun that should cost more than it does. It arrives ready to use for enjoyable practice sessions at the shooting range, as an entry-level competition pistol or for self-defense.