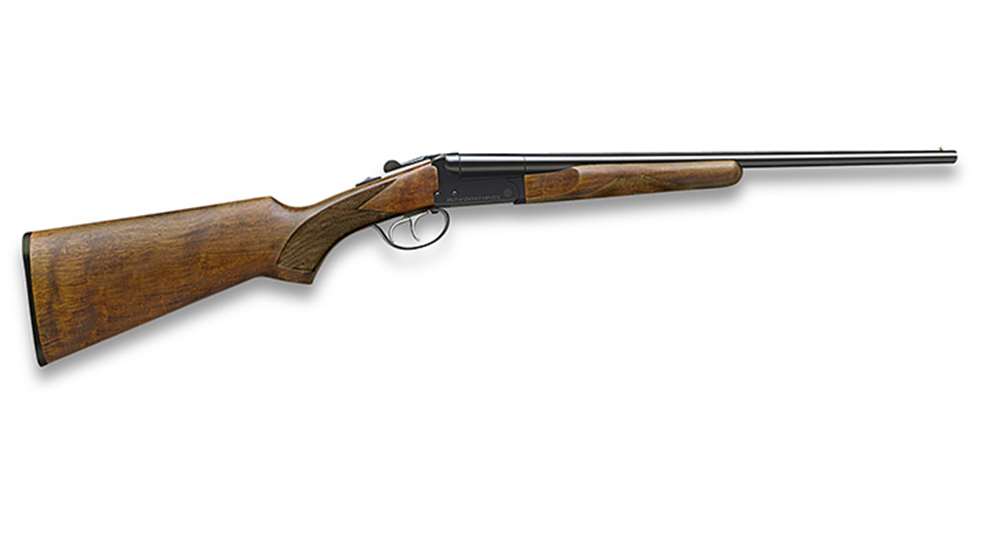 The Stoeger Coach Gun was the top choice for enthusiasts looking for a side-by-side shotgun in 2019, according to volume of purchases made through the services of Gunbroker.com. It's little wonder, too, with the classic looks, rugged build and variations available.
It's a regular at cowboy action matches, but there are a lot more reasons this firearm has occupied the top slot in its category for the past five years. The fact it held that position last month—at a time when new records were set for gun purchases—indicates the Coach Gun's popularity isn't fading, either.
It's available in .410 bore and 12- and 20-gauge. All chamber 2 3/4- or 3-inch shotshells and share an overall length of 36.5 inches. Weight of the 20-inch double-barreled guns varies from 6.3 pounds to 6.5.
Hammers are internal and the gun features an automatic tang safety. A lever atop at the rear of the receiver opens the action for loading and/or extraction. A brass bead up front and rib provide fast sight picture for cowboy action matches, home defense and hunting. The shotgun is even available in single- or double-trigger models. Each come with screw-in choke tubes and the company offers aftermarket versions with different constrictions.
The A-grade satin walnut stock and fore-end with blued metalwork model has an MSRP of $449 in all three chamberings. A single trigger model isn't available in .410 bore yet, but in the other chamberings it is and the price doesn't change. In 12- and 20-gauge versions there are also models with a polished-nickel finish on all the metal, with a striking black-finished hardwood. MSRP for those variants is $549 and, like the .410, only available with double triggers.
While it has all the looks that make it ideal for Cowboy Action Shooting, there's another reason for their popularity. "At 6 1/2 pounds with a pair of 20-inch barrels, the Stoeger Coach Gun is a simple, effective tool for home defense," wrote Dave Campbell when he reviewed one for American Rifleman. "The barrels are short enough for quick handling and its basic break-open design allows it to be used by virtually anyone."