by
posted on January 12, 2011
Support NRA American Rifleman
DONATE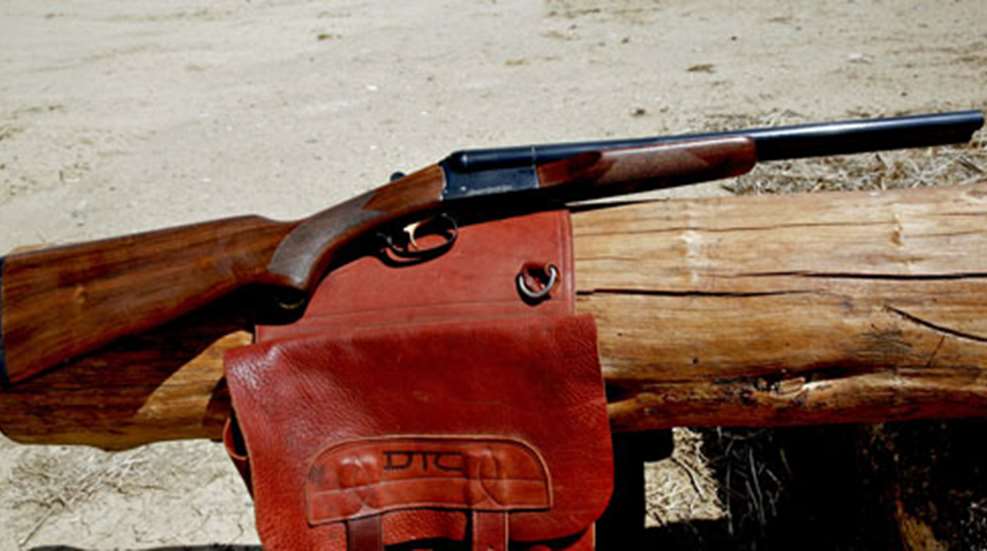 In today's firearms market the buzz word is "tactical." Everything is tactical, from guns to optics, to underwear. There are even tactical pens—writing instruments that double as weapons. Chalk it up to modern marketing: If it "ain't" tactical, you won't survive! Well, maybe… Developments within the tactical arena can be mind boggling and complex. To a certain extent I have succumbed to some of the complex gear solutions. But let's face it, a home invasion by a dozen bad guys remains relatively rare. Equally true is that many families have members who are not gunnies and have little or no formal training. They do not need or know how to use a sophisticated semi-auto shotgun equipped with ghost-ring sights, lights, lasers and a door-breaching tube. These folks are better off with a simple, short-barreled side-by-side shotgun—like the Stoeger Coach Gun.
At 6 1/2 pounds with a pair of 20-inch barrels, the Stoeger Coach Gun is a simple, effective tool for home defense. The barrels are short enough for quick handling and its basic break-open design allows it to be used by virtually anyone. The twin muzzles are an imposing statement to any would-be home invader. Available with 3-inch chambers in 12 and 20 gauge, as well as .410 bore, any unfortunate soul that chooses to challenge this shotgun's owner will pay a hefty price.
The Coach Gun features a standard boxlock action—rugged, reliable and simple. During my evaluation period I used my Coach Gun extensively in training exercises and cowboy action matches putting some 400 rounds through it without a single failure to fire. Double triggers are standard, providing instantaneous choice of barrels between their IC and Modified fixed chokes, though a single-trigger model is also available. My test gun was cloaked in A-grade European walnut with a pistol grip and beavertail fore-end, however a synthetic stock is available for those who use their scattergun in a hostile environment. The butt is capped with a hard plastic plate. A brass bead up front serves as an aiming aid.
In 12 gauge, the lightweight double can be a handful, especially for small-statured shooters with little experience. Even shooting trap loads, the slick plastic buttplate would slip around a bit when I shot. If your family includes diminutive shooters, consider getting a Coach Gun in 20 gauge and fitting a recoil pad to it. You'll need to make one more modification to the Coach Gun: make the safety to where it's not automatic. It's an inconvenient feature on a game gun, but on a self-defense shotgun it's unacceptably dangerous—analogous to having the manual safety engage after performing an emergency magazine reload on your pistol.
Coach guns derive their name from use by guards on stagecoaches during the latter part of the 19th century. They served a need at the time for an effective arm that was fast handling and easy to load from a bumpy, rolling stagecoach. Those same characteristics make it an excellent choice as a home-defense shotgun in the 21st century. The Stoeger Coach Gun may not have the "mule ears" and ambiance of the old Wells Fargo shotguns, but it's a lot faster to manipulate and handle—something critically important for a home-defense shot gun.
Manufacturer: Stoeger; (800) 264-4962; www.stoegerindustries.com
Type: Double barrel, side-by-side shotgun
Gauge: 12 (tested), 20 and .410 bore with 2 3/4" and 3" chambers
Barrel Length: 20"
Capacity: Two rounds
Sights: Brass bead
Safety: Automatic
Stock: Walnut (synthetic available)
Drop at comb/heel: 1 1/2" and 2 1/2"
Overall Length: 36 1/2"
Weight: 6.5 lbs.
Metal Finish: Blue (satin nickel available)
Suggested Retail Price: $399, $469 (nickel)