by
posted on May 30, 2014
Support NRA American Rifleman
DONATE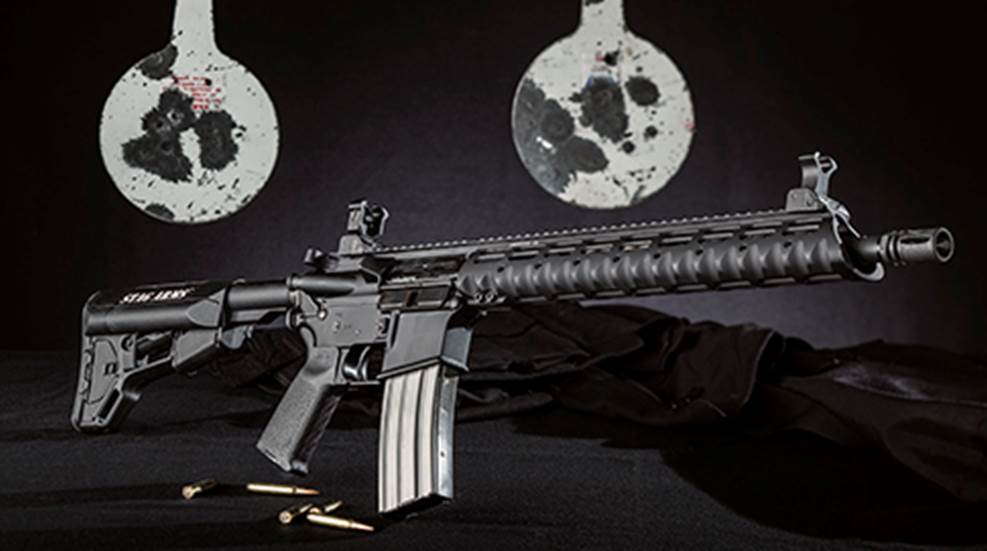 The Stag Arms 3T M is a product of Stag's close relationship with the action-shooting and competition communities. By no means limited to those pursuits, the 3T M is nevertheless influenced by input from such shooters, including feedback from Stag Arms' own 3-gun team. Additional input by law enforcement users means the rifle also has real utility in those roles and for self-defense. The result of this collaboration is a handy rifle that can stand up to hard service and maintain accuracy during extended periods of shooting, but is still accessory-ready.
The rifle's most distinguishing features are its handguard and flip-up iron sights. Both are aftermarket products of Diamondhead USA (diamondhead-usa.com) but come standard on the 3T M. The former is Diamondhead's 13½-inch VRS T free-float handguard. It attaches to a proprietary barrel nut via two tensioning screws, and provides a full length of top-side picatinny rail, as well as attachment points for additional screw-on rail segments (available separately from both Stag and Diamondhead). Its overall contour is that of a rounded triangle-the pinnacle being above the barrel, sheltering the gas tube-with an unusually flat base for an AR handguard. The VRS T's design eschews the more-common round, or quad-rail configurations, but turns out to be quite easy-to-grip and comfortable in the hand. Purchase is further enhanced by diamond-shaped depressions that run the length, right and left, of the handguard. They not only reduce the overall weight of the durable anodized 6061 aluminum fore-end, but also create natural finger grooves. The handguard's grooves, lightening cuts-on either side and below-and slanted front-end combine to lend the gun a unique and racy appearance.
The Diamondhead USA aluminum Micro-D Integrated Sighting System consists of both front and rear flip-up units with the namesake diamond-shaped housing, and both attach to the rail using a single flathead clamping screw. The sights deploy by grasping the housing and raising them into position, but returning them to the lowered position requires pressing a round lock button on the left-hand side of both sight bases. A standard A2-style front post allows for elevation adjustments, while the two-aperture rear sight provides windage adjustments-0.5 m.o.a. for each tactile and audible click of the flathead adjustment screw. A large or small diamond-shaped aperture can be rotated into the "up" position to facilitate accurate shooting in variable conditions and scenarios. Both peep sights have three reference posts, protruding from the sides and top, and a white bar that spans the protective ears of the rear sight housing, and correlates with the apertures' horizontal posts, provides an additional sighting guide.
Combining the handguard and sights reveals one of the 3T M's best characteristics-long sight radius. Because of its design, the handguard allows the front sight post to be mounted more than 4½ inches in front of the gas block, where M4-style front sights would be mounted, for an overall sight radius of more than 18 inches, assuming the rear sight is mounted as far back as possible on the upper receiver. The equation is simple: a longer sight radius equals greater practical precision but the gun and shooter must still do their part. Despite its elongated appearance, the 3T M actually has a 16-inch barrel and operates on a carbine-length gas system.
Hardware on the 3T M is all fairly standard for a Stag AR. The barrel is of 4140 steel in the government contour, which means no weight saving, but heat from prolonged shooting should not affect accuracy as it would with a thin "pencil" barrel-this was borne out in testing where more than 200 rounds were fired for evaluation in less than two hours with no noticeable change to point-of-impact. As well, the barrel is button-rifled with a 1:9-inch twist, is chrome-lined, and ends with an A2 flash hider. Both the upper and lower receiver are 7075 aluminum with Type 3 hard-coat anodizing, and all components and assemblies are produced to military specifications. All controls are in their usual locations. Welcome additions are the rifle's polymer furniture-putting the "M" in 3T M are Magpul's MOE grip and ACS six-position adjustable stock-and a sling-attachment plate, with left- and right-side cut-outs for sling clips, secured just under the castle nut. The rifle's overall length ranges from 33½ to 37 inches depending on the buttstock's position, and the whole package, unloaded, weighs in at 7 pounds, 6 ounces.
After confirming the fit and function of the 3T M's iron sights, a Nikon M223 2-8X 32 mm scope was mounted for accuracy evaluation. Throughout the course of fire the rifle functioned flawlessly, easily cycling loads with bullet weights ranging from 55 to 69 grains. Ejection was reliable and positive, and magazine changes, with both aluminum and polymer examples, were easy with empties dropping free and replacements sliding unobstructed into the well and locking into place with minimal play. Full results can be found in the accompanying table, but to summarize we chose a good sampling of loads-one match, one hunting and one defensive-with bullets not exceeding 70 grains in weight due to the 1:9-inch twist rate, which is not ideal for stabilizing the heavier bullets in the .223 Rem.'s range. Accuracy was excellent with Federal's Gold Medal match ammunition, producing both the smallest group, 0.75 inches, and smallest average, 1.05 inches. Liberty's Silverado hunting load also excelled with an overall 100-yard average of 2.08 inches. Winchester's 60-grain PDX1 load, on the other hand, was not as successful with groups ballooning to an average of nearly 5½ inches. The cartridge proved inconsistent in both velocity and accuracy, so while it may be usable at personal defense ranges, we cannot recommend this rifle/ammunition combination for any precision-dependent applications.
Combining durable, high-quality construction with a slick, though customizable, configuration, the Stag 3T M is a versatile and rugged rifle that can be counted on to win when the stakes are high.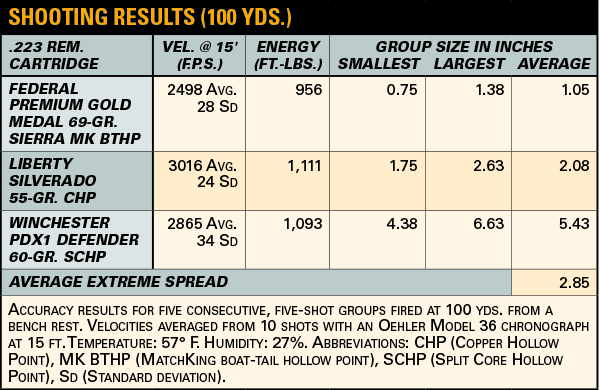 Manufacturer: Stag Arms, 515 John Downey Drive, New Britain, CT 06051; (860) 229-9994
Caliber: 5.56x45 mm NATO (.223 Rem.)
Action Type: semi-automatic, direct-gas impingement center-fire carbine
Receiver: 7075 -T6 aluminum; Type 3 hardcoat anodizing; matte black
Barrel: 16" 4140 steel; chrome lined
Rifling: six-groove, 1:9" RH twist
Magazine: 30-round-capacity detachable box (compatible with most AR/M16-style magazines)
Sights: Diamondhead USA flip-up Integrated Sight System: elevation-adjustable post front; windage-adjustable dual-aperture rear
Trigger: single-stage, non-adjustable; 6-lb., 4-oz. pull
Overall Length: 33½" to 37"
Weight: 7 lbs., 6 ozs.
Accessories: lock, owner's manual, hard case
Suggested Retail Price: $1,160