by
posted on February 20, 2013
Support NRA American Rifleman
DONATE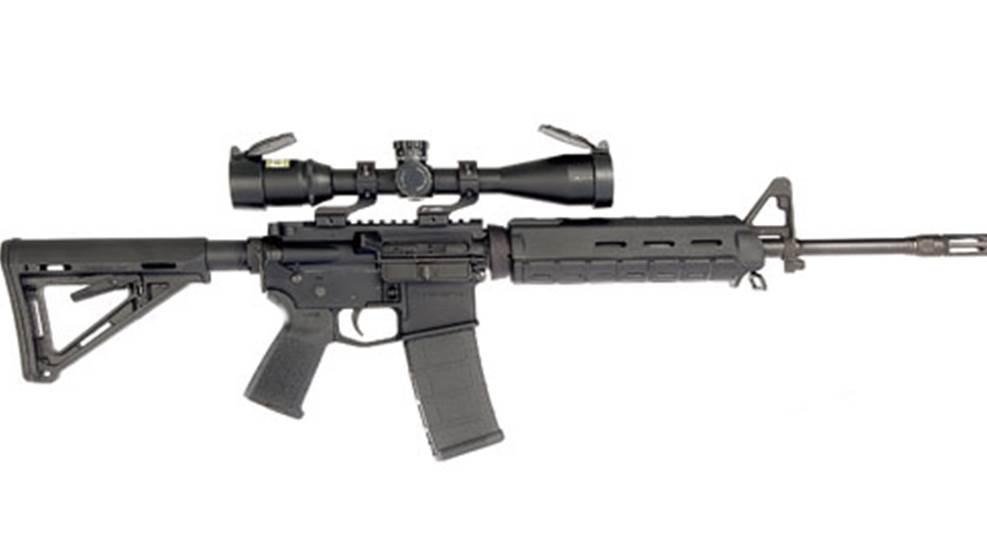 2/20/2013
Smith & Wesson introduced its M&P-15 series of AR-type rifles in 2006 to complement its popular M&P handguns; doing so enabled the company to offer law enforcement agencies patrol rifles to accompany its S&W duty pistols. Though popularity of the M&P-15s among police agencies is certainly respectable, there's really no contest when it comes to desirability by competitors and everyday target shooters—hence the reason the company continually updates the line to meet customer demands. Among the newest is the M&P-15 MOE Mid.
Unveiled in 2012, the co-branded—S&W and Magpul—Magpul Original Equipment (MOE) Mid appropriately comes factory-equipped with an assortment of polymer Magpul-produced accessories, including: MOE handguard (with included Magpul Vertical Grip, though not pre-attached), six-position MOE buttstock, MOE pistol grip, 30-round detachable-box PMAG magazine and folding Magpul Back Up Sight (MBUS) rear sight. The resulting rifle needs little, if any, further customization to excel in a wide range of pursuits.
There's much debate about carbine- versus mid-length gas systems on 16-inch-barreled ARs. For the MOE, S&W chose the latter. Reportedly, the mid-length's tangible benefits are decreased component wear and reduced recoil, though some argue that accuracy and second-shot-hit probability are improved, too. Still, it's difficult to argue with the success of the military's M4s, which utilize a carbine-length gas system. One result of the 16-inch barrel, as compared with longer-barreled rifles, is reduced bullet velocity, which is the price paid for a more compact, maneuverable rifle. With its buttstock collapsed, the rifle measures 33 3/4 inches overall.
The 4150 CMV barrel's 5R rifling features a 1:8-inch twist rate, which is sufficient to stabilize even the heaviest match-type projectiles, yet will still accurately shoot lightweight varmint-specific variants. It ends with an S&W patent-pending flash hider that is designed not only to reduce the signature, but reportedly also directs gasses and sound forward, away from the shooter.
The M&P-15 MOE Mid features an M4 A2-style post front sight that's adjustable only for elevation, and the gas block's bottom rear has a sling swivel. The rifle's easily removed—by withdrawing a single screw—MBUS sight is windage-adjustable and attaches to the upper receiver's Picatinny top rail. For shooters who prefer using an optic, the black anodized 7075 T6 aluminum receiver's numbered Picatinny rail facilitates reattachment of an optic with minimal or no rezeroing required. However, the front sight will prove distracting without the use of overly high rings with low-power optics and low-magnification settings on powerful scopes.
To facilitate faster magazine changes, the receiver's magazine well is flared, and serrated forward edges enhance purchase for better control. Interestingly, the oversize trigger guard is integral to the receiver.
The AR heart of the MOE Mid remains virtually unchanged, with the eight-lug bolt, M16/AR-15-style extractor, plunger-type ejector, cylindrical bolt carrier and gas key mimicking those of standard ARs; however, the latter two components are chrome-plated. Likewise, the fire controls—the magazine release, safety, charging handle, forward assist and trigger—are located and operated in similar fashion to previous models. Concerning the trigger, the test rifle's broke only after substantial creep at a force of 7 pounds, 6 ounces. Although acceptable for defensive purposes or competition at close range, the trigger's characteristics will negatively affect its ability to accurately place shots at long distances. Target size would dictate that effective range.
Testing of the M&P-15 MOE Mid began with rapid-fire drills using a randomly loaded assortment of .223 Rem. ammunition—ranging from lightweight, varmint-type offerings to those appropriate for highpower competition at Camp Perry—and not once did the rifle experience a malfunction. Although this illustrated the rifle's ability to digest a wide range of ammunition types, it doesn't reveal its accuracy potential. As such, we mounted a Nikon 3-12x40 mm M-223 riflescope in the company's two-piece P-series rings, then shot five consecutive, five-shot groups at 100 yards with three ammunition types. The rifle clearly preferred PMC's Precision 75-grain BTHP load, averaging 1.43 inches for 25 shots, and the single best group measuring slightly more than an inch. More economical loads produced respectable groups, too.
With the M&P-15 MOE Mid, S&W offers shooters an AR that, right out of the box, is well-suited to handling a range of tasks, from protection and competition to hunting. As such, it would make an excellent choice for those desiring an AR-style rifle, be it their first or simply an upgrade.
Manufacturer: Smith & Wesson; (800) 331-0852; www.smith-wesson.com
Model: M&P-15 MOE Mid
Caliber: 5.56x45 mm NATO (.223 Rem.)
Action Type: direct-gas-impingement, semi-automatic center-fire rifle
Receiver: 7075 T6 aluminum
Barrel: 16" 4150 CMV
Rifling: 1:8" 5R
Magazine: detachable, staggered-column box (PMAG); 30-round capacity
Sights: M4 A2 post front; flip-up MBUS rear; Picatinny rail
Trigger: single-stage; 7-lb., 6-oz. pull
Stock: six-position collapsible MOE polymer buttstock; length of pull, 101/16"-137/16"; drop at comb, 2"; drop at heel, 2"
Overall Length: 33¾" (collapsed) to 37" (extended)
Weight: 6 lbs., 8 ozs.
Accessories: owner's manual, "Art of Tactical Carbine I and II" DVDs, lock
Suggest Retail Price: $1,259