posted on August 11, 2009
Support NRA American Rifleman
DONATE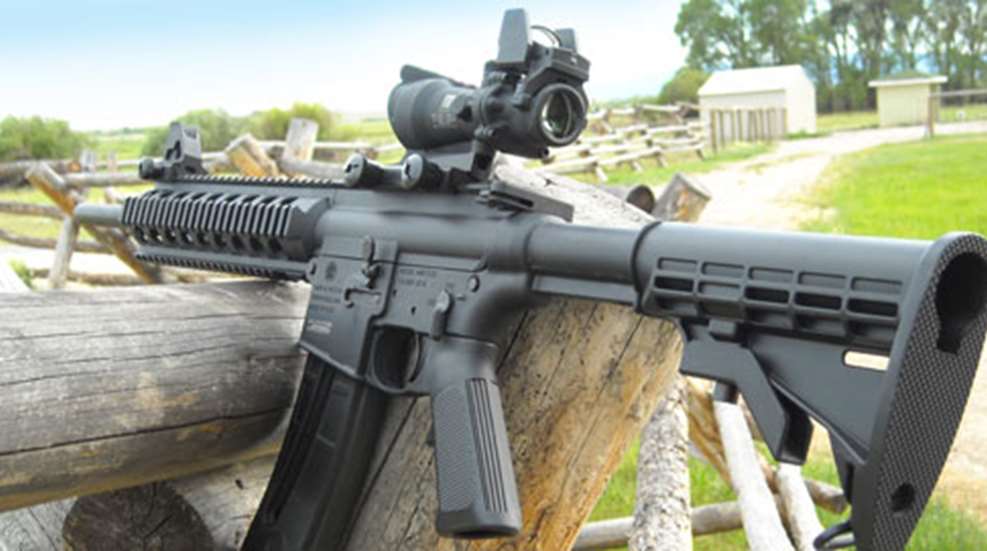 Right now, AR-style rifles are all the rage. Since 2004, the AR-rifle market has exploded as many companies have introduced semi-auto versions of Eugene Stoner's renowned rifle—the M16.
The recent popularity of AR rifles stems from a variety of factors: Rumors of a ban, their versatility for both hunting and self defense, and because they're cool and fun to shoot. The only problem with ARs is they eat ammunition, which can put a strain on the wallet.
One way to lower plinking costs is to replace the upper receiver with a conversion kit. Conversion kits allow the use of .22 LR cartridges, but require keeping up with separate uppers and magazines, and they don't function completely like a true AR. The most noticeable difference is that the slide does not lock back on an empty magazine. Another option that can curtail your plinking expenses is the Smith & Wesson M&P 15-22 rifle.
The M&P 15-22 rifle was built on Smith & Wesson's M&P15 format from the ground up, not as a scaled-down version of the popular 5.56x45 NATO. In building a dedicated .22 on the AR-platform, Smith & Wesson has created a .22 rifle that feels and shoots like its M&P15 tactical rifle, especially when combined with Trijicon's ACOG (Advanced Combat Optical Gunsights) and RMR (Ruggedized Miniature Reflex) sights.
Built with a polymer upper and lower, the M&P 15-22 is light—around 5.5 pounds—rugged and sleek with its four-sided Picatinny rail for mounting accessories, six-position stock and dual-aperture post sights. It has many of the features of a tricked-out AR tactical rifle, but is light enough for easy all-day carry on small game hunts for squirrels, rabbits or prairie dogs. It's also really fun to shoot in informal training exercises in an attempt to get to know this tactical-looking .22 rifle.
The M&P 15-22 pointed easily and with its 25-round magazine, chewed through ammunition. It was so easy to send multiple rounds downrange that one shot just never seemed enough.
Other than a familiarization and sighting session at the range with a group of gun writers, I only had an afternoon of exclusive time with the new Smith & Wesson M&P 15-22. I decided to make the most of my time by seeing how many rounds I could put through it in my own private torture test. To pass, the rifle had to be accurate, fast and reliable.
To start, I had to make sure it would hit where I aimed it and familiarize myself with the ACOG scope reticle. This didn't take long. Sighted for zero at 50 yards, the 15-22/ACOG combination worked well on short to medium-long shots on small targets, and follow up shots were rapid due to the non-existent recoil and fast acquisition reticle. At the range, I put 10 rounds into a grouping just barely larger than a quarter, and emptying the 25-round magazine at the target produced a grouping just a little bit larger.
Reliability has always been a factor for .22 rifles, mostly due to the rimfire primer in the ammunition, which is less reliable but much cheaper than a center-fire round. The M&P 15-22 performed admirably while in my hands. There was discussion among the writers and guides whether the CCI or Federal ammunition worked better in the M&P 15-22, but I didn't notice a major difference with only three misfires—two with CCI and one with Federal—and no feed failures.
However, I did notice over the two days spent with Spur Outfitters that a few thousand rounds ran down the barrel of the M&P 15-22 by a group of shooters with each having only a minuscule number of misfires and malfunctions. Smith & Wesson's M&P 15-22 is accurate, fast, reliable and fun to shoot, which means it passed the test.
Manufacturer: Smith & Wesson; (800) 331-0852; Smith-Wesson.com
Model: M&P 15-22
Caliber: .22 LR
Magazine: 25 round
Action: Blow back semi-auto
Overall Length: 33.75" extended, 30.5" collapsed
Stock: Six position CAR
Sight Radius: 15.5"
Barrel Length: 16"
Barrel Material: 4140 steel
Barrel Twist: 1:16"
Weight: 5.5 lbs. (without magazine)
Trigger Pull: 7 lbs.
Upper and Lower Material: Polymer
Finish: Matte black
Front Sight: Adjustable A2 post
Rear Sight: Adjustable Dual aperture
Suggested Retail Price: $499
Be sure to check out how the M&P 15-22 fires by watching the Smith & Wesson M&P 15-22 video on YouTube.