Support NRA American Rifleman
DONATE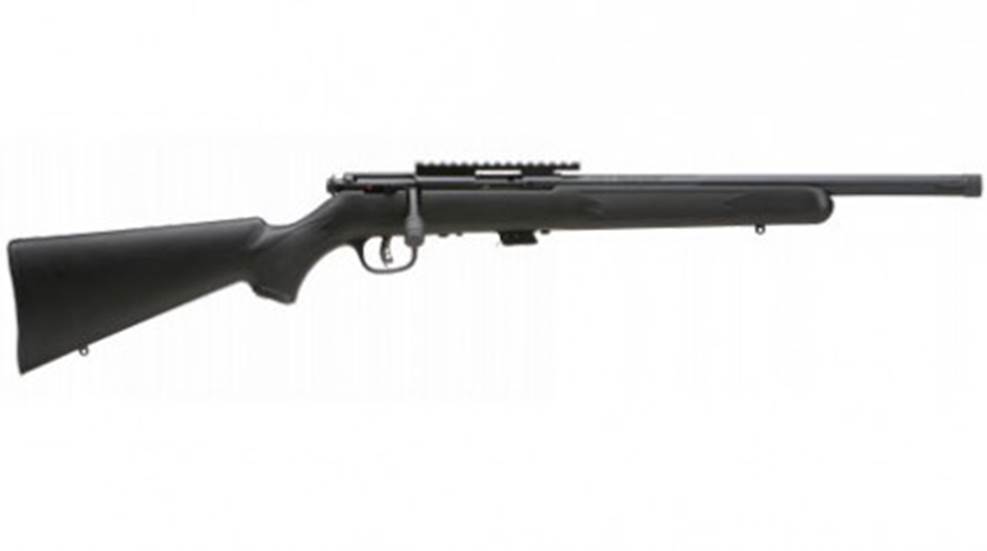 For many of us, the .22 Long Rifle bolt gun holds a special place in our hearts. It was either one of the first firearms we shot when introduced to shooting, or was an economical way for us to hone our abilities stalking soda cans, small game and paper targets. Throughout life, a .22 rifle often ends up being a staple in the safe-a commonality across regions and the shooting sports. It's not hard to be overwhelmed by the sheer diversity available when looking to pick your next .22 rifle. There's one for every purpose and style of shooting, from entry-level youth guns to one-of-a-kind competition rifles.
Somewhere in between lies the Savage Mark II FV-SR; it's not what you would consider entry-level, but by no means is it a rifle to take on your next biathlon. Its price point and features make it a platform accessible and applicable to most, but the FV-SR really shines in filling a specialized role-its features and focus are sure to appeal to the shooter looking for what it offers.
Built on the tried-and-true Mark II platform, the detachable box-magazine-fed FV-SR sports the same craftsmanship and attention to detail found in Savage's line of bolt-action .22s. The first things that catch the eye when un-boxing the FV-SR are its heavy-profile fluted barrel, oversized bolt knob and Picatinny rail atop the ejection port. The barrel on this rifle is 16.5 inches, threaded and includes a knurled thread protector. The thread pattern is 1/2x28, which means that nearly any muzzle device made for the AR-15 platform will be immediately interchangeable to the FV-SR. It also allows the use a suppressor. The barrel is free-floated in the matte synthetic stock, ensuring that stabilizing the rifle on a benchrest or tree branch won't negatively impact the accuracy of the firearm. The heavy profile gives the rifle an added "heft" forward of the action-normally a negative comment but on this rifle it moves the center of mass toward the support hand. This enables the rifle to be swung naturally and effortlessly when brought to bear. Even with this added weight, the complete un-loaded rifle weighs in at 5.5 pounds, light enough not to be a bother if carried through the woods on a varmint hunt. With a sling added to the integrated sling-studs, the rifle becomes virtually weightless when slung-carried.
Atop the barrel is a Picatinny rail for use with a multitude of optics as the rail allows mounting (with proper adapter) everything from unmagnified red-dot sights to variable-power glass scopes. This gives the rifle the ability to be used at close range, as well as to reach out to respectable .22 Long Rifle shooting distances. The rifle does not include iron sights and is designed solely for use with an attached optic. The diversity of options available for mounting on the FV-SR's Picatinny rail are limited only by the rail's length-it's a 14-position rail that runs from the bolt knob to just in front of the chamber; scout-style optics requiring 8 inches or more of eye relief will not have a proper sight picture if mounted to the FV-SR.
The rifle's oversized and over-weighted bolt knob is something often seen on larger caliber, long-range bolt guns, and is an excellent addition to the FV-SR. Operation is smooth, and the extra size and weight of the bolt seem to help it fit better into the hand and allows positive movement into each position of operation. The action de-grits nicely after a few hundred rounds, and the bolt is able to be manipulated with minimal shift to the shooter's point of aim. Of all the features on the FV-SR, second only to the factory 1/2x28 threaded barrel, this is the one which this shooter appreciated the most. A clean, crisp action and smoothly operating bolt are the two things that cannot be overlooked, and cannot be undervalued.
Another feature of the Savage that sets it apart from similarly priced competition is the Accu-trigger-allowing the shooter to customize the weight of pull. Savage reports that its Accu-trigger is adjustable from a low of near 2.5 pounds of pull to a high of 6 pounds of pull. The rifle ships with the tools needed to adjust the trigger settings, and this addition turns the shootability of this rifle from good to great-being able to adjust the trigger to a personalized weight of pull allows trigger squeeze to become second nature, allowing the shooter to focus on other rifle-shooting fundamentals.
In testing for accuracy, five-shot strings of each ammunition tested were fired from a bench at targets out to 50 yards. For general-purpose accuracy, a bipod attached to the forward sling-swivel was used. To assess the capabilities of the rifle independent of the shooter, a Caldwell Lead-Sled FCX provided a stable shooting platform. Groups represent "center point of impact to center point of impact" measurement using digital calipers to measure from the extreme outside of the "wildest" shots, and then subtracting one bullet-diameter from the figure to eliminate the guess work of attempting to find "true center" of point of impact. All testing was done at an indoor, climate-controlled firing range.
General-Purpose Results:
Winchester Wildcat 40-grain lead round-nose: 1.46 inches
Winchester 36-grain copper-jacketed hollow-point: 1.19 inches
Federal 31-grain copper-jacketed hollow-point: 1.65 inches
Remington Golden Bullet 36-grain jacketed hollow-point: .84 inches
Wolf Match Target 40-grain lead round-nose: .93 inches
PMC Match 40-grain lead round-nose: .81 inches
Lead Sled Results:
Winchester Wildcat 40-grain lead round-nose: 1.23 inches
Winchester 36-grain copper-jacketed hollow-point: .91 inches
Federal 31-grain copper-jacketed hollow-point: 1.12 inches
Remington Golden Bullet 36-grain jacketed hollow-point: .7 inches
Wolf "Match Target" 40-grain lead round-nose: .51 inches
PMC Match 40-grain lead round-nose: .49 inches
Some of the above results translate to a 16.5-inch barreled .22 Long Rifle shooting near minute-of-angle groups when distances push to the 100-yard range, an impressive feat for an out-of-the-box rifle firing ammunition from the local sporting goods store. Knowing that the rifle will put rounds where you want them broadens the application of this rifle. Outfit it with a decent optic and barrel-mounted sound suppressor, and it provides hours of shooting enjoyment that remains respectful to any within earshot.
With an MSRP of $284, the Savage Mark II FV-SR can be found in most sporting goods stores near $250, possibly lower if the buyer wants to shop around. The dollars spent are well rewarded, Savage took the time to focus on a few key areas to create a rifle perfectly suited for a variety of purposes. Where the FV-SR really shines is as suppressor host; the heft in the bolt handle, Accu-trigger, heavy profile barrel and industry-standard barrel thread pattern all come together creating a near "perfect storm" of features. While it's been said that "every rifle safe should include 10/22," I contest that saying should be expanded to read "every varmint hunter's safe should include a Savage Mark II FV-SR."
Manufacturer: Savage Arms; Savagearms.com
Model: Mark II FV-SR
Action: Bolt
Caliber: .22 Long Rifle
Barrel: matte black carbon steel
Stock: matte black synthetic
Sights: none
Barrel Length: 16.5"
Twist: 1:16
Overall Length: 35.25"
Weight: 5.5lbs
Capacity: magazine fed – 5 or 10 rounds +1
Accessories: Gun lock, manual
Suggested Retail Price: $284