by
posted on August 27, 2009
Support NRA American Rifleman
DONATE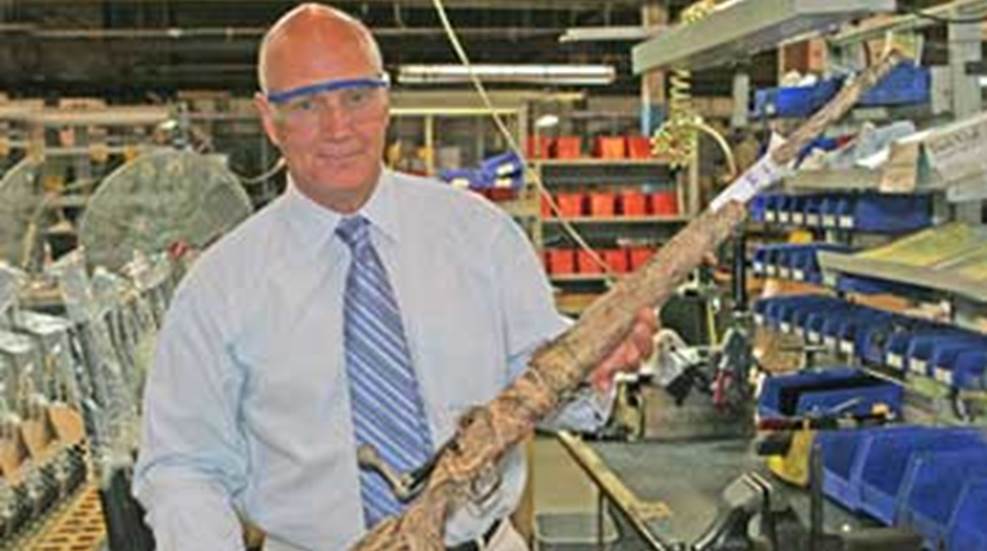 If you look at the men who have made firearms history, you will never find a boring personality. They all seem to have a strong will, a willingness to believe in themselves. The man who saved Savage Arms, Ron Coburn, is no exception.
Coburn was born and raised in Northern Ireland. At the age of 12, friends invited him to go pheasant hunting with them on a neighboring farmer's land. Ron did not own a shotgun, so he purchased the cheapest shotgun available in the local pawnshop – a Stevens 16-ga. pump with a poly choke, not realizing that one day he would become a part of the history of Savage/Stevens/Fox.
Like a lot of teenagers Ron didn't get along so well with his father. "I was the rebel of the family," said Coburn. "I had too much of my father's genes in me and we could never see eye to eye." Ron finished high school at the age of 15 and immediately got on a boat to Liverpool to see the Beatles. But when he arrived, they were not there. So he spent three days hitchhiking to London to see them in concert.
When it was over he had $7 in his pocket, no job and no intention of going home. So he went to work at a Ford Motor plant as a welder. During that time, he also went to college to complete an engineering degree. Then he went back to college and completed a business degree, finishing all this by the age of 23. "I was pretty burned out by then," Coburn said.
So he headed to Greece where he worked as a skipper's mate on a tourist boat. But six months of that was enough, and Coburn returned to London to start working in a small engineering company that specialized in research and development for tools and machinery, including automation and early robotic systems. Some time later, he helped to deliver an experimental aircraft to an executive at Siemens in Munich, Germany, and he liked the place so much he stayed. Coburn went to work for Siemens and stayed for 5 1/2 years. Cobrun then went to London, Singapore for a year, Hong Kong, and finally back to London where a headhunter contacted him about a Director of Engineering position with Smith & Wesson. He worked there for a while, but did not enjoy the corporate environment at the time. So when another offer came along, he moved on to Case Knives in Bradford, Pa., where he turned around the failing company. Later, the same headhunter who recruited him for S&W and Case asked him to take a look at Savage Industries.
After touring the plant, Coburn turned them down. Then they upped the offer. "I thought, I have a pretty good resume so far, how big a risk could it be?" He chuckled. "I took the job and six months later they filed bankruptcy. So, feeling pretty stupid, I resigned. The owners at the time made me an offer to take over and run the business. I said fine, if they gave me full latitude, which they agreed to do.
"I had to fire the chairman and the president." Coburn said. "Then I took all the costs I could out of the company, and I went from 11 product lines down to one. I picked the Model 110 because it was the only one out of the 11 that was reasonably tooled. Fixtures and gauges were in place. All the other products were in dismal condition as far as the machinery, tooling and fixtures went. The other thing I liked about the Model 110 was that it had the terrific accuracy reputation –something that I thought was understated. I knew that I could rebuild the business initially on price advantage alone for a little while, but what I really needed to do was emphasize the accuracy to make us stand out and advance our market position. We brought in an auctioneer and I sold off all the excess equipment, other than for the Model 110, for $350,000, which kept the payroll going for five months. We rented out the excess factory space to a railroad distribution company to raise a little more money.
"I decided we were not going back to making shotguns or lots of other products anytime soon. We were going to concentrate on one product and, if that didn't work, well, I did my best. No marketing surveys, no market test, we just grabbed it and ran. We didn't have time for all that. With bankruptcy you have to stop the bleeding as fast as you can or the judge would force the company to liquidate in order to satisfy creditors."
Coburn downsized from 600 employees to 100 and removed them from a piecework pay formula that paid for each piece produced without regard for quality and replaced it with a day work system that provided a fixed hourly wage that was tied directly to quality. Within 18 months the company was out of bankruptcy and had paid off the debt. Coburn made it a point to pay off all the vendors; nobody got stuck with a reduced payment as a result of the bankruptcy. The law allowed Savage to walk away, but they did not. This was important to retaining good relations with the venders and pivotal to rebuilding the company.
By 1994 the company was doing well, and the owners decided to sell Savage to a competitor in order to raise the money to buy a dot-com business. So Coburn made a competitive offer and bought the company. That same year, he bought a Canadian manufacturer of .22 rimfire rifles called Lakefield Arms. "We Savagized it," Coburn said. "We put the same kind of heart and soul into it, and it just took off."
The company that sold Savage to Coburn is now bankrupt. Today Ron is branching out into other industries and new challenges, but he makes it clear that his baby is Savage Arms and that's where his heart will always remain.