by
posted on April 18, 2023
Support NRA American Rifleman
DONATE
Shadow Systems of Plano, Texas, designs and manufactures premium components and complete semi-automatic pistols based on the Glock Safe Action design. Founded in 2016, this company machines its components in-house and assembles its products using an American workforce comprised of competitive shooters, retired law-enforcement personnel and combat veterans.
Recently, Shadow Systems released the CR920 series, which is its first foray into the micro-compact pistol marketplace. This short-recoil-operated, striker-fired pistol, as of this writing, is available in two configurations: the Combat and the Elite. The Combat version has a suggested retail price of $799. This review takes a closer look at the Elite version, which includes more in-house custom work for a suggested price of $940.
Shadow Systems' pistol takes many of its design cues from the Glock G43, with similar external dimensions, including the slide shape and grip height. This means it fits into the same size range as the SIG Sauer P365, Springfield Hellcat and Taurus GX4, which is to say, at the small end of the scale. One important change the company made was modifying the grip frame to accept proprietary, blued-steel, double-stack magazines. This allows for an increased ammunition capacity of 10+1 rounds with a flush-fit magazine or 13+1 rounds with an extended magazine baseplate that adds about half an inch of length to the grip.
The Elite slide shows the earmarks of Shadow Systems' styling with its beveled edges and weight-reduction cutouts. It's milled from 17-4 stainless steel and treated with a matte-black nitride finish. The front and rear sets of cocking serrations are complemented by a third set of serrations along the top of the slide just behind the front sight. This provides added purchase for racking the slide with an optic installed. The beveled ejection port is fitted with an extractor claw that also serves as a visible and tactile loaded-chamber indicator.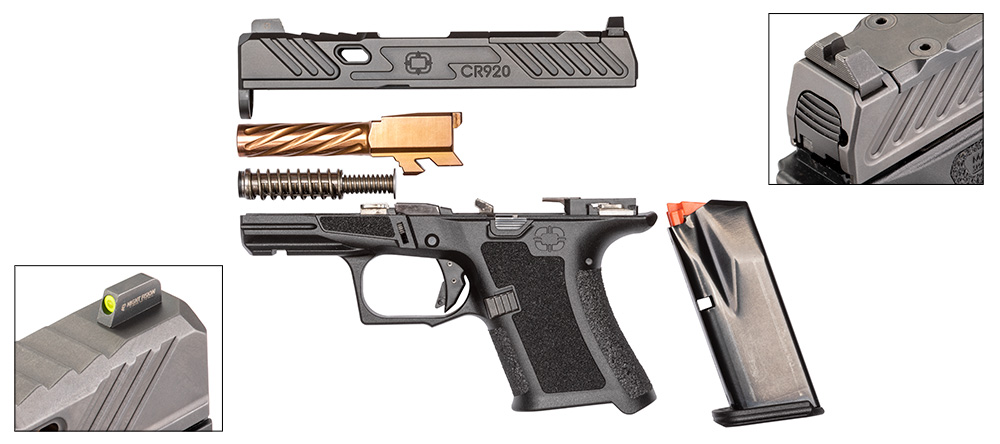 The metallic sight system consists of a blacked-out, serrated, square-notch rear sight paired with a front night sight featuring a green-outlined tritium lamp. An optic cutout supports a variety of micro red-dot optics, including the Holosun 407K and those of the Shield footprint, using a set of screws and wedges provided with the pistol. The gun arrives with a steel filler plate installed. The Elite model's 3.40" 416R stainless-steel barrel sports spiral fluting, an eye-catching bronze-color TiCN finish and traditional land-and-groove rifling. It is supported by a Glock-type dual-spring recoil assembly. The interiors of the slide and frame also follow typical Glock design.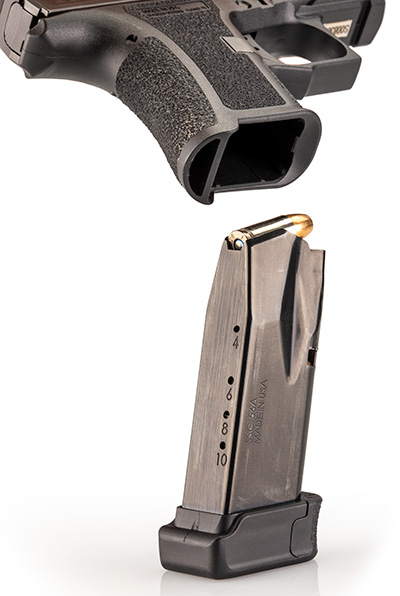 Its polymer frame features a 0.3" beavertail extension to guard against slide bite. All four sides of the grip are treated with a moderately stippled texturing that provides solid purchase without being overly abrasive to bare shooting hands; this same texture is applied to trigger finger touch points on both sides of the frame and along the flat front edge of the trigger guard, which serves as a finger rest. The trigger guard is undercut and radiused where it meets the grip frame for improved comfort. The trigger pull of this particular gun weighed in at 4 lbs., 8 ozs., with that familiar striker-fired-pistol feel; it has a somewhat mushy take-up and break with a short, distinctive trigger reset.
The frame's backstrap is fixed in place. The frontstrap has an anti-pinch lip at the base, and the magazine well is beveled for smooth reloads. The takedown lever and slide stop are in the standard Glock configuration. An oblong, metallic magazine-release button is textured in the same style as the top of the slide. The dustcover has a molded-in 1.25" single-slot accessory rail to support light and laser modules.
Those of us who have spent time at the shooting range with micro-compact pistols know firsthand that some models in this class can be less than pleasant to work with. This can be due to oversimplified fixed sighting systems or grip shapes that contribute to snappy levels of felt recoil. The CR920 addresses these two issues with a useful, easy-to-acquire set of sights and a well-designed grip frame that fills the shooting hand without any unnecessary bulk. This pistol exhibits a tight slide-to-frame fit, with the slide cycling smoothly right out of the box. The flush-fit 10-round magazine provides a two-finger grip, while the extended 13-round magazine's baseplate is textured and shaped to form a three-finger grip.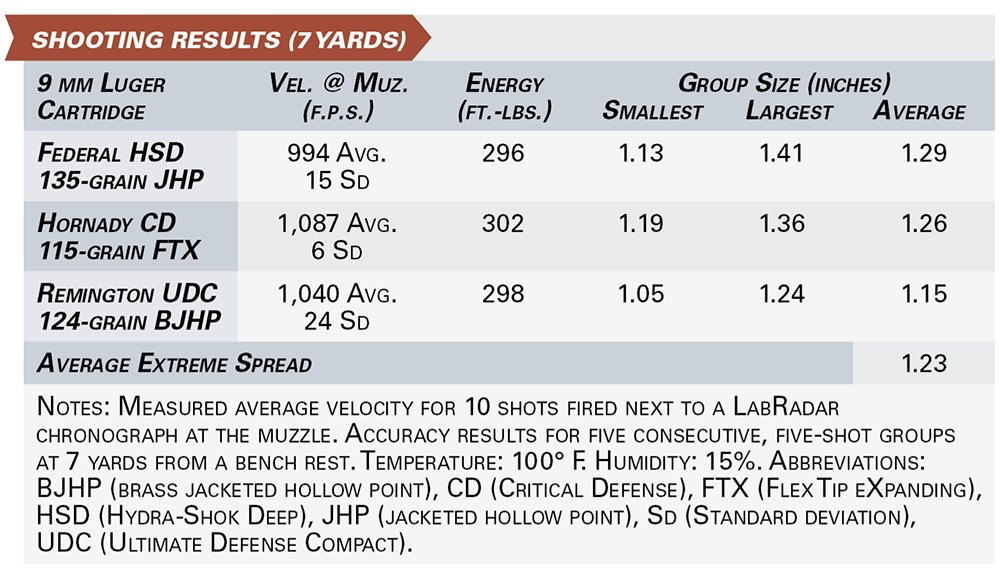 For pistols designed specifically for every-day carry, reliable operation is paramount; Shadow Systems recommends a 200-round break-in period. Although this procedure is more commonly reserved for steel-frame semi-automatics, it's a good idea for any factory-fresh handgun that is going to be staged for personal protection. Our CR920 was test-fired using standard-pressure 9 mm Luger cartridges that varied from practice-grade FMJs to premium hollow points. Throughout the course of informal and formal testing, this pistol sailed through and past the 200-round mark without any failures to feed, fire or eject properly. Formal, bench-rested accuracy testing conducted at 7 yards yielded positive results using the factory-installed iron sights.
The optics-ready Shadow Systems CR920 Elite neatly checks the boxes of the micro-compact checklist. It has the right carry-size footprint, weight and ammunition capacity to go toe-to-toe with its competitors. But Shadow Systems chose to elevate its pistol with in-house custom features that are both practical to use and easy on the eyes. The company made sure this pistol is enjoyable to take to the shooting range, thanks to an easy-to-see sight system and a comfortable grip—something that can't be said of all pistols of this size.