by
posted on September 8, 2015
Support NRA American Rifleman
DONATE
Henry Repeating Arms is a U.S. based company that holds a deep respect for American traditions and values. A look through its catalog reveals special tribute models, big-bore rifles and affordable .22 rimfires that invite us to celebrate our shooting heritage. This year Henry is expanding its lineup with the addition of new Small Game Carbine and Rifle options designed especially for hunting. 



The Small Game lever-action repeaters are based on the Frontier model which features a distinctive octagonal barrel constructed of blued steel with polished flats. The tubular magazine is loaded from the front via a cartridge shaped cutout. The internal magazine tube is constructed of brass with a knurled steel knob and a rubber gasket which keeps it firmly in place until it's twisted and pulled out for loading. One of the advantages to this configuration is that it allows the magazine to be emptied without cycling each round through the action. 
The barrel and magazine are fitted into Henry's proven lightweight aluminum receiver. The top of the receiver is grooved to accept rings for mounting optics. The other key components, including the sights, bolt, hammer, trigger and lever are all made of steel. The hammer and trigger both feature serrated surfaces for easier operation. There are no external safety levers or buttons on this gun. Instead, the hammer can be set to a half-cock position which prevents the trigger from cycling and holds the hammer out of contact with the firing pin.
The rifle sports smooth, satin-finish American Walnut stocks. The fore-end is held in place with an aluminum barrel band while the shoulder stock is capped off with a textured black polymer buttplate.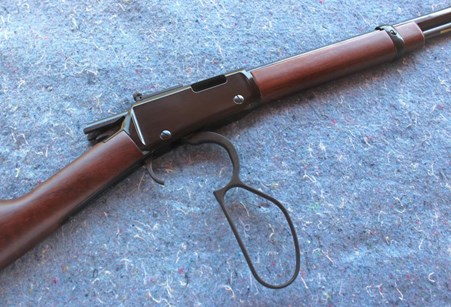 Two changes that differentiate the Small Game from the Frontier model are a large lever loop and adjustable Skinner peep sights. Henry rifles are comfortable to run with either the standard or large loop levers. But I like the extra interior space of the large loop because it's gentler on the knuckles of bare hands for extended shooting sessions while providing plenty of room for work or winter gloves. 



The most common sight system found on Henry rifles consists of an adjustable Marbles semi-buckhorn rear sight dovetailed into the barrel and paired with a brass bead front sight. It's a useful setup that can be tuned for extended accuracy but it does not lend itself as well to the quick sight acquisition needed for potting fast moving rabbits and squirrels. Although the front sight remains the same, the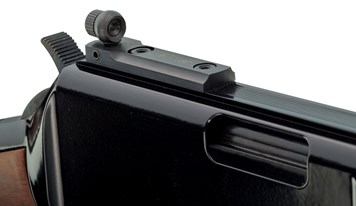 rear sight has been replaced by a modified Skinner
peep sight. Instead of being dovetailed into the barrel like the Marbles sight, the Skinner sight is mounted to the receiver near the hammer using a pair of retention screws. The rear screw slot in the sight's base allows for windage adjustments. The Skinner sight is easily removed to make room for a scope.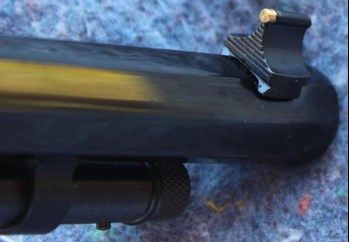 Never satisfied with giving its customers just one new gun to consider, Henry has released the Small Game rifle in four different configurations. I requested the .22 Mag. Carbine (H001TMLP) version to work with which is made in Henry's Bayonne, N.J., facility. It arrived from the factory with a 16.25" barrel, a 10-round magazine capacity and an adult size 14" length of pull (LOP). Unloaded, this carbine tips the scales at 5.75 lbs., which makes it 0.5 lbs. lighter than the Rifle version. The action was buttery smooth right out of the box and the overall fit and finish was first rate. The trigger broke cleanly at 3 lbs. 1 oz. of trigger pull with just a little travel after the break. I couldn't wait to get it out to the range. 



I enjoy working with .22 Mag. cartridges, so I'm always on the lookout for a good excuse to use them. The Small Game carbine turned out to be a great way to send these hot little rimfire rounds down range. This gun has a just right sense of balance to it. The added weight of the octagonal barrel steadies the rifle nicely for offhand shooting without bogging it down. It swings quickly into place and then holds steady while looking through the peep sight. Naturally, a firearm this size keeps the felt recoil produced by .22 Mag. rounds to a mild, shoot-all-day comfort level.
Not too long ago, I discovered an ideal accessory for Henry rimfire rifle fans. It's the Marble Arms Catch .22 ammunition carrier. Each container has a sturdy belt clip and a click-adjustable lid that exposes each of the 10 ammunition columns inside one at a time. The latest version of the Catch .22 will hold 70-rounds of .22 Short, 50-rounds of .22 Long Rifle, or 30-rounds of either .22 Magnum or .17 HMR (if you can find any .22 Long, it will hold that too). 
Some folks like to reload the Henry by completely removing the brass magazine tube while others prefer to pull the tube out just far enough to expose the cartridge cut out. With the brass tube completely removed, the Catch .22 can be used as a dump loader by pouring in a whole column of rounds at once. For those who want to load through the cut out, the container makes it easy to access one round at a time. Either way, the Catch .22 will keep your cartridges clean, organized, and easy to access in the field.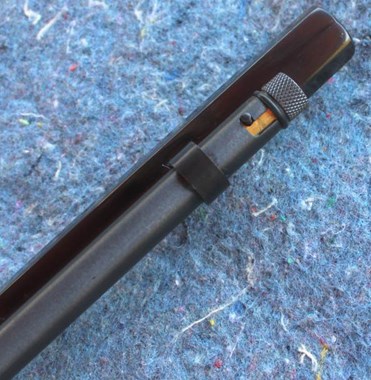 This lever-action functioned flawlessly with every type of .22 Mag. ammunition fired over the course of informal and formal testing. There were no hiccups or hang-ups of any kind. Not only was the rifle reliable but it demonstrated a solid level of accuracy as well. Formal accuracy testing consisted of five 5-shot groups fired at 50 yards from a benchrest with an Alpen Optics Kodiak 3-9x40 mm Wide Angle scope mounted using Leupold Rimfire 3/8" medium height rings. The rifle favored Armscor USA 40-gr. jacketed hollow points with a best single group of 0.63" and an average group size of 0.79". Hornady 30-gr. V-MAX ballistic tips and Winchester PDX1 Defender 40-gr. jacketed hollow points were neck-in-neck for second place with average group sizes of 1.12" and 1.13" respectively.  
Henry Repeating Arms' new Small Game lever actions are just the latest example of the company's commitment to keeping its customers happily engaged in outdoor activities with family and friends. Although these guns are designed primarily for hunting, they will easily fill a variety of enjoyable rimfire roles. If you're a fan of the .22 Mag. cartridge, but the Small Game Carbine isn't quite what you have in mind, Henry has released other new magnum options this year, including the new Silver Boy (H004SM), Silver Eagle (H001MML), and Mare's Leg (H004SEM) models.
Specifications
Manufacturer: Henry Repeating Arms
Model: Small Game Carbine
Model Number H001TMLP
Action: Lever Action
Caliber: .22 Mag.
Receiver: Aluminum
Barrel: Polished Blued Steel
Stocks: American Walnut
Rear Sight: Adjustable Skinner Peep Sight
Front Sight: Dovetail Brass Bead
Barrel Length: 16.25"
Overall Length: 35.00"
Weight: 5.75 lbs.
Capacity: 10-Round Tubular Magazine
Twist: 1:16" RH
Rifle Grooves: 6
Accessories: Owner's Manual, Lock
MSRP: $590