Support NRA American Rifleman
DONATE
Henry Repeating Arms has kept its customers happy at the range and in the field with a diverse selection of rimfire and pistol-caliber lever-action rifles for some time now. But this year, the company is implementing an "outside-the-box" series shake up with several brand new offerings including the rifle-caliber Long Ranger and single-shot, break-action rifles and shotgun. Among the most highly anticipated arrivals is a pair of .410-bore lever-action shotguns designed for small-game hunting.

The new H018-410 features a 24" barrel with a removable full choke and bead front sight. This configuration stretches the gun's practical range and allows customers to modify the choke size to fit their needs. The other model is the H018-410R Rare Carbine. This version has a handy 20" barrel, a fixed cylinder-bore choke and a set of adjustable rifle sights. Both models piqued my interest but I opted to take the shorter, rifle-sighted Rare Carbine for a test drive.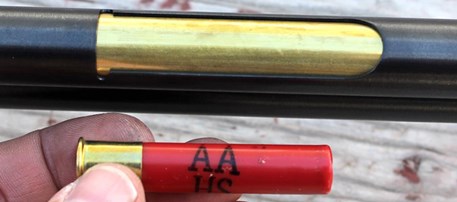 The close dimensional similarities of the venerable .45-70 Gov't. straight-walled rifle cartridge to the slightly smaller modern 2½" long .410 bore shotgun shell allowed Henry's designers to simply borrow most of the Rare Carbine's components directly from the company's .45-70 Gov't. rifle. This is good news for .410 fans. I've spent some quality time running the .45-70 Gov't. model and it can really take a pounding. Firing the much softer-shooting .410 bore from a .45-70 receiver means this lever gun is over built in the best sense and will provide a lifetime (if not longer) of enjoyable trigger time.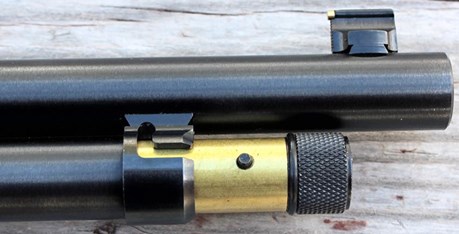 The Carbine's gold bead front sight and fully adjustable semi-buckhorn rear sight are dovetailed into a round, smooth-bore blued steel barrel finished to match the tubular magazine and receiver. The brass magazine liner is topped with a knurled steel knob. Giving the knob a twist frees the liner to be pulled out part way or completely removed from the magazine for loading.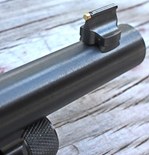 The liner's polymer follower is bright red to make visual verification that the gun is completely unloaded easier to do. The magazine's large loading port provides plenty of room for dropping in 2½" shells. The magazine is listed as having a five-round capacity, but the shotgun I worked with would accept up to six rounds without binding up the liner as it was twisted back into place.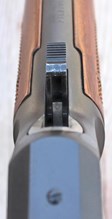 The shotgun's smooth cycling lever-action is housed in a steel receiver that's drilled and tapped to accept a Weaver 63B aluminum scope mount (sold separately). Some folks may think attaching an optic to a shotgun is superfluous, which is true for birdshot. However, for those who want to stretch the range of this shotgun when shooting slugs, the option of adding an optic is a handy one. The exposed hammer is serrated for improved purchase and grooved to accept Henry's hammer extension. Inside the hammer is a transfer bar safety that prevents the rifle from firing unless the trigger is fully depressed. The single-action trigger of this particular shotgun exhibited a clean, crisp break with a trigger pull of 4 lbs. 1 oz.
The stocks are carved from handsome straight-grained American walnut. The fore-end is fitted with a steel cap that supports a sling swivel stud. The shoulder stock is shaped with a curved pistol grip and paired with a curved lever to match its shape. A second sling swivel stud is located along the bottom of the stock just in front of the ventilated rubber recoil pad.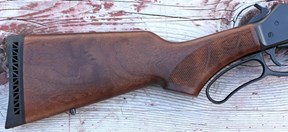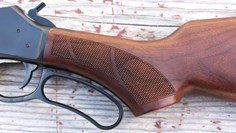 Some of Henry's stocks leave the factory with a smooth finish. The Rare Carbine, however, arrives with artfully applied diamond-pattern checkering cut into all three sides of the fore-end and on either side of the shoulder stock's grip. The checkering is expertly executed to provide an enhanced gripping surface while adding elegant accents that complement the shotgun's classic appearance.



I've shot my fair share of lever-actions and a respectable number of firearms chambered for .410-bore shells. However, this was the first time I've worked with a .410 lever shotgun. I have to say that it's a terrific combination of features that's fun to work with. As is typical of Henry products, this shotgun's features and controls operated flawlessly and smoothly throughout the entire course of testing. There were no mechanical issues or ammunition malfunctions. I almost lost track of time and how much ammunition I had on hand enjoying the way this gun handles.

With an unloaded weight of 7 lbs. 9 oz., the Rare Carbine is not the lightest option on the market. But just like the .45-70 Gov't. rifle it's based on, this shotgun is well balanced and swings nicely. Despite the common belief that the .410 is a wimpy round, I've found that the 3" shells packed with buckshot and mixed defensive payloads can produce recoil on par with a 20 gauge when fired from lightweight long guns. The combination of 2½" .410 shells and the Rare Carbine's steel and wood construction make for a pleasant shooting experience with levels of felt recoil hovering between the mild to near moderate ranges. Those shooting enthusiasts who are sensitive to recoil should enjoy running this gun.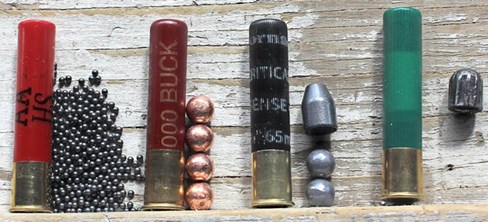 Shot patterns for birdshot, buckshot and mixed payload rounds were fired from a standing position at 7 yards using Birchwood Casey Shoot-N-C 12" x 18" Silhouette targets to capture the results. All three loads tended to pattern just below point-of-aim at this distance, which was dead center of the target using the rifle sights in their original factory configuration.
Winchester's AA HS ½-oz. #9 birdshot target load spread out to about 10.5".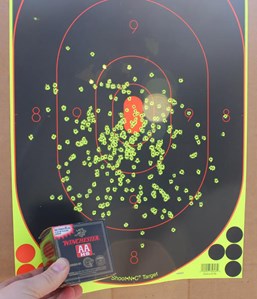 Federal Premium's .410 Handgun 4-Pellet 000 buckshot was originally designed for handguns like the Taurus Judge and Smith & Wesson Governor. But I've found this to be a shell that functions reliably in every type of .410 while producing consistently tight patterns like the 1.25" group shown here. That big tear off to the right was produced by the wad hitting the target.
Hornady offers a hybrid personal protection load as part of its Critical defense line that was also developed for .410 handguns. Called the Triple Defense load, it's packed with a 115-gr., .410-caliber FTX expanding slug at the front of the shell that's followed by two .350-caliber lead balls that weigh 65-gr. each. With a listed velocity of 750 fps., this round yielded some of its best results when fired from a shotgun during an extensive set of gel tests. When fired from the Rare Carbine, the three projectiles produced a 1.75" group.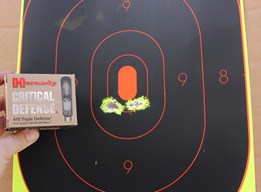 I haven't done much in the past with .410-bore slug loads. This is because much of my .410 shooting has focused on dual-caliber .45 Colt/.410 handguns which produce lousy groups with .410 slugs. The Rare Carbine was a good opportunity for me to see what .410 slugs can really do when fired from their native platform.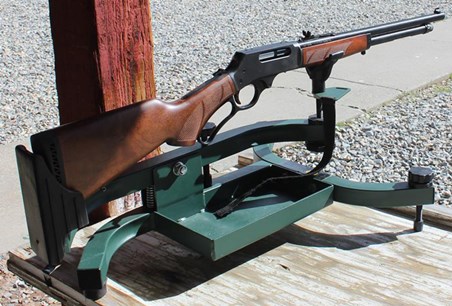 Remington Express 1/5-oz. rifled lead slugs have a listed muzzle velocity of 1830 fps. With the shotgun couched in a rifle rest, the slugs produced a five-shot group of 1.10" at 25 yards. What ammunition I had left was used to consistently knock down 8" steel plates at 50 yards. Not a single slug missed at that range.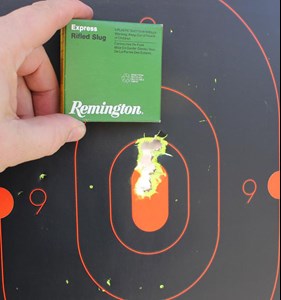 Henry Repeating Arms has rightfully earned a reputation for producing handsome, high-quality lever guns that run reliably at the range or in the field. Modifying the proven .45-70. Gov't. rifle design to make a .410 bore shotgun was a smart move for the company to make. It opens up a whole new field of small-game hunting and target shooting to Henry fans while maintaining the familiar set of features and controls. Having shot a number of .410s in a variety of configurations, I can honestly say this new model is one of the strongest and most handsomely crafted I've had the pleasure to work with. It's yet another Henry lever gun folks can be proud to own.

Specifications 
Manufacturer: Henry Repeating Arms
Model: H018-410R Rare Carbine
Action: Lever-Action Shotgun
Caliber: .410 Bore, 2½" Shells Only
Finish: Blued Steel Barrel, Magazine and Receiver
Forend: American Walnut with Wrap-Around Checkering
Shoulder Stock: American Walnut, Checkered Pistol Grip with Ventilated Rubber Recoil Pad
Rear Sight: Fully Adjustable Semi-Buckhorn
Front Sight: Brass Beaded
Optic Mount: Drilled and Tapped for Weaver 63B Mount (sold separately)
Barrel: 20" Smooth Bore, Round Profile
Choke: Cylinder Bore
Reversible Hammer Spur Extension: Available (sold separately)
Trigger Pull: 4 lbs. 1 oz. (as tested)
Safety: Hammer-Mounted Transfer Bar
Overall Length: 40.5"
Length of Pull (LOP): 14"
Weight: 7 lbs. 9 oz.
Capacity: 5-Round Tubular Magazine
Accessories: Lock, Owner's Manual
MSRP: $850