Some folks may be surprised to learn that Henry Repeating Arms is a good friend to fans of the .410 bore shotgun shell. Mixed in among the company's extensive selection of centerfire and rimfire lever actions is a unique set of slim-shell scatterguns. Most of them are built around the company's sturdy brass or steel .45-70 Gov't. rifle receiver. This is because the .45-70 Gov't and 2 ½" long .410 bore are similar enough in size to make for an easy rifle-to-shotgun conversion. Model options include 26" sporting barrels, sub-20" carbine-length barrels and even a non-NFA firearm with a 15.125" barrel. Henry also offers handsomely refined 26" barrel break-action single-shot shotguns outfitted with walnut stocks and a choice of polished brass or steel receivers.
So it was not out of character for Henry to include a .410 bore in the X Model series of lever guns when it launched in 2020. Shotguns chambered for .410 shells tend to be purpose built for specific pursuits. But the X Model .410 sports a set of features that makes it a refreshingly flexible platform.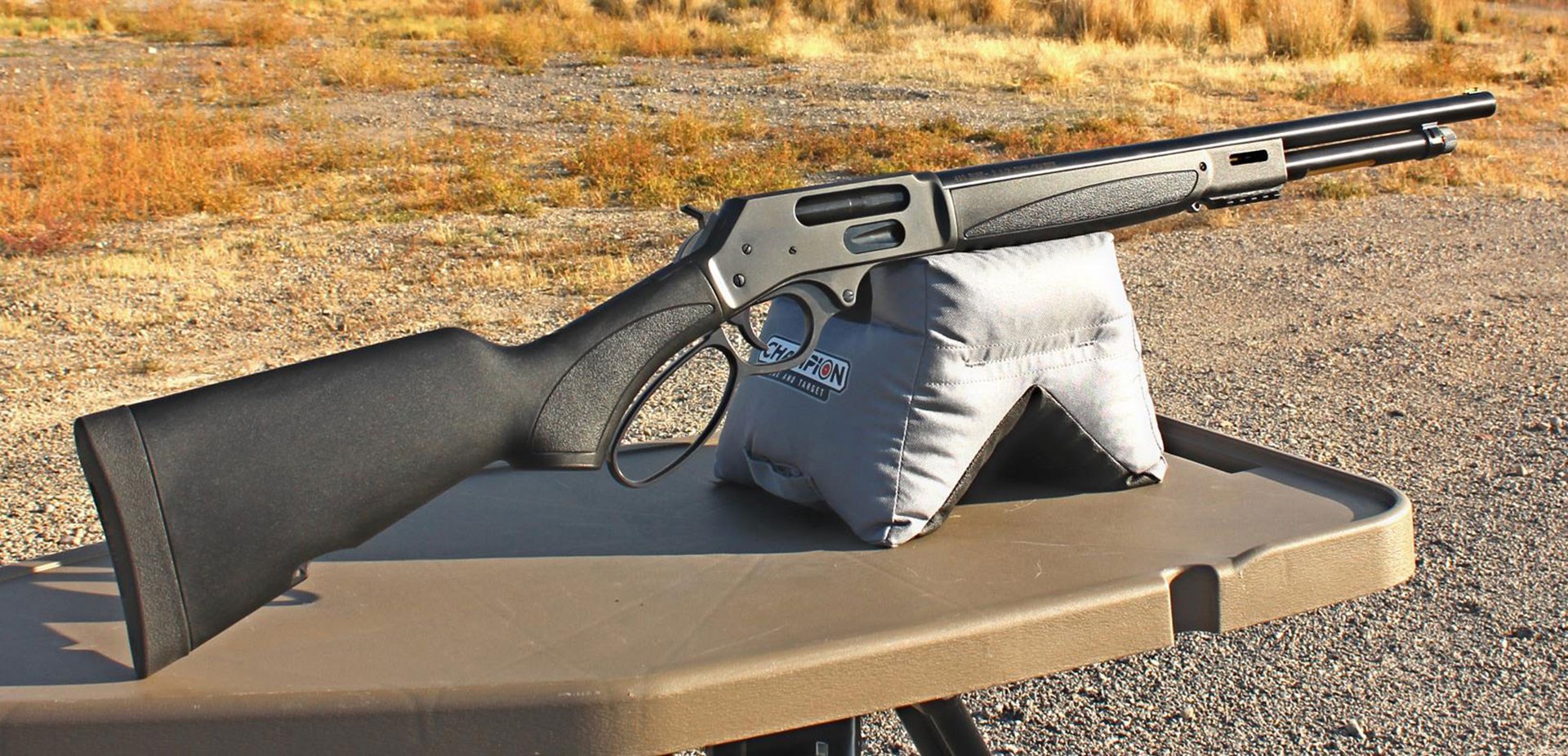 The X Model .410 bore is a handy, multi-purpose carbine configuration.
The X Model .410 bore is built around a carbon-steel .45-70 receiver with a right-side loading gate and a matte blue finish. This receiver and the gun's all-steel construction make it one of the toughest .410s available. Henry wisely left a key rifle feature in place. The top of the receiver is drilled and tapped to accept Picatinny or Weaver-style scope rails. This allows the X Model to be fitted with a micro red-dot for home defense or a magnified optic, paired with the correct choke, to turn it into a slug gun. Or the owner can skip using an optic altogether and take advantage of the bright fiber-optic front sight for use with birdshot loads. If an optic is installed, the hammer spur is grooved to accept Henry's knurled hammer extension.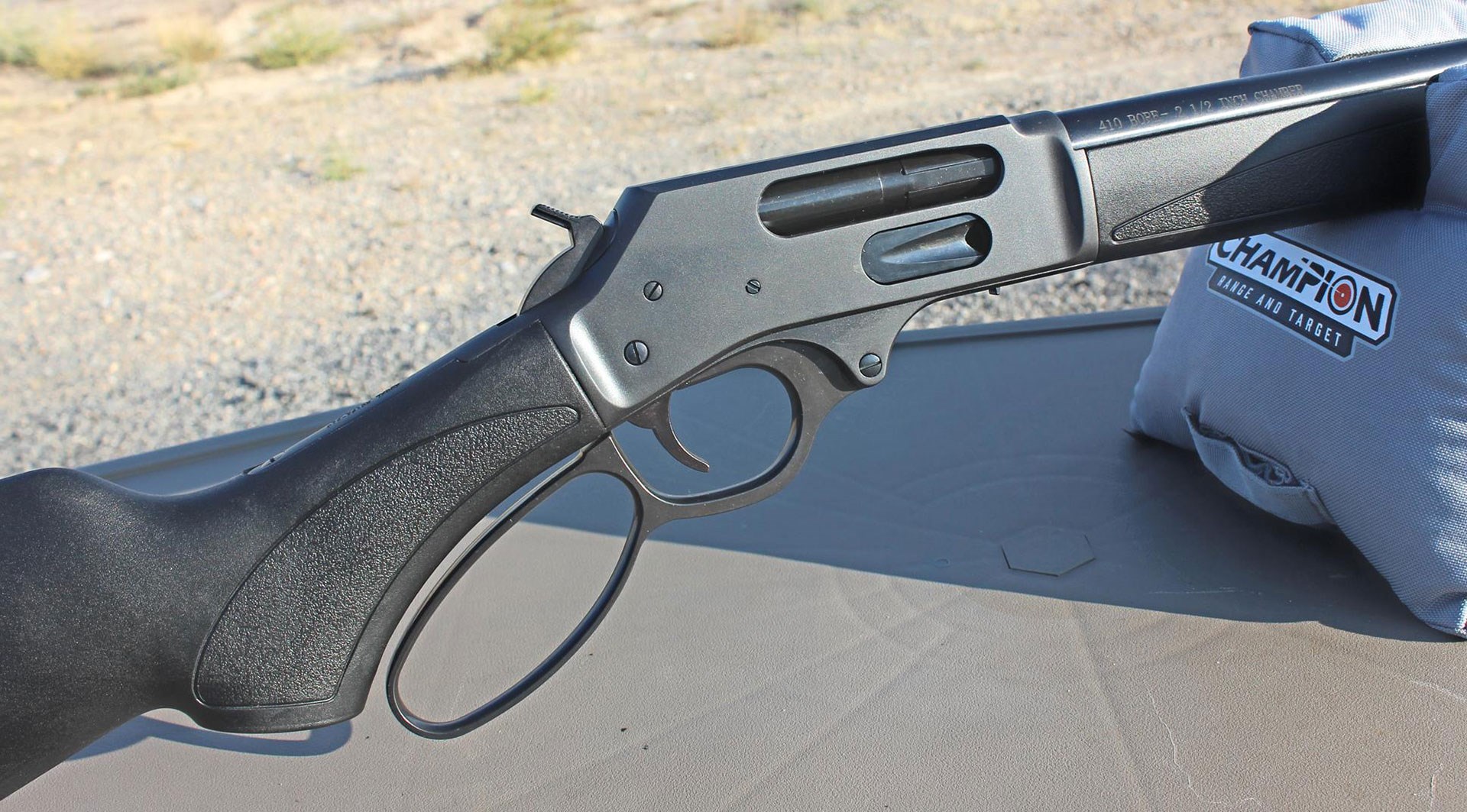 Since 2019, Henry has been offering models with side loading gates.
The 19.8" round profile, smooth-bore barrel is chambered for 2 ½" shells only and has a blued finish that matches the receiver and the rest of this rifle's carbon-steel components. The .410 bore X Models trades the threaded muzzle of the rifle and pistol-caliber models in favor of interchangeable Invector-type choke tubes. The X Model shipped with a full choke installed. Additional choke tubes can be purchased through the henrypride.com website. Options include Briley tubes in Cylinder, Skeet, Modified and Turkey configurations ($19.99), or extended and knurled Carlson's tubes in Cylinder, Modified or TSS Turkey ($39.95). This gun leaves the factory with a simple choke tube wrench, or customers can purchase a Briley Speed Wrench ($28.95) through the same website.
Prior to 2019, Henry's lever guns did not have right-side loading gates. Instead, they had closed receivers, and ammunition was fed into the fixed tubular magazine via a cartridge-shaped port. Twisting a knurled knob at the muzzle end of the magazine releases a brass liner that can be pulled out most of the way to expose the port or removed completely.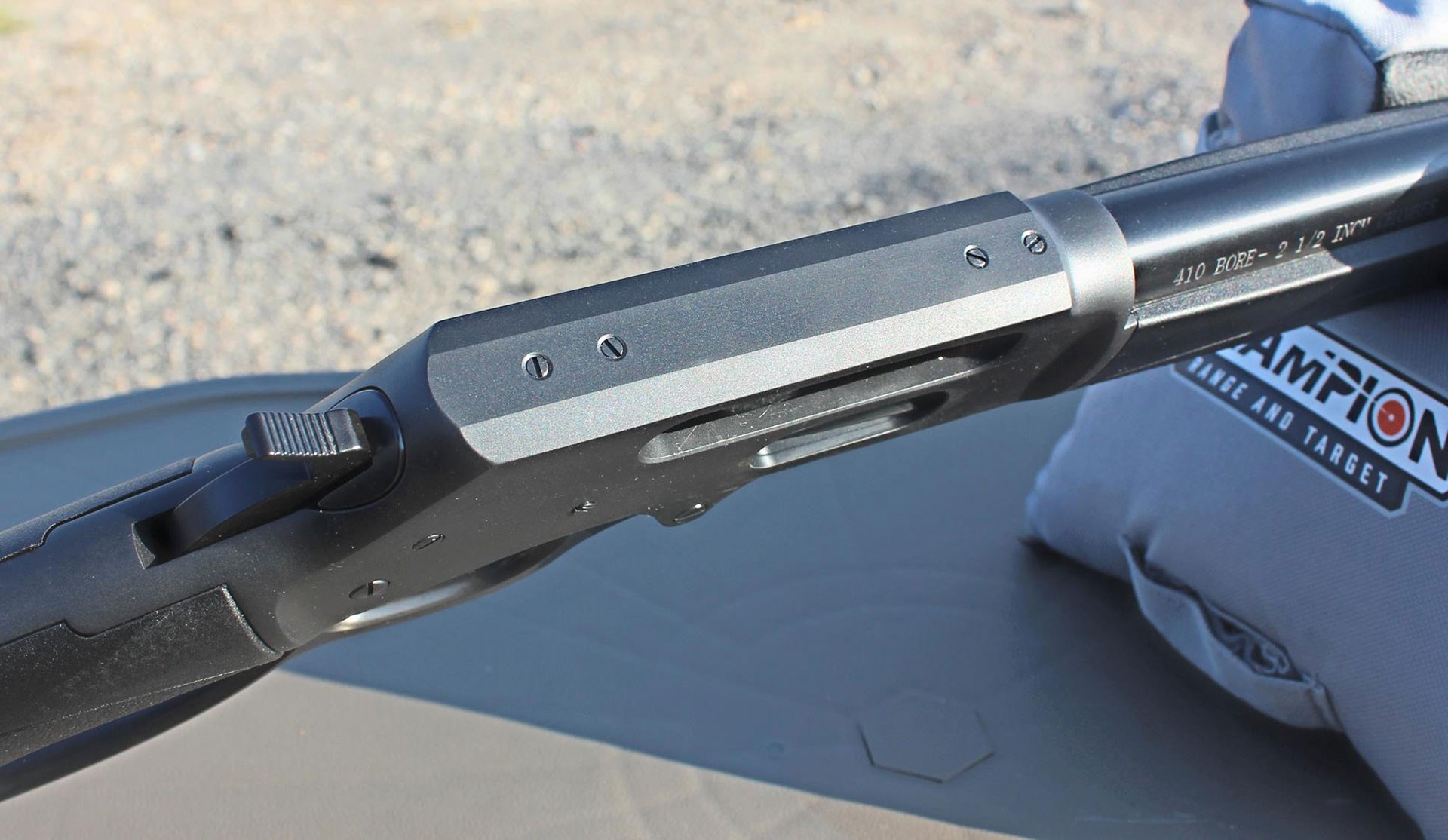 The top of the receiver is drilled and tapped for optics.
One of the things I really like about the Henry side-gate models (most of the centerfire models have them now) is that the company opted to keep the removable magazine liner for a best-of-both lever gun design. The side gate can be used to quickly and conveniently top off the magazine in the field, while the removable liner allows unused ammunition to be dumped out without having to cycle each round through the action and out through the ejection port.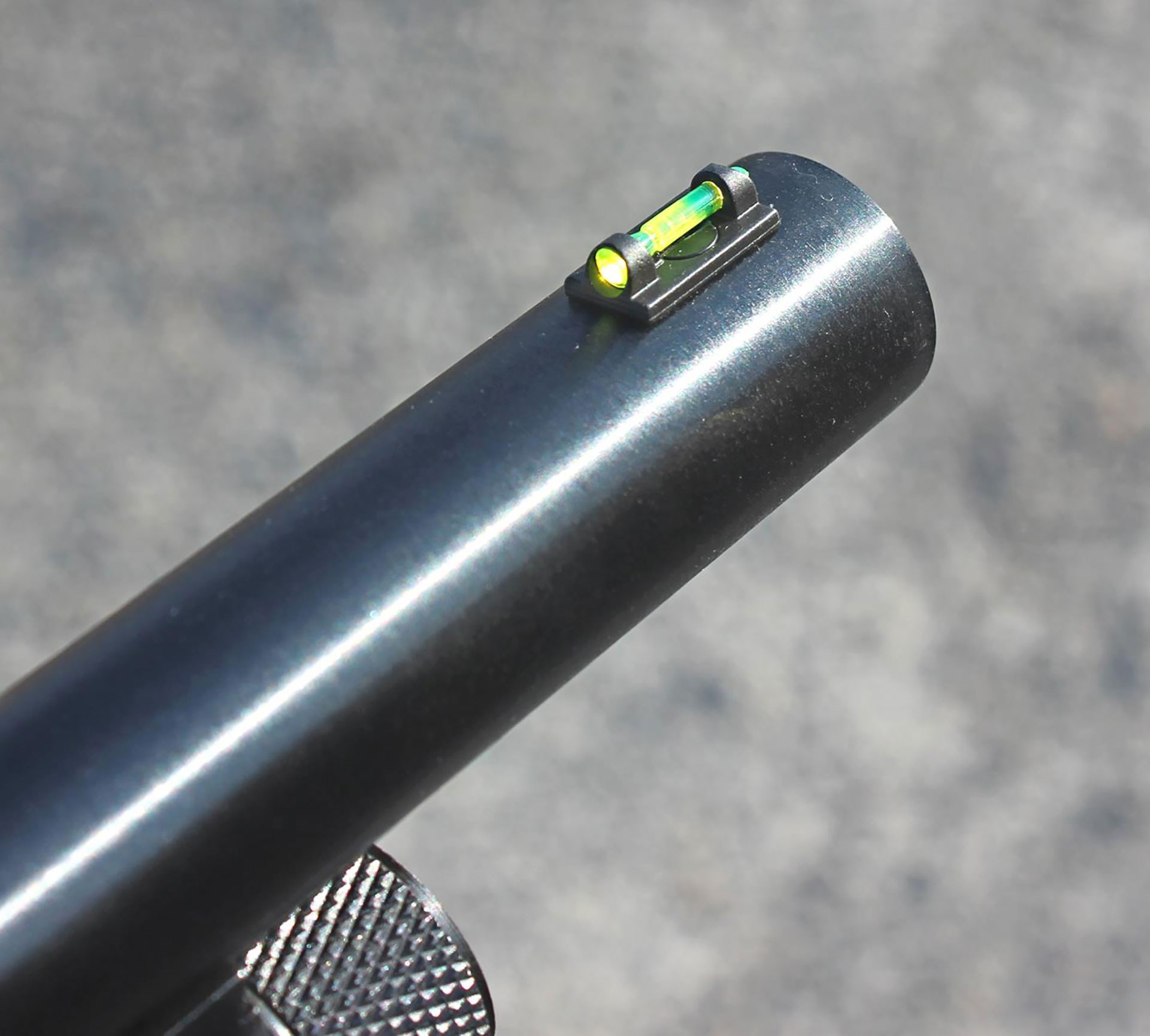 The front sight is a bright, easy-to-see fiber optic.
The .410 X Model continues to follow the .45-70 Gov't. rifle motif with a pistol grip shoulder stock and an oversized lever loop, which is canted to match the curve of the grip. The trigger is a curved steel bow with a smooth face. It exhibited a clean trigger stroke that broke neatly with 3-lbs. 14-oz. of trigger pull.   
The exposed hammer has two positions: all the way forward against the receiver or fully cocked. Inside the face of the hammer is a transfer-bar safety. When the hammer is in the forward position, the bar drops down to create a gap in between the hammer and the firing pin. This prevents the gun from firing if dropped or the hammer is bumped. The transfer bar will only engage the firing pin if the hammer is fully cocked and the trigger pressed.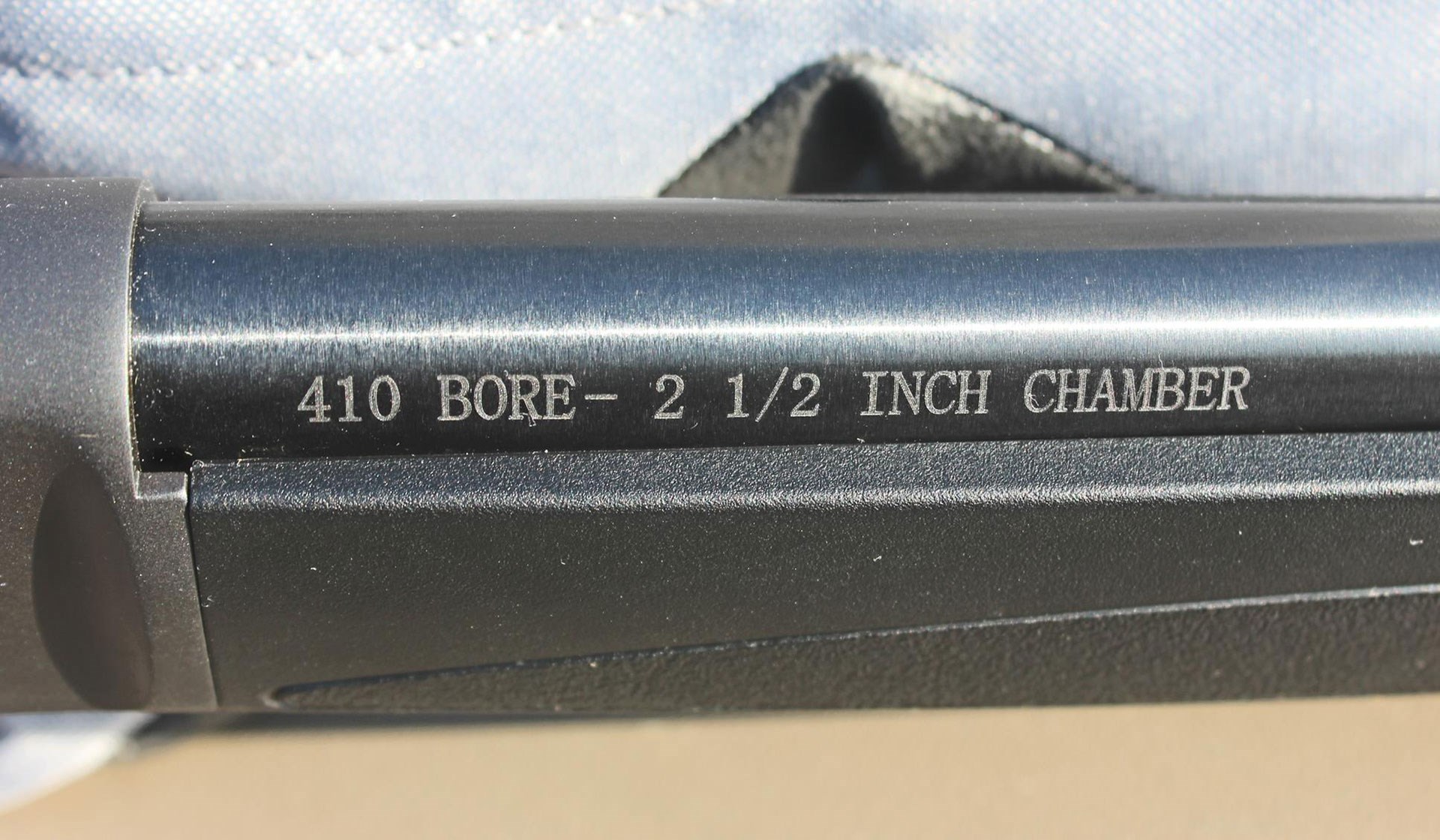 The X Model feeds 2½" shells only.
The most notable difference between the X Models and other Henry lever guns is the modern furniture. The company's other guns are outfitted with hardwood stocks, while the X Models sport injection-molded black polymer stocks. The transition was actually a customer request. Polymer stocks weigh less, and they are more weather resistant. Far fewer bitter tears are shed when polymer picks up a ding or scratch in the field than when a beautifully figured piece of walnut is subjected to similar abuse.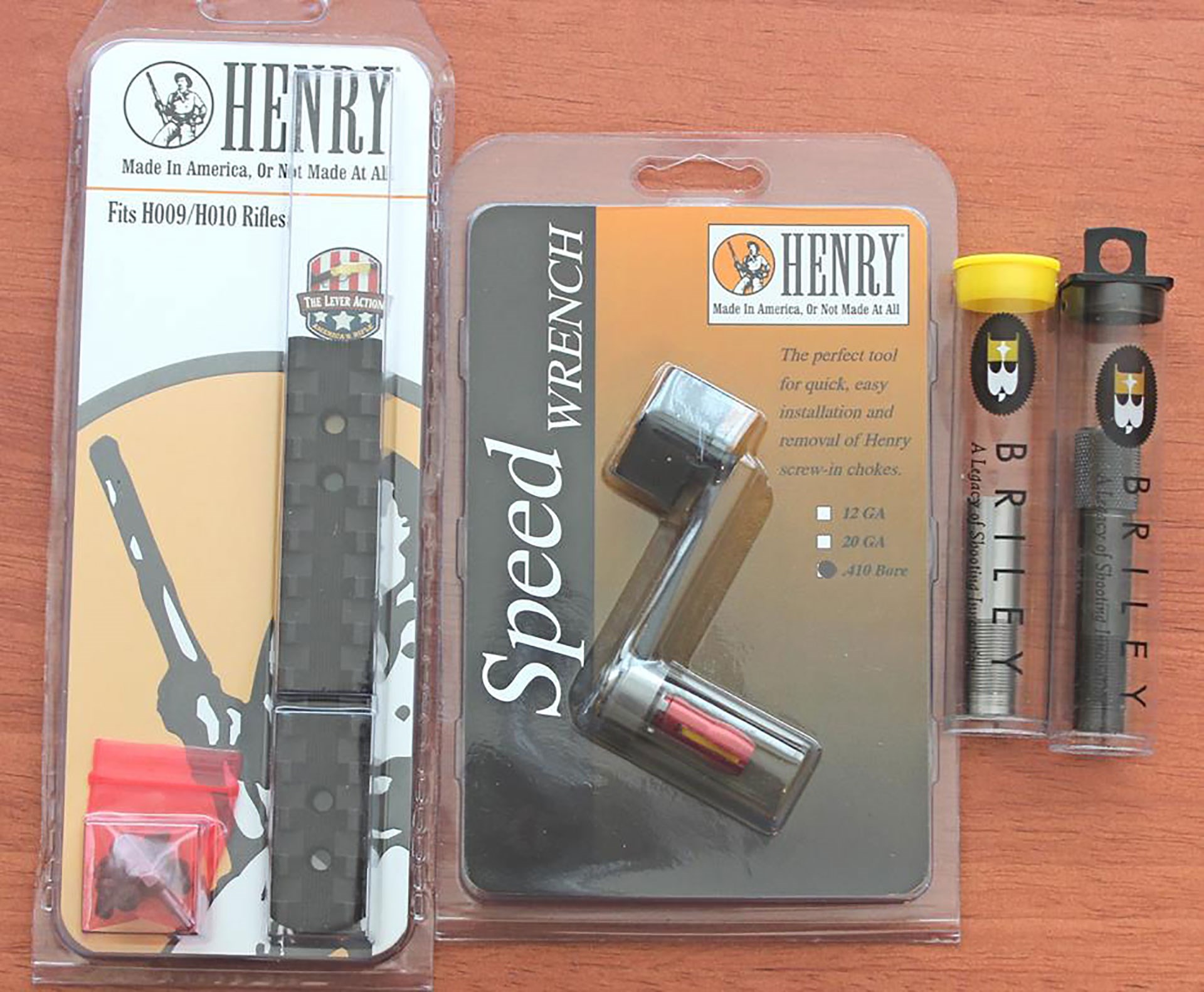 A variety of Invector-type chokes are available for this model.
Although some companies have tricked-out their updated lever guns with tactical handguards and adjustable AR-style stocks, the X Model's polymer stocks stick close to providing a traditional profile with a few slick updates. The extended fore-end is rounded with light grip surface texturing and a pair of small standard screws that secure it to the rifle in place of a barrel ring.
The extension at the muzzle end provides right and left side M-Lok slots, along with a 1.85" four-slot Picatinny rail to accommodate a variety of accessories, including lights, lasers and bipods. A molded-in sling swivel mount is located just behind the Picatinny rail. The second sling mount is found on the shoulder stock near the recoil pad. The pistol-grip stock has a 14" length of pull, a rounded cheek rest and is topped off with a textured rubber recoil pad.
The magazine holds six rounds of 2½" .410 shells, and the all-steel construction gives this .410 an unloaded weight of 7 lbs., 8 ozs. Is the heft a plus or a minus? It depends on what your personal needs may be. At the shooting range, this X Model had a good swing. It stabilized nicely once on target and soaked up the already moderate levels of .410 recoil, making it comfortable to work with for longer shooting sessions.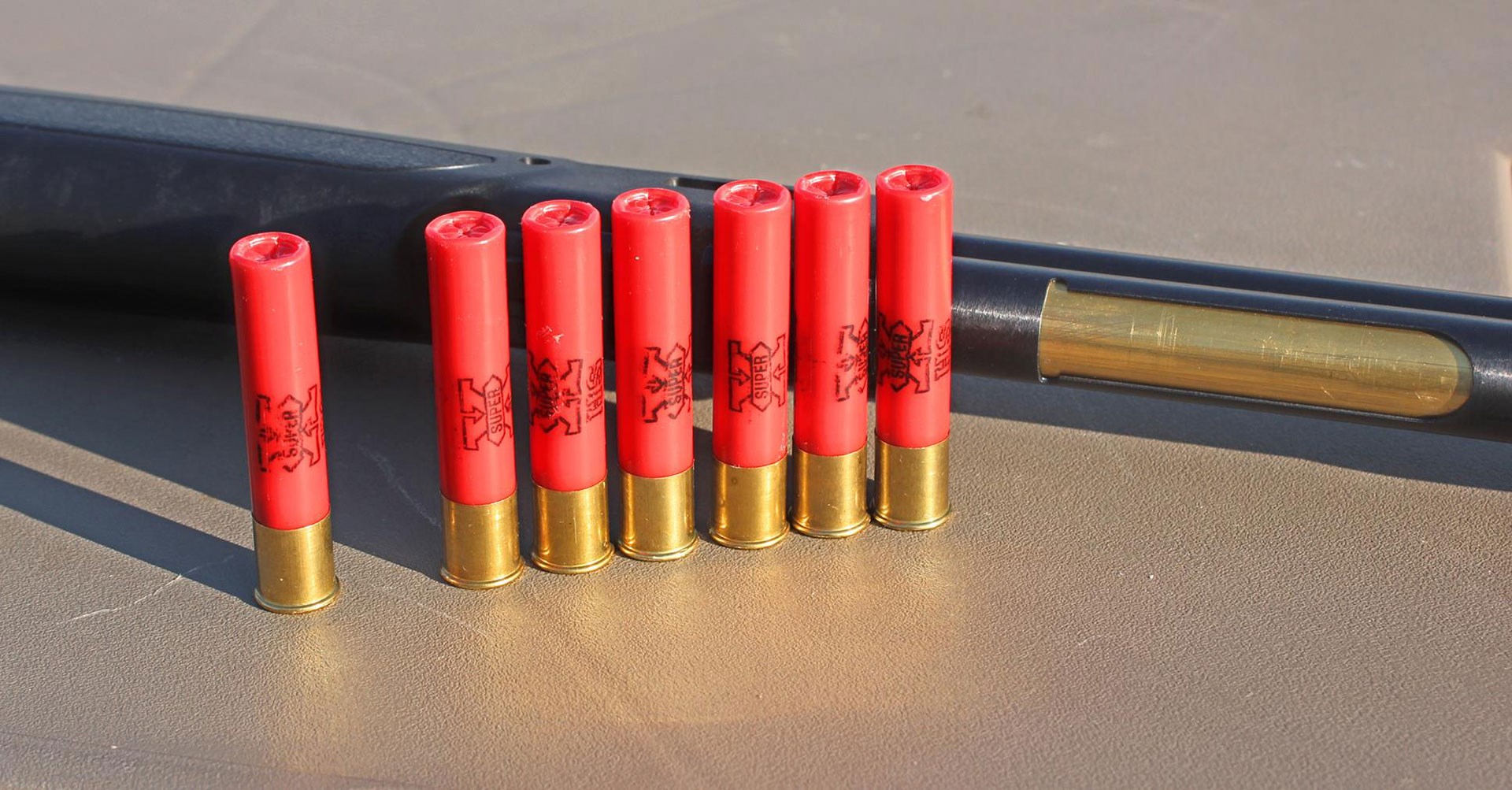 This shotgun can be loaded through the magazine port or the receiver's right-side loading gate.
Shotshell patterns were checked at 25 yards by firing single rounds into 45" square paper targets using the X Model's factory-installed full choke. The central aiming point of the targets were covered with self-adhesive Birchwood Casey Shoot-N-C 8" bullseye target. Shots were fired with the fiber-optic bead sight aimed at the center of the bullseye. Pattern percentages were checked by counting pellet impacts within 21" and 30" circles drawn around the center of each pattern.
Federal Premium's Hi-Brass #6 Lead Birdshot (H4126) load fires ½-oz. of shot at a listed muzzle velocity of 1,200 f.p.s. About 64 percent of the pellets formed a fairly central pattern within 21" of the bullseye, or an 80 percent pattern density within 30" of the center mark.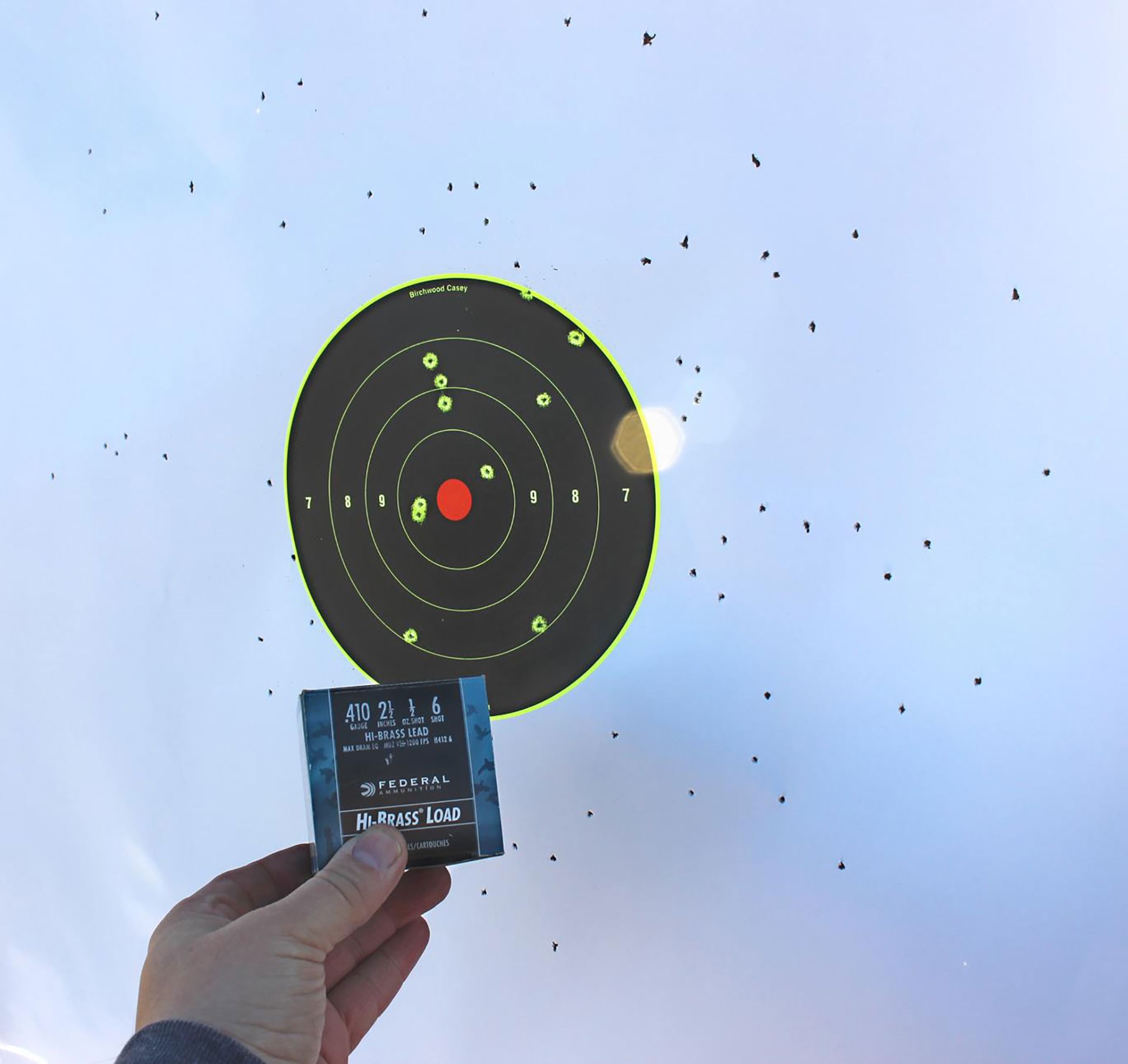 The pattern made by Federal's #6 lead birdshot.
Winchester's Super X #4 Lead Birdshot (X414) load launches ½-oz. of shot at a listed flight speed of 1,245 f.p.s. The center of the pattern was a bit above the bullseye with a 66 percent pattern density within the 21" circle, or 87 percent within the 30" circle. 
The pattern made by Winchester's #4 lead birdshot.
The one .410 buckshot load tested was Remington's HD Ultimate Home Defense (410B000HD), which fires four pellets of 000 lead buckshot at a listed muzzle velocity of 1,225 f.p.s. All four pellets landed within the 21" circle range, forming an L-shaped pattern. Some folks may be wondering why some companies make defensive loads for .410s. If so, take a look at this .410 shell test with gel block results.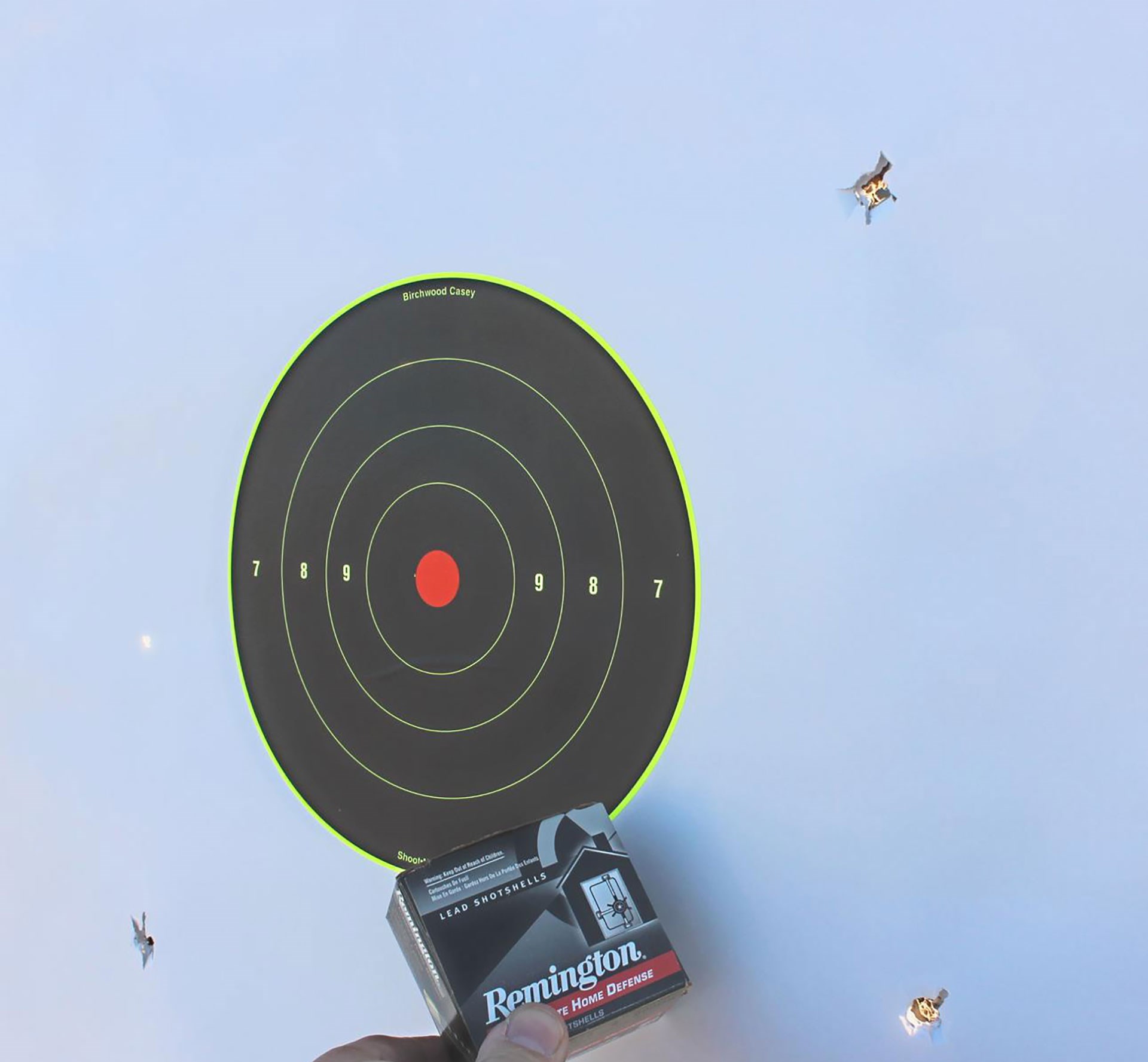 The pattern made by Remington's 000 lead buckshot.
Henry is known for building reliable, well-made lever guns with clean, smooth actions. The .410 bore X Model's fit, finish and flawless operation supports that reputation. This is a top-notch, multi-purpose .410 with features that make it a handy option for a variety of applications. It's among the most flexible .410 bore shotguns currently available. In addition to the carbine-length X Model, I would like to see Henry use this gun as the foundation for a long-barreled turkey gun to take advantage of Federal Premium's .410 bore #9 Heavyweight TSS loads.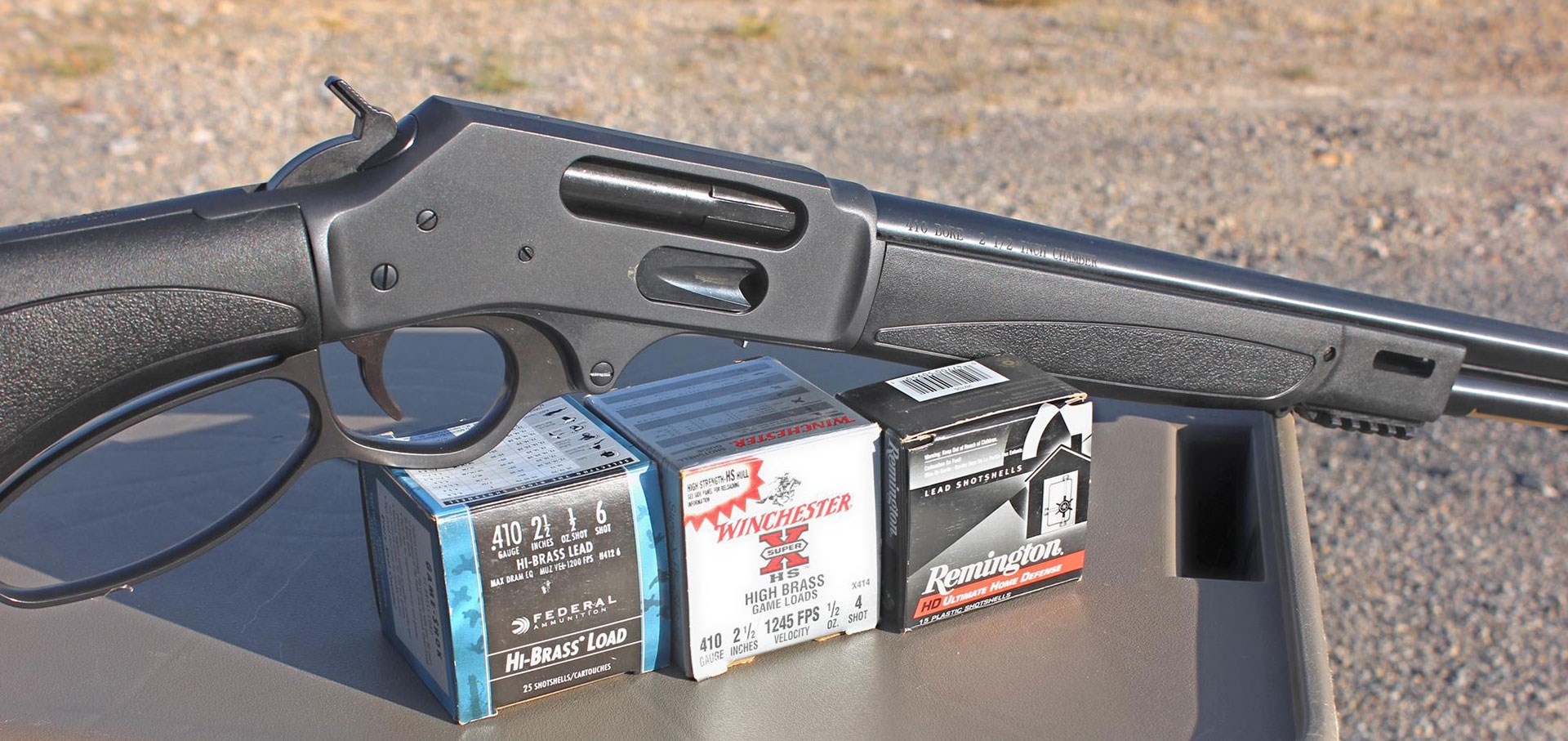 Specifications:
Manufacturer: Henry Repeating Arms
Model: X Model (H018X-410)
Action: Lever-Action Shotgun
Caliber: .410 bore, 2½" Shells Only
Finish: Blued Carbon Steel Receiver, Barrel and Magazine
Optic Mount: Drilled and Tapped for Weaver 63B Mount (Sold Separately)
Sight: Shotgun Type Fiber Optic Front
Barrel: 19.8" Smooth Bore, Round Profile
Choke: Removable Invector Type, Full Choke Provided
Magazine: Six-Round Tubular with Loading Gate and Removable Liner
Forend: Black Textured Synthetic, One 1.85" Four-Slot Picatinny Rail, Two M-Lok Accessory Slots
Shoulder Stock: Pistol Grip, Black Textured Synthetic with Rubber Recoil Pad
Sling Swivel Mounts: Yes
Safety: Hammer-Mounted Transfer Bar
Reversible Hammer Spur Extension: Available (Sold Separately)
Safety: Hammer Mounted Transfer Bar
Trigger: Smooth Faced Steel Bow
Trigger Pull: 3 lbs. 14 oz. (As Tested)
Overall Length: 38.6"
Length of Pull (LOP): 14"
Weight: 7-lbs. 8-oz., Unloaded
Capacity: 6+1 Rounds
Accessories: One Choke, Choke Tube Wrench, Owner's Manual
MSRP: $1,049