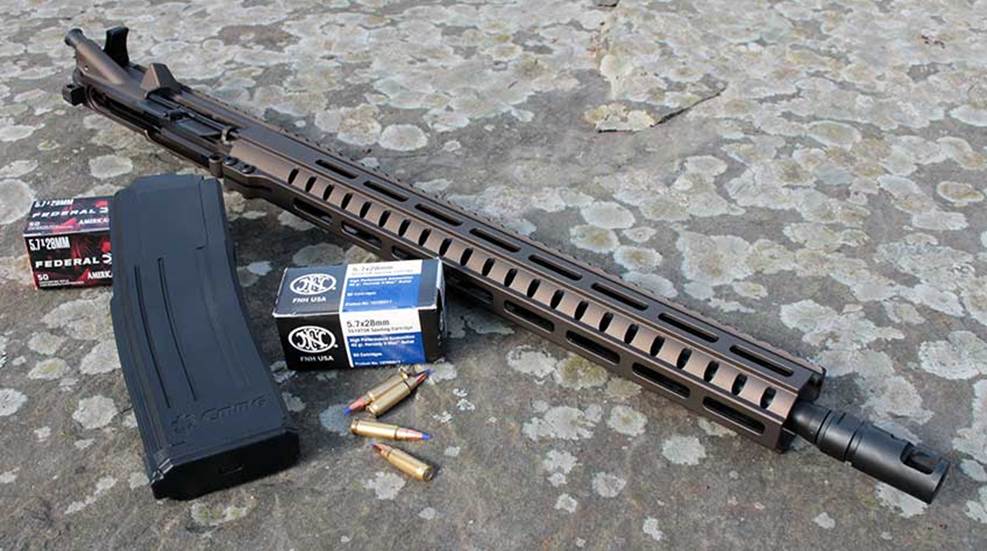 Whenever I think of firing a different cartridge out of a familiar platform, I think CMMG. For this reason, it didn't come as a surprise when the company announced its Mk 57 upper kit, which is designed to fire the speedy little 5.7x28mm FN cartridge. After evaluating Ruger's first (and the industry's second) pistol in this chambering, it just made sense for me to investigate one of these, as I had a surplus of 5.7 ammunition.

The kit includes a complete upper receiver that uses CMMG's proprietary radial-delayed blowback system. This system was first developed for use in its 9mm AR-15s back in 2017. The main idea behind radial-delay is that the rotation of the bolt is controlled by radial cuts designed to delay unlocking until pressure drops.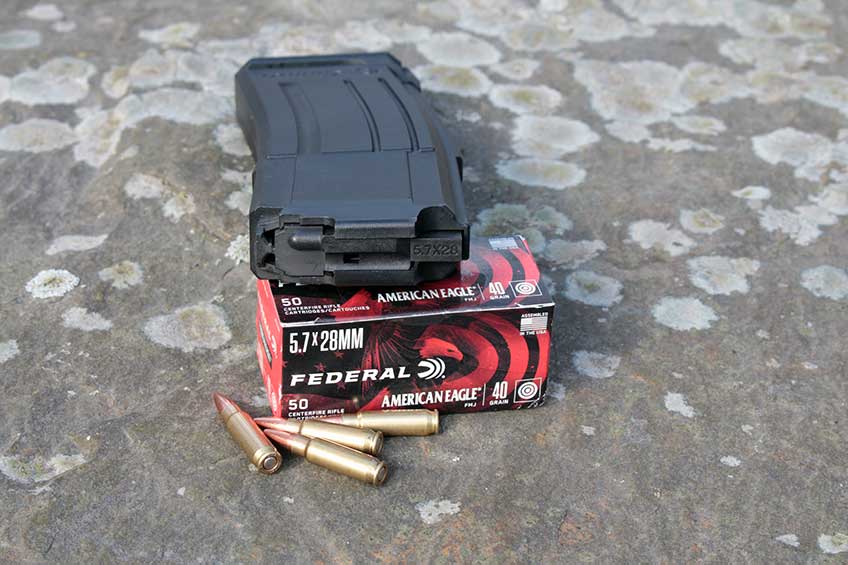 During firing, the cartridge head pushes back against the bolt face, which is being held closed by a spring located inside of the carrier. The rearward surfaces of the bolt lugs are angled, allowing them to easily slide against the locking surfaces while they direct the force to rotate and unlock the bolt. This process gives the bullet enough time to leave the barrel, allowing pressure to drop to a safe level for cycling.

The sample I received was built with a 16.1" long barrel complete with a 1-in-9" twist. When considering that the average bullet of a 5.7x28mm cartridge weights no more than 40 grains, this is certainly fast enough to stabilize them. The barrel was capped off with one of the company's SV brake/compensator muzzle devices, capitalizing on the shootability of this little round.

Covering the barrel assembly was a 15" ventilated free-float handguard complete with 270 degrees of M-LOK slots to hang accessories. I found the contour to fit my hand very well, and it accommodated conventional hand positions as well as nearly any variety of C-grip you may prefer.

While the standard color is black, CMMG also offers Cerakote upgrades. Mine came in an exquisite Burnt Bronze finish. With the upper came the conversion magazine that can hold up to 40 of the tiny little powerhouse cartridges.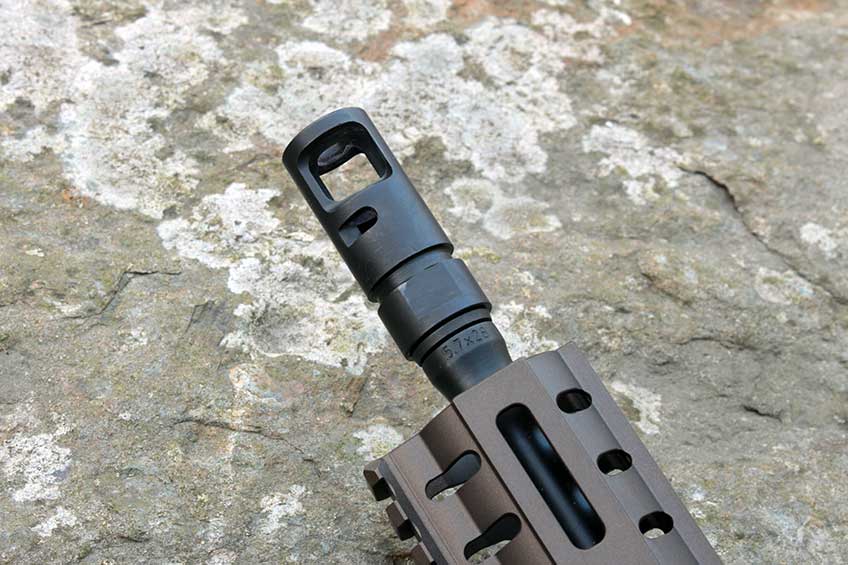 If your state doesn't allow for that much freedom, a 10-round version is available, and its double-stack configuration makes it easy to fill if you need to build your kit into a fixed magazine configuration.

All that was missing was an optic, so I clipped on a Riton X5 Tactix that offered both an illuminated reticle and up to a 6X magnification. Together, these features would be everything that I needed for accuracy testing, as well as an evaluation on handling.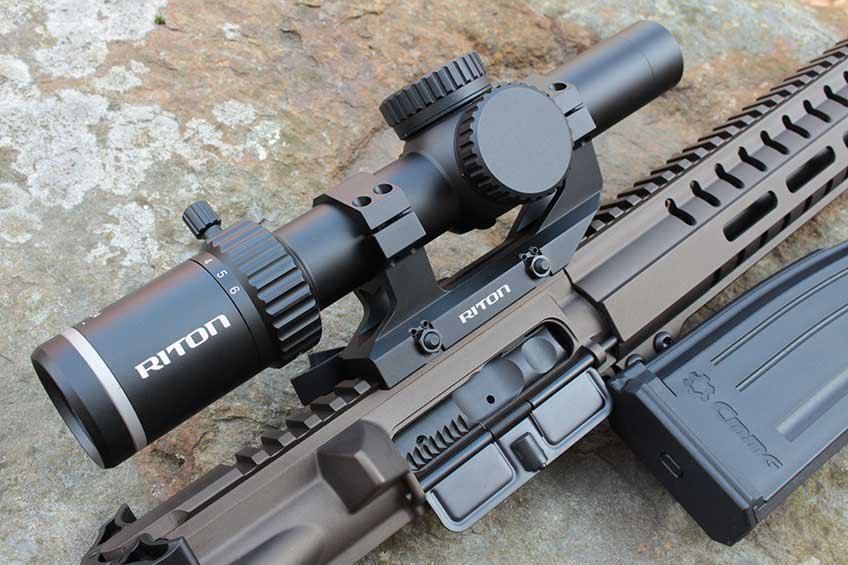 The X5 Tactix is also built with the AR platform in mind, leaving the right amount of eye relief to mount it forward of the charging handle. However my Mk 57 was of the 300 series and included an extended ambidextrous charging handle, so it would clear the glass either way.

The Mk 57 conversion kit is designed to work with any AR-15 lower, regardless of what weight buffer and type of spring is used. That being said, I brought one built for a carbine and one built for a rifle to the range with me for testing.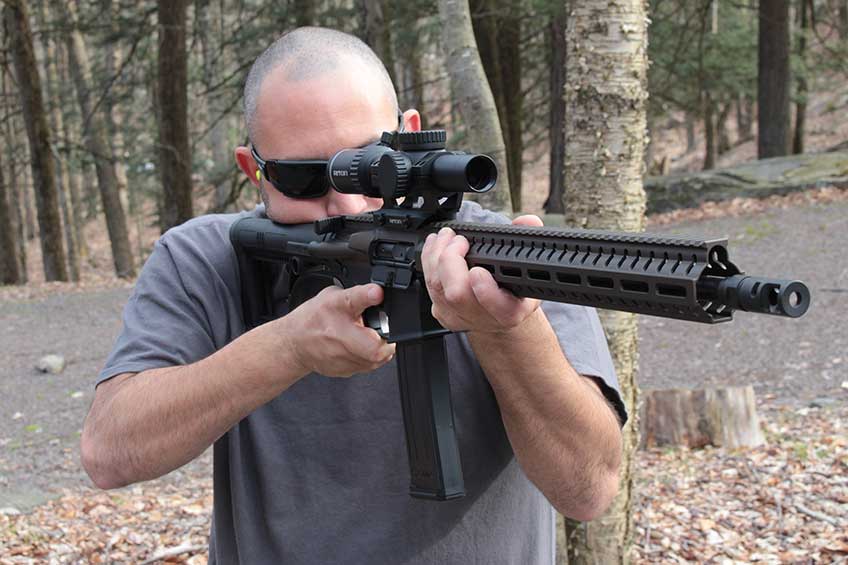 My initial shots were fired to zero the Riton Tactix and get an overall feel for the gun. For this portion of the test, I fired a box of Federal's American Eagle 40-gr. FMJ and a box of the FN America SS197SR which utilized a 40-gr. V-max. I found firing both rounds to be quite smooth and to only generate slightly more recoil than a .22 Long Rifle round.

I found that using the rifle lower mitigated slightly more recoil than the carbine lower, but most shooters aren't going to notice the difference without a discriminating analysis and those that do likely won't care.

After cleaning up my zero, I shot five 5-shot groups of each type of ammunition from a rested 50-yard position and found an average group size of 1.62" for the American Eagle and 1.27" for the SS197SR. Velocity was also impressive, as they produced an average of 2,139 fps and 2,152 fps, respectively.

I finished my range day by dumping a little more than 200 rounds into a variety of steel targets, just enjoying how fast this gun was to swing, as well as how quickly it recovered from recoil. It's a shame that, at the time of this writing, I wasn't sitting on a case of these rounds, as mag dumps on steel are a ton of fun!

I ended my range day with a quick tear-down of the bolt carrier group. Here I was better able to get a good look at the inner workings of the radial-delayed system. Taking it apart was like stripping any other BCG, but watch out for the firing pin, as it is spring-loaded and will launch once you pull the retaining pin.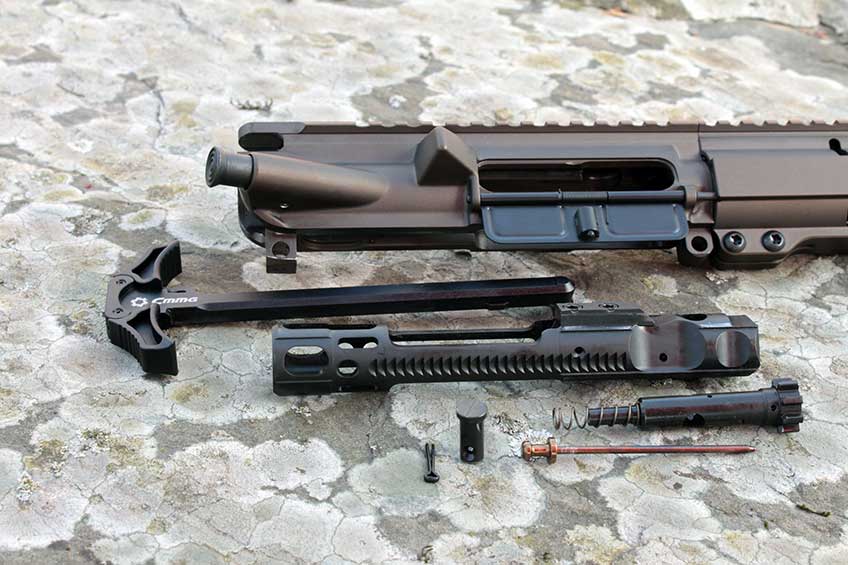 While this spring is mainly a part of the blowback system, it also doubles as a firing pin retention spring, further reducing the chance of a slam fire. While it was out of the receiver, I noticed the lightening cuts and overall mass reduction of the carrier, likely to aid in cycling but this also makes the overall package lighter and easier to handle while smoothing out the forward recoil pulse when it slams back into battery.

To my mind, the CMMG Mk 57 conversion combines the best features of 9 mm and 5.56 NATO. On one hand, you get the improved ballistics of the lighter, faster bullet that is suitable for not only target shooting but would make a great rifle for varmints, particularly coyotes.

On the other hand, you have the light recoil and reduced penetration that is typically associated with AR-style carbines chambered in 9mm that are becoming popular personal-protection platforms.. One thing's for sure: Whatever you plan on doing with it, this CMMG Mk 57 conversion system will perform well, thanks to its well-thought-out design.