by
posted on June 9, 2020
Support NRA American Rifleman
DONATE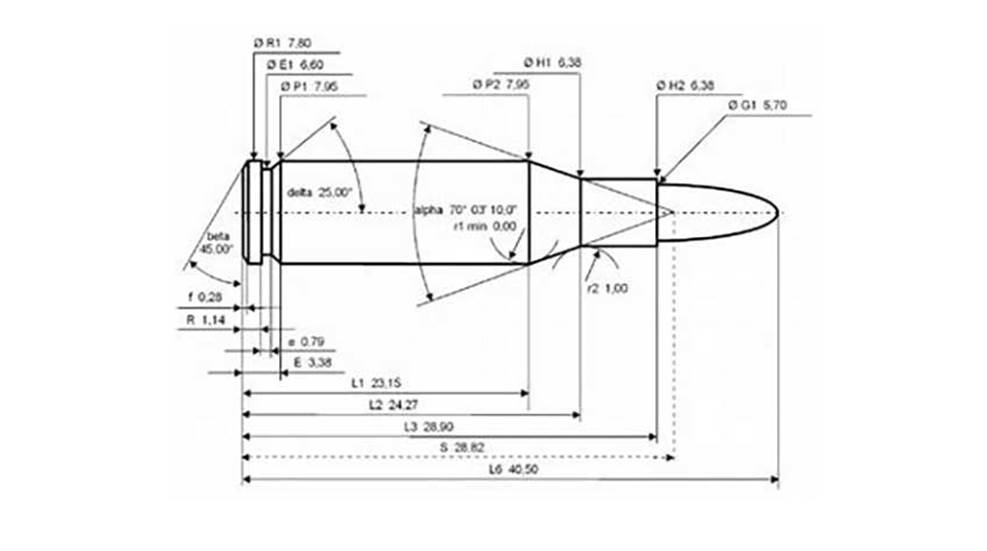 In the late 1980s and early '90s, NATO began searching for a replacement for the 9mm Luger cartridge for personal-defense weapons (PDW) and pistols. Specifications included greater range and accuracy than the old 9 mm, as well as better terminal performance, which included the capability of penetrating the body armor of the day.

Jean-Paul Denis and Marc Neuforge, designers at FN Herstal, started from scratch to design a new cartridge and then a platform to launch it. The cartridge had no parent case. What FN put forth was a 1.138" long case with a rebated rim, with a 35-degree shoulder that launched a .22-caliber bullet weighing from 23 to 31 grains: the 5.7x28mm.

In terms of case capacity and external ballistics, the new cartridge was not all that different from the old .22 Hornet, but its rebated rim and nearly straight case wall made it much easier to function in a semi-automatic pistol or automatic PDW.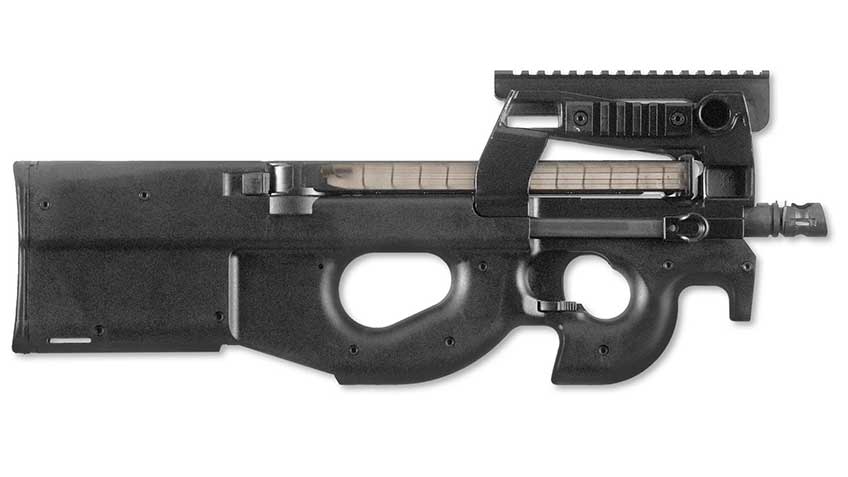 Denis and Neuforge filed for a U.S. Patent, and patent number 5,012,743 ("High-Performance Projectile") was granted in 1991. At the Safari Club International Show in 1998, of all places, I was part of a group of writers who got to shoot this new 5.7x28mm round in both the FN P90 PDW and the company's Five-seveN pistol.

In all honesty, the P90 PDW did not impress me. It was reliable enough, but the pull-through, full-auto trigger turned this go-fast into a spray-and-pray gun. The Five-seveN pistol, however, was accurate—if a bit loud—and hits out to 75 meters were pretty easy.

Tests conducted by NATO in 2002-03 compared the 5.7x28mm to another offering by Heckler & Koch, the 4.6x30mm. Not surprisingly, the 5.7x28mm beat the pants off of the H&K offering. Velocities of the two cartridges—a 26-gr. bullet at 2,380 fps for the 4.5mm versus a 28-gr. bullet at 2,800 fps in the 5.7mm—give the FN cartridge a 15-percent advantage, along with a 28-percent increase in muzzle energy.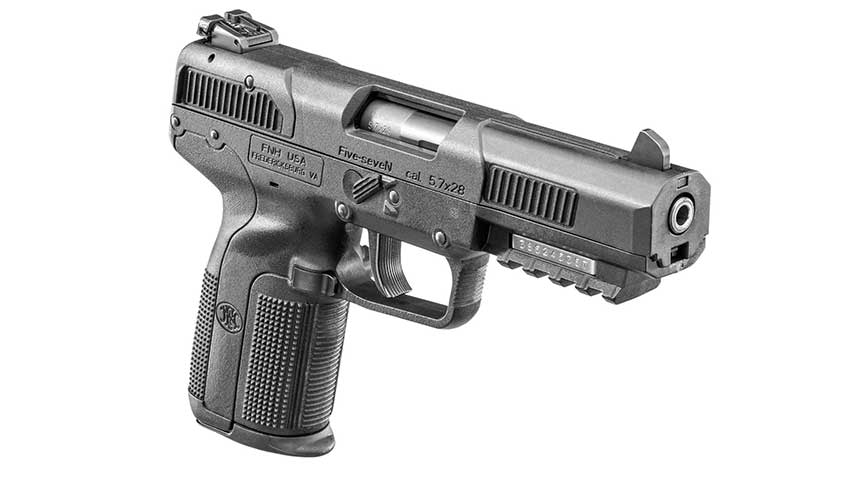 These are PDW velocities; pistols are less than half these numbers. Other bullet weights compare similarly. In the effort toward miniaturization, the smaller size of the H&K bullet may make it a little lighter to carry, but it also makes it a little lighter hitting.

Let's face it; hitting and damaging the target is what it is all about, and that small 4.6mm (.18-cal.) bullet is going to need beaucoup velocity to do the job. Both cartridges are capable of penetrating Level III body armor at 200 meters using an armor-piercing bullet when fired from a PDW.

Response has been fair. Nearly 50 nations use the 5.7x28mm in both platforms, including the United States, where no fewer than 19 law-enforcement agencies, both federal and state, are using it. The cartridge and the guns chambered for it seem to have found favor with special forces and counter-terrorist operators.

In some law-enforcement circles, the 5.7x28mm is considered safer than the 9mm because the bullets limit over-penetration, and the lighter bullets with lower ballistic coefficients shed their velocity quicker, thus limiting their capability to do damage beyond 400 meters. The 9mm can still do damage at twice that distance.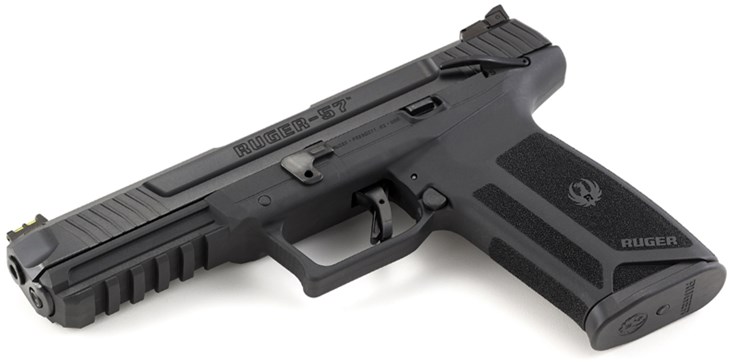 Neither the cartridge nor the guns have set the sporting world on fire, though Ruger's introduction of its Ruger-57 pistol has rekindled some interest. There are a handful of rifles and carbines chambered for it beyond the P90—which has a civilian, semi-auto-only version with a 16" barrel and dubbed the PS90. Ammunition is problematic with FN and Fiocchi options about all that is available in the U.S. now.

The Fiocchi ammo is marketed through Federal under its American Eagle brand. Because BATFE categorizes the cartridge as an armor-piercing pistol round, the FMJ AP round, designated as SS190 is restricted to law-enforcement and military only.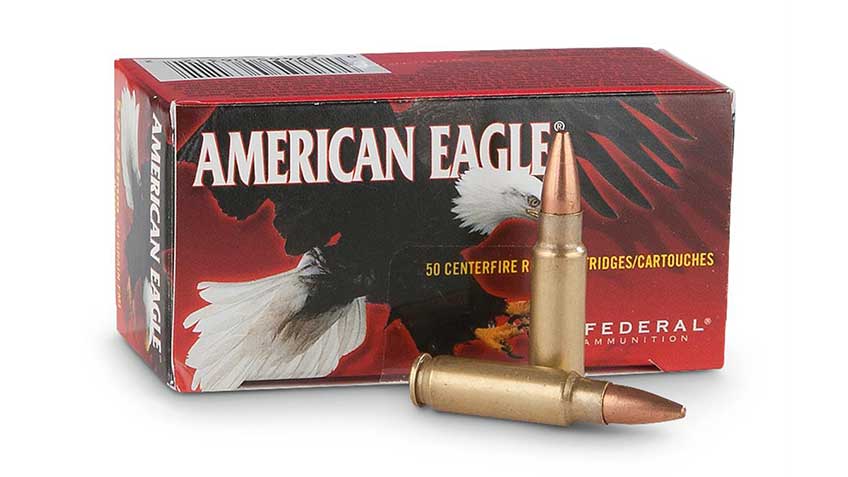 Civilian loads—designated SS196SR—feature a Hornady 40-grain V-Max bullet with a blue polymer tip. Federal has a 40-gr. FMJ, but it lacks the armor-piercing core. There is also a subsonic load featuring a 60-gr. FMJ at 984 fps.

I would have thought someone would chamber a bolt-action or single-shot rifle for the 5.7x28mm. It ought to be a nice rodent round. Once some of the guys had a chance, I wouldn't be surprised to find a gaggle of them wildcatting the cartridge, since most die-hard varmint shooters are convinced they can design the perfect varmint cartridge better than anyone else.


There is a place for the 5.7x28mm NATO cartridge, though probably not until a major U.S. service branch adopts it—read: orders a billion rounds—so that ammo becomes less expensive than 50 cents per round. Some will see it as the answer to an eternal siren's call for a lightweight, low-recoiling pistol for self-defense.

Pistols chambered for it are not all that better concealable than any modern service pistol, though magazine capacity is certainly helped by the round's small size. Sport shooters will like it, but probably not in huge numbers. It is a cute, little round available in some cool-looking guns, but it will need the gravitas of a major government military contract to make it really shine.