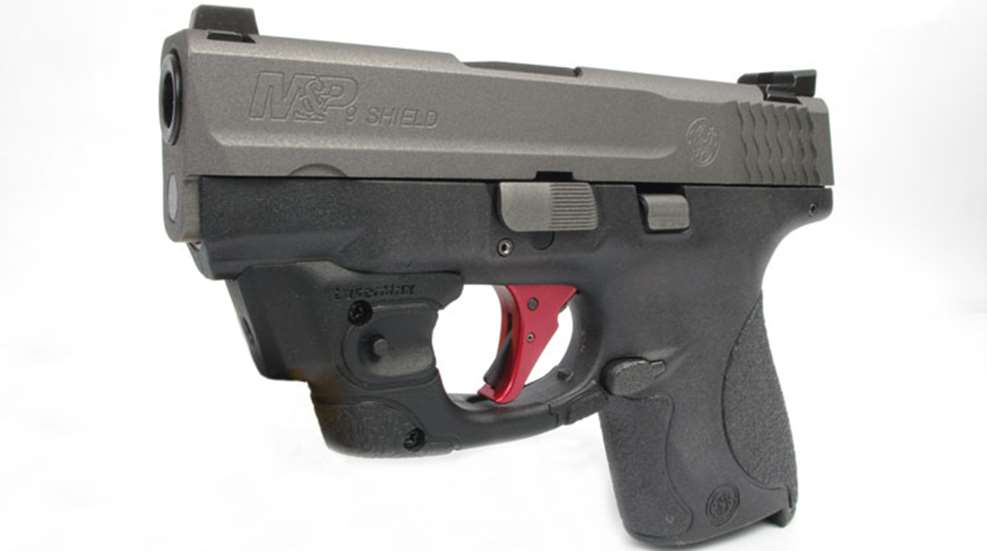 Although I have mostly carried .45 ACP pistols for the past decade, I recently made the decision to switch over to 9 mm for my carry gun. I have been tracking the advancements of ammunition technology in recent years and decided that the round had matured and developed to the point that a switch made sense for me. This chambering would provide me with more ammunition and lower recoil in a smaller and lighter package. Reinforcing this is the fact that numerous law enforcement agencies (including the FBI) have been switching back from .40 S&W to the 9 mm due to the increasingly capable performance of the round.

I have a long history with Smith & Wesson handguns, going back to my very first carry gun being a .38 Special Model 642. As I now almost exclusively carry full-size pistols, I decided to look at the M&P9 family. As I have done a good amount of training on the 1911, I also wanted one with an ambidextrous manual safety (I am a southpaw) in the correct position at the rear of the frame like John Moses Browning designed it. So, I selected the M&P9 with thumb safety variant. Weighing in at 24 oz. unloaded and packing in a 17+1 capacity, this one seemed like a good choice for me.
While I was at it, I decided that I also wanted to update my pocket carry/backup gun from the Model 642 to a 9 mm that could share ammo with my primary carry gun. As it would be primarily for pocket carry, I wanted one as slim as possible, which led me to the M&P Shield. As compared to the double-column-magazine family of M&P pistols, the Shield uses a slimmer single-column magazine (although it does feature slight staggering of the rounds to up capacity a bit).
While I wanted a manual safety on my full-size M&P9, I specifically wanted a safety-free Shield (as I have not trained on disengaging a safety on my pocket carry gun, and the Shield's manual safety is only for right handers, anyway). So, I chose to go with the 9 mm M&P Shield with no thumb safety. The pistol packs in a 7+1 capacity with the flush-fitting magazine (and comes with a spare eight rounder that is slightly extended), giving it three to four more rounds than my Model 642 while being a similar overall size.
Apex Tactical Upgrades
Although I used to exclusively run stock guns, in recent years I have come to appreciate subtle upgrades to my carry guns. Now, I am not talking about turning it into a race gun with a reflex sight and an extended barrel, but rather subtle yet significant enhancements that only add to the pistol's capabilities. As I researched what was available for the M&P line of pistols, I discovered that there are a lot of companies out there producing parts and accessories for them.
While researching how best to customize the Smith & Wessons, one name kept coming up—Apex Tactical Specialties. The company is well known for its work on customizing Smith & Wesson firearms and seemed like a great place to go for upgrading my two new carry guns. I contacted Apex's Paul Erhardt to discuss my new purchases and ask for his input on what modifications I might want for them.
As the company is renowned for its trigger systems for these pistols, I was leaning toward these for each of the pistols. Having thoroughly reviewed the company's site, I was considering Apex's Level II Trigger Service Package with the Duty/Carry Action Enhancement Kit (DCAEK) and M&P Aluminum Action Enhancement Trigger for the M&P9 pistol. Erhardt explained to me that the purpose of the Level II Trigger Service Package and DCAEK installation is to give the pistol an enhanced trigger pull with a shorter reset as well as less overtravel (with a pull weight in the 5- to 5.5-lb. range). This is accomplished through the polishing of all critical bearing surfaces as well as the removal of any machining burrs.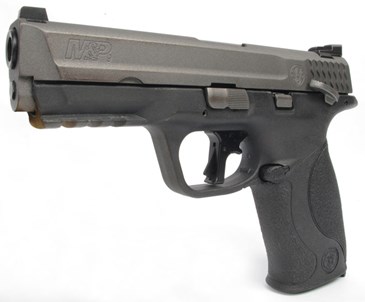 The author had Apex fit out his full-size M&P9 pistol with the aluminum Flat-Faced Action Enhancement Trigger that is in development.
As the discussion continued, Erhardt suggested that I consider trying out a new aluminum Duty/Carry Flat-Faced Action Enhancement Trigger that Apex has in development and plans to release later this year. I initially thought he was referring to their Flat-Faced Forward Set Trigger designed for competitive shooting, but he explained that it was a new version that was designed for carry guns. I was interested in trying out a flat-faced trigger, so I told him I was game.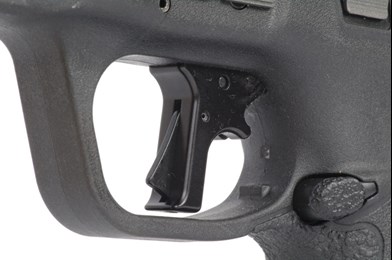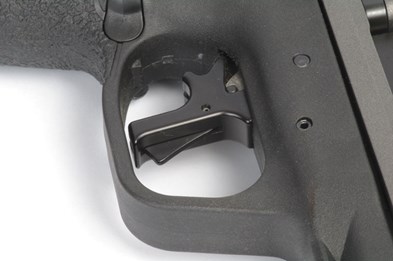 The flat-faced trigger features a central safety paddle in its center and a small recurve at the bottom to keep the shooter's finger in position.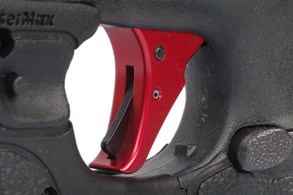 We then began to discuss the Shield. I had determined that I wanted to get the company's Level IV Trigger Service Package and the Duty/Carry Action Enhancement Kit with aluminum red trigger to add a little visual flair to the looks of the pistol. Erhardt described the Level IV Trigger Service Package to me so I would be aware of the process. It includes the installation of the Apex Fully Machined Sear, Ultimate Striker Block and Shield Action Enhancement Trigger (in red, in this case) and is designed to reduce the trigger pull to a 5- to 6-lb. pull range. The trigger itself is designed to reduce both overtravel and pre-travel by about 20 percent. Afterward, I set about shipping both the pistols to Apex Tactical to have them do the installation work for me.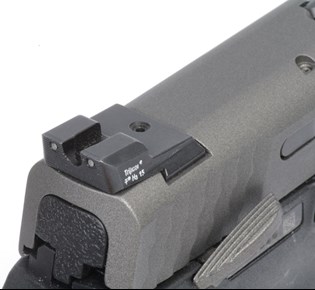 While the Apex Tactical trigger work was my primary focus on customizing these two Smith & Wesson carry guns, I also had some other work done to them prior to their being shipped out to Apex. First and foremost I wanted to upgrade the sights to tritium units, and after a little bit of research decided that I wanted to use Trijicon HD Night Sights due to their enhanced colored ring around the front sight (which gives you both three dot tritium night sights as well as a high-visibility "big dot" at the front for daylight shooting) and the "ledge" on the rear sight for single-hand racking of the slide if necessary. I selected the orange colored ring option for both the M&P9 and the Shield. I also decided to equip the Shield with a LaserMax Centerfire red laser unit. And finally, I had the slides and primary controls of both pistols finished in Cerakote Tungsten.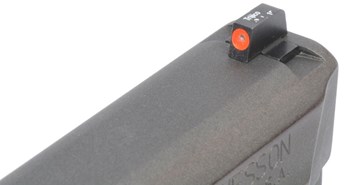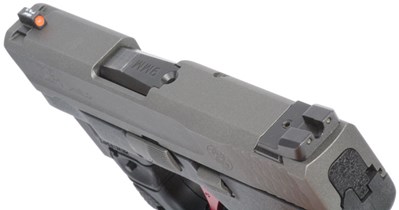 Trigger Time
When I received the two pistols back, I was understandably curious to try them out. I opened up the box and began a quick visual inspection of both Smith & Wessons. Both of the aluminum triggers features a central paddle designed to help prevent unintentional firing unless the trigger is pulled (this serves the same purpose as the hinged-trigger systems of the original polymer triggers on both pistols).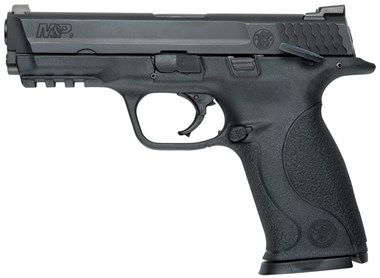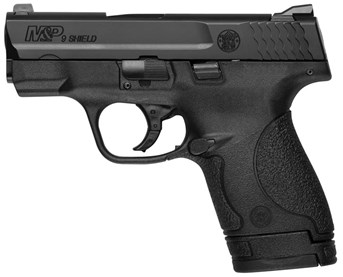 Both the stock Smith & Wesson M&P9 and M&P Shield come with a polymer hinged trigger.

I paid particular attention at first to the M&P9 pistol's new trigger system. I had never used a flat-faced trigger before, so I was very interested in trying it out. As Erhardt had explained to me during our earlier communication, the flat trigger is designed to improve ergonomics and give the shooter's trigger finger increased mechanical advantage. A small recurve at the bottom of the trigger keeps the trigger finger from moving too far down.
In reviewing the documentation that came with the pistols, I also discovered that Apex had installed both its Failure-Resistant Extractor and Reset Assist Mechanism (RAM) in the M&P9. I touched base with Erhardt and found out that the sturdy extractor is machined from a solid billet of steel and Melonite finished and features a hook with a very sharp, well-defined engagement surface that positively grips and extracts cases. The RAM unit is interesting in that it not only makes for a more crisp and tactile trigger reset, but that it also can act as a failsafe if the trigger return spring of the pistol fails (if that happens, the shooter can manually pull forward on the trigger and then engage it).
First impressions of both trigger systems was very good. Both were very solid feeling with crisp, clean pulls. Interestingly, Erhardt included documentation with the pistols that recorded their trigger pulls with their original triggers as well as the new Apex units, measured on a Dvorak TriggerScan System (see accompanying graph charts with comparative trigger pulls). I tested both pistols with my own mechanical trigger pull gauge and found that they matched my own results. The M&P9 pistol went from an original trigger pull weight of 7.25 lbs. down to a very crisp 5.75 lbs., and the Shield went from 8.25 lbs. to a clean 6 lbs. And, beyond those dry numbers, the "feel" of both (that hard to quantify quality) was outstanding.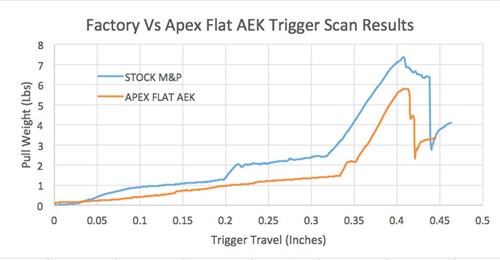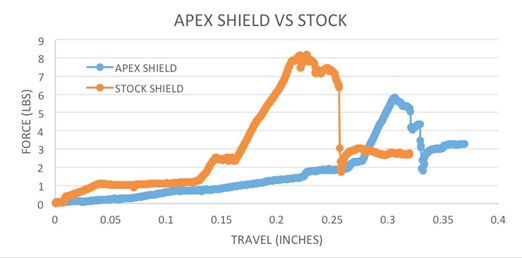 Conclusion
I am very happy with my two new carry guns. In addition to the Trijicon Night Sights and the Cerakote finish, the new Apex Tactical Specialties trigger systems and service package work have really helped take these great guns to the next level. I think the work was well worth the research and effort. Unfortunately, a lot of people agree with me, which is why (in addition to the fact the company is moving from California to Arizona) Apex is advising that it has put a temporary moratorium on any new gunsmithing work and will not be accepting any new guns for work until the fall of 2016. For more information, visit apextactical.com.