by
posted on November 30, 2017
Support NRA American Rifleman
DONATE
Generally speaking, handguns sold for law enforcement or self-defense fall into three categories. First are the full-sized pistols intended for open carry on a gun belt. These pistols usually have barrels that are 4.25" to 4.5" in length and have a magazine capacity from 15 to 17 rounds, depending on caliber. Next come the compact pistols meant for concealed carry. These are shorter-barreled and smaller framed versions of the full-size pistol than the full-sized model on which they are based. These compact pistols are marketed as "backup" or concealed-carry firearms and are made to be as small as possible while still retaining the design parameters of their full-size counterparts. These small pistols usually have a magazine capacity of 10 or 12 rounds and have a very short grip. Lastly are the mid-sized handguns. Like the compacts, these pistols are based on full-sized pistols and are reduced in overall size, but not to the extent of the compact models. Most of these mid-sized handguns have a magazine capacity of 12 to 15 rounds and a barrel length somewhere close to 4".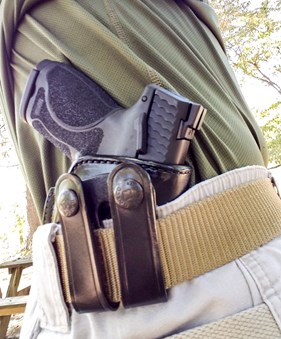 Law enforcement agencies like U.S. Immigration and Customs Enforcement and the FBI have recently tested and approved mid-sized striker-fired 9 mm handguns for duty issue and more federal agencies are likely to follow suit. State and local departments are also interested in these mid-sized handguns, authorizing them for both uniformed and plainclothes carry.  
Military units have long sought a small lightweight pistol to supplement a soldier's ability to perform in hostile environments. Small lightweight pistols like the Smith and Wesson Model 39 and the Colt Commander were created as a potential replacement for the Government Model 1911 after World War II as the army looked at ways to lighten a soldier's load. More recently, there has been a great interest in these mid-sized pistols as military forces look for a handgun to replace the Beretta M9. This makes sense for those who make a living carrying a rifle since the pistol serves more as a secondary weapon rather than a primary.
Despite the popularity of mid-sized (and compact) pistols, I've often wondered about their effectiveness. Their abbreviated barrels mean a reduction in sight radius, resulting in a pistol that's harder to shoot as accurately as a full-size. The shorter barrel also means lower muzzle velocity, affecting terminal performance. Also, the shorter frame usually reduces magazine capacity by two or three cartridges—possibly even more. As the saying goes, "You can never have too much ammo unless you're drowning or on fire." The short grip also can make establishing a shooting grip difficult or impossible. My thought has always been that a full-sized pistol makes the most sense.

I recently expressed my opinion on small-duty pistols to a colleague who carries a Glock 19 as his daily companion. I asked him why he chooses the Glock 19 over the Glock 17. His answer was that the Glock 19 affords him a handgun that possesses sufficient firepower and the ability to engage accurately at a distance—one that he can use to defend himself, his loved ones or intervene in a movie theatre, mall, or church shooting. He said it is large enough to be easily controlled, yet small enough that it can be carried inside the waistband all day without discomfort. In short, he told me his choice is a compromise that still allows him to feel well-protected regardless of environment. He believes the Glock 19 conceals fairly well, yet provides him with a pistol that can be practiced with and trained with without a great deal of fatigue or discomfort that can come from shooting some of the very short compact models. With these points in mind, I was curious to try a modern mid-sized pistol for myself. Smith and Wesson has recently introduced a new mid-sized M&P, the M2.0 Compact. As a fan of the M&P line in general, I could test the midsize concept without having to become familiar with an entirely new pistol in the process.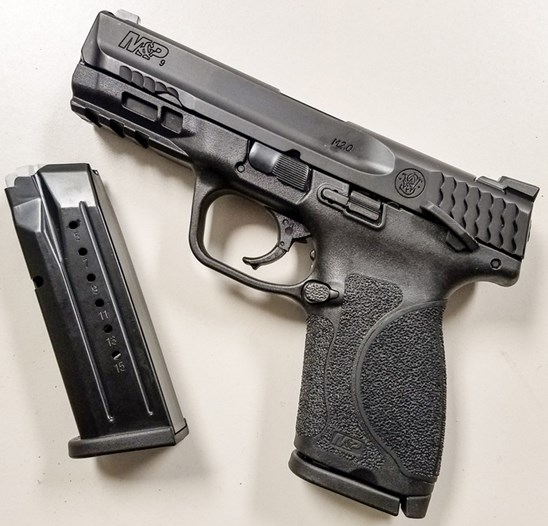 The M&P M2.0 Compact pistol is slightly larger than the previous M&P Compact, and it appears it has replaced the older Compact model in S&W's lineup. My sample, SKU number 11686, is chambered in 9 mm Luger and has an ambidextrous thumb safety. Being a 1911 shooter, I like the idea of the additional safety. This is especially important on a pistol that might be carried in a fanny pack or bag, as it is an extra precaution against an inadvertent trigger press. The pistol weighs 1.70 lbs. with an empty magazine and has a trigger that breaks at a clean and consistent 5.25 lbs. Trigger reset is predictable and more tactile than on previous M&P models, rendering a trigger action that's better than most other striker-fired pistols currently on the market. Magazine capacity is 15 rounds and the pistol ships with two magazines and four interchangeable grip inserts that allow the shooter to configure the pistol based on hand size or personal preference. Smith and Wesson's new grip texture, as first introduced on the M&P45 Shield, is quite aggressive, yet not so coarse that it tears skin or abrades clothing. The pistol uses a blackened stainless steel slide that is topped with white painted three-dot sights. The barrel is 4" long and the pistol has an overall length of 7.3".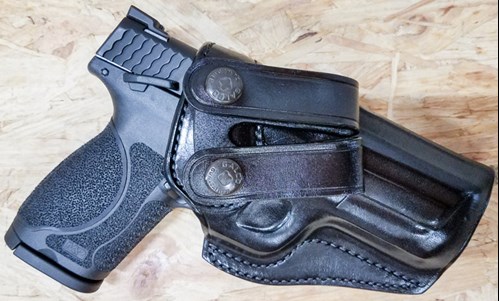 On the range, the new little pistol proved completely reliable over the course of 250 rounds regardless of manufacturer, bullet type or weight. Keeping with the M&P's excellent ergonomics, the M2.0 Compact is quick to handle and points naturally. I had no issues working from a Galco SUM472B Summer Comfort holster. The pistol's grip is about a finger width shorter than that of the full-size M&P but still long enough for a comfortable shooting grip. Additionally, I noted no problems performing reload drills with the pistol's short magazines. Accuracy was adequate for a duty handgun with the pistol showing a strong preference for Speer's outstanding 124-gr. Gold Dot. One complaint I do have with the pistol is its lack of an extended frame tang or beavertail. I found that with this short grip tang, I occasionally established a shooting grip that was high on the gun. This high grip placed my thumb too close to the slide, resulting in a painful and distracting cut along the base of my thumb. One of the things I appreciated about the original M&P models was the extended frame tang, and I wish S&W would have included something like this into the M2.0 design.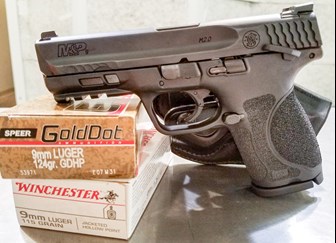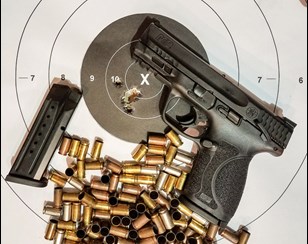 So, has my opinion of little handguns changed, now that I've had a chance to run Smith and Wesson's new midsize pistol? Yes and no. The M2.0 Compact is only slightly shorter in slide and grip, with an identical thickness, and I think the difference in concealability is probably largely academic and dependent more on holster design and body type rather than the difference in size. I do see a likely market as a law enforcement backup (or even primary) sidearm. But off-duty doesn't necessarily remove the risks an officer may face. Why take a chance and carry a smaller pistol with fewer rounds in the magazine? Fortunately, the Compact will accept the magazine of the full-size M&P so an off-duty officer or concealed-carry holder can use a standard capacity magazine in the Compact, should such a need arise.  
All in all, I came away impressed with the new M2.0 Compact. While a pistol of this type might not be my first choice for daily carry, I can see a certain appeal to the idea of a smaller, yet very capable, handgun. Smith and Wesson has done an excellent job with this new pistol.
Specifications
Manufacturer: Smith & Wesson
Model: M&P M2.0 Compact
SKU: 11686
Caliber: 9 mm
Capacity: 15+1
Barrel Length: 4"
Overall Length: 7.3"
Sights: Steel; White Three Dot
Action: Striker-fire
Frame: Polymer
Weight: 24.0 oz.
Barrel/Slide Material: Stainless Steel
MSRP: $569

Additional Reading:
Smith & Wesson Adds Compact Model to M&P M2.0 Series  
First Look: Smith & Wesson M&P M2.0 Compact
Smith and Wesson's M&P M2.0
Smith & Wesson's New Meat and Potatoes Pistol: The M&P M2.0
SHOT Show 2017: Smith & Wesson M&P M2.0
NRA Gun of the Week: Smith & Wesson M&P M2.0 Pistol