Support NRA American Rifleman
DONATE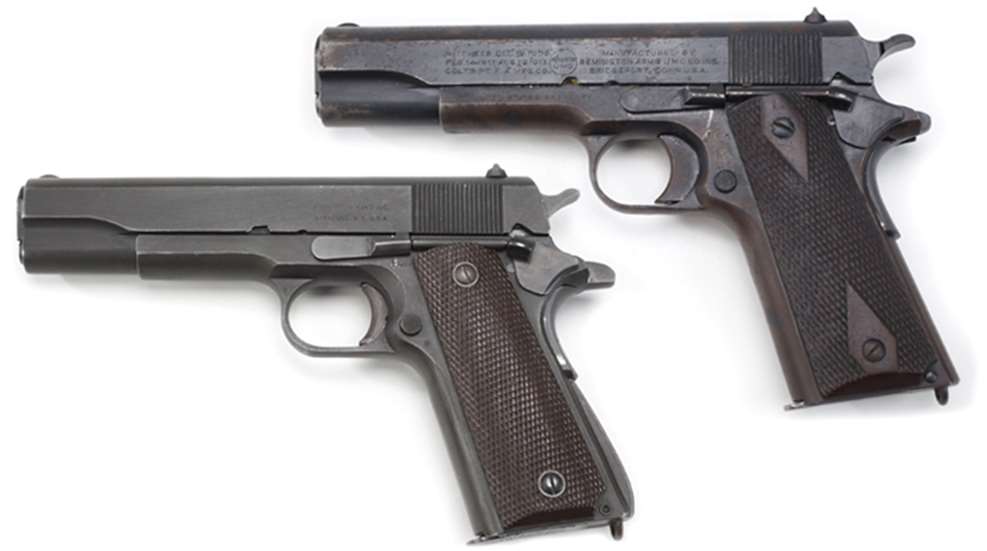 Remington-UMC made M1911s during World War I (far right), while Remington-Rand made M1911A1s during World War II (right).
For many collectors, it is a natural assumption to link Remington Arms Co. with the scores of Remington/Remington-Rand typewriters, as well as the production of U.S. M1911 and M1911A1 .45 ACP pistols. It is a confusing story that circles back around upon itself, but let's have a try at untangling it all, shall we?
Following the end of the Civil War in 1865, Remington Arms Co. found itself without a strong market in which to sell firearms and sought ways to diversify and keep the floors of its Ilion factory humming. In 1872 Remington purchased patents on the typewriter and began production in Ilion. By 1886, the company sold off its typewriter line to two employees during a financial pinch, which was a precursor to bankruptcy. The two former employees, Harry H. Benedict and Charles Seamans, operated under the name Standard Typewriter Co. until 1902, when they changed the name back to The Remington Typewriter Co. In 1927, Remington Typewriter Co. was merged with the Rand-Kardex Co. and became the Remington-Rand Corporation, the largest manufacturer of business machines in the country. 
After Remington Arms' fall into receivership in 1888, the company was purchased by Marcellus Hartley, whose holdings also included The Union Metallic Cartridge Co. of Bridgeport, Conn. The two companies were formally merged in 1916 as Remington-UMC and, in August 1918, it received a contract to manufacture 500,000 M1911 pistols for the U.S. military. Only 22,000 were made at the Remington-UMC plant in Bridgeport, Conn., by the time the war ended in November 1918, and the contract was cancelled soon thereafter. It would be another 90 years before Remington would make another M1911. 
During World War II, in an ironic twist of fate, Remington-Rand received a government contract to produce M1911A1 pistols for the military. The company manufactured 900,000 pistols at its Syracuse, N.Y., plant, more than any of the other five manufacturers and twice as many as Colt, which made only 400,000.
In 2011, the Model 1911 R1 was introduced and made first in Ilion, N.Y., and now in Huntsville, Ala. Updated for modern tastes, the new R1 comes in a variety of finishes and options that appeal to today's collector and shooter.
So, there you have it. The Ilion gun company that made typewriters for a bit, spun off the typewriter company that 70 years later made M1911s in Syracuse, is again making M1911s.