by
Philip Schreier, Senior Curator, NRA Museums
posted on March 29, 2017
Support NRA American Rifleman
DONATE
As it has for four decades, the 2017 IWA Show in Nuremberg, Germany, last March brought the finest in European firearms to the public forefront in a dazzling expo, attracting 1,500 manufacturers/exhibitors and more than 45,000 visitors. Since 1886, the legendary gun making firm Krieghoff has been manufacturing some of the finest rifles and shotguns available in any market, and its booth at IWA was a showcase of some of the best examples of craftsmanship and engraving that we have examined.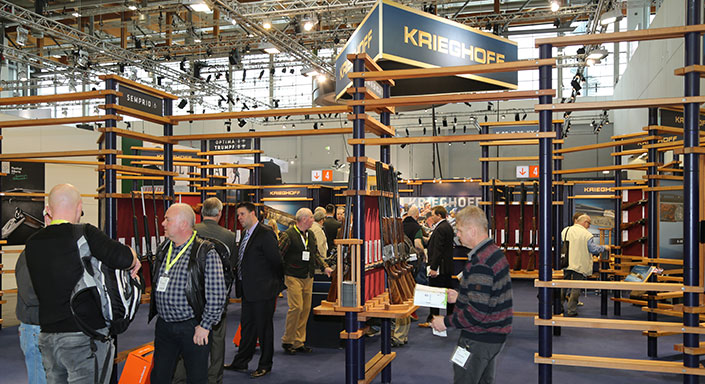 We were very fortunate to have a guided tour of the Krieghoff booth with Dieter Krieghoff, the fourth generation owner of Krieghoff, and Alex Diehl, chief operating officer at Krieghoff International. As expected, they were both very proud of the performance of the Krieghoff K-80 at the 2016 Summer Olympic Games in Rio de Janeiro, Brazil.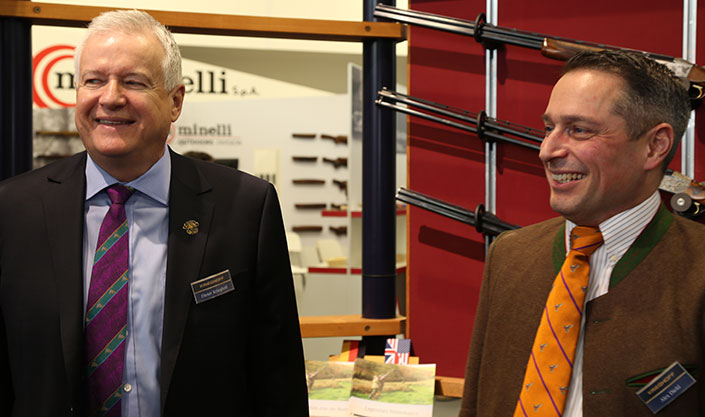 There were nine shooters sporting Krieghoff K-80s in Rio, and they did extraordinarily well, capturing Silver (Marcus Svensson of Sweden) and Bronze (Corey Cogdell-Unrein of USA) medals in Men's Skeet and Women's Trap, respectively. Andreas Löw of Germany set an Olympic Men's Trap Doubles record during the qualifying rounds with his K-80.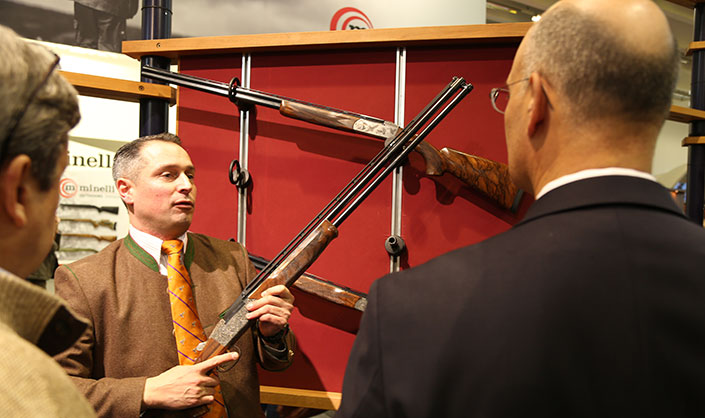 The K-80 is an expertly crafted system that features six different platforms that cater to users who enjoy Trap and Skeet in 12, 20, 28 & .410 gauges. With barrels in the standard 28", 30" & 32" lengths, there is a Krieghoff K-80 for every need, and they are rapidly capturing the lion's share of international competition medals.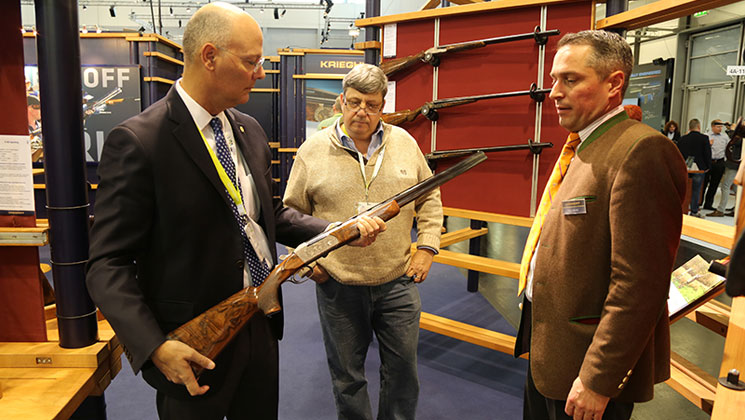 The real centerpiece of the Krieghoff booth was the K-80 in the "GUN OF THE YEAR" case. This exquisitely executed 12-ga. shotgun highlights the career of America's own Colonel William F. Cody, or Buffalo Bill, as he was popularly known. 2017 marks the centennial passing of Cody, one of America's greatest heroes and showmen. At the time of his death, he was the best known and most widely recognized American on earth.


This K-80 is engraved by Master Engraver Hendrik Frühauf and features full coverage high-relief engraved scenes from Cody's full and varied life. His portrait adorns the receiver bottom and his Medal of Honor is depicted under the top latch. Scenes from his days as a buffalo hunter and as the showman of his Wild West Show adorn the right and left sides of the receiver. Uncommon wood is a common feature on every Krieghoff and the 2017 Gun of the Year is no exception. This finely figured piece of walnut is as stunning as the engraving on the gun itself.


For those of us on this side of the "pond," you can view the Gun of the Year at the World English Sporting Championship at the National Shooting Complex in San Antonio, Texas, April 25 to 30, 2017.