by
posted on September 25, 2019
Support NRA American Rifleman
DONATE
While summer temperatures lend themselves to T-shirt attire bearing logos of favorite brands and declarations of loyalty to causes dear to us, the onset of cooler weather usually gives us pause to cover up and put our passions into hibernation until spring. Such is not the case with 
Nine Line
, a Georgia-based clothing brand becoming best known for its support of American veterans (the 
Nine Line Foundation
supports the most severely wounded combat veterans), and has surged onto the market with its unabashed pride in America and her many freedoms—particularly the Second Amendment.
Indeed one should pore through the dozens of unique warmer-weather options such the T-shirt that boasts the phrase, "Family, Faith, Friends, Flag, Firearms—Five Things You Don't Mess With," as well as the offerings uniquely for women and youth. But with fall now officially on the calendar, we have discovered some great items to keep the chill in check this season that will still let you don your outerwear with patriotic pride. Additionally, those who regularly carry a firearm will appreciate the built-in concealment options with many of these items.  
Concealed Carry Jacket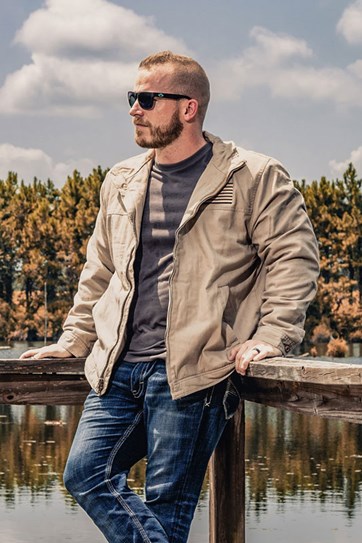 Concealed Carry 3 Season Jacket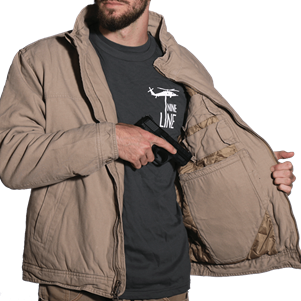 At the top of this list sits the versatile Concealed Carry Jacket. Available in two different weights—Lightweight and 3 Season—the concealed-carry jacket may look casual, but disguises some very tactical trappings. Sewn into its liner are two inner concealment pockets, one per side and sized to fit most common handguns, as well as four inner magazine pockets with hook-and-loop closures for reloads on the go. On the exterior sit two tricot-lined zipper pockets. To keep things trim and tight, the jackets also feature button closure wrists and waist adjustment straps.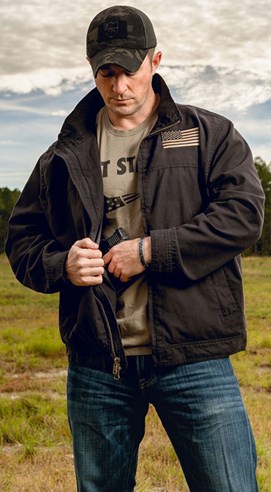 Concealed Carry Lightweight Jacket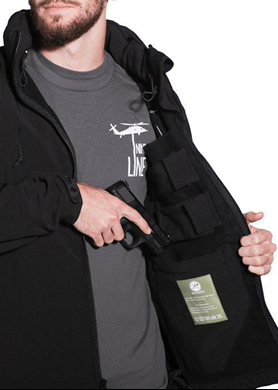 In addition to the above two weights, the Concealed Carry Jacket is sold in a soft shell variant with some slightly different features. The Concealed Carry Soft Shell Jacket is waterproof yet breathable, boasting two similarly-sized concealed carry pockets and four magazine pouches, as well as a zippered collar with a concealed detachable hood. Additional features include zipper shoulder pockets, a left-arm forearm pocket, two front slash pockets, two back pockets and vented underarms.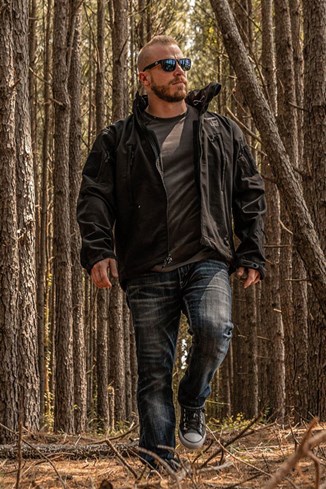 Concealed Carry Soft Shell Jacket

The Lightweight Concealed Carry Jacket retails for $97.99, the Soft Shell for $141.99 and the 3-Season for $159.99.  Available in Black or Tan. 
Athletic Tailgater Hoodie—AR Coffee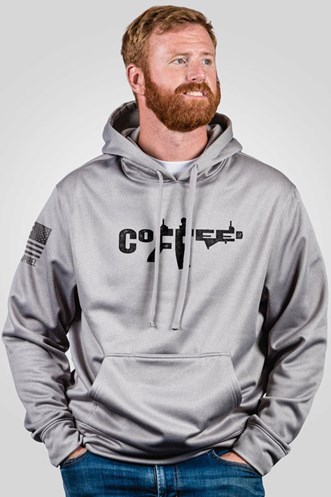 Want to wear your love of coffee on your sleeve? How about AR-15s? If so, you have some choices. The Athletic Tailgater Hoodie—AR Coffee, has you covered (literally). With a built-in insulated beverage holder in the top of its handwarmer, this hoodie gives you a place to set your drink, while simultaneously displaying your love of both coffee and America's favorite rifle. It is available in Black or Grey, for $59.99. Also in the lineup is a T-shirt, hoodie and coffee grounds from which you can brew your morning Joe—"Nine Line Grinds"—supplied by America's most patriotic coffee brand, Black Rifle Coffee Company. 
Soft Shell Concealed Carry Vest
Were you sold on that concealed-carry jacket until the moment you realized it had sleeves? Never fear, Nine Line already thought of that, and has created the Soft Shell Concealed Carry Vest in response to this exact demand. With the same four magazine pockets that come on the Concealed Carry Jackets, the Vest does substitute out the concealed pistol pockets for a velcro-and-elastic retention system, designed to grip the gun around the slide and trigger guard. Other features include two hand pockets, a chest pocket, a drawstring waistband, a front YKK zipper and Micro Fleece-lined interior. The Soft Shell Concealed Carry Vest comes only in Black, and retails for $71.99.
Men's Long Sleeve—I'm Your Huckleberry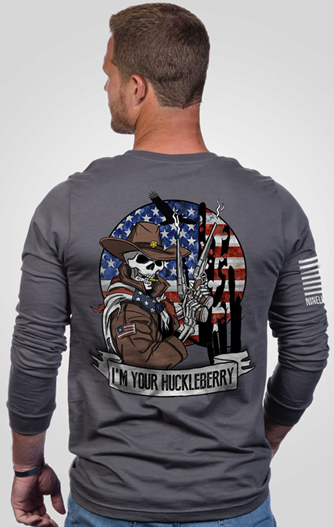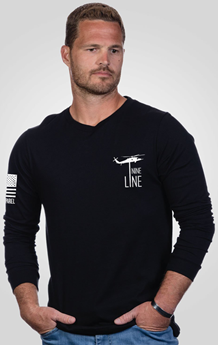 Need something to put under those outerlayers? Take a cue out of the movie "Tombstone" in the process by boasting Doc Holiday's famous quote, "I'm your Huckleberry," emblazoned on your back. This long-sleeved shirt comes in Black, White or Grey (though the T-Shirt version is available in several more options), and retails for $29.99, but to claim yours you'll have to be faster than Doc Holiday's draw. This limited-time special closes on Sept. 30, with orders beginning to ship on Oct. 4. Make sure to pick yours up today.
For more on the products listed above, as well as the other great items Nine Line has to offer, please visit
ninelineapparel.com
.
Additional Reading:
5 Nine Line T-Shirts to Showcase Your Family's Second Amendment Pride
Nine Line Apparel Supports Your Second Amendment Rights