Support NRA American Rifleman
DONATE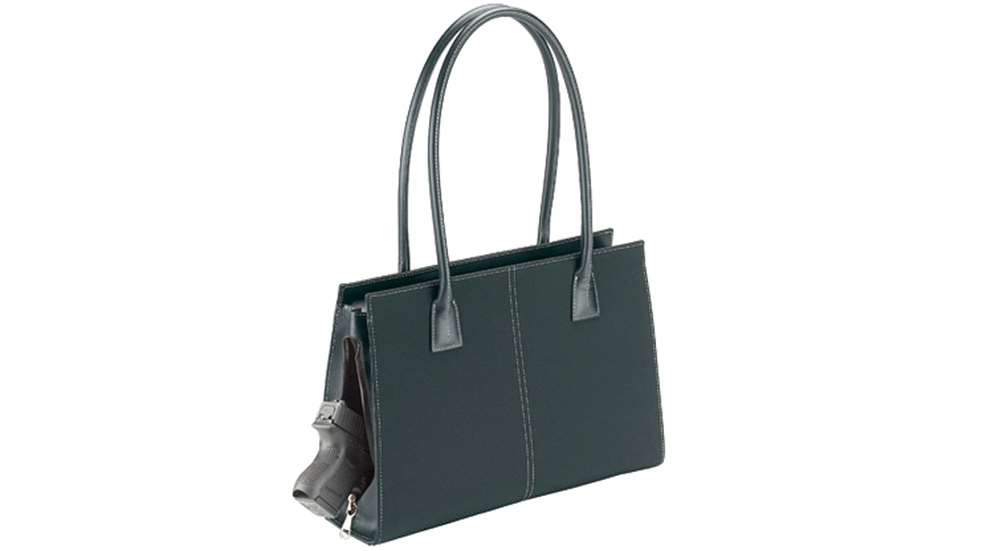 Women constitute the fastest-growing segment of today's gun community. And considering that estimates of females who carry a handbag on a daily basis are somewhere in the vicinity of 95 percent, the purse presents a convenient carry option for ladies interested in self-defense. Galco Gunleather manufactures an entire line of concealed-carry handbags, the Metropolitan being the company's most spacious offering.
With internal dimensions measuring 11 3⁄8"x16"x4¾", the Metropolitan has plenty of room, and specially designed pockets, for both the sundry items typically kept in a purse and a concealed-carry handgun. The bag's main compartment is accessed from the top and is divided into two smaller sections by a self-contained chamber in the middle that houses the firearm. Accessible only via a zippered (and lockable) opening in the side of the purse, this center compartment contains an elasticized holster that accommodates most sub-compact, compact and full-size handguns—holding the firearm in place and protecting the trigger from accidental contact.
Due to its relatively large size, the body of the Metropolitan is constructed of water-resistant nylon microfiber to provide durability while keeping the weight of the bag down to only 2 lbs., 3 ozs. The purse's straps are made of full-grain leather and the hardware is nickel-plated brass. 
In order to get a woman's impression regarding the purse, I asked my wife to use the Galco Metropolitan Holster Handbag for several weeks. She found the bag to be aesthetically pleasing and completely functional, yet a bit on the heavy side when loaded down with both her assorted purse gear and a firearm. Most importantly, she found the placement of the gun compartment to be intuitive and easy to access. The design allows a woman to quickly and surreptitiously get her gun in-hand at the first sign of alarm without attracting unwanted attention to herself by fully drawing it. Price: $300. Contact: Galco Gunleather (800) 874-2526; galcogunleather.com.