Support NRA American Rifleman
DONATE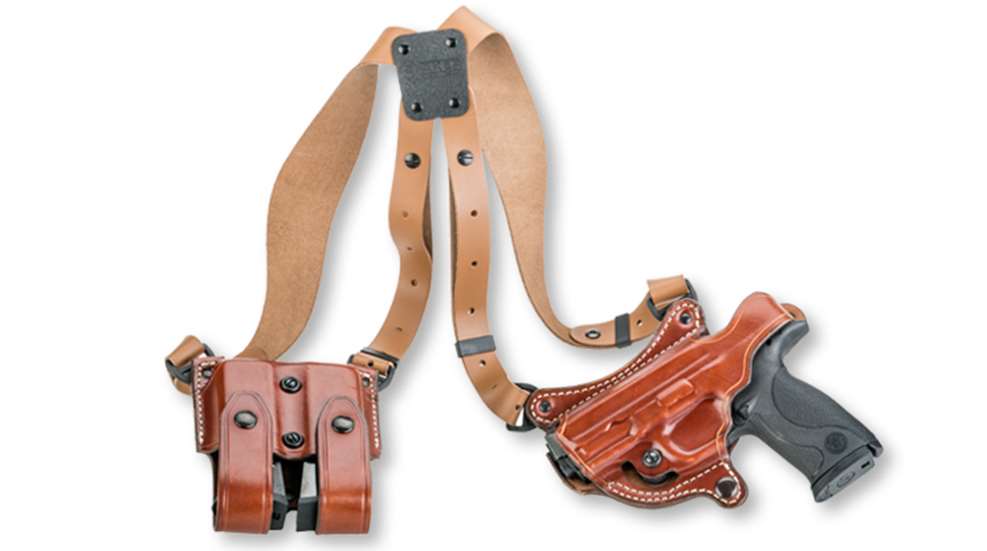 In recent decades the shoulder holster has taken something of a backseat to other modes of carry, but the configuration nonetheless offers several advantages over the more popular methods, and the Flatsider XR7 by Aker Leather is a fine option for those diehards who still favor the shoulder rig. A horizontal shoulder holster made of premium cowhide, the XR7 uses custom-formed leather to secure a semi-automatic handgun just under the support-side arm, where it can be easily and intuitively cross drawn.
Meanwhile, held under the strong-side arm is a two-magazine ammunition carrier that, when fully loaded, nicely counterbalances the weight of the firearm and is quickly accessible in case a reload is necessary. To draw the gun, simply assume a natural grip on the frame, then use your thumb to press the retention strap against your body until it snaps free. Proper fit is vital for a shoulder holster, and the XR7 is specially contoured to place the weight of the harness on the shoulder muscles instead of the neck.
Both sides of the holster feature provisions for the use of optional tie-downs, and a tension screw allows the user to adjust the holster to the desired retention level. The Aker Leather Flatsider XR7 is offered in both left- and right-hand versions, and models are available to accommodate 44 different handguns. MSRP: $175. Contact Aker Int'l, Inc.; (800) 645-2537; akerleather.com.