Support NRA American Rifleman
DONATE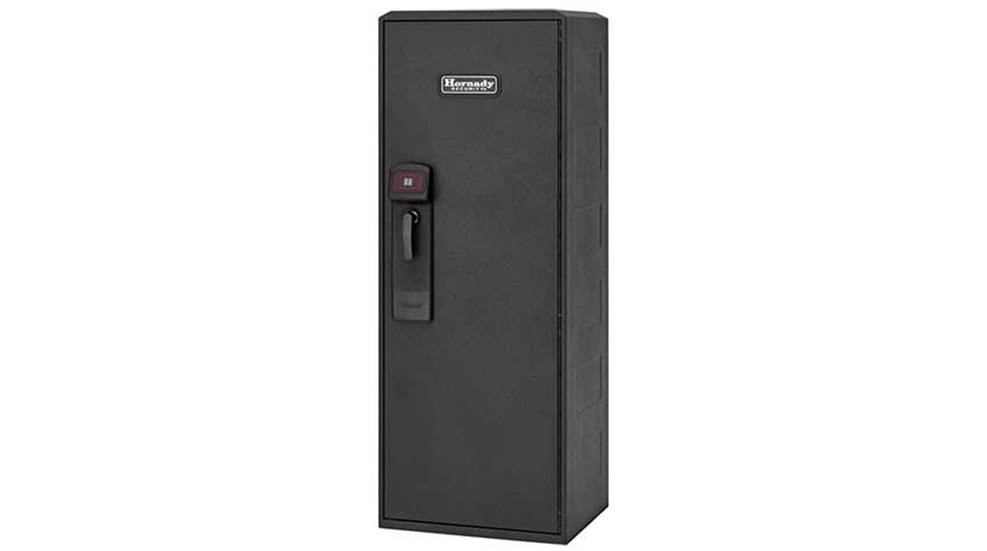 Hornady expanded its RAPiD line of firearm-security products in 2020 with an enlarged option designed to secure multiple firearms, all while retaining Hornady's quick-access RFID technology. The Hornady RAPiD Safe Ready Vault provides storage space for up to six long guns and 14 handguns in a compact, secure package.

Unlike other safes that feature dials, keypad locks or even biometrics, the Hornady RAPiD Safe Ready Vault provides nearly instantaneous access, thanks to the use of RFID tags. Four tags are included with the safe, and they can be selectively programmed to open this safe instantly, as well as any other RAPiD safe in the Hornady lineup. Back-up access is also available, thanks to an included keypad, and there's even a third option in the form of a mechanical key, so you can cover all your bases while remaining secure.

Constructed with a heavy-duty steel housing and lined with metal peg walls, the Hornady RAPiD Safe Ready Vault can be configured according to your needs. The safe, which measures 52" high, 20" wide and 15.1" deep and weighs 170 pounds, makes use of open space between the stored long guns, so you can interlace your handguns into this space and make use of the mounting option on the safe door. The PVC-coated gun racks prevent any damage from occurring to finely finished firearms, and there's plenty of room to accommodate mounted optics, thanks to the standoff incorporated into the racks.

The square-peg hooks that line the interior of the Hornady RAPiD Safe Ready Vault provide room for a number of other available accessories. You can find options like LED security lights, magnetic hooks, hygrometers and dehumidifiers that enhance the space and provide controlled conditions that preserve your valuable investments.

Power coming from both AC and batteries ensure that you'll have access, even in the middle of a power outage, and the safe comes with pre-drilled mounting holes that allow you to secure it into a wall or floor for extra security. The suggested retail price on the Hornady RAPiD Safe Ready Vault is $831.67. For more information, visit hornady.com.