Support NRA American Rifleman
DONATE
Conceived in a garage, in 1949, Joyce Hornady's vision of a better bullet design has grown to become one of today's most respected ammunition brands. That success has carried the company into the 21st century but, in 2013, nearly 65 years after releasing that first garage-built .30-cal. bullet, Hornady Mfg. decided to forge a path in a completely new direction.
Enter Hornady Security, a line of products dedicated to safe and secure firearm storage. For this review, we evaluated the Rapid Safe 2700KP, a small (but still the largest in its line) handgun-size lockbox that employs a digital key pad and accepts Radio Frequency Identification (RFID) tags.
The clamshell-style Rapid Safe 2700KP is constructed of 14-ga. steel, which is thicker than Hornady's earlier 16-ga. models. The overall weight of the safe tips the scale at 7 lbs., 5 ozs., when empty. Its footprint measures 8.7"x12.7" with a height of 2.9", making for a unit that is large enough to stow most full-size handguns.


Enhancing its portability and accessibility, the safe uses four AA batteries (not included) that store within two slide-out trays hidden inside. When placed in a more permanent location, an AC power cord is supplied and is easily threaded through an access hole underneath the unit. The internal batteries also serve as backup to the AC power supply. Four rubber feet on the 2700KP's bottom surface help prevent sliding on or marring surfaces. Hornady provides two keyhole cuts underneath that allow for hanging on a wall or securing to a bedside stand or closet shelf. A vinyl-coated steel cable is also provided to discourage theft.
Included are four RFID-equipped tags that allow for touch-free, instant access to the firearm—a keychain fob, a bracelet and two adhesive-backed stickers that can be affixed to other items.
In order to operate properly, the RFID tags do require a simple synchronization process. We found the adhesive tags to be particularly useful when placed within a cell phone case—a discreet location on an ever-present personal item—and though shrouded by the polymer case it reliably unlocked the safe when placed within the required 1" range of the sensor.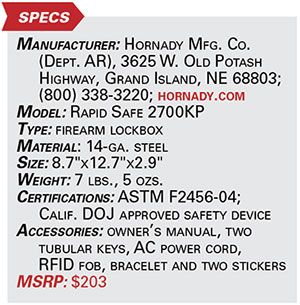 We removed power to the unit for 24 hours, and all RFID tags remained programmed once power was restored. We were able to access the unit through its manual lock by the two provided tubular keys during the 24-hour blackout-test period.
Torsion springs mounted on the rear hinge enable the lid to "pop" open once unlocked. The protective black, egg-crate-style foam inside is a welcome feature that helped cushion our sidearm and accessories. In addition to stowing a firearm, the 2700KP would also make a viable lockbox for other small personal valuables. After passing its stringent 12-step testing protocol, ASTM Int'l—an accredited organization dedicated to worldwide safety standards—has deemed the Rapid Safe 2700KP as a youth-resistant firearm container.
Simple, effective and easy to use, the Hornady Security Rapid Safe 2700KP retails for $203—a small price to pay for security that can be trusted.