by
posted on September 20, 2021
Support NRA American Rifleman
DONATE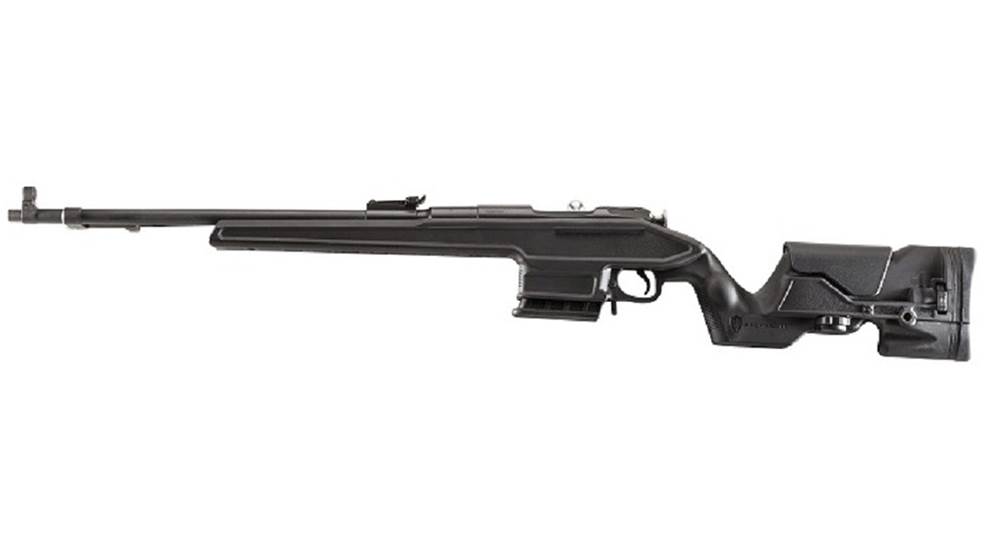 Greatly improve the ergonomics and versatility of your old Russian workhorse with the Pro Mag Industries Archangel Mosin Nagant OPFOR—one of the few replacement stocks on the market compatible with most variants of the storied bolt-action, and it is made in the USA.
Made from a single piece of carbon-fiber-and-glass-reinforced polymer, the stock free-floats most Mosin-Nagant barrel contours with an inlet that includes steel pillars for centering and reinforcement of the action. In addition to pillar bedding, an enlarged trigger inlet to accomodate aftermarket triggers from Timney. A ventilated fore-end with full length textured grooves and beveled top surfaces is up front along with the company's patented barrel pressure device for tuning barrel harmonics.
The fully adjustable Archangel OPFOR gunstock features a cheek riser that is customizable for height with a wheel and click adjustments in 05" increments for 1.75" of overall travel. An additional thumbwheel is provided for length-of-pull adjustments to supply myriad shooter types with a precision gunstock for Mosin Nagant bolt-action rifles.
The Archangel OPFOR MSRP is $170 and supplies an ergonomic pistol grip with an internal storage compartment for accessories. Bilateral palm swells in the stock's wrist are supplied, too. with comfortable ambidextrous palm swells, in addition to a rubber buttpad, three QD sling cups an underside bag hook, and it comes with one detachable, 10-round box magazine. Overall weight is 3.6 lbs. Available colors are Black (shown), Olive Drab and Desert Tan.
To learn more, please visit promagindustries.com.