When you know, you know.
Anyone who has gone through the process of converting to appendix inside-the-waistband (AIWB) carry for their personal-defense pistol can tell you it may take several holsters of different makes and styles to find one that will work for your body and gear. But believe me, when you find the right one, you know.
It's been a nearly two-year journey for me to make the transition from 4 o'clock, strong-side carry to AIWB, with the biggest hang up being comfort over longer durations of carry. I'm in a fairly unique position in that many holster makers send samples of their new gear to our offices, so I've been exposed to quite a few AIWB rigs, many of which were of very high quality. Even with this advantage, I could not find a holster that was comfortable to wear all day.
I was stubborn, though. The carry location for a loaded firearm is no small consideration, and I am convinced of some of the advantages of appendix carry. Of particular interest to me is the additional security and peace of mind that comes with carrying at the front of the body. I have the most control over my environment within an arms-length zone directly to my front. This area is under constant surveillance—to a far greater degree than my previously preferred position just behind the hip—and I can constantly confirm concealment through my peripheral vision. As well, biomechanically it is an area in which I enjoy a wide range of motion and can utilize the strength of my arms and legs. If a physical confrontation were to take place, this is generally the area I would orient toward an opponent.
Choosing to carry in the appendix position has allowed me to better monitor and control the firearm, and I can bring the gun into action very quickly, should the need arise. Or, a far more common, though mundane, occurrence, AIWB carry allows me to easily keep my young children away from the concealed firearm—no small feat, particularly with an energetic, clingy, grabby toddler—because I have the ability to constantly observe the area and act or move accordingly.
Since I would not give up on the conversion, but had yet to find an ideal solution, I started looking for recommendations from armed professionals, trainers and gun writers who I consider "in the know." One name that kept coming up was JM Custom Kydex. The family-own and -operated business was founded in 2011 by John "Tony" Mayer, and based in northern Nevada. Besides leading the company, Mayer is also the primary craftsman behind the company's holster designs. In his words, "At JM Custom Kydex, we specialize in premium, purpose-designed holsters and accessories for concealed carry and everyday carry. Since 2011, we've hand-assembled every holster with carry-specific design parameters for our customers' needs, safety and comfort. JM Custom Kydex holsters are crafted with all the thoughtful details you need for your carry—quality, innovation, durability and concealment—and nothing more." And Mayer's sentiments were backed up by the industry professionals I spoke with who, to a man and woman, spoke highly of the quality, comfort and concealment afforded by a JM Custom Kydex holster.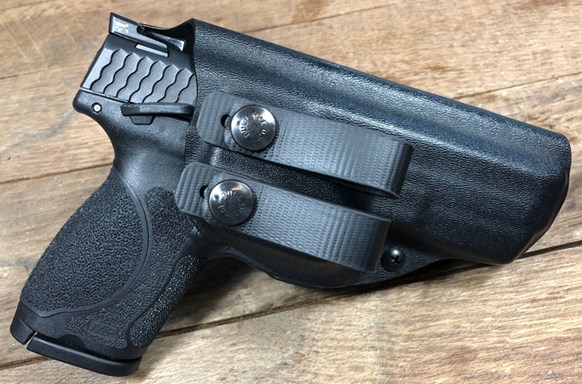 The company's primary offering is simply, and aptly, called the AIWB Holster. It is constructed from a single sheet of Kydex wrapped or folded over to fit a specific model of firearm and secured by a single Chicago screw below the trigger guard area. Firearm retention is provided by a molded lug that engages the trigger guard—a common method used in Kydex designs—and the tightness of the fit/retention can be adjusted via the screw assembly. There are more than 160 fits listed on the website, and several options that will fit families of firearms, such as M1911s of various configurations and Glocks that share the same basic frame dimensions.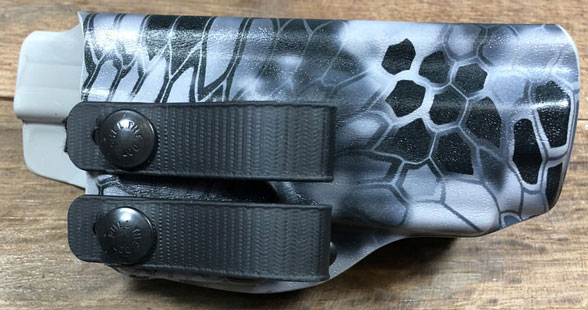 A few interesting and thoughtful features really set JM's AIWB Holster apart, though. First, there are five different options for belt retention: a wide polymer clip; a steel clip; JM's injection molded split loops; a pair of fixed soft loops; or soft loops with Pull-The-Dot (PTD) snaps. So whether you like the quick on/off convenience of a single clip, the security of fixed belt loops, or something in the middle, like the PTD snaps, JM Custom Kydex has you covered. All belt retention options are available for both 1.5"- and 1.75"-wide belts, and additional clip and loops are available for purchase. My personal preference is the soft loops with PTD snaps. The soft loops allow the holster to move just a little bit, which I feel improves comfort as I move through the day, and the snaps allow me to put the holster on, or take it off without having to "drop trou." This configuration also provides a lot of security—we had a lot of gear that used PTDs during my Airborne days, so I trust that the holster isn't going to fall, or be pulled off of my belt.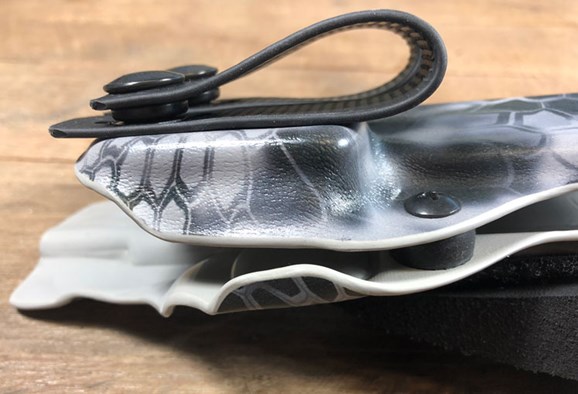 The next feature worth mentioning is the wedge integrally molded into the holster above the trigger guard area, right where the belt loops attach. This wedge, besides providing a flat surface on which to mount loops or a clip, angles the gun in, toward the body, allowing the grip frame—which is the toughest part of a pistol to conceal—to more closely follow the contours of the torso. Angling the firearm in this way, even just a little bit, makes a huge difference with regards to ease of concealment, and JM actually adjusts the size and angle of the wedge to best fit each specific firearm.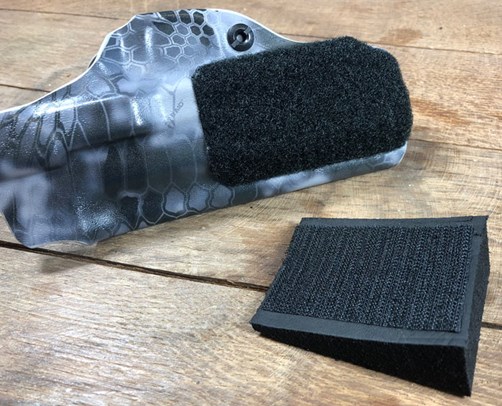 Finally, staying on the topic of wedges, JM also incorporates a neoprene sponge wedge (NSW) on to the back of the holster, and this feature has been a game changer for me. The NSW comes at a slight premium—$12 for a small wedge, $15 for large, based on barrel length—but the benefits are twofold, and well worth the upcharge in my opinion. First is comfort, the sponge is a serious improvement over hard Kydex against the body. And, considering the location of the holster, near both the hip joint and abs/waist—hubs of dynamic movement for most humans—the NSW is definitely worth the price of admission just for its role in softening the effects of rubs and incidental contact.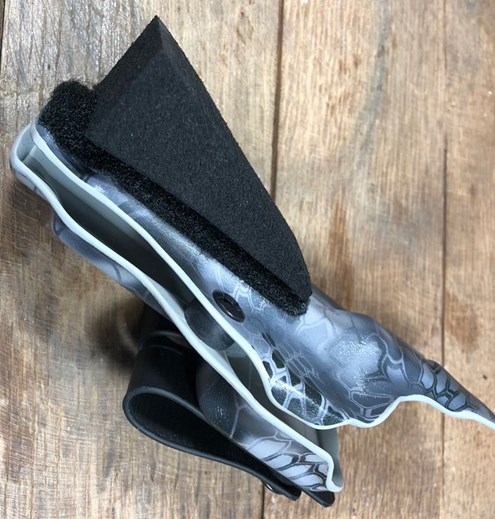 The wedge also does a great job of pushing the muzzle of the holstered firearm forward, away from the body. One of the first comments to come up in any conversation about appendix carry is the fact that the muzzle may end up "flagging" not only the family jewels, but also such life-sustaining internal plumbing as the femoral artery. This is particularly a problem for folks with a few extra pounds because that "cushion" tends to pressure the rear of the slide and the grip of a holstered pistol, levering the muzzle toward the body. The NSW from JM Custom Kydex is the perfect counter, and a great passive feature that improves muzzle discipline.  
To get to the point of this article, I have found the AIWB Holster from JM Custom Kydex to be the perfect solution for my appendix carry needs. After trying out a JM Custom AIWB during my review of the Wilson Combat EDC X9—yeah, JM makes a holster for that—I ended up purchasing a rig for my primary carry pistol, the Smith & Wesson M&P9 M2.0 (it fits both my 4" Compact and 4.25" Full Size). I've been using it for months now, and have found that they provide excellent retention and security, and, frankly, comfort the likes of which I never expected to experience with AIWB carry.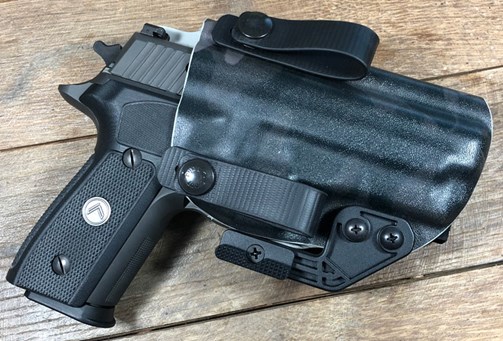 I also recently ordered one of JM's AIWB Wing Claw 2.5 holsters for a SIG P229 Legion I've been working with. The Wing Claw 2.5 is similar to the standard AIWB Holster, but it spreads the belt loops out wider which can help distribute the weight of a heavier gun, like a P229. It also dispenses with the molded wedge, and instead uses an adjustable concealment claw to help tuck the firearm in. Like the original AIWB Holster, I have found the Wing Claw 2.5 to be secure and comfortable during extended wear—and as we've learned, comfort is no small consideration for the concealed carrier, and having the right gear, such as holsters and belts, can make all the difference.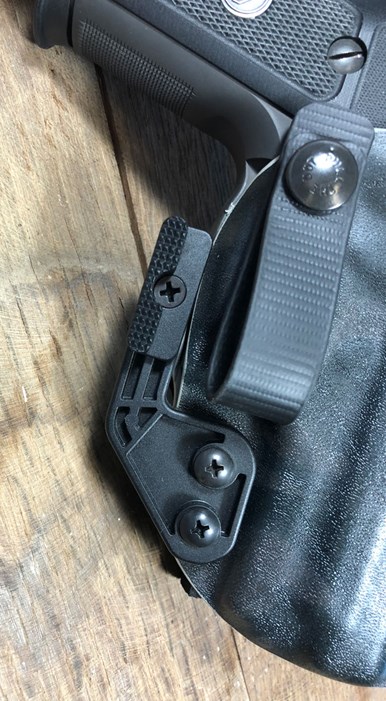 As a result of my experiences, I now use JM's appendix holsters every day, and they are my exclusive choice for AIWB carry. Personally, I consider my holster search over, and my conversion to appendix carry complete.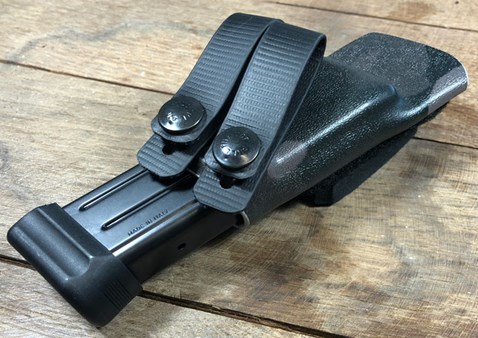 JM Custom Kydex also makes magazine pouches. This AIWB High-Ride pouch is equipped with soft loops and PTD snaps, as well as a neoprene sponge pad.
…Then again, part of my job is keeping apprised of quality equipment for armed citizens, and we're living in a golden age for guns and gear tailored for concealed carry. There really is a lot of good happening in our industry, and the new "latest and greatest" is always just around the corner. Without question, though, in the category of appendix inside-the-waistband holsters, JM Custom Kydex has distinguished itself as one of the best.