by
posted on May 23, 2013
Support NRA American Rifleman
DONATE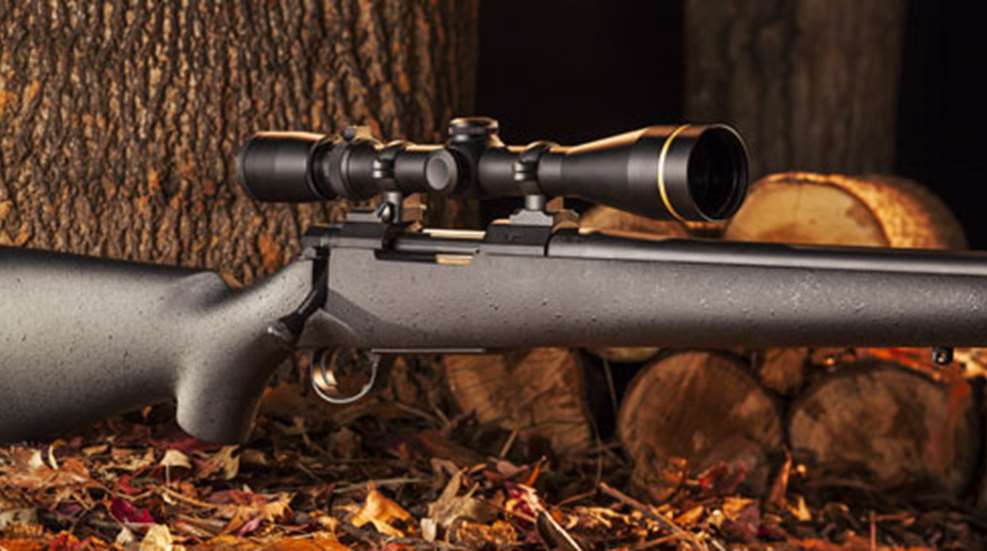 5/23/2013
Nosler's diversification from bullets to loaded ammunition to firearm manufacturing has created a premium brand that's unique in the big-game-hunting marketplace. While there is no shortage of competitive products for anything Nosler makes, no other single company offers the same combination of baseline shooting equipment. What has emerged is a brand-loyalty strategy that promises to earn the Oregon-based firm a commanding position in its targeted market segment, providing all of its products live up to the standard of iconic Nosler bullets, such as the Partition and Ballistic Tip.
Though the Model 48 rifle may not provide the degree of innovation that elevated the Partition—few products ever will—this semi-custom bolt-action series has nonetheless been widely acclaimed since it was first launched in 2006. One variant, the M48 Professional, is intended to be the best (and perhaps the most expensive) hunting rifle that an owner will gladly beat up in the harshest conditions on the planet. The rifle's fiber-reinforced composite stock is nearly impervious to bumps, drops and rude weather, and is outfitted with glass-bedding and aluminum pillars to mate and function like carefully fitted armoring for the barreled action. The barrel is rust-defying stainless steel, and all the exterior metalwork wears a corrosion-resistant Cerakote finish. Internal working parts are treated with a dry lubricant called Micro Slick, originally formulated to prolong high-speed engine life.
The Professional boasts the same clean lines as its stablemates, but because the stock and metal wear matching matte-black finishes, the rifle has a decidedly no-nonsense persona. A sculpted cheekpiece gives form and function to the butt, and first-time shooters will note the relatively thick wrist, yet another bow to durability. The stock is lightly pimpled to promote a sure grip, but the rifle's only other adornment is the Nosler name stamped prominently on the floorplate.
The action was developed by Nosler machinists over the course of decades of building house rifles to test bullets and ammunition. While the twin-lug arrangement is quite commonplace, it is also ingeniously simple and strong. However, the Nosler action differs from most in that it utilizes a flat-surfaced receiver that is more rigid than the round receivers currently offered by so many makers. The action's fluted bolt rides smoothly via a left-side raceway coupled with a full-length guide rail that fits into a groove in the righthand bolt lug. The bolt face is recessed and the extended ring that cups the cartridge base incorporates a sturdy, Sako-style extractor. Upon lockup, that ring "nests" within a counter-bored breech to guard against case-failure issues.
The receiver's bottom metal is steel, and the Professional now comes with either a hinged floorplate or a detachable-box magazine fashioned to match the appearance of floorplate models. The oval trigger guard houses the magazine release. Adjustable triggers from custom supplier Rifle Basix come as standard fare, and they are factory-set at Nosler to about a 3-pound pull weight.
To press the receiver's structural advantages, Nosler outfits the Professional rifles with first-rate Pac-Nor barrels that are button-rifled, hand-lapped and finished with the familiar and durable radiused crown.
Nosler proudly states that all components are American-made, and of course assembly, finishing and quality-control operations take place at the company's facility in Bend, Ore. There, all actions are blueprinted and trued to achieve perfect alignment with the barrel, and bolt locking lugs are hand-lapped to ensure the rifles live up to their full accuracy potential.
Sent to us for evaluation was a M48 Professional in .325 WSM, and in addition to test-firing it for function and accuracy, we made plans to use the rifle on a Utah elk hunt. In preparation for the outing in that state's Wasatch Mountains, we geared up for long-range shooting. Accordingly, the rifle's Leupold VX-3 3.5-10X 40 mm scope was zeroed at 250 yards, after which we charted points of impact in 100-yard increments out to 400 yards. Firing Nosler Custom ammunition bearing the 200-grain AccuBond bullet, groups printed 3-inches high at 100 and 2-inches high at 200. At 300 our shots dipped 2½ inches below point of aim, and then dropped 19½ inches on 400-yard targets. By switching to the first hash mark below the central crosshair of the Leupold's B&C reticle, we were able to elevate our 400-yard hits to just marginally below point of aim, and so the rig was ready for shooting out to moderately long range.
At all ranges, cumulative groups fired from the bench and from rested field positions held inside 2 m.o.a. During the pre-hunt range sessions that took place on summer days in the upper 80s and 90s, 100-yard five-shot groups off sandbags were consistently around 1½ inches. That would improve later, but first the Nosler Professional served as anticipated in downing a 7x5 bull elk with a single shot. The balance and handling of our loaner could not have been better, and fully decked out with scope, sling and ammunition, the short-action magnum weighed right at 8¾ pounds.
Final testing for accuracy took place on days when the mercury topped out in the 20s and 30s, and the best result averaged 1.19 inches for five consecutive, five-shot groups at 100 yards. As is often the case, it appeared the barrel was "shooting in," and quite possibly that improvement will continue since the rifle had not yet fired 225 rounds. There were no misfires or malfunctions of any kind, and while recoil from the .325 WSM is nearly on par with the .338 Win. Mag., the rifle seemed to handle it well, no doubt thanks to the stock's correct comb height and quality Pachmayr recoil pad in addition to a magnum-contour barrel that measures 1.17 inches at the breech before tapering to 0.65 inches at the muzzle.
Earlier we stated that M48 Professional owners will have no qualms about heaping abuse on their chosen hunting rifle. In fact we suspect the majority will invest considerable time, effort and money seeking out such circumstances. While anyone who pursues big game with a bolt-action rifle will likely appreciate the Nosler rifle's ruggedness and performance, this model especially caters to the rare breed who dedicates itself to the world's most arduous game fields and hunting challenges.
Manufacturer: Nosler Inc.; (800) 285-3701; nosler.com.
Action type: bolt-action, center-fire rifle
Caliber: .325 WSM (tested); 23 chamberings from .22-250 Rem. to 9.3x62 mm Mauser
Overall length: 44" (short-action); 44 1/2" (long-action)
Weight: 6 lbs., 4 ozs. to 7 lbs., 8 ozs.
Receiver: proprietary, 4140 steel
Barrel: 24", 1:10" RH twist (tested);
Sights: none; receiver drilled and tapped for scope bases
Trigger: Rifle Basix; adjustable; 3-lb., 1-oz. pull
Stock: Aramid-reinforced composite; length of pull, 13½"; drop at heel, 1/2"; drop at comb, 3/4"
Suggested Retail Price: $2,695