Support NRA American Rifleman
DONATE
For 2023, Beretta USA will be bringing its PMXs large-format pistol stateside, a decision we'd like to think had something to do with our pointing out last year that this semi-automatic version of the PMX submachine gun was already available in Europe.
Announced in 2017, the PMX submachine gun replaced the venerable M12, a submachine gun that made its international debut during the Tet Offensive, in Beretta's military and law-enforcement lineup. Designed in concert with the Italian Carabinieri, the PMX passed all small arms protocols as outlined by the NATO D14 handbook. In 2021, a semi-automatic carbine version chambered in 9x21 mm, called the PMXs, was introduced to the civilian market in Europe. The version imported by Beretta USA will be in pistol format and chambered in 9 mm Luger.
The PMXs is blowback-operated. Its 6.9" cold hammer-forged barrel is finished in black nitride and has its muzzle threaded 1/2x28 TPI. The pistol has an overall length of 16.4" and weighs 5.5 lbs. Like many modern designs, polymer is used extensively in the PMXs' construction. The bolt rides in a metal tube within a polymer upper receiver with the lower receiver also made of polymer. The PMXs uses a 30-round magazine with a translucent polymer body. Two magazines are supplied with the pistol.
Controls are fully ambidextrous (with the exception of the bolt release, which is left side only) with a magazine release and safety lever present on both sides of the pistol. The reciprocating charging handle can be switched to either the right or left side.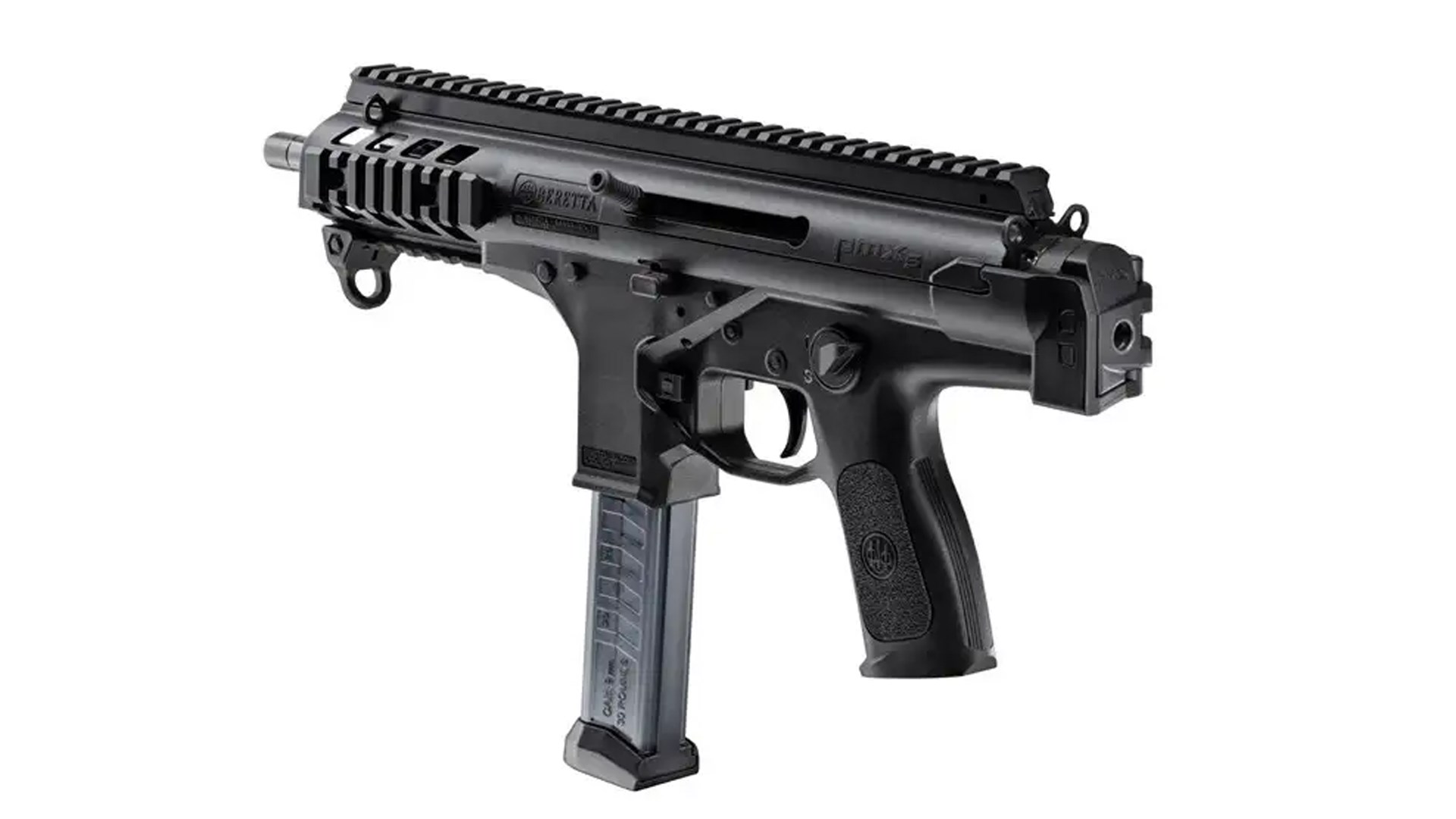 A safety lever and magazine release are placed on both sides of the Beretta PMXs. The pistol has rails for attaching optics and accessories and multiple sling mounting points. Image courtesy of Beretta.
While unfortunately not supplied with Beretta's well-designed flip-up backup iron sights, the PMXs has a full-length metal M1913 Picatinny rail on the top of the receiver for mounting optics. The handguard has short rails sections at the 3, 6 and 9 o'clock positions for mounting accessories, as well as a hand stop. Sling loops are present at both the front and rear of the pistol, as well as a QD-swivel socket at the rear of the receiver to accommodate a single-point sling.
The Beretta PMXs has a MSRP of $1,499. For more information, visit berettausa.com.