by
posted on March 28, 2021
Support NRA American Rifleman
DONATE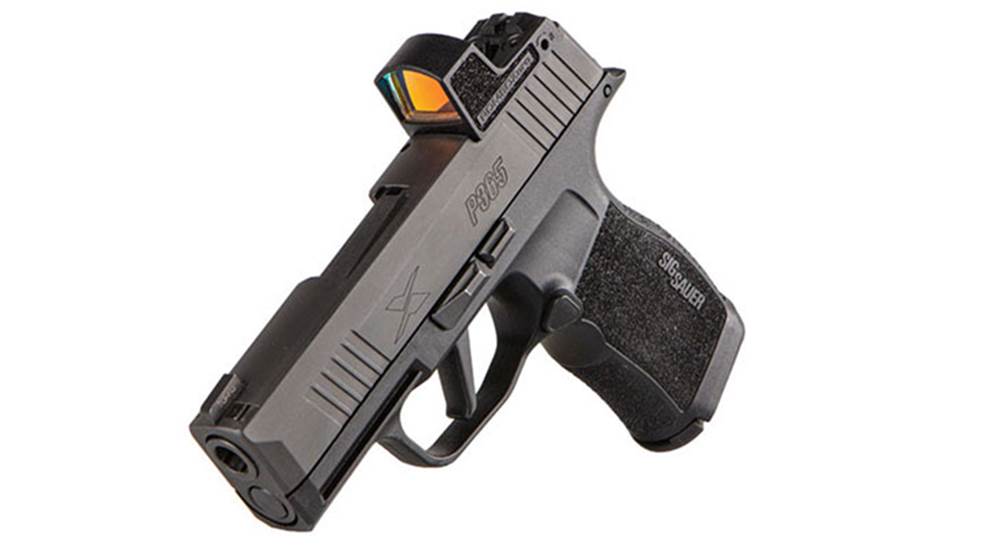 SIG Sauer Inc. introduced a new addition to P365 line of micro-compact, striker-fired handguns for 2021 with the P365X ROMEOZero. The P365 line of handguns has grown in popularity since the initial P365 release in 2019, with SIG Sauer introducing several variations to the line in terms of barrel length, magazine capacity and other additional features along the way. The new P365X ROMEOZero continues this trend by building off the strengths of the original P365 and later P365XL of the XSERIES.

The P365X ROMEOZero, like the other pistols of its line, is a polymer-frame, striker-fired semi-automatic 9 mm pistol geared specifically for concealed carry use. It has several of the attributes found on the P365XL, including the larger grip module and XSERIES trigger group. The enlarged integrated carry grip module borrowed from the P365XL design allows the P365X ROMEOZero to accept the same 12-round magazines as used in the P365XL, along with 15-round extended magazines that are sold separately. The larger grip module results in an overall height of 5.5", which provides more area for the user's hand to grasp.

Also found on the polymer frame is an extended beavertail to prevent the slide from biting the user's hand, along with the same rough-texture pattern on the front, back and sides of the grip as found on the rest of the P365 line. The P365X ROMEOZero has a XSERIES flat-shoe trigger with a 90-degree brake that reduces the perceived trigger pull weight. Despite having the grip module size of the P365XL, the P365X ROMEOZero uses the shorter 3.1" barrel found on the original P365.

The shorter barrel reduces the overall length to 6" versus the longer P365XL, which increases comfort when used for concealed carry. The slide features XSERIES markings along with serrations located on the sides of the slide at the front and rear. Also included on the slide is a X-RAY3 front sight post. As the name suggests, the P365X ROMEOZero's slide is cut for and comes with a SIG Sauer ROMEOZero 1X24 mm micro red-dot optic pre-installed from the factory.
The ROMEOZero red-dot optic uses an LED emitter powered by a single CR1632 battery, with eight manually adjusted brightness settings. It's turned on by a MOTAC motion activation system, negating the use of a manual power button before use. The body of the ROMEOZero is constructed of polymer with texturing on the sides for added grip of the slide during manipulation. At the rear of the optic is a built-in rear sight notch for use with the front sight post if needed.
The P365X ROMEOZero is 1.1" wide and weighs 18 oz. without the magazine. The addition of the 0.93" ROMEOZero optic increases the height of the P365X package to 6.43" in total and only adds 0.4 oz. to the overall weight. For more information on the P365X ROMEOZero visit sigsauer.com.