by
Evan Brune, Executive Editor
posted on August 19, 2021
Support NRA American Rifleman
DONATE
Kimber's release of its R7 Mako really highlights a dynamic shift in the marketplace of concealed-carry guns. The concept of a micro-compact handgun with increased capacity in a discreet frame has dominated gun sales for the past few years, and now, nearly every manufacturer offers a model that fits this niche. Kimber, known for its traditional lineup of 1911 pistols and similarly configured concealed-carry guns, stepped into the micro-compact market with its first-ever polymer-frame, striker-fired handgun, and it's an interesting design with a couple features not seen in other guns.
At first glance, the Kimber R7 Mako shares a similar profile with other micro-compact guns on the market, and that's by design. Kimber, by dint of being a latecomer to the market in this respect, has the advantage of examining all other available options and functionally taking the best elements from each to create a better offering. A closer look at the design reveals some unique elements. Probably the most noticeable is the enclosed ejection port.
Traditionally, today's semi-automatic pistols feature a barrel hood that locks into the slide. The top of the R7 Mako features no such cutout. Instead, a lug protrudes from the top of the barrel and locks into a rectangular recess at the top of the slide, a slightly different take on what's otherwise a short-recoil system. Kimber's claim is that this construction prevents excess gas and debris from obscuring the window on a mounted red-dot optic. It's also a stiffer, stronger design, simply because there's more material than there otherwise would be. Preliminary testing by American Rifleman staff has also shown some enhanced accuracy potential that could possibly be attributed to this style of lock-up.
Also aiding in accuracy is another standout feature of the R7 Mako: the trigger. The flat-face design feature a blade-in trigger safety that mimics popular, comfortable options available on the aftermarket. The highlight of the trigger, however, isn't in the design. Rather, it's in how it breaks. Kimber designs its triggers to arrive from the factory with a pull weight measuring between 5 lbs. and 6 ¾ lbs. However, because of the extraordinarily clean and abrupt break of this trigger design, it feels lighter than it actually is. Our current test sample arrived with a pull weight measuring slightly above 5 lbs., and it provided consistent results over multiple pulls with a Lyman Trigger Pull Gauge.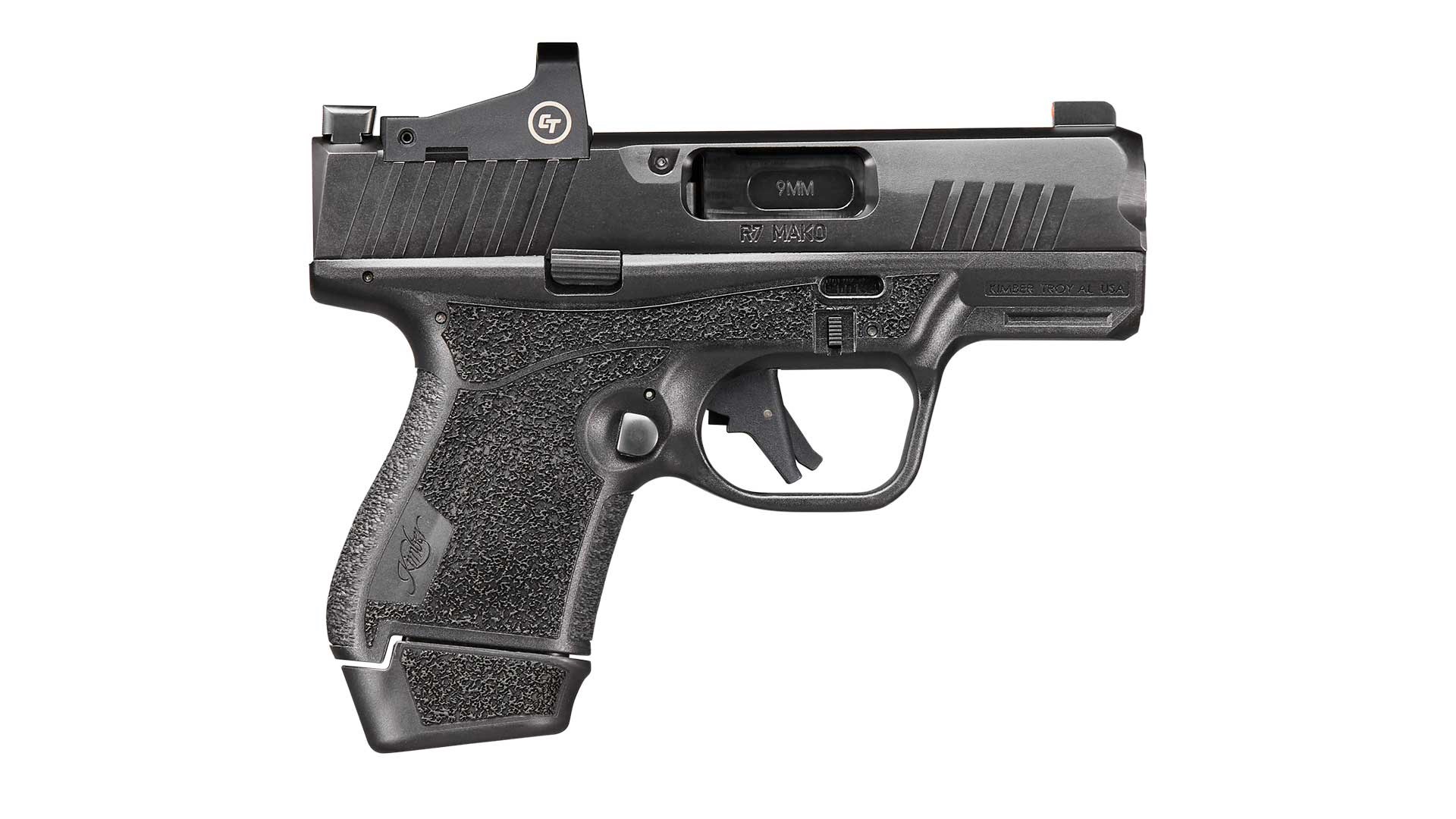 Kimber's R7 Mako also includes a 13-round extended magazine that only slightly increases the overall height of the pistol.
Ergonomically, the Kimber R7 Mako has some positive features. The grip frame features generous texturing that, at least for some shooters, struck the right balance between aggressive and abrasive. There's a generously sized heel that fills the palm, and an undercut trigger guard and backstrap allows the gun to sit plenty low in a shooter's hand. One of the elements commonly encountered among the micro-compact market is noticeable felt recoil, understandable due to the gun's generally small size combined with a potent, duty-ready 9 mm chambering. However, the Kimber felt comfortable to shoot, even in extended range sessions.
Other highlights include bilateral controls, specifically a mirrored magazine release and slide-stop lever. The gun ships with Truglo tritium-illuminated night sights and a milled, optics-ready slide complete with a cover plate. An Optics Included model is available and ships from the factory with a Crimson Trace CTS-1500 red-dot sight, which features a 3-m.o.a. dot and automatically adjusts brightness to match ambient lighting conditions. The MRD runs off a single CR2032 battery, which provides a continual runtime of up to 5,000 hours on a mid-range brightness setting.
Available in 9 mm Luger, the Kimber R7 Mako ships with one 11-round flush-fit magazine and one 13-round extended magazine while retaining a slim profile measuring just 1" wide. Standard models with a milled slide plate have a suggested retail price of $599, while the optic-included model retails for $799. For more information, visit kimberamerica.com.