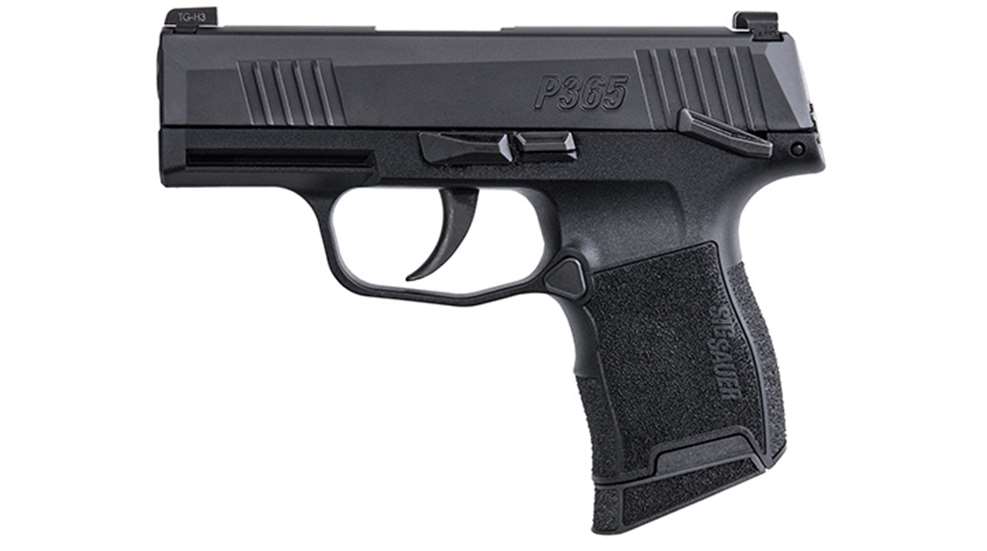 Gun sales were up in January, according to adjusted NICS figures, but the monthly report leaves us wondering precisely which firearms are selling and if there are some new firearms we've overlooked? The FBI numbers don't provide that kind of information, although Gunbroker.com ranks the five best-selling handguns, rifles and shotguns—organized by method of operation and other subcategories—each year. This, the first in our series detailing the top makes sold in 2019 through the website's services, provides a look at what's long-term hot, and what's not.
The SIG Sauer P-365 Nitron Micro-Compact was the fastest selling new semi-auto pistol on Gunbroker.com in 2019. In fact, it also held that title in 2018, the same year it was introduced.
Its primary mission is concealed carry, a market growing exponentially as more people are securing their permits than ever before. Add the company's reputation for high-quality products with an MSRP of only $599, and it's the formula for success—with the numbers to prove it for two years running.
The striker-fired 9 mm weighs in at only 17.8 ounces and can run +P loads. Overall length is 5.8 inches, width 1.06 inch and height 4.3 inches. The carbon-steel barrel measures 3.1 inches.
A pair of 10-round capacity magazines ship with each P-365 Nitron Micro-Compact. Optional 12-round versions are available.
The frame and slide are stainless steel, with the latter sporting a businesslike Nitron finish appropriate for a carry handgun. Polymer grips help minimize perceived recoil and a manual-safety version of the pistol is now available.
Sights are SIG Sauer's X-RAY3 Day/Night Sights, a three-dot tritium system that provides fast target acquisition in low-light conditions, as well as in broad daylight—when the three dots alignment intuitively against their housing's black finish. It's a nice touch on a gun at this price, because purchasing a set of these sights separately will set you back more than $100.
Concealability, capacity, performance and a limited lifetime warranty, all part of the reason the SIG Sauer P-365 Nitron Micro-Compact has held the best-selling semi-auto pistol title for two years running.