This is not the news you'd expect from
Big Green
and its feature-rich lineup of scatterguns, defensive pistols and hunting rifles. The Remington R2Mi is latest rifle to wear the legacy banner and is touted as an extreme long-range-capable rifle. And considering the .50 BMG chambering, two miles, and potentially beyond, is not out of the question for Remington's R2Mi. If you're thinking that this rifle looks a bit familiar to you, you're right. The R2mi's lineage extends from Bushmaster and a design marketed as the BA50.

Tipping the scales around 30 lbs., Remington provides its R2Mi as a system, including a custom-fitted, waterproof
Pelican
Storm case filled with the necessary accessories users will need for range use, except for an optic. Two, 10-round detachable box magazines are supplied, as well as a removable steel bipod, eye and hearing protection and a cable lock.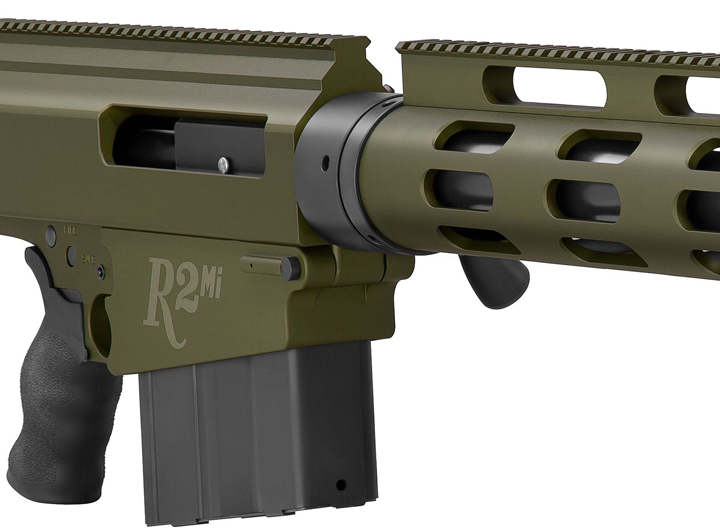 The R2Mi box-fed bolt-action rifle is designed with inspiration and engineering borrowed from Stoner's AR platform. Machined from T6-6061 aluminum, the rifle upper and lower receivers are hard-anodized green and assemble much like AR-15 and AR-10 semi-automatic rifles—two, captive steel pins must be removed for disassembly. A Picatinny rail tops the upper receiver for optic mounting. Additionally, an aluminum handguard freely floats the extra-large barrel and provides another Picatinny rail on top for secondary optics and accessories.
Internally, a two-lug bolt is utilized for locking
.50 BMG
rounds into battery, which requires a 90-degree throw for full bolt manipulation. Aiding the function of the extra-large bolt is the use of three roller bearings that are attached to the bolt and ride within the receiver. Remington employs an AR-15/10-style safety selector with bilateral function to address both left- and right-handed users.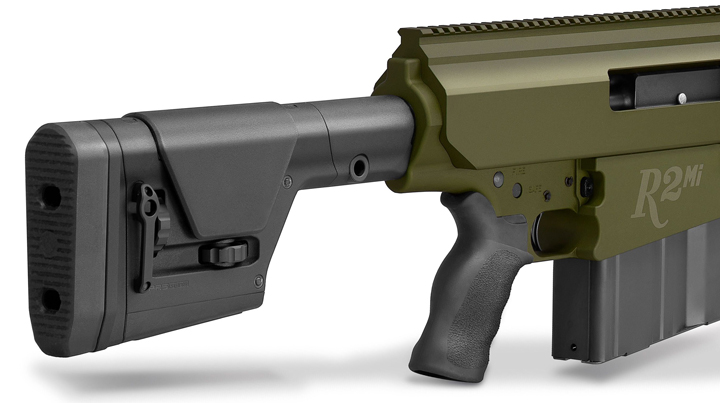 Lothar Walther provides Remington with a 30" barrel containing eight-groove rifling twisted 1:15" and a match-grade chamber. The barrel and remaining steel parts have a Manganese phosphate treatment to provide a durable and corrosion-resistant finish. Attached to the muzzle's end is Advanced Armament Corporation's proprietary muzzle brake to provide effective recoil mitigation. In addition to providing two-baffle brake, AAC supplies ACME-type threads for use with its Cyclops .50-cal. suppressor that mounts quickly via a spring-based secondary latch. ERGO supplies the pistol grip and Magpul is providing Remington with its fully-adjustable PRS stock fitted to an AR-style receiver extension.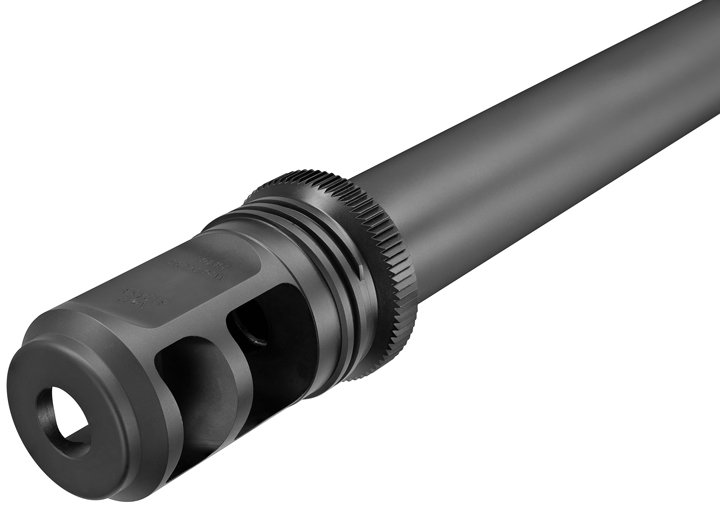 Remington's R2Mi Custom Center rifles are built to order with a base MSRP of $4,599. To learn more, please visit
remington.com
.