Support NRA American Rifleman
DONATE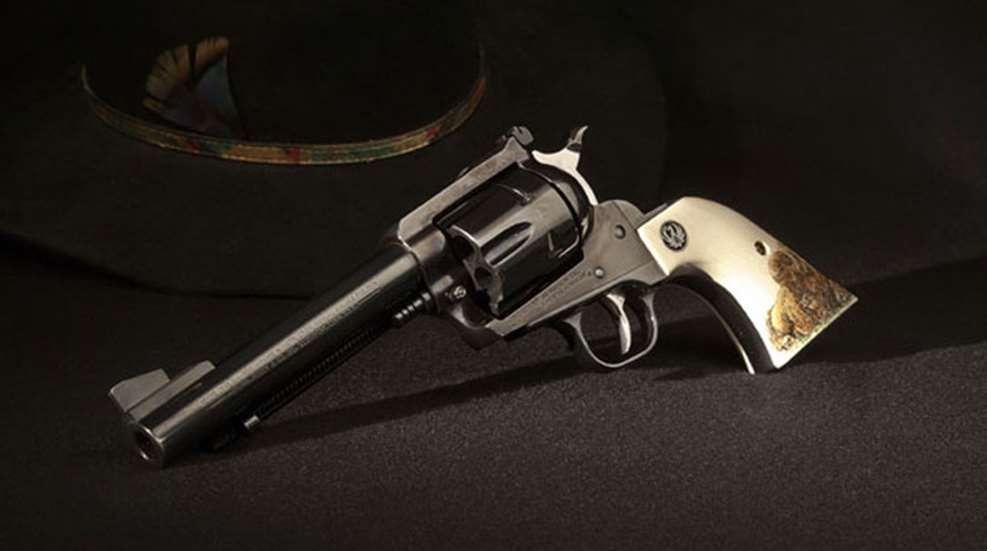 Gallery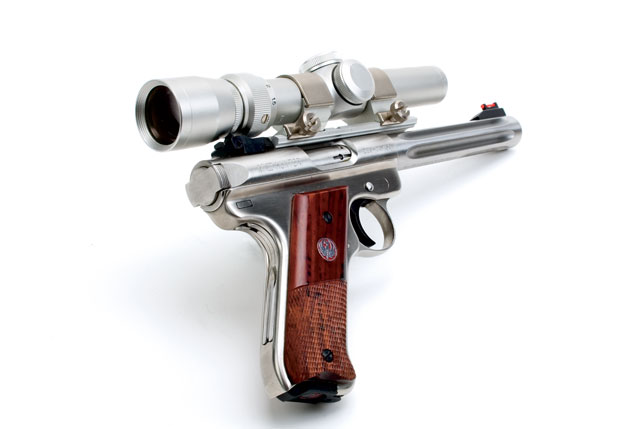 Mark the Spot
Ruger's .22 semi-auto pistol—the gun that launched the brand more than 60 years ago—is not only my favorite Ruger, it's what I would call a common denominator in the shooting world. Countless American shooters have experienced this gun first-hand. If we don't own one—and with a couple million in circulation, lots of us do—we know someone who does or at least have admired one in a gun store, gun show or out at a range.
In the very first NRA review on this enduring design, then-Technical Editor Julian S. Hatcher reported, "One can readily see that the designer of this pistol knows something about shooting as well as designing." That's what hooked me when I first joined a pistol league in the early 1980s. With a borrowed Ruger Mark II, my scores were higher than I had been able to manage with two other pricier pistols.
When the third generation—the Mark III—hit the market in 2005, the line included one particular variation that completely won me over.
The Mark III wisely sticks with basic Ruger engineering, centered on a rock-solid frame and slick, reciprocating-bolt action. Like its predecessors, the new breed relies on a sharply angled magazine to positively feed the sometimes-difficult .22 LR cartridges, and the safety remains conveniently located at the base of the shooter's thumb.
My choice is the Mark III Hunter, groomed ingeniously for those of us intent on pursuing small game and varmints with a handgun. 
It could be the flashiest-looking rimfire autoloader ever built by Ruger, with brushed-satin stainless steel from grip frame to receiver to barrel. The gleaming metal is bright, but not so shiny that it's likely to spook game, and stands handsomely alongside the half-checkered cocobolo wood grip panels. From a practical standpoint, the tough-skinned stainless will stand up to years of harsh treatment in weather conditions.
It boasts a stout 6 7/8-inch, heavy-contour barrel that measures .875 inch at the muzzle. The barrel is relieved by six, .114-inch-deep longitudinal flutes, which is a massive rod of steel considering the bore occupies less than a quarter inch. The result is a pronounced, muzzle-heavy tendency that allows the gun to hold wonderfully steady when shot from a rest and yet swings smoothly on moving game. The barrel's recessed crown is a deluxe feature rarely seen on firearms in its price range, and a repositioned magazine release just behind the trigger guard will be familiar to M1911 shooters. While every Mark III is sold with a matching Weaver-style scope base, the Hunters are also equipped with well-conceived factory sights. The adjustable rear express sight is teamed with a bright-red fiber-optic front bead for a combo that's super-fast and spot on at reasonable hunting ranges.
The Mark III also continues Ruger's legacy of building .22 pistols with progressive safety features. The sliding thumb safety, for example, has been fortified by the capability to lock it in the safe position. Insert a provided key through a small hole located at the bottom of the safety slot, rotate a few turns and the safety cannot be deactivated until the key is employed to reverse the lock. Furthermore, removal of the Mark III's magazine causes a disconnect in the trigger-hammer linkage, meaning the gun will not fire until the magazine is securely back in place. On the left side of the receiver, the Mark III also has the addition of a loaded chamber indicator, the first ever found on a .22 rimfire pistol.
These safety features, along with the "shootability" produced by the pistol's bulk, sights and clean-breaking trigger, made the Mark III Hunter perfect for teaching my 12-year-old son to shoot a handgun. He quickly got the hang of it, and soon I had to wait my turn on squirrel hunts.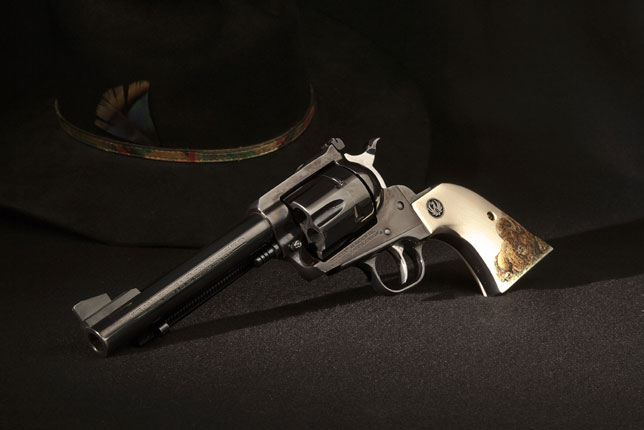 The Super Blackhawk Makes a Loyal Companion
Although I may have owned my favorite Ruger for many years now, it is, in fact, timeless. Most certainly it is ageless in its design. No argument can ever be made that it is not timeless in its function, and every day, somewhere, with similar models, its effectiveness is proven to be enduring. This fine firearm is as applicable in its usefulness today as the original version proved to be when introduced way back in 1956 by Bill Ruger. 
Although this remarkable revolver had undergone a couple of revisions by the time I came to own my Ruger New Model Super Blackhawk in 1986, I thought it was the most gorgeous thing I had ever seen. While maybe not as glossy looking as the "Dirty Harry" .44 Mags. available around that time, this Ruger single-action had the solid appearance and feel of a powerful handgun built to last. The factory sights proved to be spot-on as this big fellow would hit where I aimed with wonderful monotony, and surprisingly, the reputed fierce .44 Mag. recoil was fairly moderate with Bill Ruger's single-action grip design. I confess I was in love with this blue steel beast.
Over the next couple of hunting seasons, Wyoming antelope and Colorado Mule Deer fell to my Ruger's effectiveness. I really shot it a ton and when I had a couple of extra coins set aside, I sent my favorite piece off to Mag-Na-Port International to have the 5 ½-inch barrel ported and the action slicked up. 
Stoked with my own handload of a hard-cast Keith style 250-grain bullet over 18 grains of 2400 powder, my Super Blackhawk is not only extremely accurate, but deadly. A huge black bear fell to this combination along the Colorado/New Mexico border a short while later and over the next several years, a few white-tailed deer, another bear, javelina and innumerable hogs were collected with my favorite Ruger. After many field outings, range sessions and memories, I finally rewarded this grand old pal with a set of scrimshawed elephant ivory grips. It was the very least I could do for such a loyal hunting companion.
Although the gun is not officially retired, I only shoot my favorite Ruger a couple of times a year now, often just to feel the power unleashed when I press that silky trigger. It is reassuring that, although I may be slowing with age, my Ruger Super Blackhawk is as ready to head afield as ever—perhaps with my grandson packing it next time.

Everyone has a 10/22
My favorite Ruger is the 10/22. You shouldn't have to ask why, but if you must have it spelled out, the 10/22 is simply the greatest rimfire firearm ever built. For one thing, it functions with great reliability using almost any type of .22 LR ammo, which is something many semi-automatics cannot boast. Furthermore, I can make my 10/22 look like a zillion-dollar competition rifle with a fancy, thumbhole stock and a ported, fluted bull barrel one day, then change it into a mean-looking tactical carbine with a folding stock, a pistol grip and a threaded barrel with a suppressor the next, using only a hex key and a screwdriver—all in about the time it took you to read this sentence.
There are perhaps no guns as cosmetically versatile as the 10/22. But there's more to this platform than its ability to mimic a chameleon. As a tricked-out competition gun, the 10/22 is perfectly capable of fingernail-sized groups out to 100 yards—provided the shooter knows what he or she is doing. It is perhaps the best plinker ever built for fun days in the backyard, and you can bag small game with it. What's more, because it is chambered for .22 LR, anyone can shoot it comfortably, making it a great choice for first-time shooters or seasoned veterans.
Basically, the 10/22 offers something for everyone, no matter your shooting interest, ability or experience. No gun collection is complete—or even started—without a 10/22 in the safe.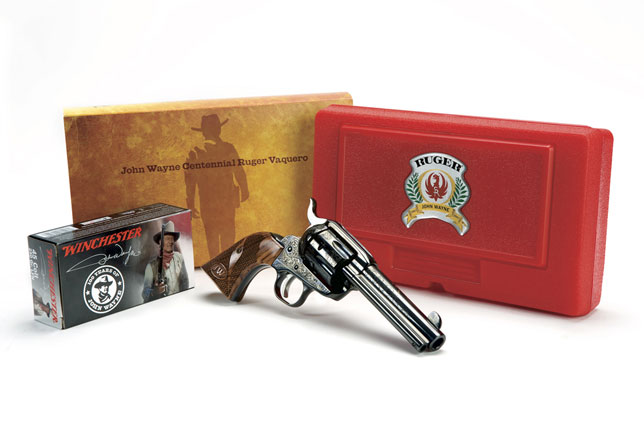 Call Him a Vaquero
Some of my earliest memories include watching Westerns with my dad. To this day, I still enjoy John Wayne and Clint Eastwood classics like "Angel and the Badman," "The Outlaw Josey Wales," "Hondo" and "True Grit." I loved the code the characters lived by and how they stood up for what was right no matter the consequences. Then, growing up in a small town in Mississippi provided me with the opportunity to own horses, which only increased my love of all things Western. These just might be the reasons that the first handgun I ever purchased was a Ruger Vaquero in .45 Colt.
Sure, it wasn't the Colt SAA that most of my heroes carried, but it was as close as I was going to get on my budget at the time. And since this was in 1994, the Vaquero still came with the case-hardened frame, wood grips and blued barrel and cylinder that gave it look and feel of a much older style of sixshooter. I will also admit that since I didn't have a lot of experience shooting single-action revolvers, I also liked the transfer bar safety that allowed the gun to be loaded with six rounds without the fear of an unintentional discharge.
While I never became a fast-draw expert, I carried that gun in a low-slung Western rig everywhere it was legal, including on countless horse rides through the fields and forests around the Black Zion community that I called home. Today, I am more into semi-auto handguns for self-defense, but I will always think back to the days of long ago when horses were the primary form of transportation, right was right and justice was real.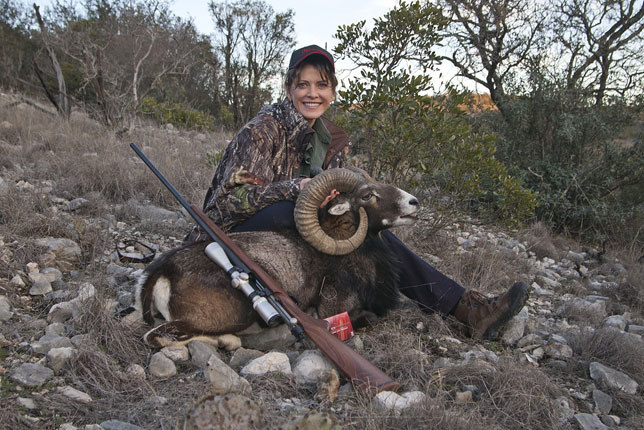 My M77 is a Hawkeye
Sturm, Ruger & Co. has focused on developing quality firearms for the hunting and shooting market since 1949. Some 60 years later, I'm challenged to select my No. 1 Ruger amongst 400 variations of 70-plus products over 25 product lines, but because there can only be one favorite, I choose the Ruger 77 Hawkeye. Why? Simply put, I like to shoot, but I love to hunt; I like to hunt with handguns, but I love to hunt with rifles and shotguns; I like to hunt all types of game, but I love to hunt big game—and the Ruger M77 Hawkeye more than fits my bill.
When this bolt-action rifle was introduced in 2006, I appreciated its fast-twist barrel and trim ergonomics and the classic checkering of its walnut stock and fore-end. Over the next five years, things only got better. Today's Ruger M77 Hawkeye is available in a variety of calibers to match any hunter's or shooter's needs in 11 models—from Alaskan, African and predator options to tactical and sporter versions to Ruger Compact Magnums (RCMs) to, last but not least, left-handed rifles for shooters like me. While some gun manufacturers offer nothing for Southpaws, Ruger offers the standard model for lefties in 11 calibers from .204 Ruger to .308 Win., the African in .375 Ruger and the RCM in seven options from .300 to.338 RCM.
I toted an M77 Hawkeye in the then-new 6.5 Creedmoor option on an exotic-game hunt taped for "Ruger's Adventures' in 2010 and could not have been happier with its long-range performance. Both on the range and in the field, this gun was dead-on accurate and a pleasure to shoot. Paired with a 120-grain lead-free Hornady GMX bullet, the Hawkeye delivered the flat trajectory, power and terminal performance I needed to drop a mouflon ram at 200-plus yards. Also worth noting is the Ruger LC6 trigger, which is set to break around 4 pounds but is so crisp it feels even lighter.
All things considered, the "R" for Ruger could just as easily stand for "reliable" and "rugged." And to top it off, Ruger can take great pride in the fact that its rifles are made in America.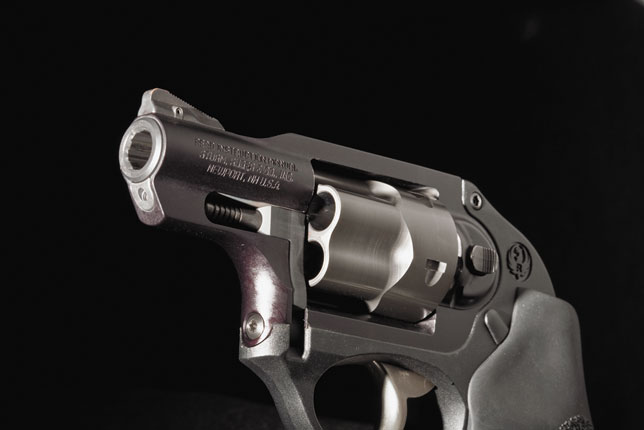 I Invested in an LCR
Law-abiding citizens are constantly being stalked by opportunistic, two-legged predators. I, too, was a skeptic until my new Jeep was stolen in less than three minutes at an Arizona mall. We were barely inside when my daughter declared her outfit didn't match, so she went back to the car, only to discover it was already missing. The responding police officer explained the thieves watched us pull in, waited until we got out of the car and hit once we were out of sight. The daytime heist could've taken a drastic turn had my 14-year-old daughter walked up in the middle of it.
I may have been robbed at gunpoint, but that feeling pales by comparison to the thought of a loved one walking into a dangerous situation unprepared and unarmed. When I met my wife she owned more handguns, rifles and shotguns than I did—it was love at first sight. But today, she travels alone periodically, and I was caught by surprise when she declared she quit carrying her 1911 because it was too heavy to toss into her purse for short trips and, because when holstered, it compromised her girlish figure.
I immediately purchased a Ruger LCR and it's one of the best investments I've ever made. Its 13-ounce unloaded weight with Crimson Trace Lasergrips immediately remedied weight concerns. Couple its .38 Spl. chambering with modern bullet design, and you have a formidable fight stopper. Yes, it only has a five-round capacity, but if you saw the way my wife ran that gun during her concealed-carry-permit qualification course, you'd understand. Can you say top of the class? 
Because it's a "hammerless" revolver, she carries in her purse. When heading to the car in a dark parking lot, she knows to reach in and grip the revolver if anything looks suspicious. If nothing is amiss, no one will be suspicious and a revolver will run nicely inside—at close distance she knows to aim the purse and shoot.
The LCR has never hiccupped, despite digesting hundreds of rounds with varied bullet styles. I often carry it because the reduced weight is a real blessing during marathon shopping sprees. This is the one self-defense handgun we own that is small enough and light enough that there's never a second thought in regard to whether it should be carried. And that black finish, well, even opportunistic criminals will understand they stalked the wrong prey.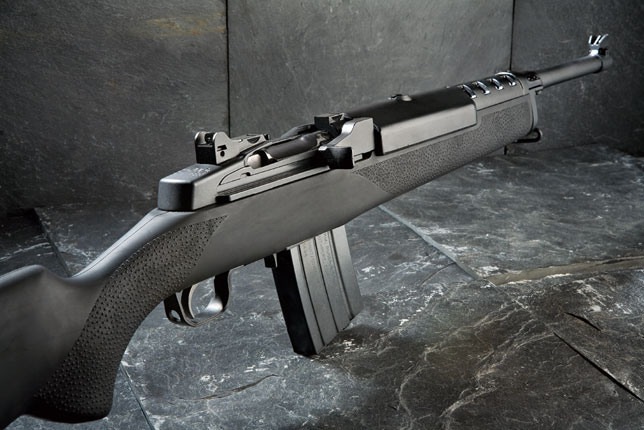 It Should have been the Mini 14
Recalling his 1970 conversation on the floor of the NRA Annual Meetings exhibit hall with Army Ordnance Col. Rene Studler, Bill Ruger is reported to have said of his then prototype Mini-14, "It was a great wrench for [the Army] to give up that M1 Garand principle to go to the futuristic M16. I have often said—and I know I am correct here—if we had brought the Mini-14 out five years earlier it would have become the standard Army rifle."
While such hubris appears outright comical when viewed in the context of nearly a half-century of worldwide service by Eugene Stoner's "futuristic M16," it is offset to some degree by the Mini-14's continued popularity, which has resulted in one of the most successful runs in the history of commercial firearm production—particularly for a center-fire semi-automatic rifle—at more than 1 million units produced to date.
So what is it about the Mini-14 that makes it so appealing to so many? For one thing, there's its pedigree. It is, after all, an extended member of the M1 Garand family, with all the familiarity and simplicity that conveys, yet it is nearly as light and handy as an M1 Carbine. For another, in an age of aluminum and polymer guns, the Mini can be had in the more traditional gunmaker's materials of wood and steel. And then there's the Mini's well-deserved reputation for reliability. When you add to that its facility for quick and easy fieldstripping without the use of tools, the Mini comes out a winner—for most.
Of course there is that nagging accuracy issue. Minis have never been known as tackdrivers. Although a recent retooling of the Mini-14 production line—supervised by Roy Melcher, one of the gun's original designers, before his recent passing—has reportedly improved that unfortunate condition across the Mini line, and Target versions promise minute-of-angle accuracy from the factory albeit at greater price, weight and length.
Regardless of its shortcomings, the Mini-14 remains a classic because it represents a solid value for the money in a .223 Rem. semi-automatic rifle. It embodies the lines and handling of a sporter, the durability and magazine capacity necessary for defensive use and, perhaps most importantly, the lineage and appeal of the ingeniously simple operating system that John C. Garand himself gave to its original progenitor, the U.S. Rifle, Cal. .30 M1.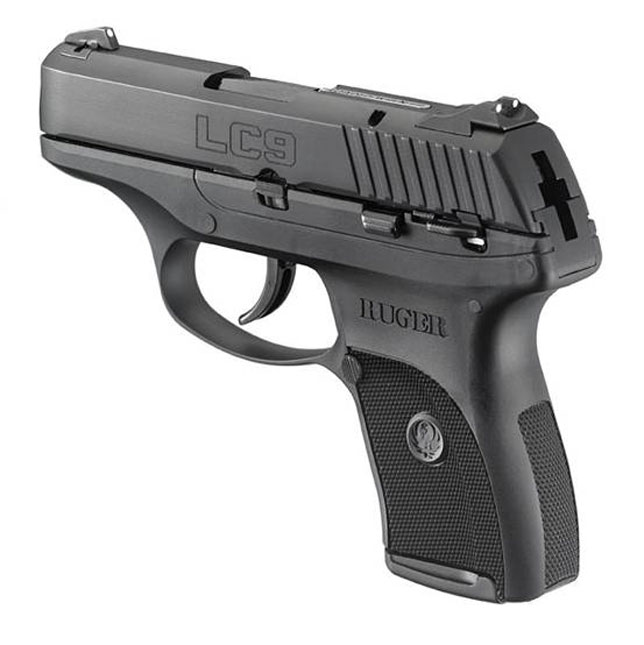 I Carry the LC9
Using the old adage "The best gun in a gunfight is the gun you brought with you," I've carried Ruger's LC9 most often. I have a .45 and a Crossbreed holster that makes carrying it tolerable, but the Ruger "pocket pistol" seems to be used most often, given my daily routine. I used to advocate Ruger's LCP and the heavier Walther PPK, but have since changed my view that the .380 cartridge is on the trailing edge for stopping power. Once you add a winter coat and a few layers of clothing, the .380's performance begins to drop off—too much so for me.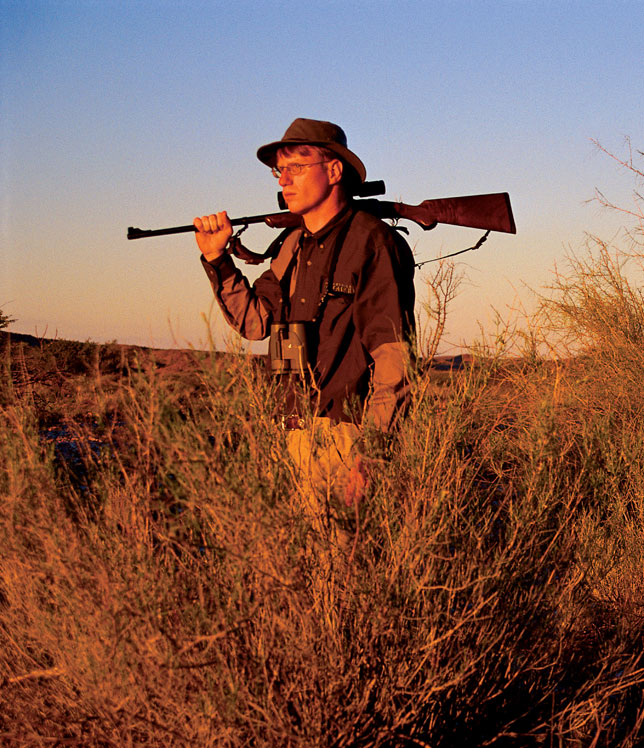 Make Mine a No. 1
I have owned and used quite a few Ruger firearms over the years, and my current personal Ruger collection is set at six, although the Wiley Clapp GP100 in .357 Mag. in for evaluation is likely going to up the tally. And there have been dozens more Rugers I have regretfully packed up and sent back after evaluation just because my kids needed braces, shoes, food or some other frivolity. One stands out, however, and despite the privations of the Keefe children, remained with me. That is my Ruger No. 1-S chambered in .300 Win. Mag. It was the rifle I took on my first trip to Africa in 2002 and has accompanied me on a number of hunts to far less exotic locales since.
The No. 1 is made, as it always has been, in Ruger's Newport, N.H., factory. Just this month I looked longingly upon the beautifully figured walnut stocks on a craftsman's workbench, awaiting the joining of blued steel to go from being mere wood to being a No. 1. In 1966, the heyday of the bolt-action rifle and during the emergence of a new generation of high-power semi-automatics, William B. Ruger, Sr., knew something that other executives just didn't seem to get: There's more to hunting and shooting than mere technological progress. With some of its lines borrowed from Alexander Henry rifles of a different era, the No. 1's rugged, graceful styling and simplicity of operation have always appealed to me. Each year I gaze at the Tropical No. 1s at the trade shows, with their vented ribs and barrel-mounted bands and try to come up with tortured justification to by another. I really, really need a .450/400 this Christmas.
My No. 1-S has a medium-contour barrel, an Alexander Henry fore-end and a barrel band- mounted front sling swivel. It looks much like the "No. 1 Tropical," but would be as at home hunting elk in the Rockies as plains game in Africa. The 42 1/4-inch-long No. 1-S has a 26-inch barrel, providing more barrel length—and muzzle-velocity—than a repeating rifle of the same length.
It also has a preference for 200-grain Swift A-Frames. This rifle shoots others well, but not as well as the Remington factory load. My best group to date for five shots at 100 yards is a mere 0.78 of an inch, with most groups coming in at just over an inch. Any rifle that looks like this one does and shoots that well is worthy of being dubbed a favorite.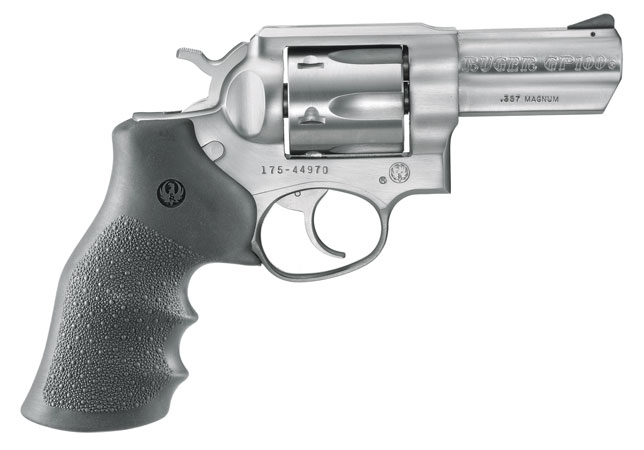 The GP100 can do it All
One of my all-time favorite multi-purpose handguns is the Ruger GP100 in the 3-inch configuration. Ruger's .357 Mag. double-action revolvers hold a nostalgic place in my shooting. My very first defensive handgun was a SP101. Not long after purchasing that gun, a GP100 with a 6-inch barrel joined the shooting set. As time went on, I wanted to find a revolver that struck a balance between the full-size hunting models and the compact pocket rockets. The former was too large for comfortable concealed or trail carry while the latter was punishing to practice with.
I found that the GP100 proved to be just the gun I had in mind. This revolver arrived with a 1/2-inch shorter grip than the 4- and 6-inch GP100 models with a fixed notch rear sight like the SP101. The balance of the 3-inch barrel was perfect, and it was long enough to squeeze more power out of the .357 while remaining handy to carry. The GP100 models are strong and reliable, so I feel comfortable running this revolver with every variety of .357 Mag. on the market.
Since I adopted this slightly shorter GP100, a variety of super lightweight .357 revolvers have been released. It's true that shooters can survive the process of touching-off full house .357 loads in an 11-ounce titanium snubby, but not for long. I have contended in the past, and will do so in the future, that the 3-inch GP100, with its stainless-steel construction, six-shot cylinder and 36-ounce weight, is the smallest .357 that can be shot with a reasonable degree of comfort. As a trail gun, home-defense revolver and concealed-carry handgun, as well as for all-round comfortable shooting, the 3-inch GP100 can do it all.