Gallery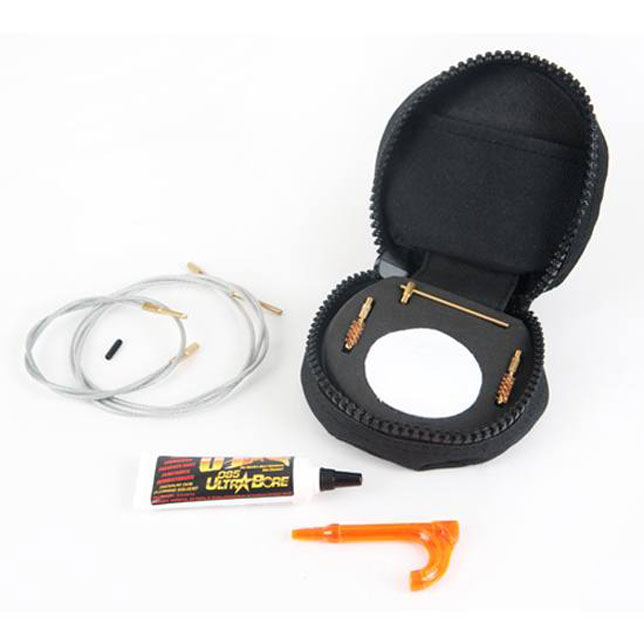 OTIS Small Caliber Cleaning System
The Ruger 10/22 is fast, fun and affordable to shoot. But it's the nature of the little wax-coated lead bullets launched by rimfire cartridges to fowl up a good rifle well before we're ready to stop shooting. Otis makes it easy to keep essential cleaning tools and solvents handy on the range or in the field. The Small Caliber Cleaning System includes two .17 caliber Memory-Flex cleaning rods, a .17 caliber T-handle, small caliber patches and .22 caliber short brushes. The 0.5-ounce tube of Otis O85 Ultra Bore Solvent cleans, lubricates and protects firearms all in one step.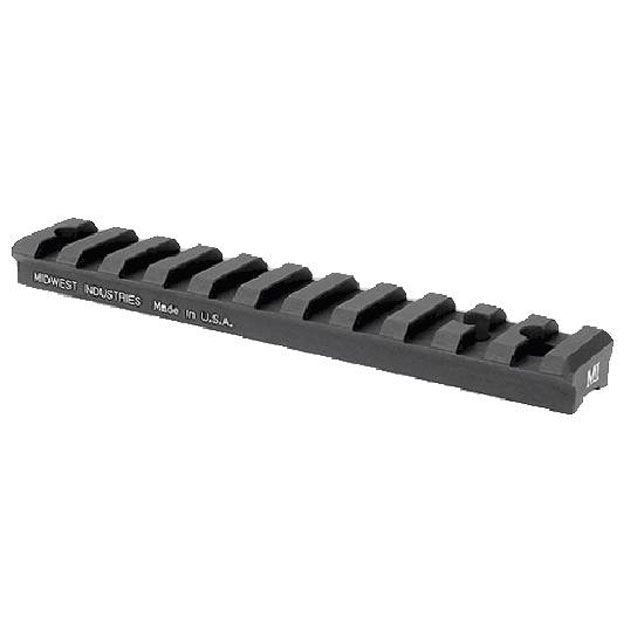 Midwest Industries One Piece Scope Mount
Can an old 10/22 benefit from an up-to-date optic? There's no doubt about it! Don't let an ancient scope rail stand it the way of enjoying the latest and greatest in view-enhancing accessories. The Midwest Industries 10/22 Picatinny Scope Mount is a one-piece rail with 11 slots. It can be mounted to the receiver using the existing factory mounting holes with no gunsmithing required. The rail is constructed of 6061 aluminum with a hard-coat anodized matte-black finish.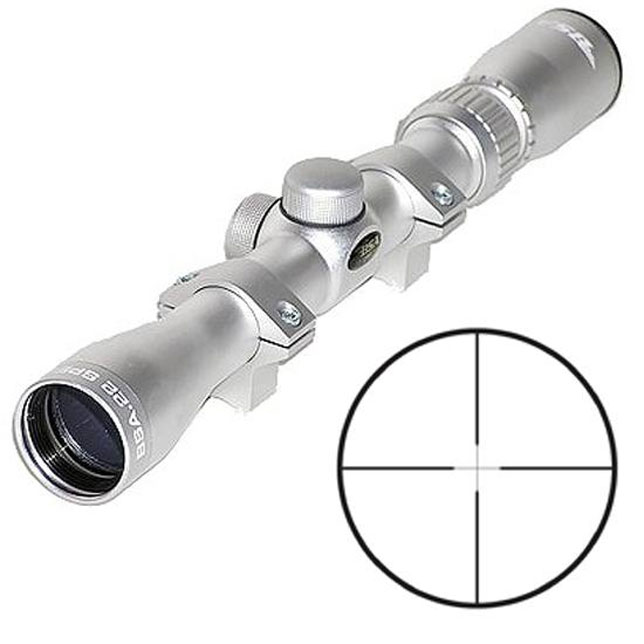 BSA Rimfire 3-9x32 Riflescope
Whether it's for casual plinking or small-game hunting, an affordable optic is a terrific addition to any .22 rifle. The BSA Rimfire Riflescope is a lightweight scope designed specifically for rimfire applications. The 3-9X magnification is ideal for scanning the landscape, and then zooming in to place the 100-yard fixed parallax reticule right where you want it. The coated lenses transmit a bright image with a high degree of detail even in low-light conditions. The low-profile design of this BSA scope rests close to the receiver for ease of sighting, and scope rings are provided.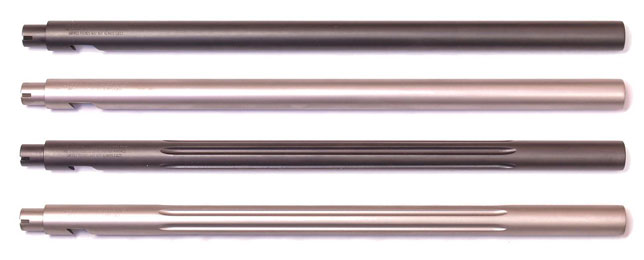 Shooters Ridge Match Barrel
If you're looking to extend the range and accuracy of the 10/22, look no further than the custom barrels from Shooters Ridge, featuring Bentz Match Chambers. The hydraulic carbide button-pulled rifling and 1:16-inch right-hand twist are capable of producing half-inch groups at 50 yards. Piloted machined feed ramps ensure consistent feeding and the recessed target crown features a 45-degree break. Available in either a stainless steel or blued finish to match your receiver, Shooters Ridge 18-inch long, .920-inch diameter barrels are available in both fluted and non-fluted configurations.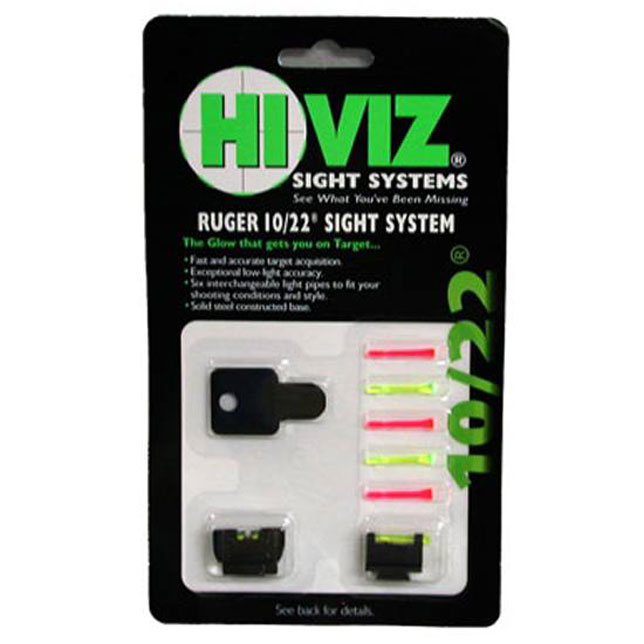 HiViz Fiber Optic Front & Rear Sight Set
The 10/22's factory iron sights are excellent, but added sight-picture brightness can come in handy. HiViz offers a set of replacement sights for the 10/22 featuring fiber-optic enhancements for both the front and rear sights. The rear leaf-style sight has two bright green dots and folds down to accommodate a scope. The front dovetail sight features interchangeable fiber-optic posts in green or red with bead sizes from .090 inches to .120 inches.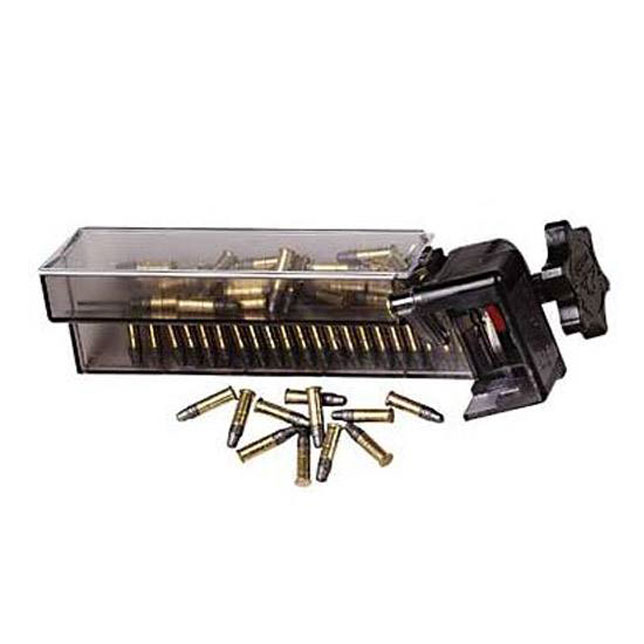 Butler Creek Hot Lips Loader
One of the best features of the 10/22 is its ability to use high-capacity magazines, like the Hot Lips models provided by Butler Creek. The down side to using Hot Lips, or any high-cap magazine, is the time spent loading them. Butler Creek simplifies the reloading process with its Hot Lips and Steel Lips Magazine Loader. Just pour 50-rounds into the hopper, give it a shake, insert the magazine and crank the loading handle. This loader is not much bigger than an extended magazine, so it can easily be taken along for use anywhere you choose to shoot.
Hogue Zombie-X OverMolded Rubber Stock
If you prefer a traditional stock style, but still want the benefits of modern synthetic materials, then Hogue has just what you're looking for. At the heart of its series of Overmolded Rubber Stocks for the 10/22 is a frame constructed of extremely strong, but lightweight, reinforced polymer. For use with a factory-standard diameter barrel, this stock is coated with a synthetic rubber material to provide positive grip and to make the stock quiet in the field. If basic black is not your style, then take a look at models in other colors like pink or glow-in-the-dark Zombie green (shown). 
ProMag Archangel Stock
If your aging wood-stocked 10/22 is just not tactical enough for you to hold your head up high at the range, then take a look at ProMag's Archangel polymer stocks. This black polymer stock has everything you need to bring your 10/22 into the 21st century. Features include an upper receiver housing with integral Picatinny rail, a pistol grip with storage compartment, full-length barrel heat shield with upper and lower accessory rails and an adjustable M4 style six-position shoulder stock. And just in case this stock is not enough to raise the intimidation factor level of the 10/22 to your liking, ProMag throws in a polymer display bayonet for that added tactical flare.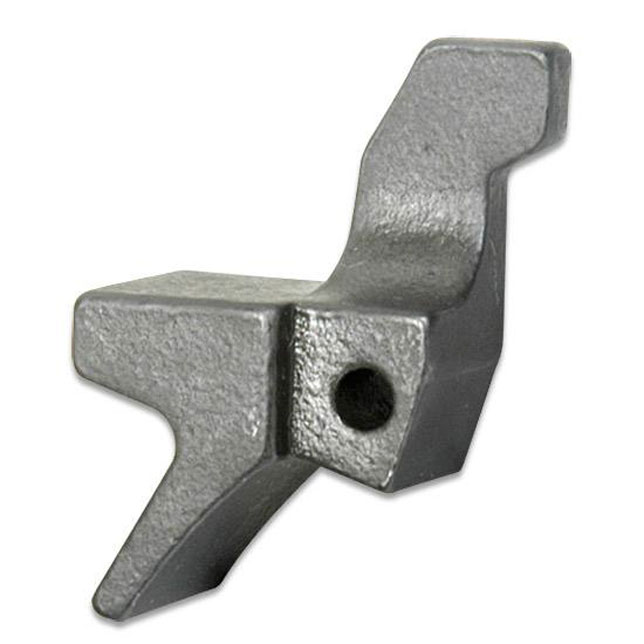 UTG Extended Magazine Release
One feature some folks find hard to love about the 10/22 is the flush-fit magazine release. Not everyone can get the hang of shoving their thumb into it to release the magazine in that just-so manner. To simplify operations significantly, Leapers provides the UTG Extended Magazine Release. This drop-in replacement for the factory device extends below the stock and reverses the angle of the release for quicker and easier magazine reloading. Made of matte-black finished steel, the UTG release will stand up to years of regular use on the range.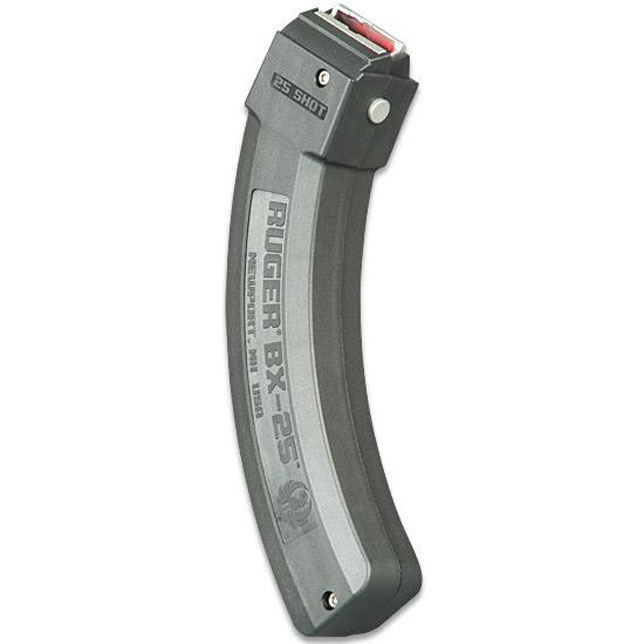 Ruger BX-25 10/22 Magazine
While there are a wide variety of magazines readily available for the popular 10/22 platform, they often vary in quality and reliability. After years of customers begging, Ruger finally released a factory-built 25-round magazine for this popular rifle. The Ruger BX-25 magazine features steel feed lips designed to withstand firing thousands of rounds without significant wear and to drastically reduce feeding problems common to plastic-lipped magazines. The rugged polymer body and follower make this magazine ideal for use in almost any environment. The BX-25 magazine's reliability and capacity will certainly make trips to the shooting range much more enjoyable.