by
posted on January 14, 2022
Support NRA American Rifleman
DONATE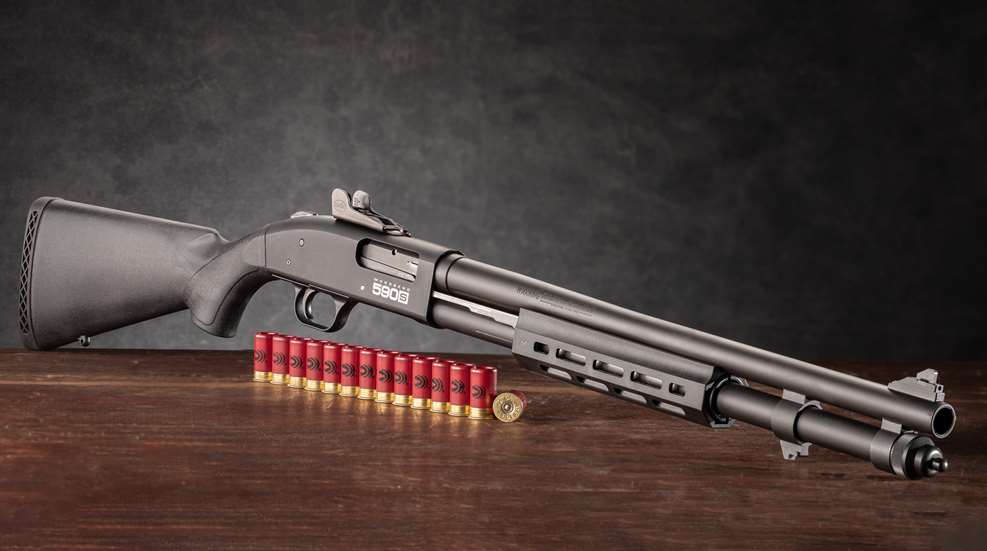 When Marlin-Rockwell ceased its machine gun manufacturing operations in 1919 due to the drop in demand brought about by the end of World War I, Oscar Frederick Mossberg found himself unemployed with a family to feed. An immigrant from Sweden, Mossberg already had a couple of decades' worth of experience in gun manufacturing—along with a few gun-related patents—under his belt. Rather than go to work for another company, he decided to team up with his two sons, Iver and Harold, to launch a family-owned-and-operated gun company, which was aptly named O. F. Mossberg & Sons. More than a century later, this American gunmaker continues to offer a diverse selection of pistols, rifles and shotguns.
Mossberg released what would become one of its most well-recognized product lines in 1961, namely, the Model 500 series of pump-action shotguns. Originally configured as wood-stocked sporting guns, the company gave a nod to police officers early on with the Model 500 AT riot gun. In 1987, the company debuted the Model 590 series, which was specifically designed for law-enforcement and military applications. It has since been seen in service around the world. But Mossberg has not been satisfied to let the 590 rest on its laurels. During the past few years, we've seen the launch of the FLEX TLX system for quick shotgun furniture swaps, the wildly popular compact 590 Shockwave and the 590M, which uses ruggedly built detachable box magazines.
The latest version of the 590, called the 590S, takes this platform in a fresh direction. Its action has been re-designed to accommodate 1¾"-long, 12-ga. shotshells in addition to traditional 2¾" and 3" shotshells. At launch, the initial 590S series includes two shoulder-stocked long-gun options, with either an 18.5" or 20" barrel, and a pair of Shockwave models featuring 14" or 18.5" barrels. This review takes a closer look at the stocked version outfitted with the 20" barrel.



590S Features
At the heart of Mossberg's 590 is an aluminum receiver treated with a Type II anodized matte-black finish. Other small aluminum components are anodized to match. The grooved top of the receiver is drilled and tapped for scope mounts. The top-mounted, sliding polymer safety is intuitively positioned for bilateral operation.
The bolt assembly is cycled manually via a pair of non-binding action bars attached to the sliding fore-end. The bolt sports dual extractors and forms a positive steel-to-steel lockup with the barrel's chamber. The shell elevator is paired with an aluminum magazine follower for positive feeding. The fire-control group is set in a polymer housing with a rounded trigger guard that protects a smooth-faced, steel bow trigger.


The carbon-steel, round-profile barrel is treated with a matte-blued finish that matches the receiver. The tubular magazine is easy to clean, thanks to a removable cap that provides access to the follower spring and interior of the tube. These models feature black synthetic furniture, and all models come with sling-swivel studs installed at the factory.
The modifications that allow the 590S series to reliably feed three 12-ga. shell lengths are found in the action. Accommodating 1¾" shells called for a re-engineered trigger group, a bolt slide with a revised cam surface and a shell elevator with an extended and modified shell guide. A shock-absorbing rubber bumper was also added at the rear of the elevator port.
These new modifications have no noticeable impact on the function of the shotgun. All of the controls operate in typical 590 fashion with no levers, buttons or accessories that have to be adjusted in order to run the gun with short shells. In fact, 1¾", 2¾" and 3" shells can be mixed together and loaded into the magazine in any order the operator prefers. While the levels of felt recoil will change with mixed shells, the smooth feel and reliable feeding when cycling the action remains consistent, regardless of shell length.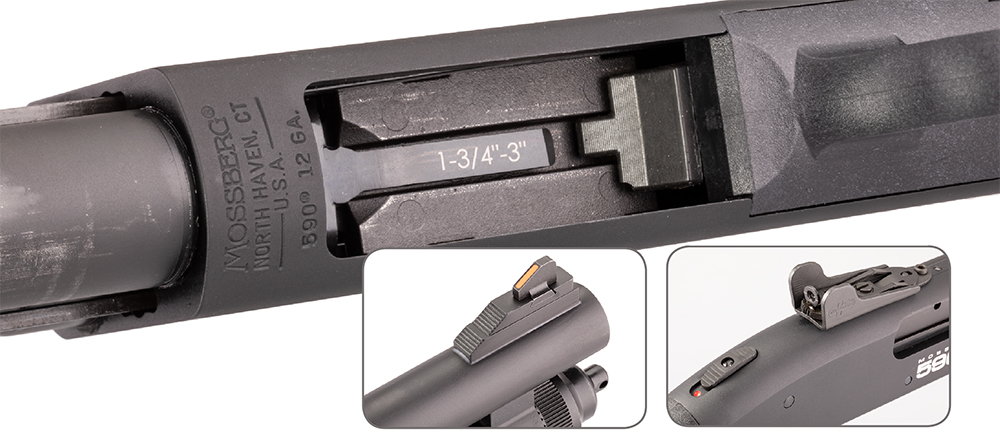 The brass-bead front sight of the 18.5"-barreled model has been upgraded on the 20" barreled gun to a serrated sight block topped with a dovetailed blade treated with high-visibility orange enamel. The receiver is fitted with a fully adjustable ghost-ring rear sight assembly. The barrel has a second ringed magazine extension that supports a bayonet lug. Although the other models in the series have fixed open chokes, the barrel of the 20" version is threaded to accept removable AccuChoke-type choke tubes. The gun ships with a cylinder bore (0.729") tube installed at the factory, and a simple choke wrench is provided.
One model of the 18.5"-barreled, full-stock gun features an 8"-long, seven-sided tactical fore-end with M-Lok-compatible accessory slots molded in at the 3-, 6- and 9-o'clock positions that can be used to mount a variety of AR-15-type accessories, including vertical grips, hand stops and flashlights. The trigger of the shotgun tested was smooth with a clean break and a short arc of travel. It exhibited an average trigger pull of 6 lbs., 5 ozs., according to a Lyman digital trigger gauge.
The lightweight polymer shoulder stock provides a 13.87" length of pull (LOP), and it's capped off with a vented and textured soft rubber recoil pad. For those who prefer an adjustable AR-15-pattern stock for their tactical shotguns, Mossberg offers a 590-compatible, six-position-adjustable shoulder stock with pistol grip as an accessory. This shotgun tips the scales at 7 lbs., 6 ozs., unloaded. The longer barrel and upgrades increase the suggested retail price of this model by $108 (to $731) when compared to the prices of the other three guns in the series.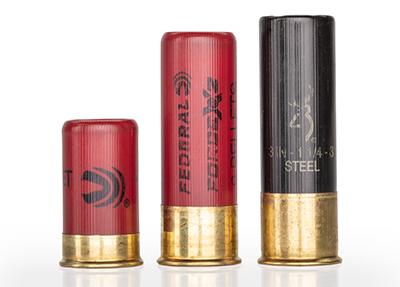 More About 12-ga. Mini Shells
The 2¾" 12-ga. shell length is by far the most popular around the world and is considered by some to be the "standard" size for this gauge. However, ammunition manufacturers have been adjusting this shell's length since its inception. Most modern shotguns have chambers configured for both 2¾" and 3" shells, while some sporting models will accept 3½" magnum shells intended to provide performance comparable to some 10-ga. loads.
Shells shorter than 2¾" have come and gone over the years, but it's the 1¾" options that have gained a toehold in the U.S. shooting market. Although this shell showed up around the late 2000s, more compact 12-ga. shotshells were feasible ever since the advent of smokeless powder. Shotgun shells were originally filled with relatively bulky blackpowder charges that occupied much of the space inside the hull. However, cutting open modern sporting shells reveals a sizeable gap between the much smaller smokeless powder charge and the payload. This empty space is usually bridged with various types of wadding.
The reasoning behind the development of shorter 12-ga. shotgun shells is threefold: Shorter shells are easier to pack along in the field and allow more rounds to be carried. Due to their adjusted payloads and velocities, short shells produce modest levels of felt recoil, which, in turn, makes them more comfortable to work with. Finally, reduced shell length allows additional rounds to fit into a pump-action's tubular magazine. Keep in mind that overall shell length measurement is based on a fold-crimped (star-crimped) hull's fired length. A 2¾" shotshell's unfired length is closer to 2¼". This means that an unfired 1¾" mini is 1½" long when it's fed into the magazine.


Mini shells have yet to take the market by storm because they have been somewhat limited in their usefulness up until now. They have been a handy reduced-recoil option for break-action single- and double-barrel shotguns. However, they are a no-go for sporting or defensive semi-automatics. The folks I've met who build gas guns say the only way to make minis work in their platforms is to build mini-shell-only models. Because felt recoil is already more manageable with semi-automatic shotguns, there is less demand for a "mini" gas-operated shotgun at this point.
That brings us to the much loved, ultra-reliable and rugged pump-actions. Prior to purpose-built models such as the 590S, feeding with mini shells has been hit-and-miss. The shorter shells run reliably in some factory-configured guns while rattling around in the elevator ports of others, causing the guns to jam.
To alleviate these feeding issues for the Mossberg 500 series shotguns, OPSol Texas offers the Mini-Clip. It's a wedge-shaped rubber block that is pressed into the back of the shotgun's elevator port to act as a buffer that positions mini shells on the shell elevator for proper feeding. It works well but has two key limitations. The Mini-Clip has to be removed in order for the gun to feed longer 2¾" or 3" shells. Also, although I have yet to see it happen, there is the possibility that the Mini-Clip could fall out of the receiver at an inopportune moment, rendering the gun inoperable until the device is replaced or the gun is reloaded with longer shells.
As a result, we've seen the chicken-or-the-egg balancing act that often accompanies new commercial cartridges. Ammunition manufacturers wait to invest in new loads until there are guns to shoot them, and gunmakers bide their time waiting for enough ammunition to be available to launch compatible guns for them.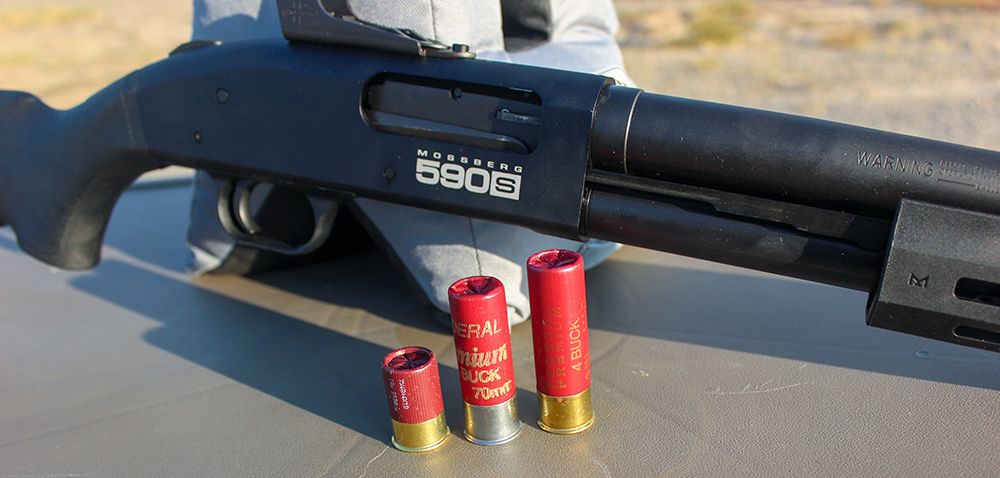 The company that got the shorter-shell game rolling in this instance is Aguila Ammunition. Located in Cuernavaca, Morelos, Mexico, this company has been making ammunition since the 1960s. The Aguila Minishells are currently available in three configurations and sold in 20-round boxes. They include a fold-crimped 5/8-oz., No. 7½ birdshot load at 1,200 f.p.s. and a roll-crimped 7/8-oz. slug load at 1,300 f.p.s. This company's fold-crimped buckshot load is unusual because it mixes shot pellet sizes, including seven No. 4 buckshot and four No. 1 buckshot for a total payload weight of 5/8 oz. at 1,200 f.p.s. I've worked with all three Aguila loads over the years and have found them all to be reliable.
But the real tipping point for shorter shells arrived in 2019 with two key events. First, Federal Premium Ammunition launched its Shorty 12-ga. lineup, which includes a 15/16-oz. No. 8 lead birdshot load at 1,145 f.p.s., a 15-pellet No. 4 buckshot round (1,200 f.p.s.) and a Foster-style, 1-oz. rifled slug at 1,200 f.p.s. Second, the Sporting Arms and Ammunition Manufacturers' Institute (SAAMI) finally standardized the then decade-old mini shell, thanks in part to Federal Ammunition's efforts. Once a chambering has SAAMI specifications, it opens the doors for more manufacturers to add it to their catalogs.


Trigger Time
In June of 2021, I was invited to join a group of media members at Gunsite Academy to get a sneak peek at the 590S. While there, I had the opportunity to fire different versions of the platform in various shooting-class-style exercises. But the model I wanted more time range time with after the event concluded was the 20" barrel version, which offers the maximum ammunition capacity of the series. The full-length magazine tube holds up to seven 3" shells or eight 2¾" shells. Switching over to a full load-out of 1¾"-long mini shells brings the magazine capacity up to 13 rounds.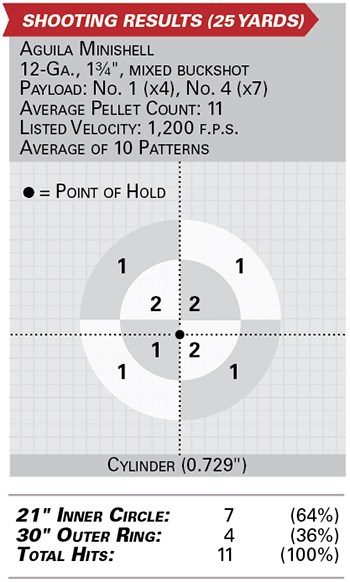 At the shooting event, we fired Aguila Minishells and Federal Shorty shells, along with a mix of Federal 2¾" and 3" birdshot and slug loads to keep things interesting. The 590S lived up to the promise of being reliable, even when mixing up shell lengths and shot types. The production-grade sample guns I worked with after the event were just as reliable. The felt recoil produced by the short shells is almost laughably mild, especially after racking off a few full-power rifled slugs.
For the most part, my tests of buckshot-filled short shells fired from defensive shotguns have been conducted at close-range distances of 7 to 10 yards. There's an old rule of thumb that says one can expect riot gun barrels with cylinder-bore chokes to cause shot patterns to gain about 1" of spread per yard traveled. But it's not uncommon for 2¾" and 3" buckshot loads to form much tighter groups than this; I've seen the 14"-barreled 590 Shockwave knock out a 1.75" group that was nearly a ragged hole at 7 yards with a 2¾" No. 4 buckshot load.
But Aguila's Minishell 11-pellet buckshot load tends to follow the 1"-per-yard rule most of the time. A test target fired with the factory-installed cylinder-bore choke yielded a 6.25" pattern. Formal pattern testing consisted of 10 rounds fired at 25 yards. At this distance, an average of seven of the 11 pellets landed within the 21" inner ring, while the remaining four pellets tended to land in the 30" outer ring. For in-the-home defensive situations, this gun, choke and ammunition combination forms sufficiently tight groups. But I would want to conduct additional testing with various choke sizes to see if the pattern could be tightened up before considering it for greater distances.
Parting Thoughts
The Mossberg 590S series represents another innovative step forward for this well-respected tactical shotgun platform. Configuring the action to reliably cycle 1¾" short shells along with standard 2¾" and 3" loads makes it a more flexible and accessible option for those who are looking to take advantage of a broader range of 12-ga. ammunition. Increased ammunition capacity and reduced levels of felt recoil are two features that home defenders are seeking. Being able to mix and match shell lengths within the magazine allows them to customize their ammunition loadouts to meet specific needs or to make the most of the loads currently available to them.
We often talk about gun-and-ammunition combinations that young or new shooters can grow into. But we don't often address platforms that gun owners can age into gracefully. In the past, I've pointed readers looking for reduced-recoil options toward Mossberg's compact 20-ga. and .410-bore pump-actions, along with suitable buckshot loads. However, the 590S is a 12-ga. shotgun that can be loaded up to its full performance potential for those who are willing and able to manage stout levels of recoil or loaded down to more manageable levels without having to switch guns or gauges. Shotguns built to reliably cycle mini shells will stimulate increased interest in a useful chambering that deserves more attention than it's currently receiving and hopefully inspire other ammunition manufacturers to add these compact 12-ga. rounds to their catalogs.