Alcohol and firearms do not mix, period, ever-not even in the afterlife. However, if enjoying an adult beverage responsibly with loved ones after firearms are properly stored is part of your family tradition, this year you have the option of buying from a firm that still celebrates the Second Amendment.
The label may seem slightly familiar. It reflects the look of Winchester and Remington boxes of yesteryear, a deliberate hat tip from the company. I have a bottle of the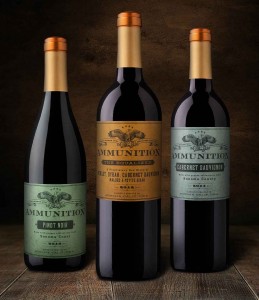 company's "The Equalizer" reserved for Christmas Eve-if the label doesn't loosen up the conversation, the wine's hint of cedar and celebratory note of fig and cherry will suffice. It's interesting to note the company's choice of name was because of the quality at an affordable price point, not some sort of Hollywood-driven marketing ploy.
One of the company's co-founders is a card-carrying NRA member who grew up hunting with his father in Nebraska. He lives in California now, but has not lost his passion for the shooting sports, especially clays (his father owns a firm that makes specialty shotshell components). I spoke with him at length and he's a genuine gun guy.
The website says it all: "Raised in families of outdoorsmen, we created these wines with the passion of our fathers and as an expression of the freedom in the American Spirit." If you're wondering about quality, it also explains, "Our wines are made from some of the best vines in the Sonoma Valley and Sonoma Coast…"
In addition, the NRA has a wine club if you don't find anything that suits your tastes. That means there's no longer any excuse for lining the pockets of companies that don't understand the Second Amendment's critical role in our freedoms-even during this time of year.
Celebrate responsibly. Do it safely. And, happy holidays to one and all!