by
posted on October 2, 2021
Support NRA American Rifleman
DONATE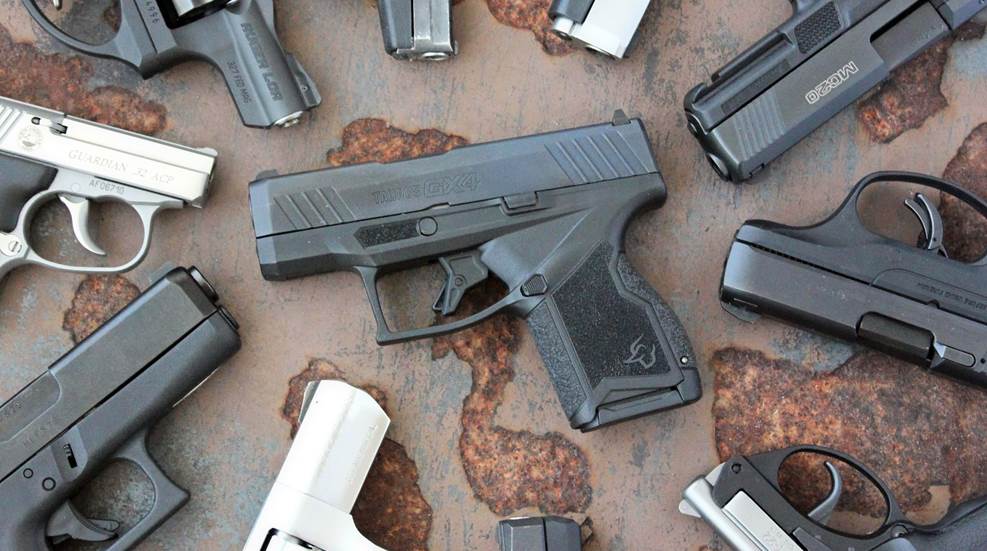 Viewers who tuned in to the first MTV cable channel broadcast in 1981 were treated to the Buggles performing "Video Killed the Radio Star." This toe-tapping tune predicted old-school radio stations would soon be taking a back seat to this more engaging audio-visual experience. And for a time, they did. But four decades later, music videos have blended into the mass media mélange while plenty of folks are still listening to the radio as they drive to work.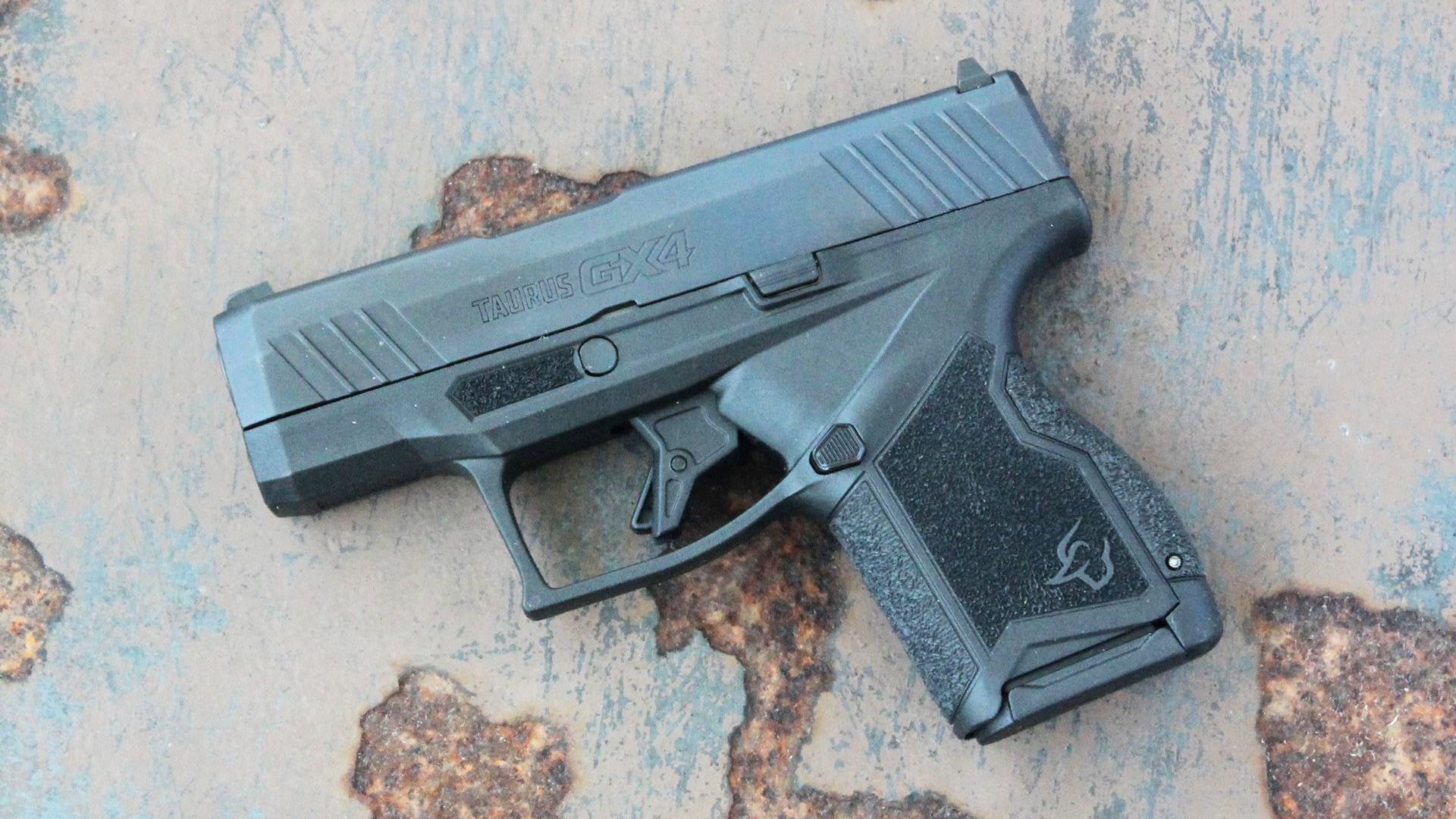 The Taurus GX4 is the company's response to recent requests for an affordably priced Micro 9. 
We've seen similar predictions in the shooting industry. Right now the hot topic of conversation in the self defense community is the burgeoning sub-compact class of carry pistols dubbed the 'Micro Nines.' Much like the 'Wunder Nines' of the 1980s, these little double-stack semi-automatic pistols are attracting pundits who say they are the best thing so far. But as the industry's history has shown, hot gun trends can make big waves without necessarily sinking boats that are already in the water.
Let's break out the crystal ball and see how a few popular carry options may fair against the new Micro Nines in a head-to-head bout for American concealed-carry holster space.
Mouse Guns
A few years ago, I wrote a heartfelt eulogy for the small-caliber pocket pistols collectively and colloquially referred to as 'mouse guns.' These are among the smallest of the semi-automatics intended for concealed carry, including models chambered for .22 LR, .25 ACP and .32 ACP. They were favored for many years by those who wanted the smallest, lightest gun possible for daily carry or for those situations in which something larger would not be a good fit.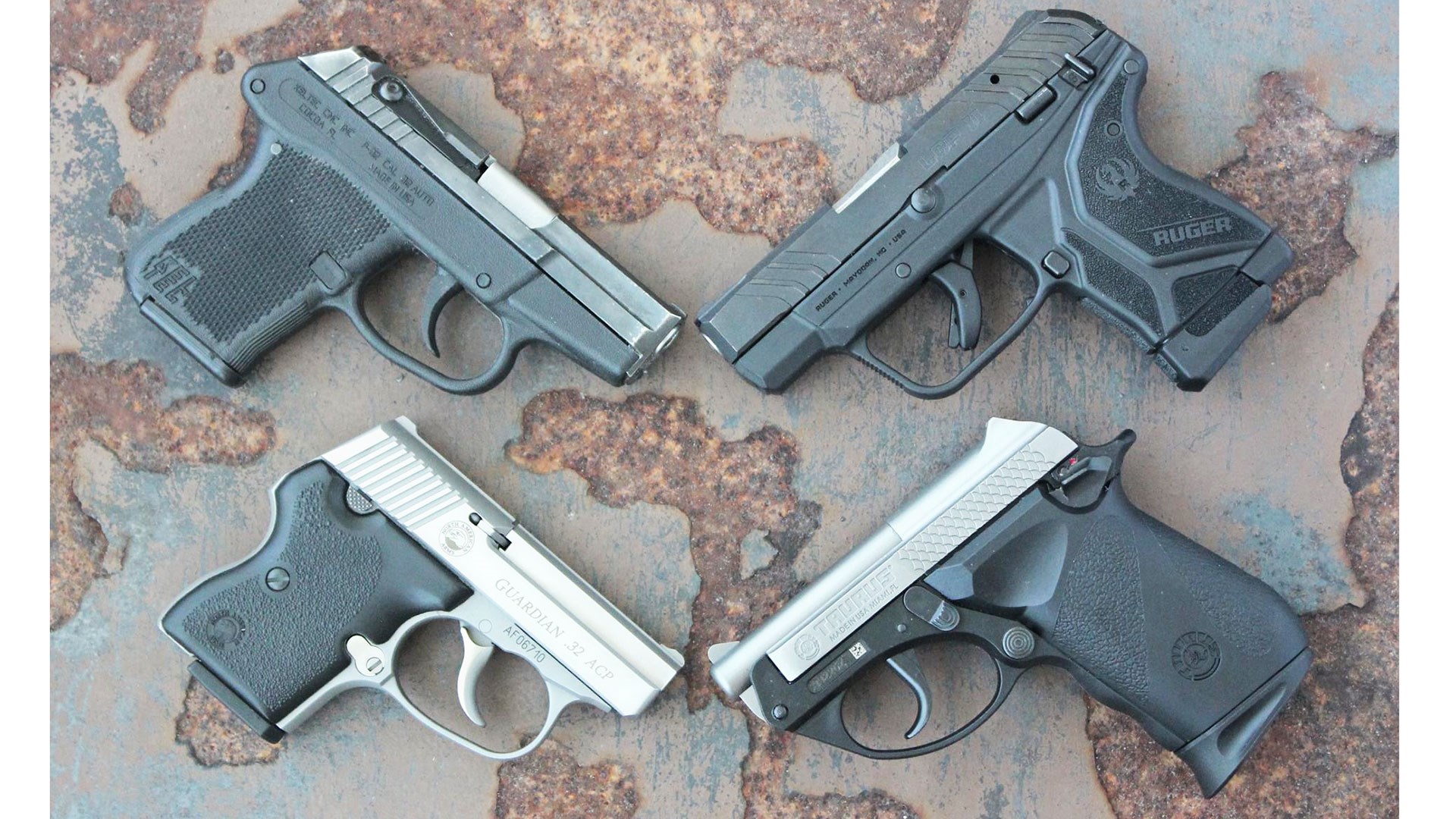 Kel-Tec P32 (Top Left), Ruger LCP II Lite Rack, North American Arms Guardian and Taurus PLY-22.
But mouse guns are not what anyone would consider power-house defensive options (thus the rodent-inspired moniker). Small pistols chambered in 9 mm offer such a marked boost in performance that many are willing to work around their larger size. At this point, I think it's safe to say that .25 ACP mouse guns are well and truly dead. A few of the smallest .32 ACP pistols, like the Kel-Tec P32, will continue to hang on by their fingernails for now. Their power-to-size ratio is still quite good when an exceptionally small pistol fits the bill.
Although some would say the demise of mouse guns are a foregone conclusion, the mousers that are most likely to survive the Micro Nines are the .22 LR models, such as the Ruger LCP II Lite Rack and the Taurus PLY-22. Not because of their epic stopping power but because they are quite small, they produce low levels of felt recoil and they are more affordable to shoot.
.380 ACP Pocket Pistols
Starting in the late 2000s pocket pistols chambered for .380 ACP became all the rage.  Although pocketable .380s were not a new concept, the Ruger LCP had that just-right balance of features that inspired strong sales and a wave of competing models, including the Kahr Arms CW380. The popular .25 ACP and .32 ACP pocket guns of the day did fade out in favor of the similarly sized .380s.
Kahr Arms CW380 (Left) and Ruger LCP Max.
Some folks are going to say that I'm making an apples to oranges comparison here because a 7-shot .380 ACP and a 13-shot Micro Nines are not in the same class. That's true since Micro Nines are not quite small enough to be pocket pistols. But for those who are buying their first carry guns, or looking to upgrade, the Micro Nines are likely to lure them away from the .380s .
That being said, Ruger is once again striving to keep its LCP pocket pistol franchise on the shooting community's radar with another recent release. The LCP Lite Rack II .22 LR mentioned above, which was released in 2020, gave the company a toe hold in the mouse gun category. For 2021, the new LCP Max is a variation of the .380 ACP which accepts a flush-fit 10-round magazine or an extended 12-round magazine with only a negligible change in the pistol's grip thickness. For those who need a pocket-size pistol, this version of the LCP is more likely to take a Micro Nine's place.
Snub Nose Revolvers
In 1950, Smith & Wesson launched its famous J-Frame revolver series with the release of the .38 Chiefs Special.  This short-barreled (snub-nose), compact size 5-shot revolver became a template for concealed carry that has influenced several designs including the Ruger LCR, Ruger SP101 and Taurus 856UL. Snub-nose revolvers are comfortable to carry, reliable and easy to operate.
But, and I say this as a revolver fan, it's getting harder to justify carrying 5-shot .38 Special snubbies when Micro Nines offer a comparable level of performance with slimmer profiles, faster reload times and ammunition capacities of 11- to 14-rounds. I won't be surprised if the sales of .38s take a hit as the Micro Nine movement continues to evolve.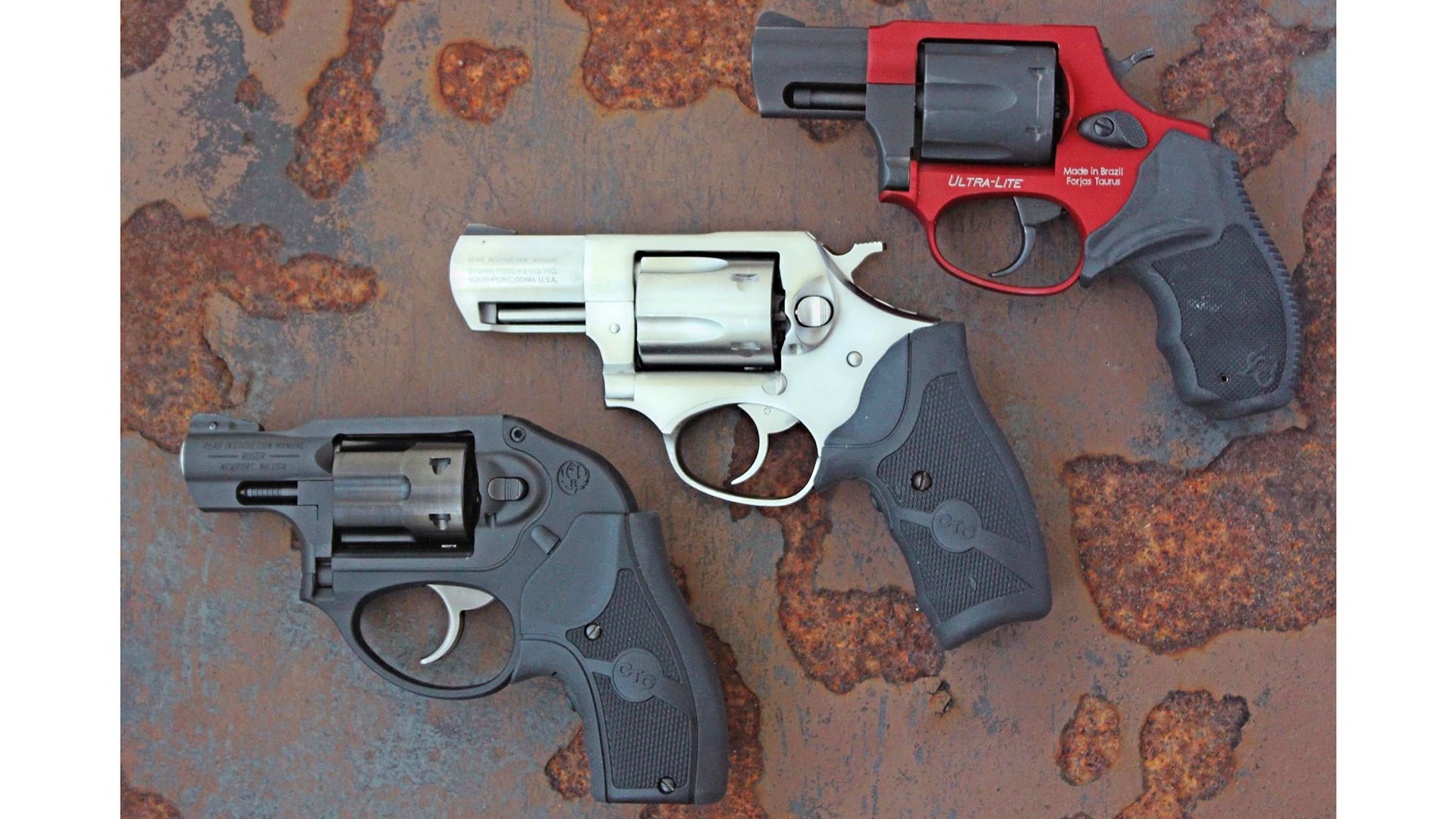 Ruger LCR, Ruger SP101 and Taurus 856UL.
Even still the J-Frames have proven to be a durable defensive category. They offer more diverse ammunition options including hard hitting .357 Mag. models that can also double as trail guns. Snub guns chambered in rimfire calibers like .22 Mag. and .22 LR are much easier to operate for those who are recoil sensitive. These little wheel guns are going to keep hanging around because of their ease of use and reliability. Some folks just plain prefer revolvers over semi-automatics and there's nothing wrong with that.  
Single-Stack Sub Compact & Double-Stack Compact 9 mm Pistols
I'm rolling these two 9 mm pistol categories together for a reason. Micro Nine pistols are the answer to customer requests for an option that successfully splits the difference in size and ammunition capacity between the smaller single-stack sub compact 9 mm pistols and the larger double-stack compact models.
The single-stacks came into vogue around the mid 2010s to compete with pocket .380s. Only slightly larger, these slim nines were more potent with a much more diverse and less expensive ammunition selection. But some folks chaffed at relatively limited magazine capacities of 6- to 8-rounds and narrow grips that can be uncomfortable to work with.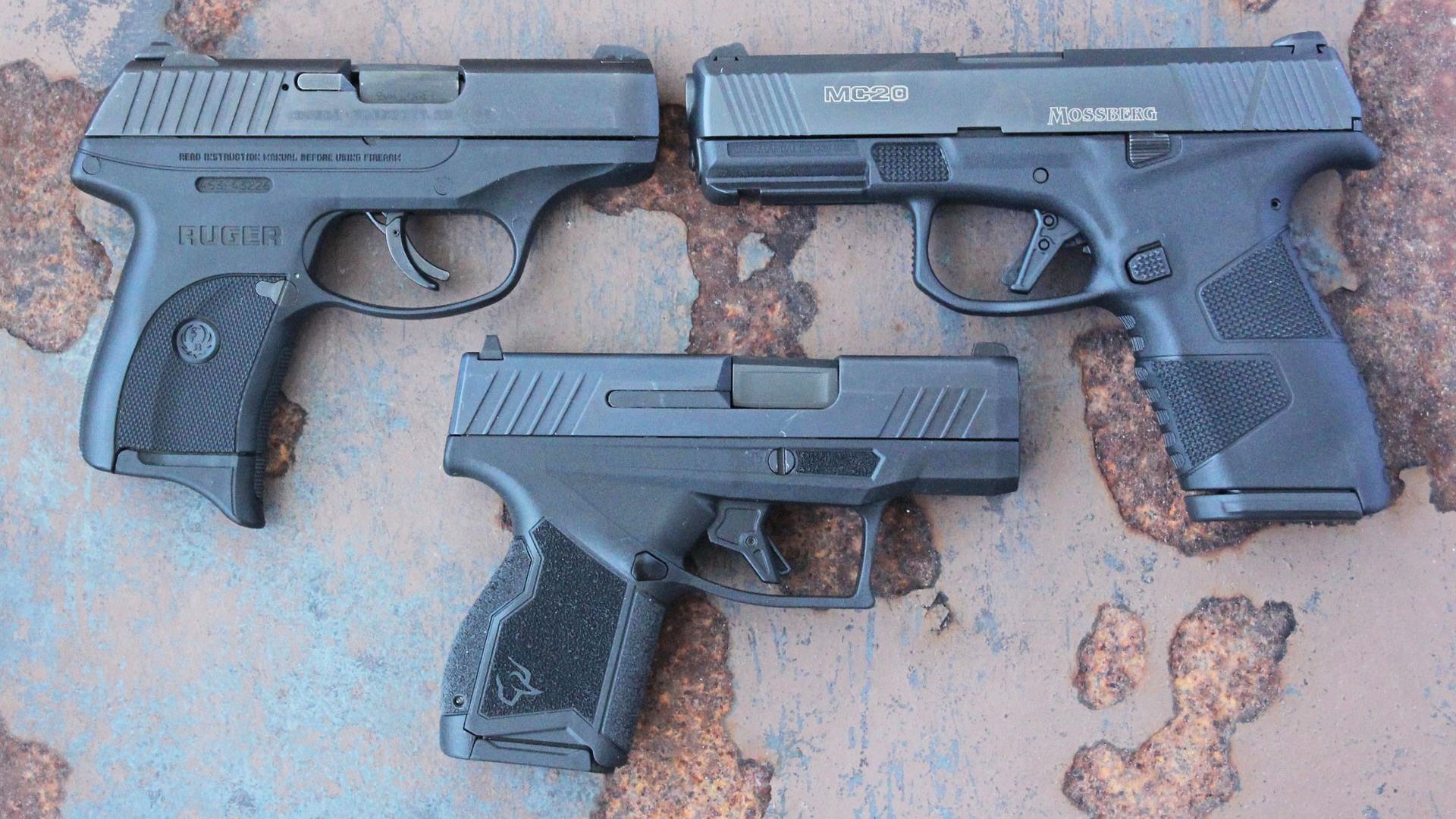 The single-stack Ruger LC9 (Left) and Mossberg MC2c (Right) compared for size to the Taurus GX4.
The compact nines, which are trimmed down versions of popular duty-size, double-stack pistols, have held the self defense high ground for some time now. They continue to be among the most popular firearms in the United States because they offer more comfortable grip shapes, magazine capacities of around 15 cartridges and they are easier to carry that duty-size guns. Nevertheless, they are relatively bulky compared to the single-stacks.
Because the Micro Nines offer a sub-compact profile with a double-stack ammunition capacity, it's safe to say that of the various handguns mentioned here, the single-stack sub compact nines are the most likely to take a hit in sales. There is likely to be some impact to compacts but they're popular for good reasons. These pistols hold more ammunition that the Micro Nines and they are more comfortable to practice with at the shooting range.
Sub Compact .45 ACP Pistols
Gun writers are assiduously tiptoeing around conversations regarding the future fate of the venerable .45 ACP pistol cartridge. Few tears were shed when the .40 S&W was largely retired by law enforcement agencies over the last few years in favor of side arms chambered in 9 mm. Does the demise of this mid-bore cartridge portend a similar fate for the big-bore .45 ACP? That's a story for another day. For this conversation, I'm going to focus on sub-compact .45 ACP pistols, like the Glock G36.
The .45 ACP is still in action more than 115 years after its inception because it works. Whether the cartridges are topped with hollow point, full-metal jacket or cast lead bullets, this round has a long and decorated history of stopping threats effectively. So it makes sense when packing a smaller pistol to want one chambered in a caliber that can get the job done.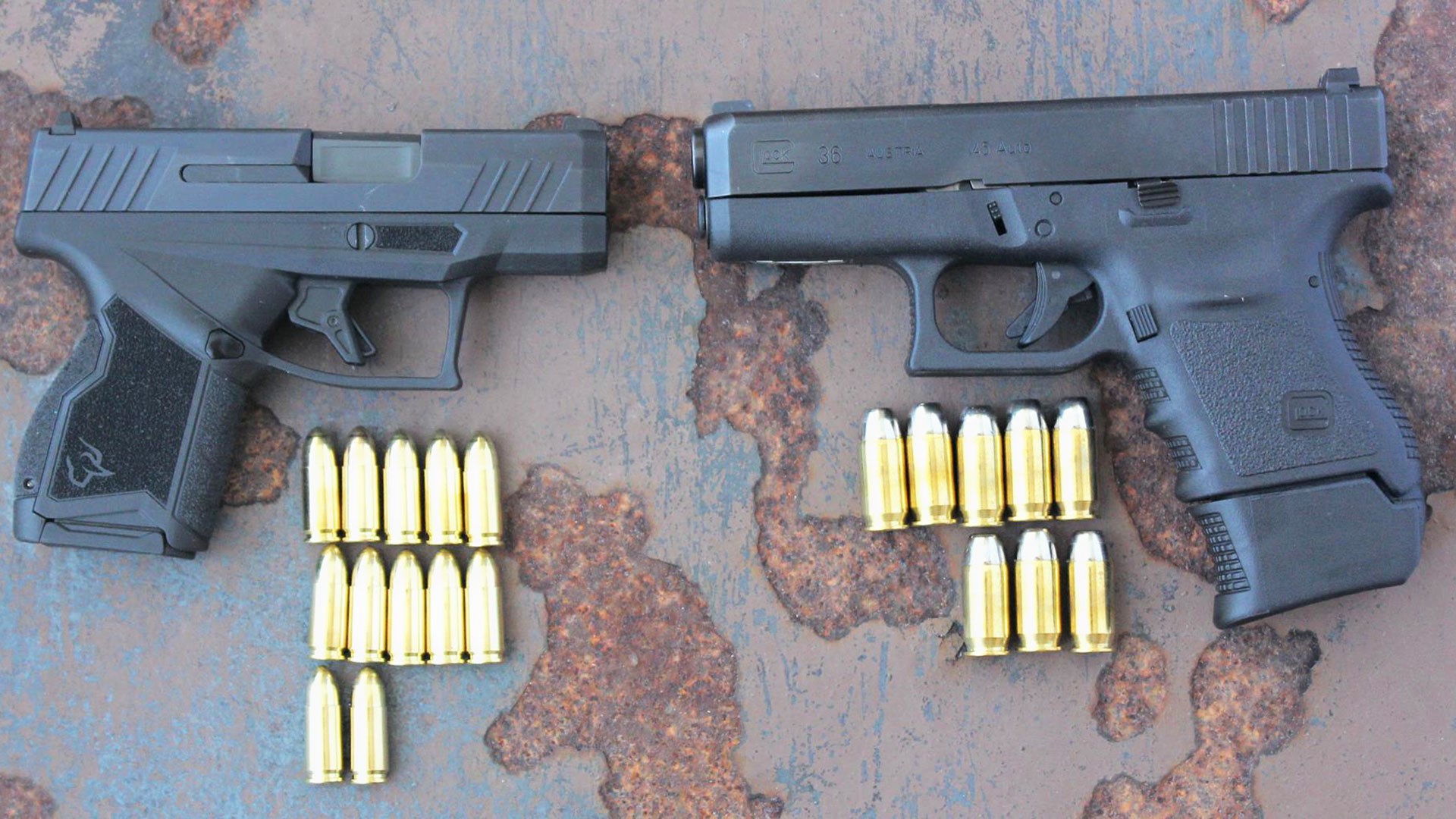 The Taurus GX4 (Left) compared to the Glock G36.
However, .45 ACP comes with the trade off of a reduced ammunition capacity when compared to 9 mm pistols of similar sizes. The Glock G36 holds 7+1 rounds with the +1 magazine extension shown here. The Taurus GX4 Micro 9 holds 11+1 rounds with the flush-fit factory magazine, or 13+1 with an extended magazine. That's nearly double the shots in a more compact package.
Ammunition for .45 ACP pistols has historically cost more to purchase than 9 mm and it tends to produce more felt recoil. These factors along with the improvements we've seen in 9 mm bullet designs is making it harder to say that if you're buying a carry gun today a little .45 semi-automatic is the obvious choice.
Do you have plans to trade out your daily carry gun for a Micro Nines, or are you sticking by the guns you've got?