Support NRA American Rifleman
DONATE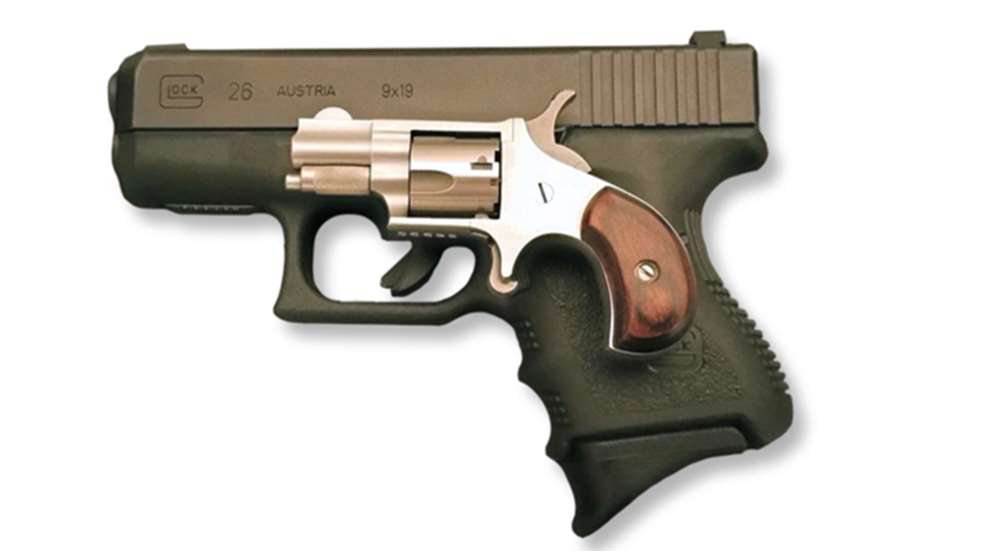 Recently, Michael Humphries posted "Today's Mighty Mega Handguns," which discusses some of the largest and most powerful semi-automatics and revolvers available. But where there's one extreme, there's always the other. In this case, it would be concealed-carry pocket pistols, which are among the smallest handguns you can buy. 
Thanks to the ever growing carry market, there are literally dozens of similarly sized pocket rockets to choose from. In order to narrow the list down, I opted to focus on the six smallest handguns I've had a chance to handle or work with. Here they are in descending order, from the largest caliber to littlest: 

6. Bond Arms Cowboy Defender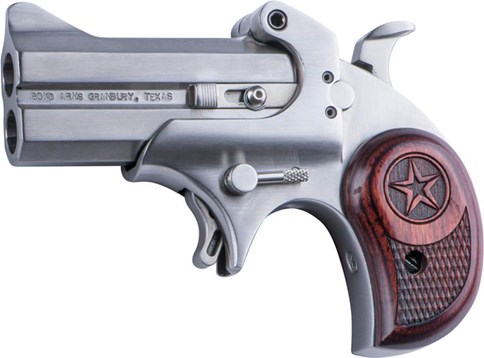 Bond Arms advertises its caliber-convertible double-barrel pistols as the smallest, most powerful personal protection you can buy. Take a look around and you'll be hard pressed to find anything else that can be as easily tucked into a jeans pocket or purse while boasting such beefy big-bore caliber options as the .357 Mag., .44 Spl., .45 Colt and 10 mm. The Cowboy frame does away with the removable trigger guard and sports the company's compact laminated grip. It ships with a 3.00" barrel chambered to fire .45 Colt and 2½" .410 shotgun shells. 
Last year, I used the Cowboy frame and a 3.00" conversion barrel to assemble what is probably the smallest 10 mm pistol available. The Back-Up version of this pistol sports a 2.50" barrel, making it smaller and lighter than the Defender models. However, the 2.50" conversion barrels are only available in a few calibers. I selected the Cowboy Defender for this list because its 3.00" conversion barrels are available chambered in every caliber option the company has to offer. 
NRA Specifications
Model: Cowboy Defender (BACD)
Caliber: .45 Colt /.410
Barrel Length: 3.00"
Overall Length: 5.00"
Height: 3.60"
Slide Width: 0.95"
Grip Width: 1.20"
Weight: 19 oz., Unloaded
Capacity: 2 Rounds
MSRP: $493  

5. Diamondback DB9 9 mm Pistol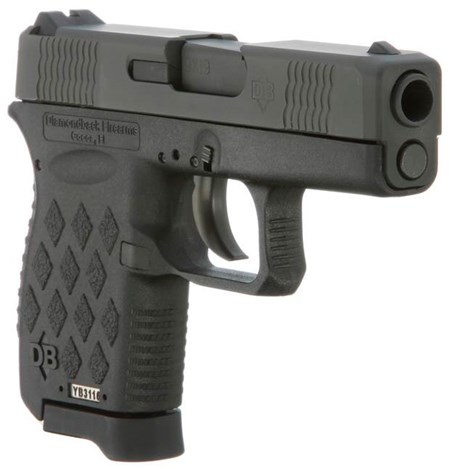 I've shot my fair share of compact, single-stack 9 mm pistols, including the Glock G43, Bersa BP9cc and SIG Sauer P290. But of all the little 9 mms I've tried so far, I can safely say the Diamondback DB9 is the smallest in overall size and weight. Tipping the scales at just 12.8 oz., the DB9 is almost half the weight of the other models mentioned above. 
The DB9 is based on Diamondback's DB380 .380 ACP with dimensions that are nearly identical. However, trimming a 9 mm down to .380 size does have its limitations. The DB9 should not be fired with +P or +P+ ammunition. Shooters need to stick to standard pressure loads only. But then again, from a recoil management perspective, it's a good idea anyway. The pistol is shootable with solid defensive accuracy but it does require a firm grip to operate properly. 
NRA Specifications
Model: DB9
Caliber: 9 mm
Barrel Length: 3.00"
Overall Length: 5.60"
Height: 4.00"
Slide Width: 0.81"
Grip Width: 0.80"
Weight: 12.8 oz. with Empty Magazine
Capacity: 6+1 Rounds
MSRP: Starting at $431

4. Kahr Arms CW380 .380 ACP Pistol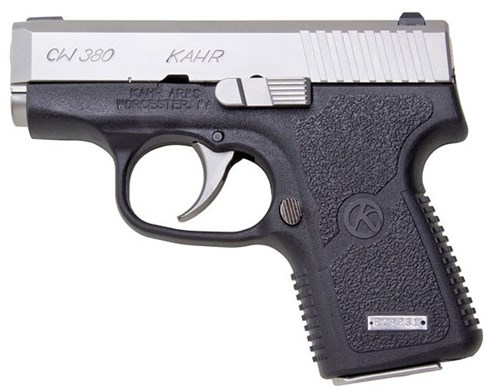 Pocket pistols chambered in .380 ACP continue to offer a useful middle ground between the weaker "mouse guns" (.22 LR, .25 ACP, .32 ACP) and the larger 9 mm offerings. At this point in time, there are several pocket .380s to choose from that are about the same size and weight. But one that stands out in my mind as being both diminutive and shootable is the Kahr Arms CW380, which is the budget-friendly version of the company's P380.
It's common for pocket-sized .380s to have blowback-operated actions, which makes the levels of felt recoil fairly intense. The CW380 has a locked-breech action that slows the rearward movement of the slide which in turn reduces felt recoil. It also has an excellent trigger with a smooth trigger pull and a wide, rounded trigger face that makes it comfortable to work with. 
NRA Specifications
Model: CW3833
Caliber: .380 ACP
Barrel Length: 2.58"
Overall Length: 4.96"
Height: 3.90"
Slide Width: 0.75"
Grip Width: 0.78"
Weight: 11.4 oz. with Empty Magazine
Capacity: 6+1 Rounds
MSRP: $419
3. Kel-Tec P32 .32 ACP Pistol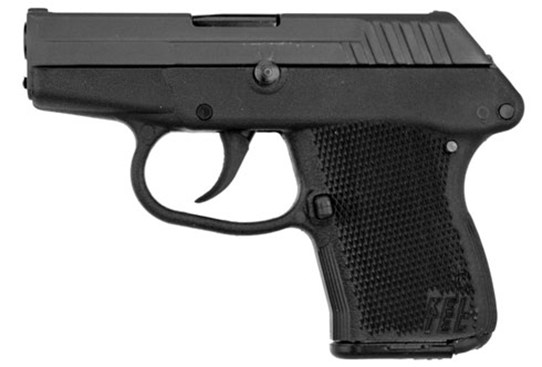 Today's gun manufacturers are competing for the pocket space of their customers with ultra-compact .380s and 9 mms. But back in the late 1990s and early 2000s, there was a demand for as-small-as-possible pistols chambered in .32 ACP. The pistol that probably inspired this .32-caliber arms race was the Seecamp LWS. It was as small and sleek as the then popular .25 ACP pistols while offering a significant increase in stopping power. 
The Seecamp's competitors included the North American Arms Guardian, the Beretta Tomcat and the Kel-Tec P32. We could argue that the Seecamps and Guardians have slightly shorter barrels and grip frames than the Kel-Tec P32. However, the polymer framed P32 only weighs 8 oz., making it lighter than the other pistols mentioned here by 2.5 to 7.6 oz. In my book, that makes it 'the smallest' option.
Despite having been overshadowed by larger caliber options, the P32 is still on the market because it is so small and lightweight. There are plenty of useful holsters and accessories to choose from, including the Crimson Trace LG-430 Laserguard laser sight. 
NRA Specifications
Model: P32
Caliber: .32 ACP
Barrel Length: 2.70"
Overall Length: 5.10"
Height: 3.50"
Slide Width: 0.74"
Grip Width: 0.69"
Weight: 8 oz. with Empty Magazine
Capacity: 7+1 Rounds
MSRP: Starting at $326 

2. FN "Baby Browning" .25 ACP Pistol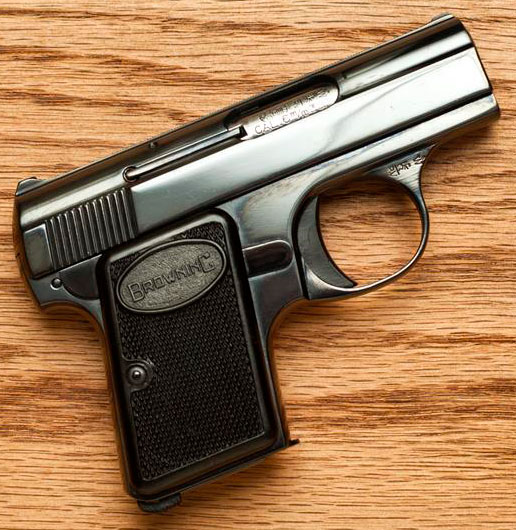 Back in 1969, my dad picked up one of the last Belgium-made FN "Baby Browning" pistols to make it into the country before the Gun Control Act of 1968 blocked them from importation. Don't let the small size and caliber fool you, these little blued-steel semi-automatics have the clean lines and precision machining of a Swiss watch. The Belgium Brownings are one of the few .25 ACPs that can be counted on to run reliably. 
However, this is not the easiest pistol to master. The Baby Browning's slick, thin grip frame only provides enough room for a one-finger grip. Therefore it tends to buck and twist when it recoils. The lack of a beaver tail above the grip frame exposes the shooter's hand to the sharp edges of the recoiling slide. As a result, it will bark the skin off the shooting-hand thumb knuckle if the operator is not paying attention (the inside joke in my family is that the Baby's slide is nearly as lethal as the cartridge it fires). 
The FN version of this pistol is no longer in production although they do crop up on the used pistol market from time to time. The good news for those who appreciate this little .25 is that Precision Small Arms provides a faithful American-made replica of the Baby Browning in a variety of finish options.
NRA Specifications
Model: FN Baby Browning
Caliber: .25 ACP (6.35×16mmSR)
Barrel Length: 2.11"
Overall Length: 4.10"
Height: 4.00"
Slide Width: 0.68"
Grip Width: 0.82"
Weight: 9.3 oz. with Empty Magazine
Capacity: 6+1 Rounds
*MSRP: Precision Small Arms Models starting at $799
1. Smallest of All: The North American Arms NAA-22S .22 Short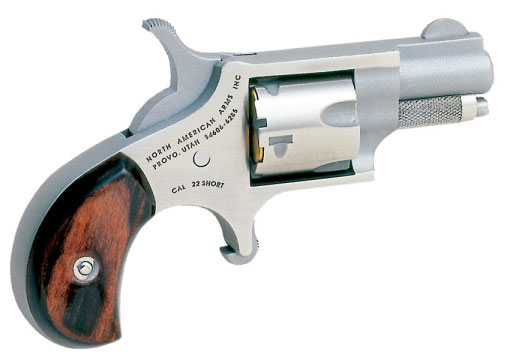 I remember reading a magazine article years ago in which the writer was laboring strenuously to convince his audience that the double-stack Glock G26 9 mm was the tiniest, littlest, most itsy-bitsy concealed-carry gun anyone could ever hope for. I chuckled to myself thinking that the reviewer must not have ever laid eyes on the truly diminutive North American Arms Mini revolvers, in particular, the NAA-22S chambered in .22 Short. So, here's a look at this revolver side-by-side with a G26 to give you an idea of how small this mini really is.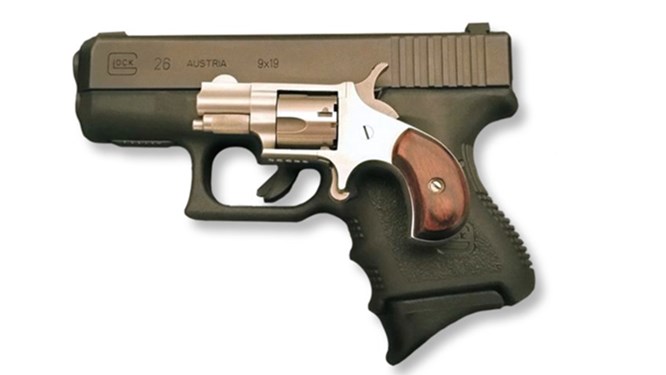 I've heard rumors of the smaller Minis being tucked inside the cowboy hats and drink cups of undercover police officers who could not carry any other type of firearm during their assignments (but I have yet to confirm if the stories are true). We've posted reviews for Minis chambered in .22 Mag., including the Black Widow and Sidewinder. But we have yet to put the NAA-22S or the similarly sized NAA-22LR chambered for .22 Long Rifle to the test. If you're interested in a review, let us know in the comments below. 
NRA Specifications
Caliber: .22 Short
Barrel Length: 1.13″
Overall Length: 3.63"
Height: 2.38"
Cylinder Width: 0.78"
Grip Width: 0.88"
Weight: 4.1 oz., Unloaded
Capacity: 5 Rounds
MSRP: $226