by
posted on March 18, 2021
Support NRA American Rifleman
DONATE
Ever since I began my study of defensive handguns, I've been fascinated with pocket pistols. These are the smallest of the small semi-automatics designed to be discreetly concealed for up close-and-personal defensive situations. I believe my preoccupation with petite pocketables can be traced back to one gun in particular: the Baby Browning .25 ACP. Not only is it an exceptionally well-made example of the vest pocket size pistols of the mid-20th century, it's also a little piece of family history as well. 
The story begins with John Moses Browning, the famous inventor of the 1911 pistol. He designed the .25 ACP (6.35×16 mm SR) semi-rimmed pistol cartridge for what would become the M1905 Vest Pocket pistol. It was literally designed to fit in a business man's vest pocket, the one usually reserved for coins. By 1931, Fabrique Nationale d'Armes de Guerre in Herstal, Belgium (FN) launched an even smaller .25 ACP pistol developed by the company's chief designer, Dieudonné Saive.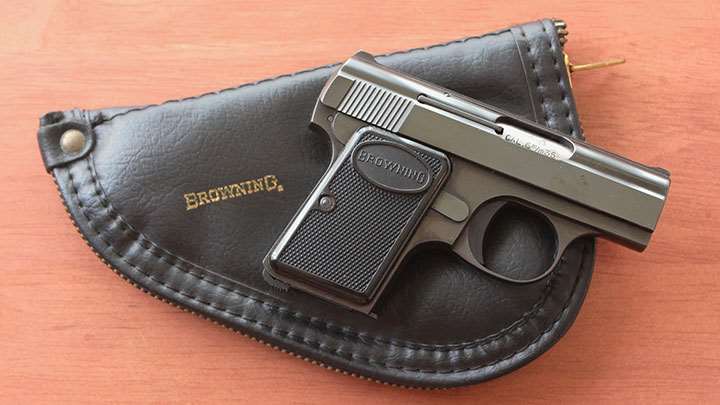 It was dubbed the Baby Browning for the market cachet his name offered, even though Mr. Browning had passed away in 1926. It is a simpler and more refined pistol than the 1905 with features that included a magazine safety and a more intuitive external thumb safety lever, which was moved from the slide down behind the trigger guard. The Baby Browning finally made its way into the U.S. market when the Browning Arms Co. decided to carry it in 1954.
It was a popular seller for several years because of its small size, reliability and high quality of manufacture. However, when the Gun Control Act of 1968 kicked into gear, the Baby Browning was among those small defensive handguns banned from importation. FN continued to make it until 1979, including beautifully hand engraved Renaissance models and the Lightweight version with its 6061-T6-aluminum frame.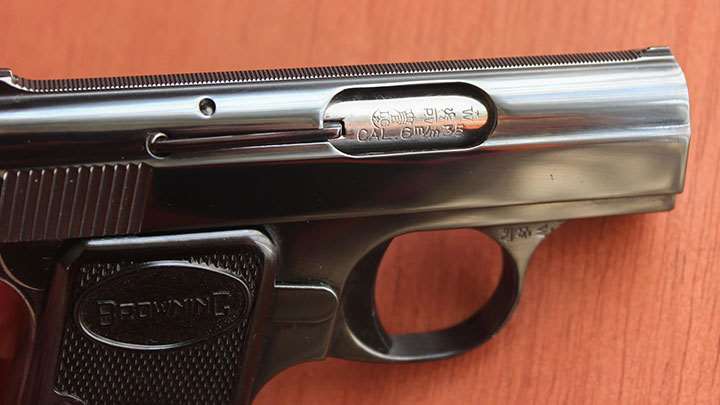 My family's history with the Belgian Baby Browning began in the fall of 1969 with the purchase of a blued steel model made in 1968, which made it into the country just ahead of the ban. My dad had moved the family to Texas in order to participate in a lucrative construction project. Within a few weeks, he noticed irregularities in the staff, work arrangements and inventory provided by the project's partners.

Most of the supervisors had no construction background, whole truck loads of building materials mysteriously disappeared from secured work sites and so on. Some additional digging on his part revealed that what seemed like poor management on the partner's part turned out to be company-wide corruption involving kick-backs, bribery and theft.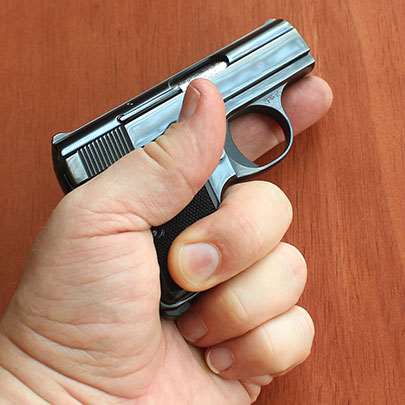 Since he didn't have the kind of hard evidence needed to prove the presence of the corruption he had uncovered, he used his authority as the General Superintendent to tackle the problems on his own. But he soon learned that he had kicked a hornet's nest filled with con-men and fresh-from-prison felons working to establish a foot-hold in Texas for a well-known crime syndicate.

There was an 'accident' at a worksite that almost put him in the hospital, a mysterious dent that appeared on his car while driving that was about the same size and shape as a rifle bullet. And then there was a late-night meeting that would have gone quite differently for my dad if not for a few ex-military members of his work crew that tagged along, just in case.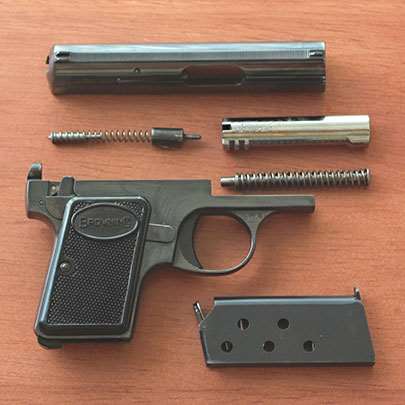 After that meeting, Dad decided he wasn't going to continue with the construction project unless he was armed. Driving to a gun shop on the other side of town, he looked over the pistols they had in stock. A large, powerful handgun capable of medium- or long-range shots would not fit his needs. He wanted something he could always have on-hand in case of an up-close, short-range encounter. A small, lightweight pistol that could ride in the pocket of the sport coats he wore to work and church would have to do.
The pocket pistol options in the shop were limited.  Snub-nosed .38 Spl. revolvers produced a noticeable bulge. A Walther PPK was the right size and thickness for his pocket, but the weight of it caused a tell-tale sag. He kept looking until he found the Belgian Baby Browning . He wanted a quality gun with a name he could trust, and Browning was hard to beat. He paid around $50 for it, or about $350 in today's dollars.
The simplicity and features of the Baby Browning are surprisingly satisfying to modern defensive pistol sensibilities for a 90-year-old design. This blow-back operated semi-automatic is striker fired with a single-action trigger, a cocked striker indicator and a magazine safety. The tiny fixed sights are the smallest I've ever seen on a handgun but the top strap of the rounded slide is serrated to reduce glare, just in case you want to squint at them.

The trigger exhibits a short, clean trigger pull of 5 lbs., 1 oz. The 1960s-era nylon impregnated black polymer grip plates are checkered with the word "Browning" in a circle at the top. The single-stack magazine holds six rounds of ammunition and is secured by a heel-mounted magazine release.
The pistol's clean lines are appealing, and it has the precision machining of a Swiss watch. It's one of the few .25 ACPs that can be counted on to run reliably. However, this is not the easiest pistol to master. The Baby Browning's slick, thin grip frame only provides enough room for a one-finger grip. Therefore it tends to buck and twist when it recoils.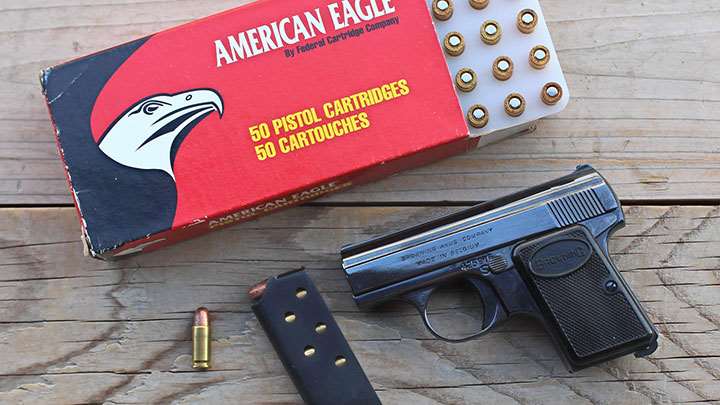 The lack of a beaver tail above the grip frame exposes the shooter's hand to the sharp edges of the recoiling slide. As a result, it will 'bark the skin' off the shooting-hand thumb knuckle if the operator is not paying attention (the inside joke in my family is that the Baby's slide bite is nearly as lethal as the cartridge it fires).
It's been some time since I shot this pistol, and I had yet to chronograph it. I rustled up a box of Federal American Eagle 50 grain FMJ cartridges and a LabRadar chronograph and headed to the range. This load generated a 10-shot average muzzle velocity of 787 f.p.s. for 69-ft. lbs. of muzzle energy.  With the aid of a pistol rest, I was able to tap out a best single five-shot group of 2.29" at 7 yards with a five-group average of 2.52".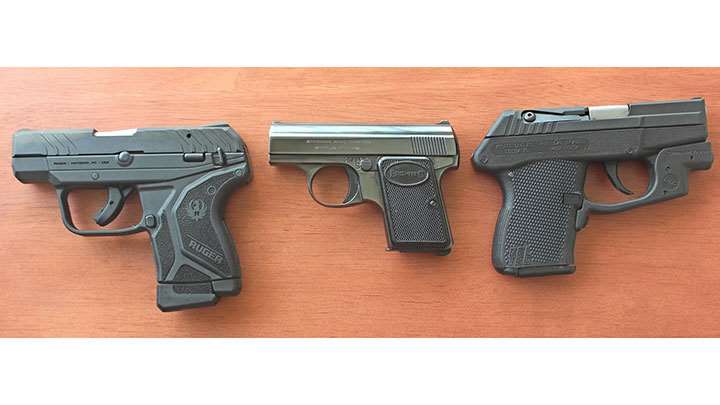 By today's pocket-pistol standards, the Baby Browning is too small for a few reasons. Most folks have bigger pockets and more sophisticated holster systems, which allow for larger-caliber pistols to be carried. So the absolute smallest isn't a requirement these days. The Baby's slick one-finger grip, the vestigial sights and the very real risk of slide bite makes it a tough gun to work with, and that's coming from someone who shoots handguns for a living.
Then there's the .25 ACP cartridge itself. With performance comparable to a .22 LR pistol, small .25 ACPs are easily outclassed by similarly sized .32 ACP and .380 ACP pistols. In speaking with my dad, he agreed that if he had access to the slim, flat, light-weight polymer semi-automatics available today, such as the Kahr Arms CW 380 or Ruger LCP II, he definitely would have chosen a more powerful option. But as it was, the Baby Browning was the best fit for the job.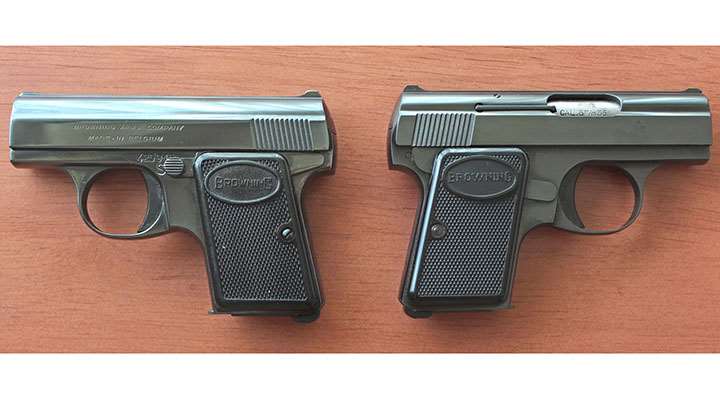 Thankfully, my father made it out of that situation without ever having to draw his little .25 ACP. Working with associates in law enforcement (who also watched his back), he gathered the evidence needed to launch an official investigation and then moved his family out of state. Although I'm not in a position to share more of this story here, I can say that I am alive, well and able to write this article today because, half a century ago, good guys with guns kept bad guys with guns from putting an abrupt end to my father's life.

You see, I wasn't born until a few years after these events took place. This piece of family history is just one of the reasons I take our 2nd Amendment rights personally. Let's work together to ensure that, 50 years from now, we'll have more stories to tell our grandchildren about how we took action to ensure that they, too, would have the means to protect their homes and families.
Specifications:
Manufacturer: Fabrique Nationale d'Armes de Guerre, 1931 to 1979
Model: Baby Browning
Action Type: blowback-operated, striker-fired, semi-automatic, centerfire pistol
Chambering: .25 ACP (6.35×16 mm SR)
Finish: blued
Stocks: textured black polymer
Sights: fixed
Trigger: single-action, 5-lb., 1-oz. pull
Barrel Length: 2.00"
Overall Length: 4"
Height: 2.75"
Width: 0.75"
Weight:  9.70 ozs.
Magazine: six-round detachable box
Rifle Grooves:  6
Collectors Pricing: $400-$1,200 Depending on Finish and Condition