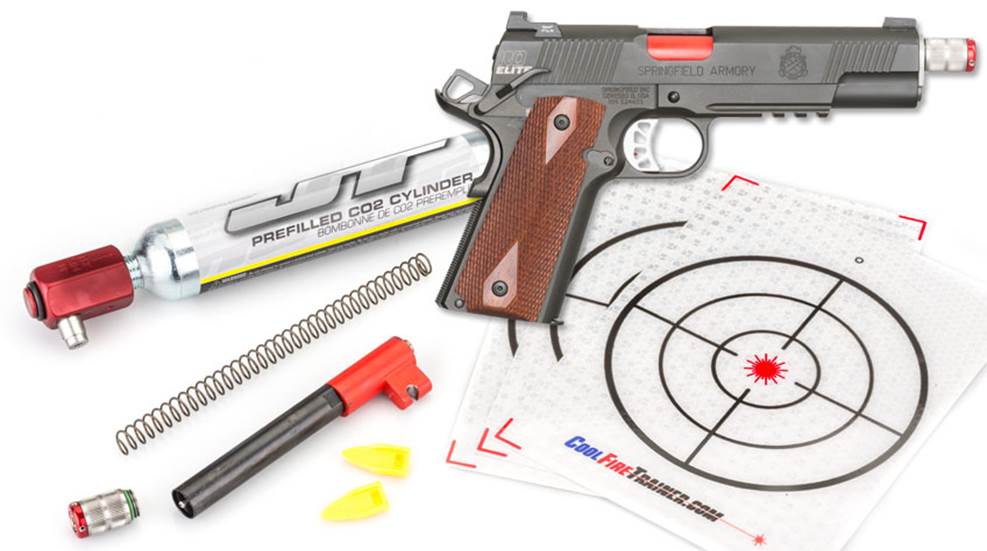 For competitive shooters and armed citizens interested in improving their firearm handling and skills, a lot can be gained by practicing with an unloaded gun—a technique commonly referred to as dry-fire. Most of the steps required to accurately engage a target don't involve sending a projectile downrange: drawing from a holster, presenting the firearm, aligning the sights, pressing the trigger and reloading. An added benefit is that dry-fire can be conducted almost anywhere, as long as proper safety precautions are followed. Dry-fire also doesn't require the expenses associated with visiting the range and turning live ammunition into smoke, noise and empty brass. A shooter can't replace live-fire practice, but dry-fire can be a major supplement.
For shooters who embrace dry-fire, enhancements are available to make the experience a little closer to the real thing, including mechanisms that reset the trigger between presses, laser modules that project a beam to show where the "shot" would have gone, and even gas-powered actions and pistol analogs that simulate the feel of recoil. The subject of this project, though, represents the next step in dry-fire's evolution—it is quick and easy to install, and performs all the functions listed above.
The CoolFire Recoil System is brilliant yet simple, and installation only requires swapping the barrel and recoil spring of your carry or competition gun for the CoolFire components. The CoolFire barrel is cleverly engineered to hold a charge of CO2 that, in conjunction with the appropriately weighted recoil spring, will cycle the slide for a dozen or so "shots." The "shot" is fired by the CoolFire system's striker, which itself is activated by the pistol's firing pin. In essence, the gun operates just as it would with live ammunition, only the pressure necessary to cycle the slide comes from the barrel's stored CO2, not the resultant gases of a fired cartridge. When the barrel runs empty, recharging from a CO2 tank takes only seconds.
For review, CoolFire sent me parts for a 5" M1911 in .45 ACP, but systems are available for various 9 mm Luger, .40 S&W and .45 ACP pistols, including those from Beretta, CZ, EAA, Glock, HK, Smith & Wesson, Taurus, Walther and Zev, as well as popular platforms such as the M1911 and 2011. The basic system consists of the replacement barrel and spring, two polymer slide release inserts (to allow practice with magazines, but prevent slide lock) and a charging adapter for either paintball-style CO2 tanks or 90-gram disposable tanks, depending on the customer's preference. For an additional cost, CoolFire will also include a visible red laser ($100) or infrared laser module ($120) and a three-pack of reflective targets. The lasers attach to the front of the barrel, and project a beam with each "shot."
Installation took only a couple of minutes, and the CoolFire Recoil System has made my practice sessions more realistic by forcing me to cope with simulated recoil and the actual movement of the slide. Frankly, dry-fire has also become a lot more fun. I especially appreciate that the system works with my gun, meaning I get more repetitions with my pistol, my sights, my trigger and my holster. Although one of the great benefits of dry-fire practice is its lack of ammunition cost, shooters who want to take their at-home training to the next level will find a lot of value and enjoyment with the CoolFire Recoil System. Price: $399 (as shown). Contact: CoolFire; (918) 973-2665; coolfiretrainer.com.