Support NRA American Rifleman
DONATE
The most cost-effective way to improve marksmanship and gun handling is through dry-fire practice. It's a time-honored way to work on your fundamentals and has proven itself through many grandmaster shooters to be an invaluable tool. And with today's ammunition prices where they are, there's even more incentive to engage in dry-fire training and to make these sessions even more impactful.
Mantis' products help shooters make the most of their dry-fire practice by providing additional data and feedback with every shot. The Blackbeard is an automatic trigger-reset system designed for the AR-15 platform, and it greatly accelerates dry-fire sessions by removing the need to re-charge the gun following each pull of the trigger.
The Blackbeard consists of two parts: a trigger-reset module and a battery pack. The trigger-reset module is just over 7" long and 1.5" tall. It drops into any direct-impingement AR-15-pattern rifle by replacing the bolt carrier group and charging handle. The magazine-shaped battery pack fits into the rifle's magazine well and provides power to the reset unit.
On a full charge, the battery pack provides up to 100,000 resets. When we tested the Blackbeard, we were initially surprised at just how quickly the trigger reset. Mantis claims that the unit can sustain a reset rate of 10 shots per second, and we were not able to outrun this mechanism during testing.
In addition to the trigger-reset system, the Blackbeard also features a forward-firing laser. The laser is adjustable for both windage and elevation by way of two screws on its right side. Cleverly, the adjustments are accessible through the ejection port while the unit is inside the rifle. Our sample model had a visible red laser (MSRP $219), but units are also available with green or infrared lasers, or with no laser at all.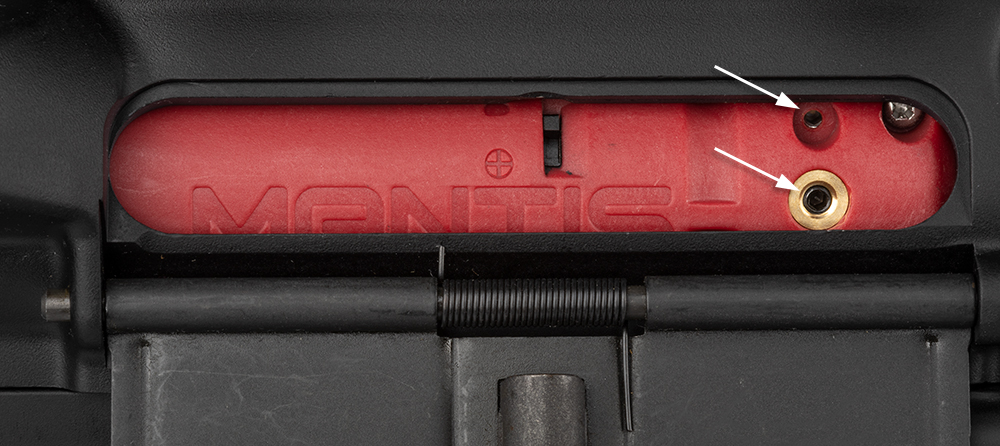 The benefit of the Blackbeard system is that it allows the user to practice with the same rifle, trigger and optic combination he or she would otherwise use with live ammunition. We found that the system made performing dry-fire versions of several drills very easy and enjoyable, even for the inexperienced. A potential downside, which is true of any dry-fire practice, is the complete lack of recoil. While firing rapid strings of laser beams is fun, the system seems most valuable for practicing slow-paced fundamentals or working on "ready up"-style drills with timing to the first shot. It also proved useful for working on cadence drills where managing recoil is less important.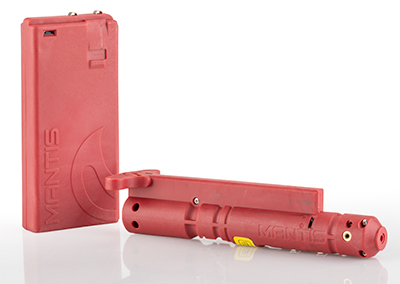 As expected, an optic's height over bore is something to account for. Since most of the drills we performed were indoors at 10 to 15 yards, and the host rifles were zeroed at 50 or 100 yards, there was a difference between point of aim and point of impact. This is realistic for these distances, and also serves as a valuable point of feedback for practicing close-range offsets.
The Blackbeard system also pairs well with Mantis' Laser Academy, which uses the impacts from the laser to score hits. Since the application uses a phone's camera and computational power, it can account for the height-over-bore offset and allow the shooter to use true point of aim for practice.
In all, we found the Blackbeard to be a fun and useful tool for dry-fire practice with an AR-15. We believe it is best suited to marksmanship fundamentals practice and drills that emphasize the time to the first shot. While it is still useful for rapid, multiple-shot drills for practicing shot cadence and sight picture, dry-firing of this style should be considered to be a component of a comprehensive practice regimen. mantisx.com