posted on September 4, 2012
Support NRA American Rifleman
DONATE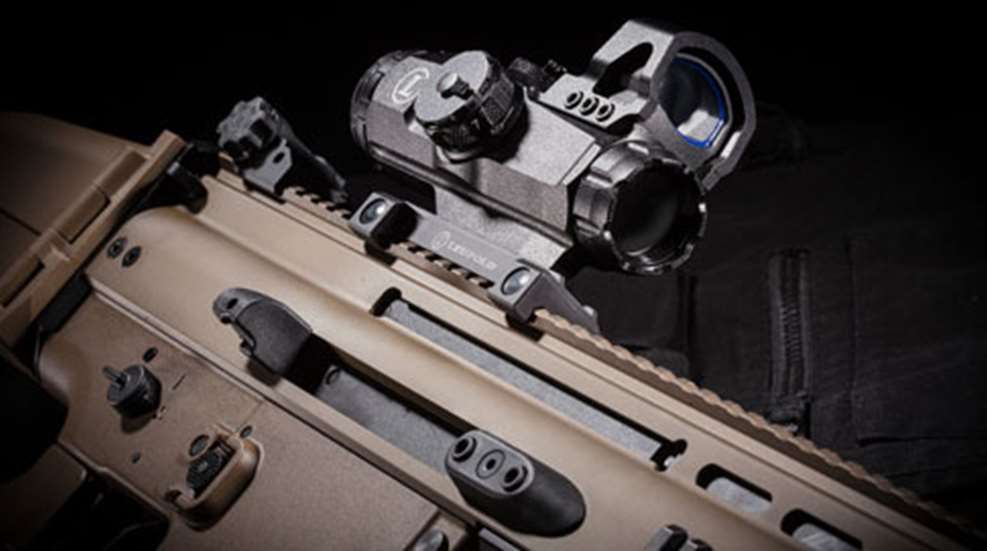 9/4/2012
As reflex sights have become more durable many tactical and competitive shooters have begun pairing them with fixed-power scopes as an alternative to variable power scopes. At first glance this setup appears fragile and awkward, but it has a number of advantages, primarily speed. When transitioning from long- to short-range targets shifting your head is faster than turning the power ring of a scope with integral zoom. Leupold has stepped into this market with its new HAMR (High Accuracy Multi-Range Riflescope).
Lightweight and compact, the HAMR is available with an optional top-mounted red-dot sight that allows the user to quickly switch from the 4X zoom of the HAMR to the 1X Deltapoint reflex sight when engaging short-range targets. The HAMR uses Leupold's CM-R2 reticle, ballistically calibrated for the 5.56 mm round, and comes standard with Leupold's premium Xtended Twilight Lens System and DiamondCoat 2 coating, an ion-assist lens coating applied to the exterior surfaces for greater light transmission and abrasion resistance. The lens coatings that make up Leupold's Xtended Twilight Lens System enhance low-light wavelength transmission, so low-light images appear brighter and in greater detail. Leupold claims that the Xtended Twilight Lens System delivers the best possible transmission of light in the blue/violet spectrum, the wavelengths that predominate under low-light conditions, without sacrificing color balance or light transmission across the visual spectrum.
Ballistic Reticle
The CM-R2 reticle is ballistically matched to the military 5.56x45 mm M855 62-grain FMJ load using a 200-yard zero. Designed for both fast target acquisition and precision shooting, the center of the reticle consists of an illuminated .5 m.o.a. dot that provides a precision aiming point, and is surrounded by an illuminated 5 m.o.a. semi-circle better suited for rapid engagement of short-range targets. Both horizontal stadia arms have three hash marks calibrated for leading moving targets at 5, 10 and 15 mph, respectively. The vertical leg of the reticle has marks in 100-meter increments from 300 meters all the way out to 900 meters. The width of the marks corresponds to the width of an 18-inch target at that distance. The CM-R2 is admittedly complex to describe, but it is simple to use, especially for a ballistic reticle, being well-suited for tactical situations where soldiers or operators are faced with a mix of near and far threats. The etched glass reticle is visible with or without illumination, so even if the battery fails, there is no need for back-up iron sights.
Controls
The HAMR's low-profile, coin-adjustable windage and elevation turrets are located at the twelve- and nine-o'clock positions. They are protected by threaded caps that are captured by a wire to keep them from being lost. Their adjustments deliver a positive, audible and tactile response, with each click of the dial moving the point-of-impact 1/4-inch m.o.a. at 100 yards.
Illumination of the reticle is controlled by a large finger-adjustable turret on the right side of the scope body. The surface of the turret is knurled and dished for better purchase with gloved fingers. There are off-stops between the turret's seven illumination settings, so you are never more than one click away from an "off" position, or your desired illumination setting. Each stop has a positive feel so you are less likely to roll through your desired setting, even under stress.
The bottom of the scope body has an Integral mount and base that attaches to an M1913 Picatinny rail by means of a pair of 3/8-inch hex bolts.
DeltaPoint
The top surface of the HAMR provides a mounting surface for the DeltaPoint reflex sight, which further enhances the scope's utility and versatility. The DeltaPoint is available with a choice of either a 3.5 m.o.a. dot or 7.5 m.o.a. triangle reticle, both providing instant target acquisition when needed. Well-protected from impact by a thick shroud, Leupold guarantees the DeltaPoint to be 100 percent waterproof, fog proof and scratch resistant with its DiamondCoat 2 coating. Both the DeltaPoint and the HAMR run off a 2032 battery. There is no on-off switch for the DeltaPoint. The dot is activated by movement but when the scope is left at rest for an extended period of time, it turns itself off in order to extend battery life.
The combination of the Leupold HAMR and Deltapoint may be proof that two scopes are better than one. I have never liked the idea of mounting two different optics on a gun, but must admit that when transitioning back and forth from short- to long-range targets, it is faster to change your head position, than rotate a power ring even with a lever.
You don't have to re-establish the grip of your firing or support hand, and you can keep your eyes on the target area for better situational awareness. Also, since you don't have to keep track of the power setting on your scope, the system provides one less thing to worry about during a stressful situation
Transitioning to the DeltaPoint does mean raising the position of your head relative to the stock, which may be a problem if you have a short jaw. When using a rifle with a bare-bones M4-style collapsing stock, I had to open my mouth in order to maintain a cheek weld. A stock with a taller comb, or better yet, one that is adjustable may make the transition easier. I mounted the HAMR on a SCAR-16S from FNH-USA and sure enough, the extra mass and height of the SCAR stock made a big difference for me.
At its highest setting, the illuminated reticle is visible against all but the brightest backgrounds. The illumination also has enough adjustment that it can be dialed down so it doesn't flare the scope's image when used in low light. When evaluating the Leupold HAMR, a comparison with the similar 4X Trijicon ACOG is inevitable, especially as both scopes cost about the same. The Trijicon operates without a battery and has a larger objective lens, but the HAMR is lighter, has greater eye relief and a more forgiving eye-box. In sum, it comes down to individual requirements, and more choices are always a blessing. Engineered for speed, precision, simple operation and ease of use, the combination of the HAMR and DeltaPoint red-dot sight are well-suited to any AR-15 variant.
Manufacturer: Leupold; Leupold.com
Magnification: 4X
Objective Lens Diameter: 24 mm
Reticle: Leupold CM-R2
Exit Pupil: 6.0 mm
Adjustments: 60 m.o.a. elevation and windage in 0.1 mil increments
Illumination: 7 brightness settings; 5-m.o.a. semi-circle that surrounds a 5 m.o.a. dot
Field of View: 32 ft. at 100 yds.
Eye Relief: 2.7"
Power Source: 1 X CR2032 (Mark 4 HAMR), 1 X CR2032 (DeltaPoint)
Length: 5.5"
Weight: 13.1 ozs; (14.8 ozs. with DeltaPoint)
Suggested Retail Price: $1,549.99 with DeltaPoint red dot included; $1,299.99 for HAMR only