by
posted on December 26, 2014
Support NRA American Rifleman
DONATE
The .300 Whisper (or .300 Blackout in its virtually identical, SAAMI-approved guise), is a superb cartridge for hunting deer-size game and feral hogs within 200 yds., as well as for personal protection. Minimal perceived recoil and modest muzzle rise prevents flinching and enables rapid follow-up shots, respectively.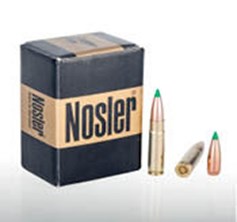 Bullet: Nosler 125-gr. Ballistic Tip
Propellant/Charge: Hodgdon H110/17.5 grs.
Primer: WSR
Case: Hornady
Case Trim-To Length: 1.355"
Cartridge Overall Length: 2.100"
Velocity @ 15' (f.p.s.): 2151
Energy (ft.-lbs.): 1,284
Accuracy: 0.89"*
Uses: hunting (whitetail and mule deer, black bear, feral hogs, etc.), personal protection
Notes: test rifle: T/C Encore with an 16" SSK Industries barrel outfitted with a like-brand sound suppressor and a Bushnell Elite 5-15X 40 mm riflescope; *average of five consecutive, five-shot groups at 100 yds.