by
posted on February 9, 2012
Support NRA American Rifleman
DONATE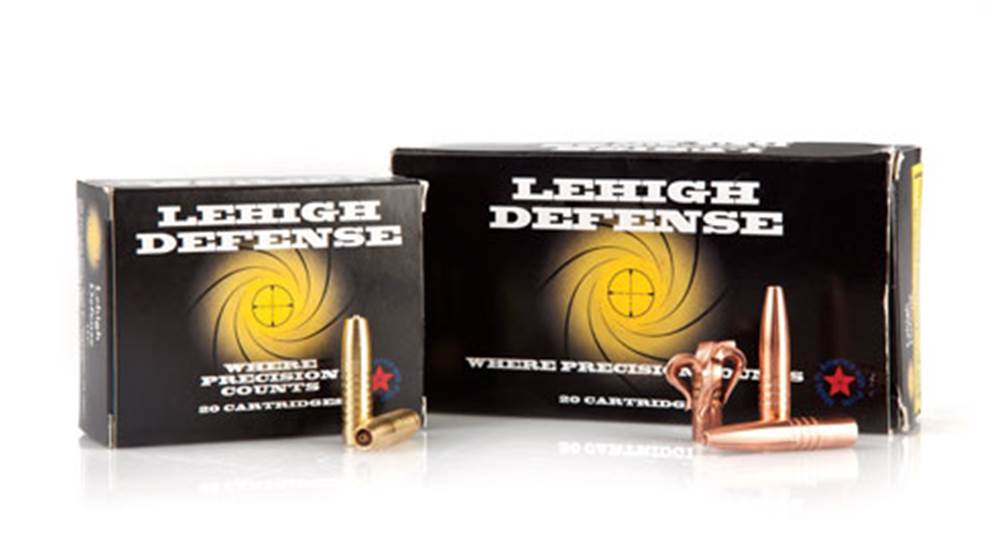 Developed in conjunction with J.D. Jones, designer of the .300 Whisper and owner of SSK Industries, Lehigh Defense now has U.S.-made bullets that reliably function at the cartridge's hallmark subsonic velocities. Machined from solid brass, the 170-grain Controlled Fracturing (CF) boat tail-base projectile has three lengthy longitudinal cuts, as well as a sizable cavity that contains a copper-jacketed, lead-core 0.172-inch-diameter varmint bullet. The latter's purpose is three-fold: move the center of gravity forward; increase overall weight without affecting projectile length; and aid expansion, though the petals will shear for enhanced wounding, while the base continues to penetrate. Best results come between 700 fps and 1,050 fps, and it functions in single-shot, bolt-action and AR-style rifles. Similar in terminal performance and functioning is the flat-base solid brass 178-grain CF bullet, though it lacks the .17-cal. projectile. It's rated as optimally performing from 850 fps to 1,300 fps.
Designed for use in single-shot and bolt-action rifles, the all-copper 200-grain Maximum Expansion (ME) bullet has a reduced diameter behind the bearing surface, easing loading and reducing pressure. Additionally, ME is designed for 100-percent weight retention. Its "ideal" impact velocity range is between 950 fps and 1,050 fps, and expansion is reportedly upward of 1.4 inches. Propelled at a leisurely 878 fps from a T/C Encore, fitted with a suppressed, 169⁄16-inch SSK Industries barrel chambered in .300 Whisper, the projectile, when recovered from a Bullet Test Tube placed at 15 yards, measured 0.794 inches in diameter, exhibited 100-percent weight retention and had penetrated approximately 7 1/2 to 8 inches of the wax-like medium. All three bullets have relief grooves; the 170-grain projectile has seven, the 178-grain five, and the 200-grain three.
Fifty-count packages of 178-grain CF bullets retail for $58, while the 170-grain CF projectiles cost $65 for the same quantity. The 200-grain ME projectiles are priced at $77 per 50. Currently, the company also loads the projectiles in .300 Whisper ammunition, which retails for either $43 (178-grain CF) or $55 (170-grain CF or 200-grain ME) per box of 20.
Contact: Lehigh Defense LLC; (267) 217-3539; www.lehighdefense.com.