Support NRA American Rifleman
DONATE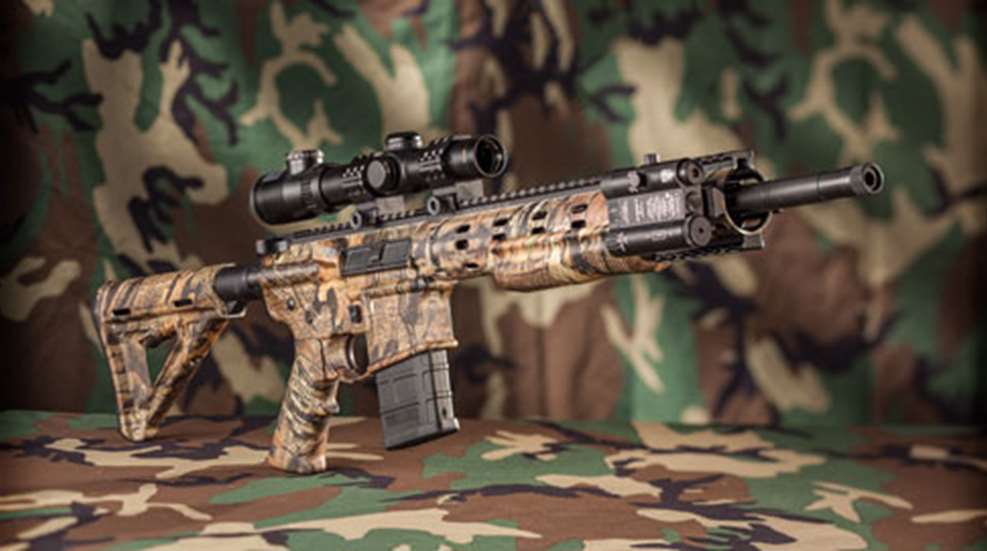 7/11/2013
The AR is a rugged and reliable platform that has proved its capabilities on the battlefield for 50 years, but its 5.56x45 mm (.223 Rem.) chambering is considered to be on the smaller end of the power spectrum by many shooters. While popular, the standard AR round is basically considered a varmint round that is illegal for hunting deer in many states. Of course, AR rifles and its variations can be obtained in larger calibers, such as .300 AAC Blackout.
The .300 AAC Blackout was developed by Advanced Armament Corp. as a more-powerful caliber for AR-15 (M4) rifles using standard magazines without sacrificing ammo capacity. It was designed primarily for Special Forces units needing better performance in their rifles for specialized missions. It provides the knockdown of a .30-caliber bullet without a huge increase in recoil, and can reliably run in both suppressed and unsuppressed rifles.
It didn't take long though for civilian shooters to realize the benefits of the .300 AAC Blackout, and manufacturers like Daniel Defense began producing rifles in this caliber. Not long after hunters also began wanting an AR in this chambering, leading Daniel Defense to produce a rifle in .300 AAC Blackout under its hunting brand Ambush Firearms.
The Ambush 300 Blackout is a gas-impingement semi-auto in the standard M4 configuration, including its controls. The safety, magazine release and bolt catch are all located in the standard locations. It's listed as multi-caliber as it fires both .300 AAC Blackout and .300 Whisper ammunition, and since everything but the barrel is the same as Daniel Defense's 5.56 rifles, the barrel can be swapped for additional calibers. It features a 16-inch cold-hammer forged barrel with a salt-bath nitride finish with 1:8-inch twist rifling.
It features a two-piece Picatinny rail along the top of the receiver with indexing marks for attaching optics in the same position every time, along with three, 2.5-inch Picatinny rail sections on the front of the modular float rail for mounting lights, lasers, bipods and other accessories. The rifle is available in Mossy Oak Break Up Infinity, Mossy Oak Blaze Pink, Realtree AP and standard black, and comes with a Magpul MOE buttstock, and what Ambush calls a "shotgun inspired modular hand grip."
The hand grip is a very nice touch, and even though it is made of plastic, it provides a little bit of the wood feel of a Remington 870 to the 300 Blackout, making it more comfortable to shoot, both from support and freehand positions. As I have never really liked how an AR's forearm felt in my support hand when firing, but never considered it a major issue for an otherwise great platform, I kind of wish all ARs had this hand grip.
Other features on the 300 Blackout include some inspired by the needs of Special Forces rather than hunters, such as a threaded barrel for attaching a suppressor, with a protector on the end, and a charging handle that is more easily accessible when using optics. The Mossy Oak finish on the test model was smooth and well applied, though the deflector quickly showed signs of the finish chipping once shooting began. 
The 300 Blackout breaks down just like any AR-15 rifle, and comes with a single five-round PMAG magazine, which makes sense as many states limit magazine capacity for hunting. However, the included PMAG had a very tight fit, causing problems with both insertion and removal. Luckily, standard 5.56x45 mm AR magazines also work, such as the TangoDown and standard metal magazines also used during testing.
As for accuracy, the Ambush 300 Blackout was excellent with multiple consecutive five-shot groups measuring under an inch with three different loads. A large part of this was due to the excellent two-stage trigger that started with just a little bit of un-resisted take-up before breaking at just over 4 pounds.
The best load was Hornady's .300 Whisper 110-grain V-MAX load with a best group of .7 inches and an average of .92 inches at 100 yards from a rest. This combination also obtained a 1.62-inch 15-round group at 50 yards.
The 110-grain load also performed best in function as both of the subsonic loads-Hornady's .300 Whisper 208-grain A-MAX and Federal's 220-grain .300 AAC Blackout-had issues with both loading and ejecting because of the heavier bullets and lower velocity, with the Federal load having the most issues. This was to be expected as Ambush claims that firing subsonic loads un-suppressed can cause failures to feed, failures to eject and failures to fire. Testing proved this to be true, but talking with a representative of Daniel Defense revealed that they had recently "tweaked" the gas system to better run with subsonic loads. Even having to load each round individually, the Federal loads showed excellent accuracy, averaging just over an inch at 100 yards, while the Hornady 208-grain load averaged 1.3 inches.
Unfortunately, accuracy testing was about all I was able to perform due to limited quantities of available ammunition. I ripped the last two boxes of the Hornady 110-grain loads in drills to check out functionality and reliability, but 40 rounds just don't do the gun justice. Those 40 rounds did show that the rifle works well with loads that break the 1,100 fps sound barrier, and that recoil can be managed quite well with a .30-caliber bullet.
That .30-caliber bullet gives the Ambush 300 Blackout accuracy and knock-down, and its excellent features make it a prime choice for hunters desiring more power in an AR-type rifle. And for those wanting a suppressed culling gun, there just might not be a better choice.
Manufacturer: Ambush Firearms; Ambushfirearms.com
Model: 300 Blackout
Caliber: .300 AAC Blackout
Finish: Mossy Oak Break Up Infinity (Also available in Realtree AP, Mossy Oak Blaze Pink and black)
Action: gas impingement semi-auto
Receiver: 7075 Mil-Spec aluminum
Rifling: 1:8" RH twist
Barrel: 16" Cold hammer forged
Magazine: five-round PMAG
Sights: none, Picatinny rail for optics
Trigger: two-stage Geissele Super Semi-automatic; 4.39 lbs.
Stock: Magpul MOE Buttstock
Weight: 6.9 lbs.
Accessories: manual, hard plastic case
Suggested Retail Price: $1,759